Clarke Quay can get pretty raucous at night. Pass by during the day and it lets out nary a whimper, but unleashes a monster once twilight approaches. Okay I may exaggerate but it sure can get pretty noisy come nightfall. Due to the sheer number of restaurants and bars in such a compact space, with many boasting live bands, the cacophony is inevitable. But a lot of people love it, hence the packed restaurants and bars.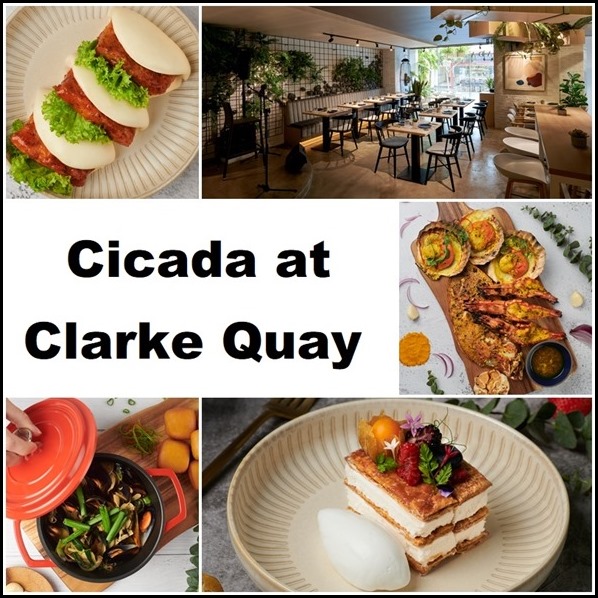 But if you are one who can't tolerate the decibels, modern Asian diner Cicada is an oasis of calm in the heart of Clarke Quay. It is a multi-concept dining and entertainment venue that spans 2 storeys, the 1st floor being an all-day dining bistro with cocktails on tap and late night desserts, while the second floor offers a live mandarin jazz lounge paired with Asian-inspired tapas and a wide selection of alcoholic drinks.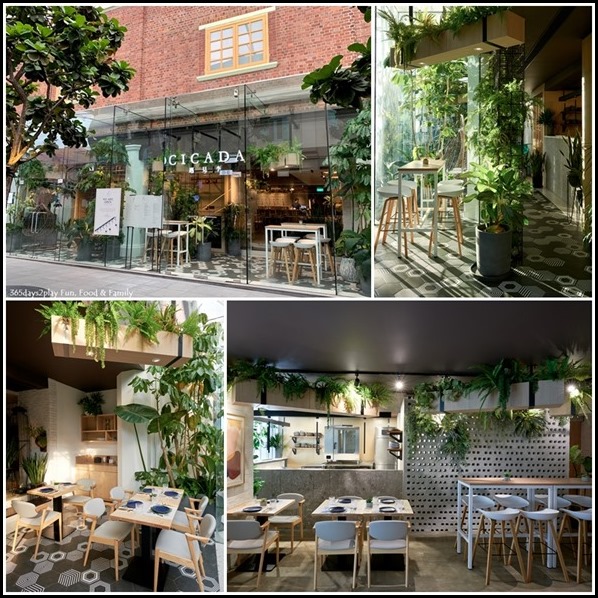 It looks an oasis of calm too, with lush greenery greeting you as you enter the restaurant. More greenery flanks the restaurant seating area, and there are even 2 swing seats, making you feel as if you are indeed within a garden. Here, the background music is soothing. There is a live band too on Thursday – Saturday, but they mainly do acoustic music.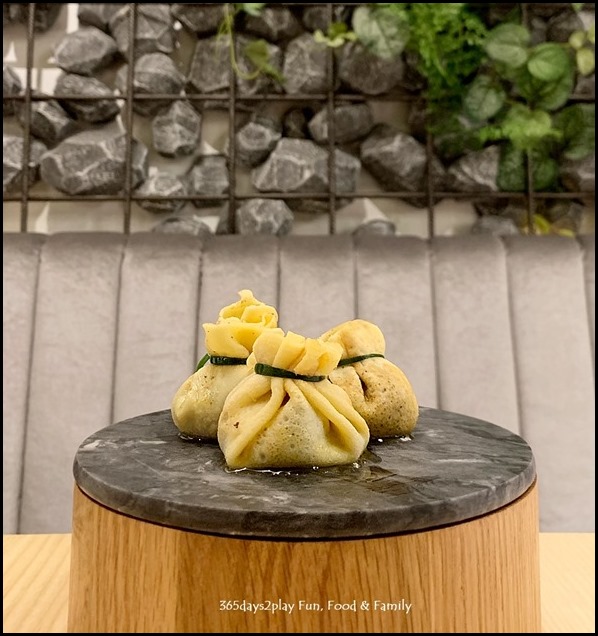 Smokin Dumplings with Foie Gras and Crepe Skin $22
Food wise, Cicada prides itself as a Modern Asian restaurant. The best way to enjoy evidence of that is via their starters. The foie gras dumplings was a creative surprise, I've never had foie gras like this before. There were generous bits of diced foie gras ensconsed within a crepe textured dumpling that had been infused with applewood smoke. I enjoyed this, although I had expected it to be piping hot rather than just warm. If truffled foie gras are not quite your thing, there are also truffled mushrooms or pork and mushrooms to choose from.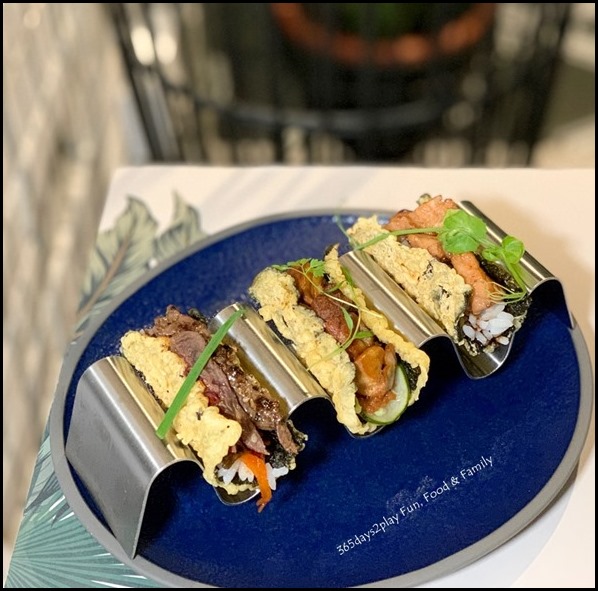 Cicada Nori Takos $14 (Korean Beef Bulgogi, Pan Seared Foie Gras +$4, Salmon Belly Cubes)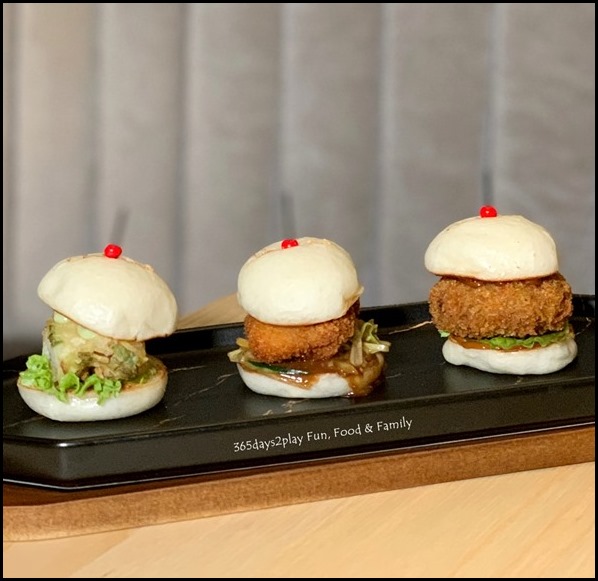 Cicada – Bao Bao Trio $12 (Crispy Prawn Kakiage +$2, Chicken Katsu, Aubergine & Mushroom)
The tacos using rice crackers were pretty enjoyable too and a refreshing change from using tacos or nachos. I particularly liked the Korean Beef Bulgogi with Kimchi Slaw. We also tried the buns with fillings. They remind you of mini sliders. While I enjoyed the fillings especially the succulent prawn, if given the choice between rice cracker tacos or buns, I would recommend going for the former as I prefer the crispy mouthfeel that the rice cracker imparts, instead of the more commonly available bun.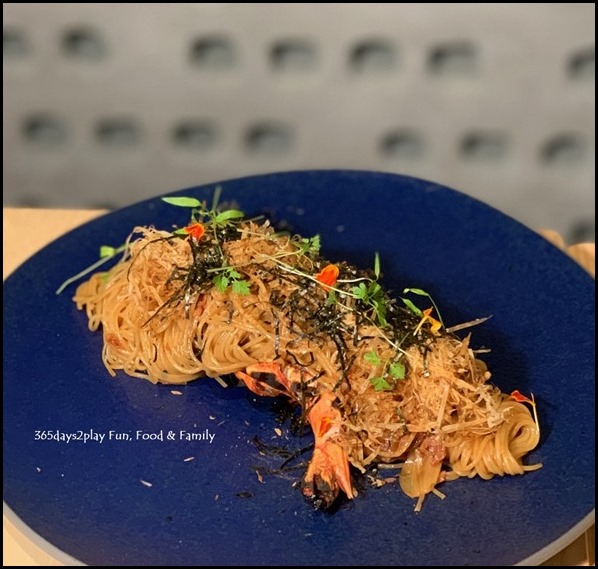 Sakura Ebi Capellini $22
As for the mains, there are only 3 choices for individual portions size. I quite liked the Sakura Ebi Capellini, with its al dente pasta, huge char-grilled king prawn and its reasonable pricing of $22. I'd not go for the duck, as we found the sauce cloyingly sweet. Perhaps it might have paired well with rice, but given this is served Western style, we could only stomach several bites. The third option is five spice salmon, which we did not managed to try.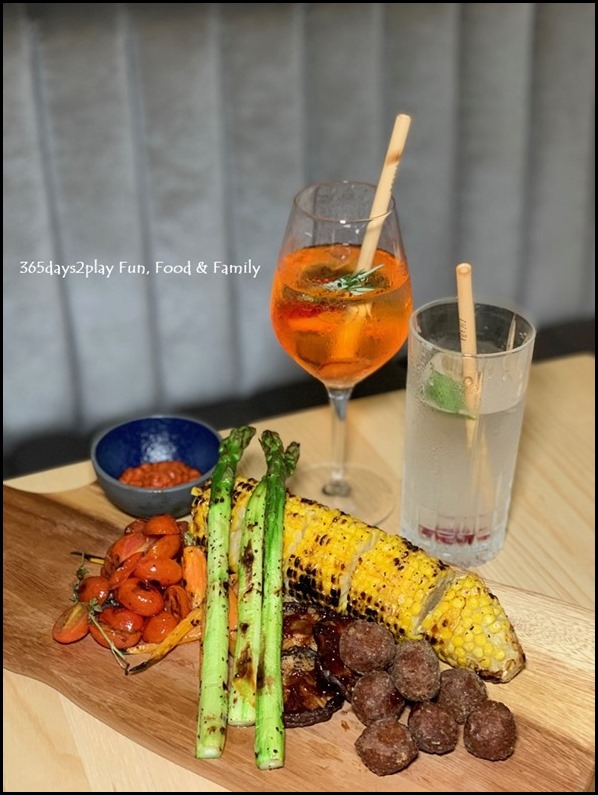 Grilled Vegetable Platter $35 (cocktails on tap in the background)
There are other dishes from the Grill, but these are huge portions that feed 2-4 people. We tried the char-grilled vegetable platter, comprising various veggies in addition to Impossible Meatballs. So far, this is the best version of impossible meat that I've eaten, ie tasting most like meat, although I can still just about make out that they aren't. A pretty well-put together veggie platter but not cheap at $35. I think I would prefer a cheaper platter without the impossible meat though.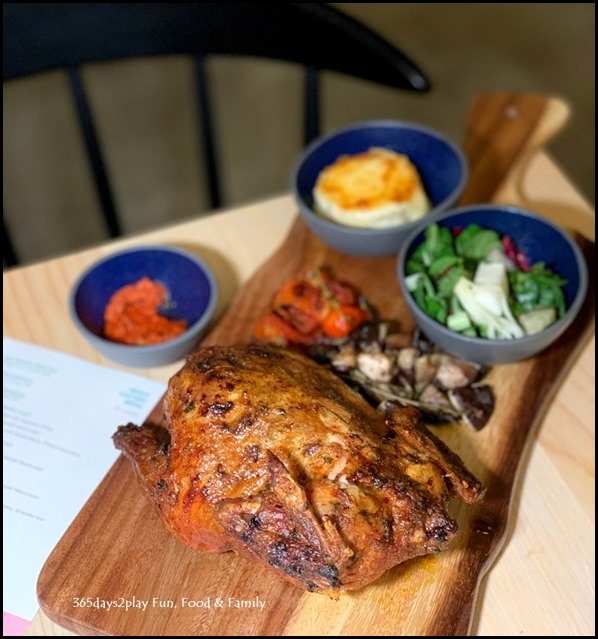 Char-Grilled Spatchcock $42
Our final dish before desserts was the Char-grilled spatchcock. Perhaps we were getting quite full but we thought this dish was just pleasant tasting. It didn't have the grilled flavour that would have perked up our tastebuds.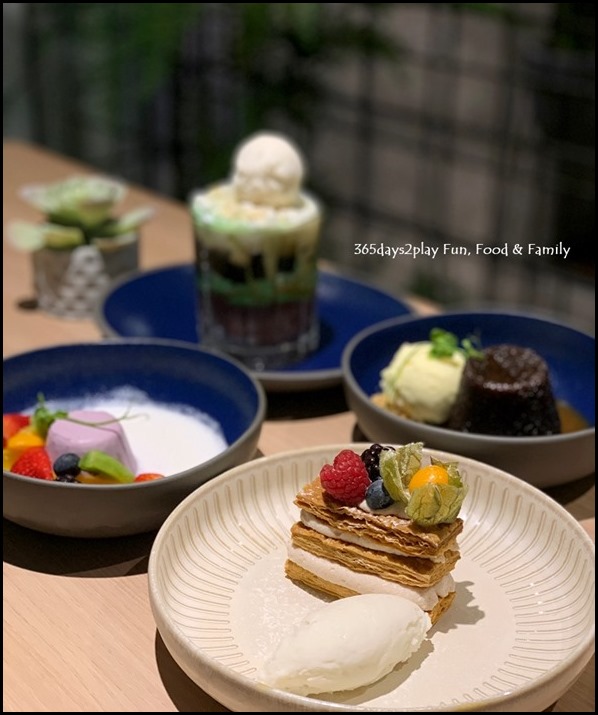 Dessert wise, if you need a recommendation, I'd say head straight for the sticky toffee pudding. It's everything that you want in a sticky toffee pudding, ie it's rich, its sticky and you just want to pile on more of that toffee sauce. I actually quite enjoyed the Chendol too, it was chock full of ingredients. But given that this is easily available at our hawker centres at a far cheaper pricing, I'd recommend going for desserts that you can only find in restaurants.
Scroll down for more pictures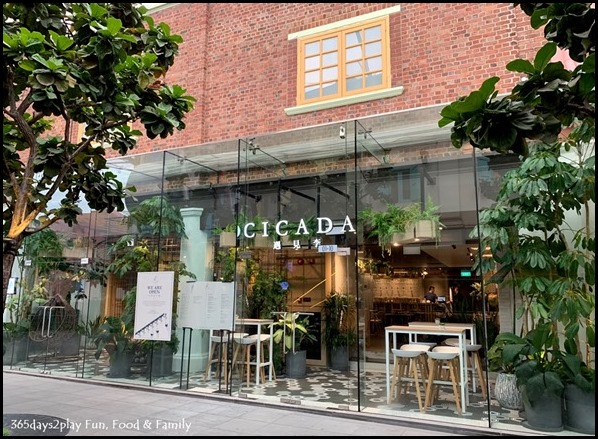 Cicada facade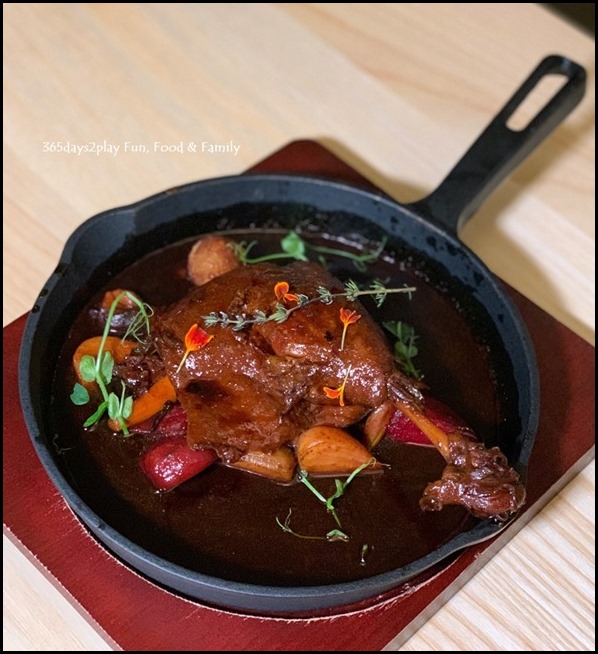 Oriental Braised Duck Leg $24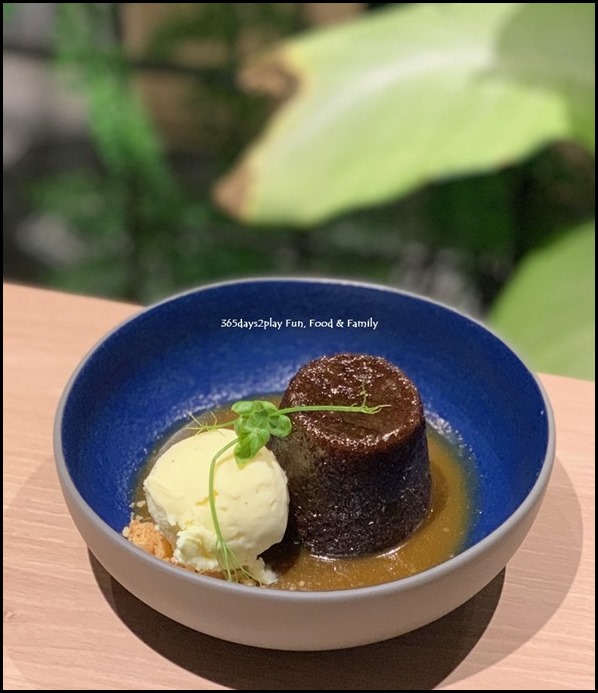 Sticky Date Pudding $14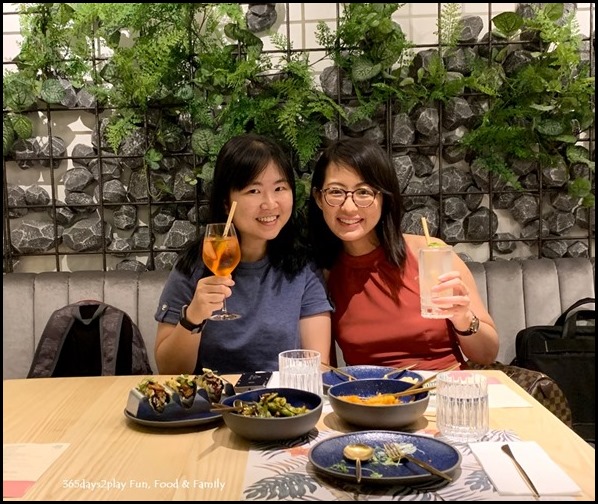 Happy diners
On the whole, if you want nibbles / sharing platters and drinks with friends, Cicada is a nice place to escape to from the onslaught of sights and sounds at the touristy Clarke Quay.
---
Add me on Facebook, Instagram and Twitter if you want to be kept up to date with the latest happenings in the food and lifestyle scene in Singapore!
---
Cicada Singapore
3 River Valley Road, Clarke Quay, #01-10, 179022
Tel : +65 8123 1466
Monday – Sunday 5.00pm to11.00pm for dinner.
Drinks and Desserts from 11pm to 1am.