Balzac Brasserie is a French restaurant that doesn't require you to rob a bank before you dine here. Balzac Brasserie is helmed by the award winning Chef Jean-Charles Dubois from Angers in Loire Valley, France. What is served here is rustic style, inspired from his own family recipes and his signature dishes include Lobster Bisque, Wagyu beef cheeks and Rice pudding. The French bistro decor is really nice, and makes me feel like I'm in the middle of a street in Paris. Most of the furnishings here were imported from Paris in fact.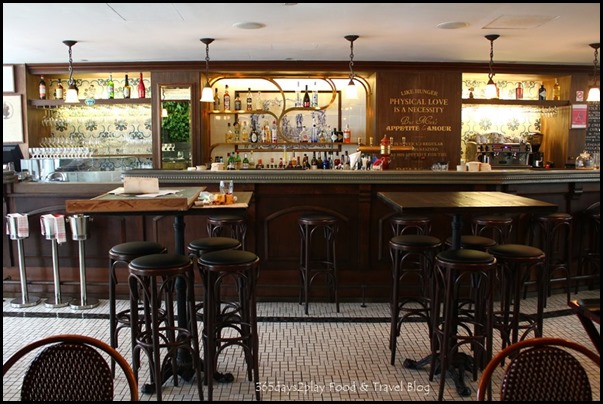 When it comes to birthday celebrations, one birthday meal is not enough for me! I like to celebrate my birthday over SEVERAL meals, kinda like 12 days of Christmas or 15 days of Chinese New Year you know. The previous post on Au Jardin Restaurant was my birthday meal with just the Partner, on the exact birthday. But prior to that, I already had another birthday meal together with the Partner and my parents, and that was at Balzac Brasserie. I'm kinda on a French restaurant / fine dining streak lately (which means $2.50 mixed rice on week days). I'd been here once before back in 2012, for the launch of a French bubbly, Jaillance, which I subsequently used for my wedding! It's a wonder I took so long to return!
Inviting bread basket to start the meal. They had raisin bread and multigrain bread. The breads were quite tasty and we even asked for a refill. They were particularly useful in mopping up the escargot juices as you will soon see.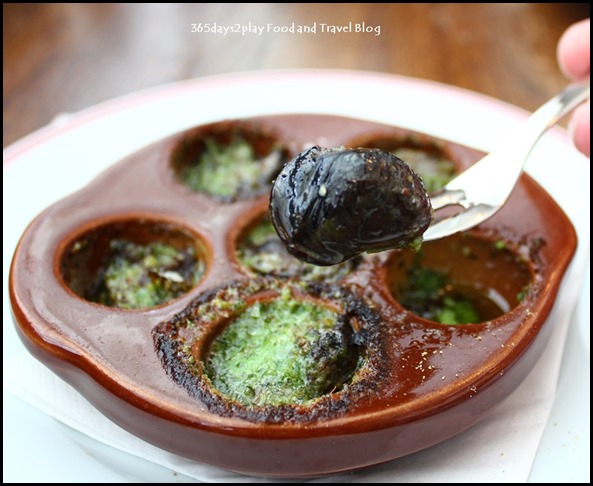 Escargots de Bourgogne with parsley, garlic and butter $14
I love escargots. No fancy trimmings needed for me. Just lots and lots of butter with those little nuggets of snail. Balzac Brasserie's version had a bit too much parsley here and not buttery enough if you ask me, but will probably please someone looking for escargots done in a slightly different way. Do you like escargots?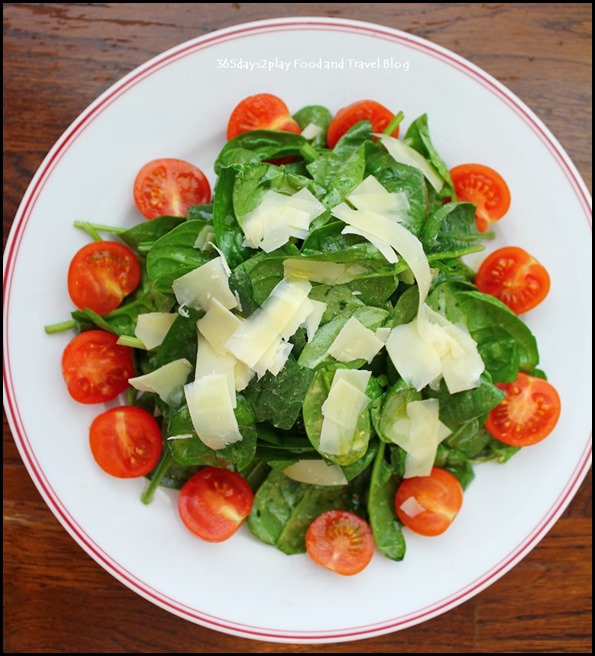 Organic Spinach Salad served with cherry tomato, emmental cheese shavings and French dressing $16
A refreshing and simple looking salad that comprises of exactly the same ingredients listed in the menu. While it was nice tasting no doubt, it did strike us as something we could replicate at home easily. Guess the cost went into the organic ingredients.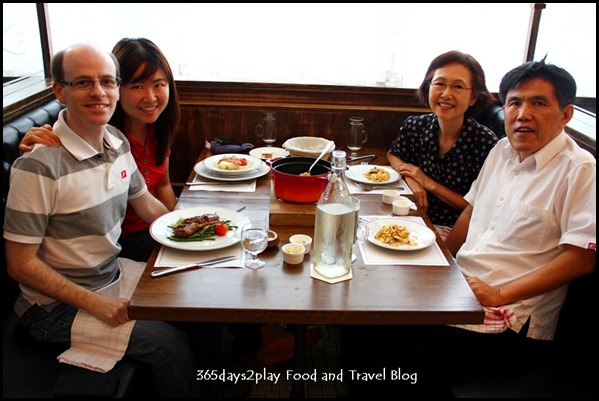 Managed to snap a family photo before we attacked the mains. I've been looking through my collection of photos, and it is just massive. The food photos collection that is. I've to make a mental note to take more photos of people, but it's hard when not everyone wants to have their photo taken. I have a friend who will spare no effort to take group shots wherever she is, she has no problems asking strangers to help! I wish I could be like that but sometimes the thought of having causes such inertia, if you know what I mean!!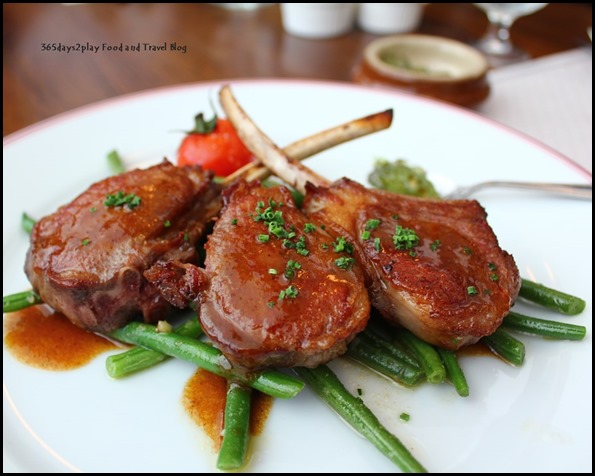 Roasted Rack of NZ lamb, Provencale Style served with French Beans $38
The Partner ordered his perennial favourite, lamb chops! These were really really tasty. Cooked just right with lovely pink centres, a nice roasted glaze on the exterior, mint jelly to give some tartness and sweetness at the same time. I was quite busy siphoning off some of the lamb chops from the Partner's plate!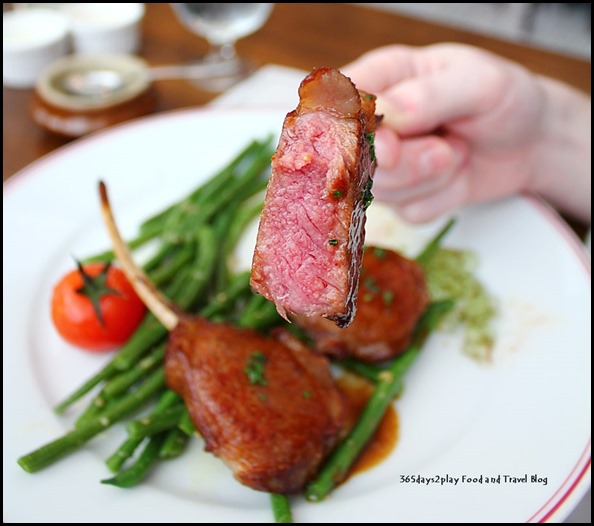 See I told you the lamb chops were nicely done. Look at the lovely colour!
 Slow Cooked Black Cod with Ragout of White Beans and French Bacon $28
I ordered the black cod. Cod on the menu is one of the rare occasions you will see me ordering fish. I only like oily and tender tasting fish, anything less than that and it's rubbish to me. The cod was perfectly done, so tender and totally melt in the mouth. I wasn't so sure about the white beans as the starch though. I would have much preferred something lighter like rice, so that the creamy flavours of the cod would be more outstanding. In fact, perhaps putting the beans on the side rather than underneath the cod would have somewhat made a difference, as the eans on their own are creamily delicious as well. But on the whole, for cod, and for $28, this was a very good price.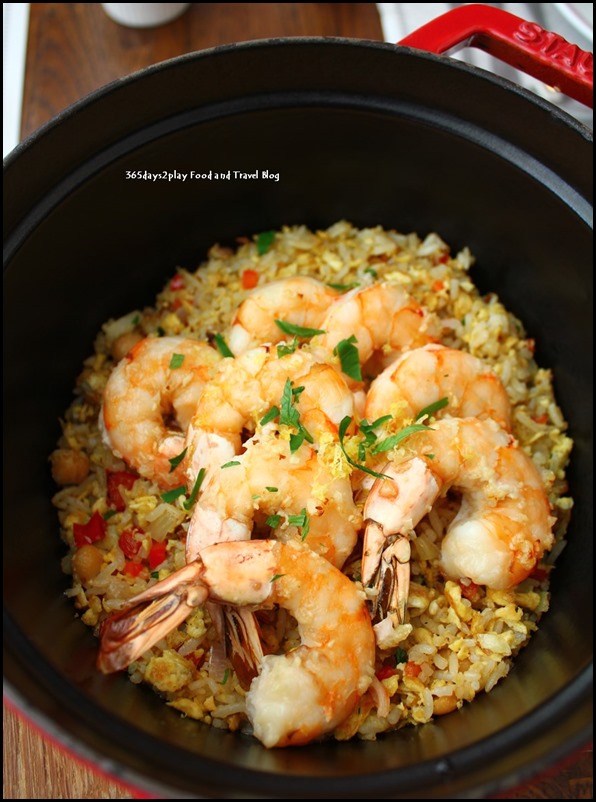 Grosses Crevettes roties Au Citron
(Roasted Tiger Prawns and French Fried Rice served with Lemon Zest) $42
Have you ever heard of French fried rice? This was damn good! Its not really like what you would expect from a Chinese restaurant, but yet I'm quite sure it would please any Chinese eater. My parents and I were certainly pleased with the taste. It was everything you would want in fried rice, chock a block with ingredients, eggy, firm grains, non greasy tasting rice, and lots of prawns for good measure. This cocotte aka pot of rice was enough to feed 2 pax.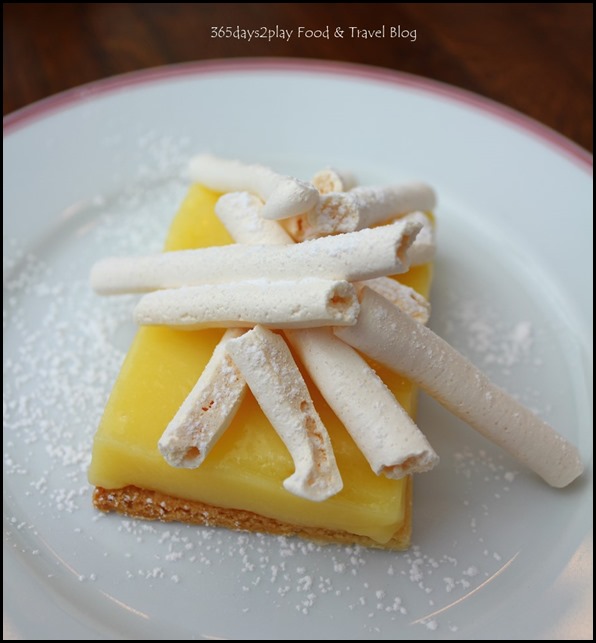 Tarte Au Citron (Lemon Tart with French Meringue) $11
I might have mentioned in previous posts that I have been hankering after lemon tarts ever since I had a fantastic lemon tart from The Audacious Bakery. I haven't quite found one that has given me the same pleasure. This one was quite bad actually. The lemon curd was too sour, and too soft. The sweet meringue would have helped to taper the tartness, but as you can see from the pic, it's in sticks and not evenly distributed so it was quite hard to have a mouthful of lemon curd and meringue at the same time. Tart base was also pretty forgettable.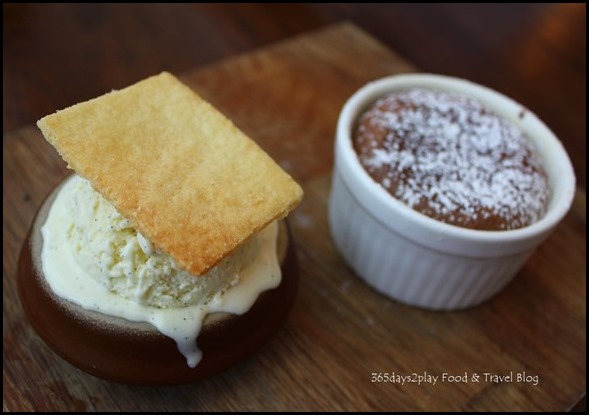 Valrhona Chocolate Moelleux with Tahitian vanilla ice cream $14
My parents ordered this to share, which is basically a chocolate lava cake with vanilla ice cream. Both were very good, but one pressing question I have is, WHY ON EARTH is the ice cream in such a tiny saucer? We could hardly eat it as the spoon could not get a good grip and the ice cream kept rolling around and spilling down the sides. Nice dessert but unfortunately irritating to eat, especially when you see your money melting away down the sides.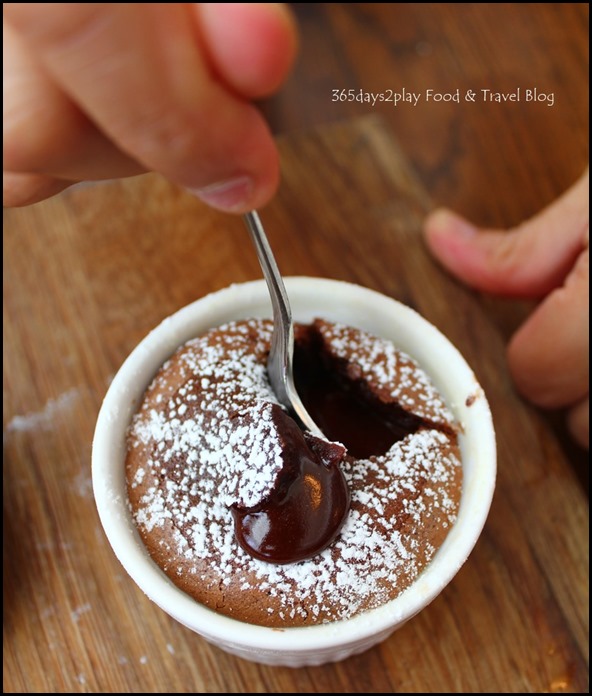 Molten molten!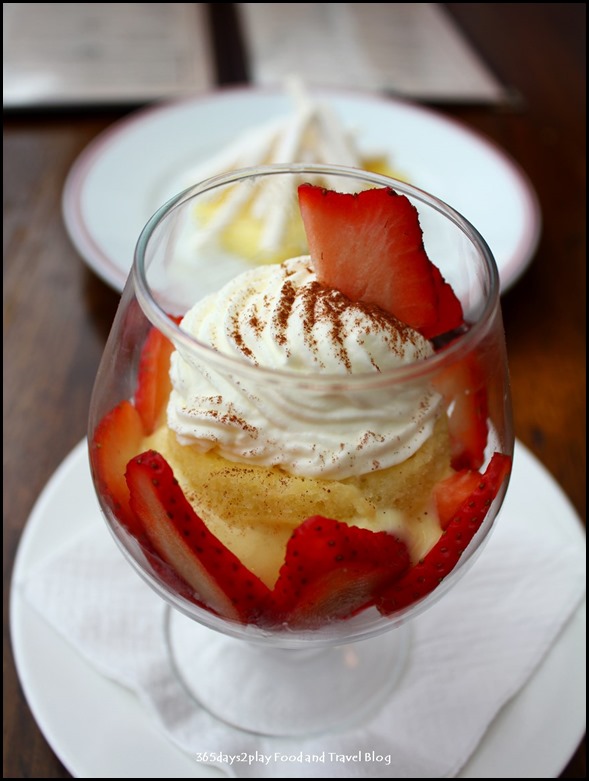 Fraisier (Traditional Strawberry and Vanilla light cream) $12
My FAVOURITE dessert of the day, once again ordered by the Partner! I had scoffed at this when reading the menu because it sounded too simple. I forgot that simple can be good too. The vanilla light cream was insane. So light on the tongue, like a feather before it dissolves away. Went so well with the strawberries and sponge cake. Incredible.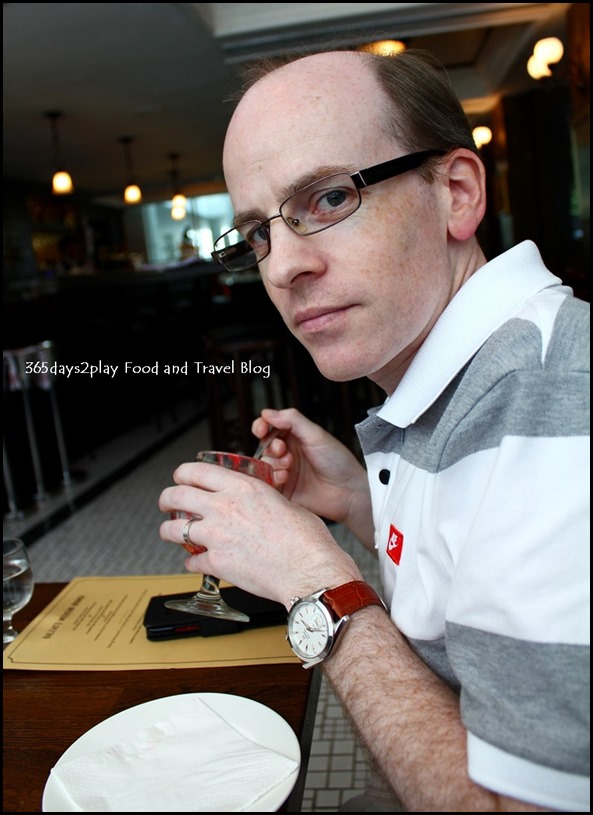 You see I told you the Fraisier dessert was so good, the Partner didn't want to share! I didn't tell the Partner to pose like this btw. He did it out of his own accord, on my birthday might I remind you…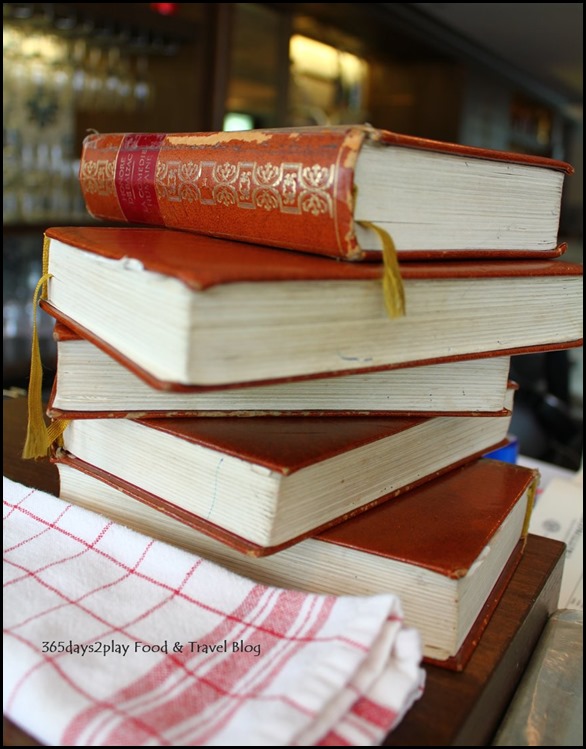 Just in case you were wondering if the name Balzac sounds vaguely familiar, it's because Balzac is the name of a novelist! Honoré de Balzac (20 May 1799 — 18 August 1850) was a French novelist and playwright. His magnum opus was a sequence of short stories and novels collectively entitled La Comédie humaine, which presents a panorama of French life in the years after the 1815 fall of Napoleon Bonaparte. Due to his keen observation of detail and unfiltered representation of society, Balzac is regarded as one of the founders of realism in European literature. Well you can read more on Wikipedia.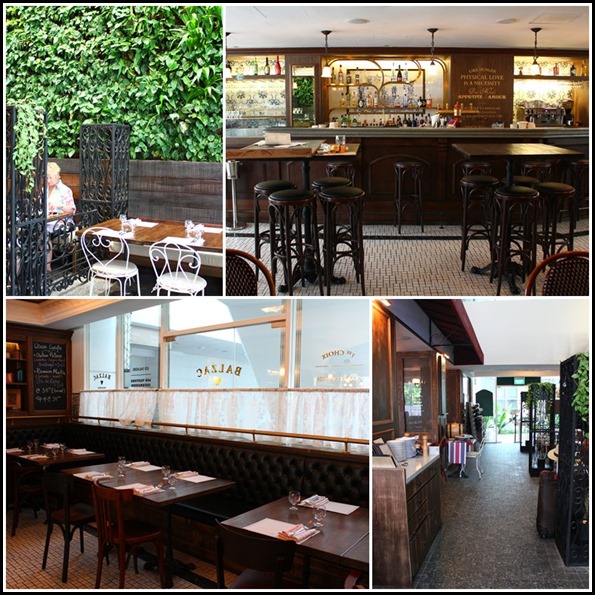 ---
Add me on Facebook, Instagram and Twitter if you want to be kept up to date with the latest happenings in the food and lifestyle scene in Singapore!
Read reviews of other French restaurants in Singapore
Read my review of afternoon tea at Rendezvous Hotel Singapore
---
Balzac Brasserie
Address: Balzac Brasserie & 9 Bras Basah Road #01-01 Rendezvous Gallery Singapore 189559
Phone: (65) 6336 0797
Email: reservations@balzacbrasserie.com
Web: www.balzacbrasserie.com
Balzac Brasserie is located in the heart of the art district of Singapore, 5 minutes from the Dhoby Ghaut MRT and 2 minutes walk from Bras Basah MRT