If you have been following my blog, you might have picked up on the hints. I have been wondering if I should officially announce it, or if anyone cares to know about it in the first place. Well, I have decided I will, so that I may share more posts on how best to plan and organise a wedding. So here's the announcement…..
I'M GETTING MARRIED!!!
The reason why I've decided to announce it now is because the wedding date is exactly 3 months away! Also, I just finished doing my pre-wedding photo-shoot on Monday. I finally have a concrete photo to share on this blog instead of just words. Of all the blurry and badly framed images I've had to endure from The Partner, this photo takes the cake, in a positive way for once!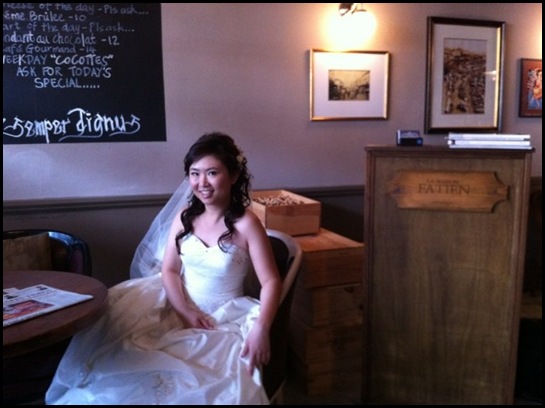 No photoshop, no adjustments, no nothing. Just a pure photo taken by the Partner using my iPhone. Is it not the epitome of a Food Blogger's mindset that I choose to take my photos in a restaurant? Not one, but TWO in fact. A big thank you to La Maison Fatien for allowing me to use their premises without any extra charges! I did of course take the mandatory photos at the Botanic Gardens and what have you and also some more in New Zealand.
Anyway, to cut to the chase, preparing for a wedding is no joke. It takes lots of money, and lots of time. For anyone holding a traditional Chinese wedding banquet in Singapore, your best bet is to get things rolling more than 1 year in advance.
Watch this space as I share with you the trials and tribulations I went through in deciding on
the Best hotel for my wedding banquet
the best bridal studio and bridal packages
the photo-shoot wedding gowns and actual day gowns
how to choose the best wedding photographer for your needs
how to take pre-wedding photos overseas for cheap
and lots more!!!