Cake Delivery Singapore contacted me awhile back to ask me if I would like to try their cakes. I scrolled through their website and was instantly intrigued by the Build Your Own Cake concept. No it's not a cake that you assemble yourself, although that would be interesting and fun too.
Build Your Own Cake is a cake where instead of choosing just 1 flavour, you can actually cobble together 10 – 12 different flavours. If you get the 8 inch cake, you get to choose the flavours for 10 slices. If you get the 9.5 inch cake, you get to choose the flavours for 12 slices.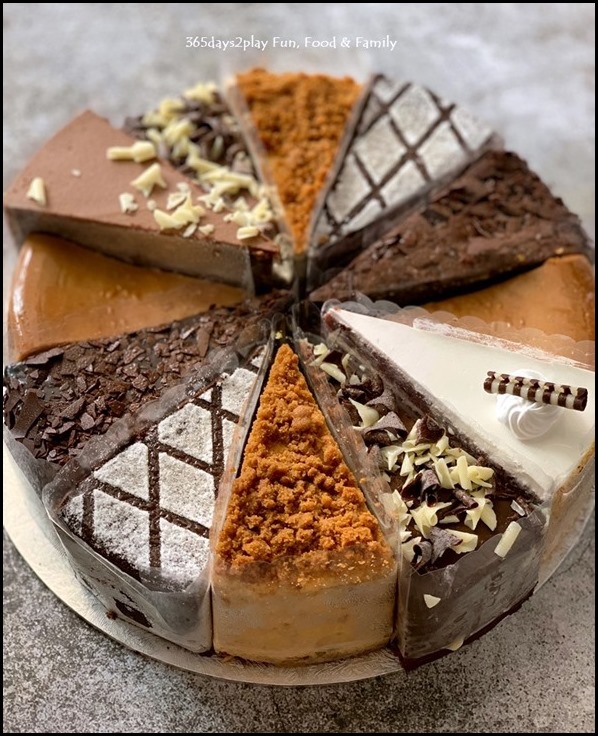 This concept is a godsend for people who just can't decide on the one flavour to get, or are getting a cake for a group of people whom they already know have differing tastes. It's also a great way to sample many different flavours instead of trying to plough through an entire cake which you might get bored off after a while, or worse, not actually like to begin with. You should have seen me eating cake for several days straight on my Instastories.
Indeed there were quite a number of interesting flavours and I was hard-pressed to make a decision. Flavours like Ondeh-Ondeh, Mao Shan Wang Chocolate, Pistachio Rose, Bubblegum and Yuzu Osmanthus? Unfortunately a couple of flavours were sold out so in the end I settled for the following flavours
Burnt cheesecake
Chocolate truffle
Biscoff cheesecake
Red velvet
Mao Shan Wang Choco cake
Choco fudge
Choco ganache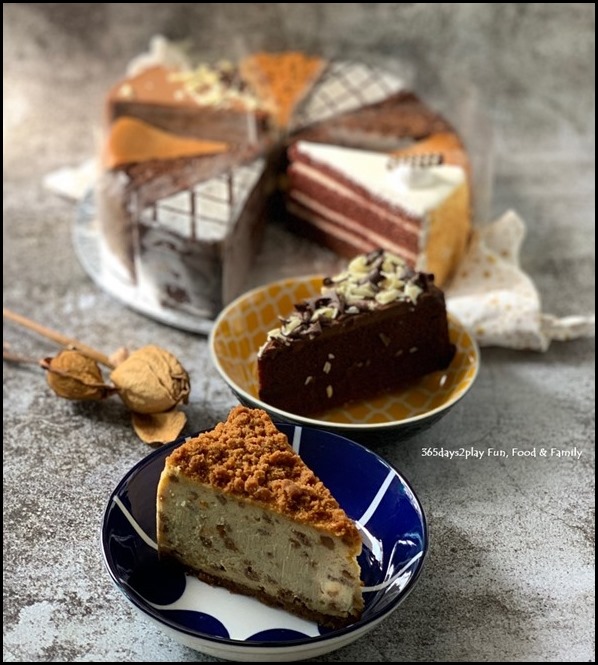 You know I was so sure that I wouldn't like the durian chocolate cake, but it turned out that it was my favourite slice of all! The durian taste is not very strong (if you wanted that, you'd be disappointed), but rather it enhanced the chocolate flavour with greater depth and richness, as well as provided a bit of textural contrast. I wish I had ordered more of those slices.
The biscoff cheesecake was also pretty good. The biscoff flavour was definitely detectable in the dense and creamy cheesecake. The chocolate ganache and chocolate truffle were chocolaty tasting and rich, but the choco fudge was my least favourite of all and can be skipped as it was too dry.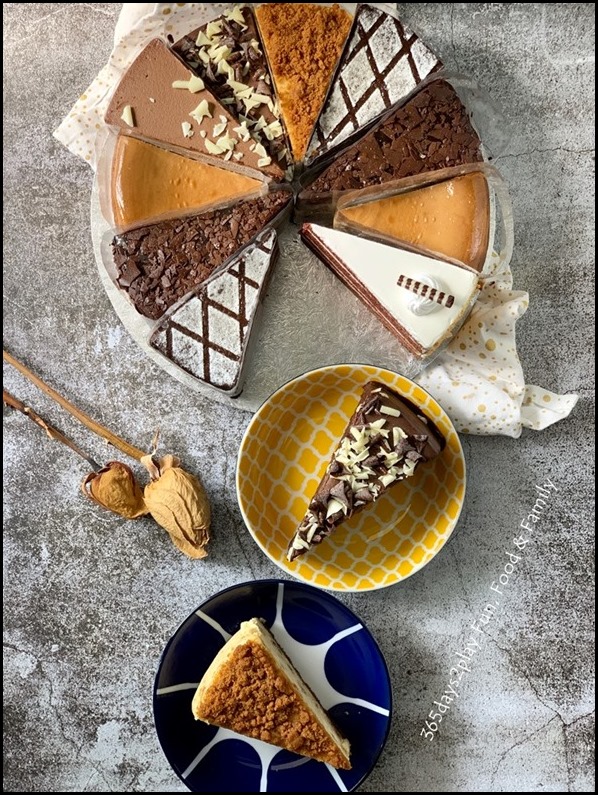 I was glad I was able to try all these flavours without putting all my eggs in one basket, so to speak. The flipside is that each slice is wrapped in plastic, so there is a bit of inconvenience and mess when removing the flimsy plastic sheets. But then again, another plus point is that the cake is ready-sliced and easy to serve, if you have the right number of guests.
Another useful service that Cake Delivery Singapore offers is the 1-hr express delivery service, and even delivery from 10pm – 6am, for an additional fee of $18 and $25 respectively. Now I have no idea why you would want to send someone a cake at 12 midnight, but if you wanted to, Cake Delivery Singapore are the people for you!
To find out more about Cake Delivery Singapore or to order, click on that link!
For more ideas on where to buy cakes in Singapore, follow me on Instagram!