[Media Invite]
If you have been following my blog, you will know that one of my favourite past-times is enjoying a spot of afternoon tea. I love the whole idea behind it, from the exquisite nibbles, the various teas to choose from, the posh and dainty settings, and the idea of quiet relaxation and good conversation as time stops still, even if just for a couple of hours. But I do know that a dainty afternoon tea is not everyone's cup of tea. Those who like to have their meats and seafood will be wondering at all the small bites.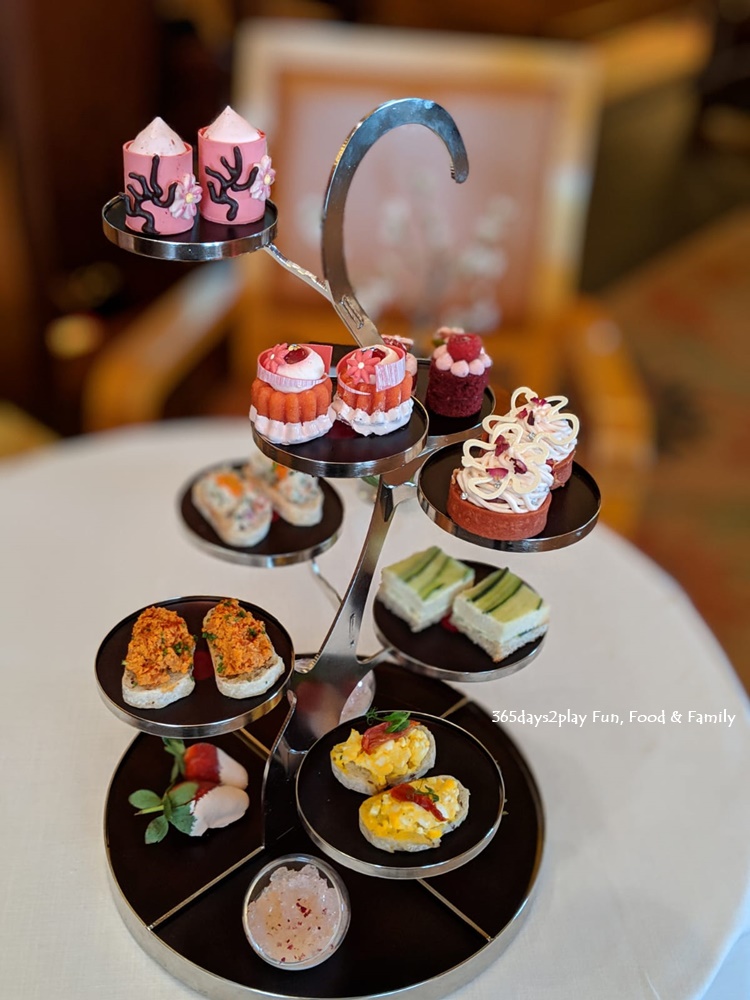 The good news is that Conrad Centennial Hotel has come up with an afternoon tea set that will please all parties. From 1 March 2019 to 12 May 2019, the Sakura Afternoon Tea menu will be available at the Conrad Lobby Lounge. As the name suggests, the dainty sakura has been incorporated into the sweet treats presented in the afternoon tea menu. However, if you dine on the weekend, the afternoon tea set also comes with a seafood platter and and a cheese platter. The seafood platter especially should please those with bigger appetites. Now the dainty eaters can dine with the voracious eaters without any bad feelings. (You know I hesitate to use the word ladies and men, or wives and husbands because I don't want to generalise, but you know who I'm referring to right.)
And a very huge plus point for afternoon tea lovers is that you can have unlimited servings of tea and coffee. What this means is that you can try the various tea flavours and coffee brews without limitation. Most hotels nowadays limit you to just 2 teas/coffees per person, and I have even encountered hotels that do not even offer a second pot of tea, aside from hot water top ups. In reality though, it's very difficult to drink more than 3 types of tea, because that means 3 pots of tea, or coffee for that matter, but I certainly appreciate the option of being able to switch if I want to. Quite a good selection of Ronnefeldt teas too, several choices per type of tea ranging from black tea to Chinese teas and even herbal infusions. The Sakura Afternoon Tea set also comes with a flute of Faive Rose Wine from House of Nino Franco per person, which I wish was refillable!
Scroll down for pictures of the Sakura Afternoon Tea.
You will be served 4 courses if you are taking the weekend afternoon tea
Seafood Platter
Sweet Treats and Savoury Delights
Scones
Cheese Board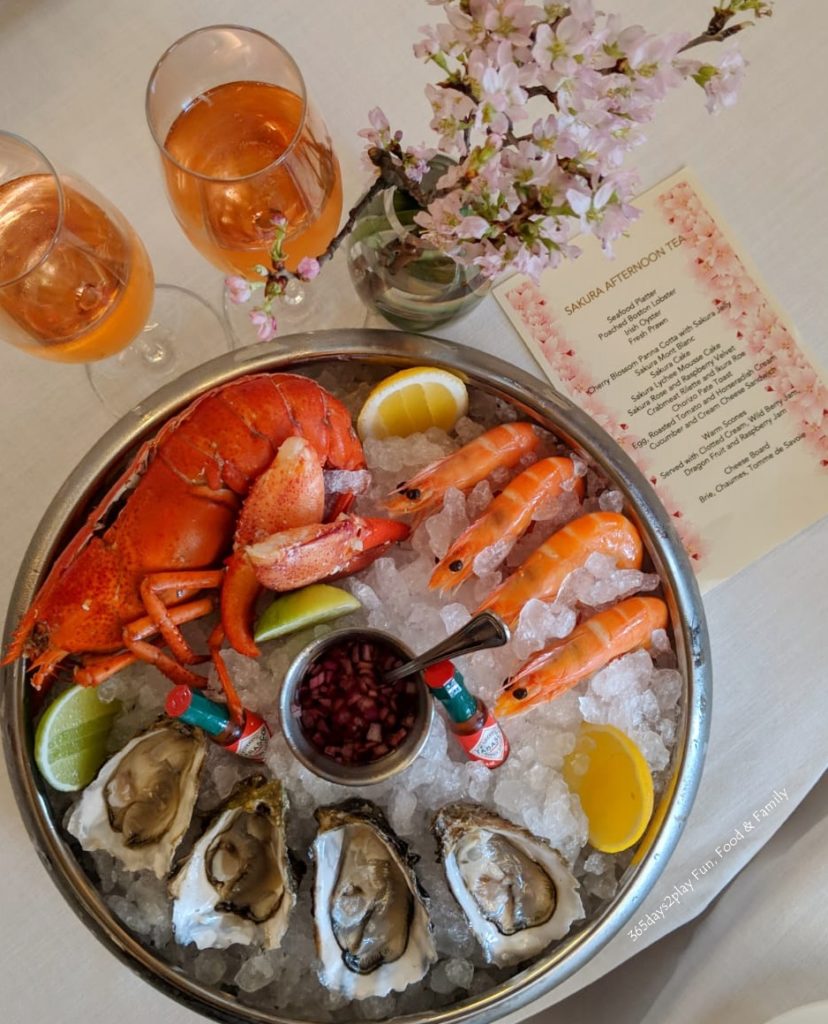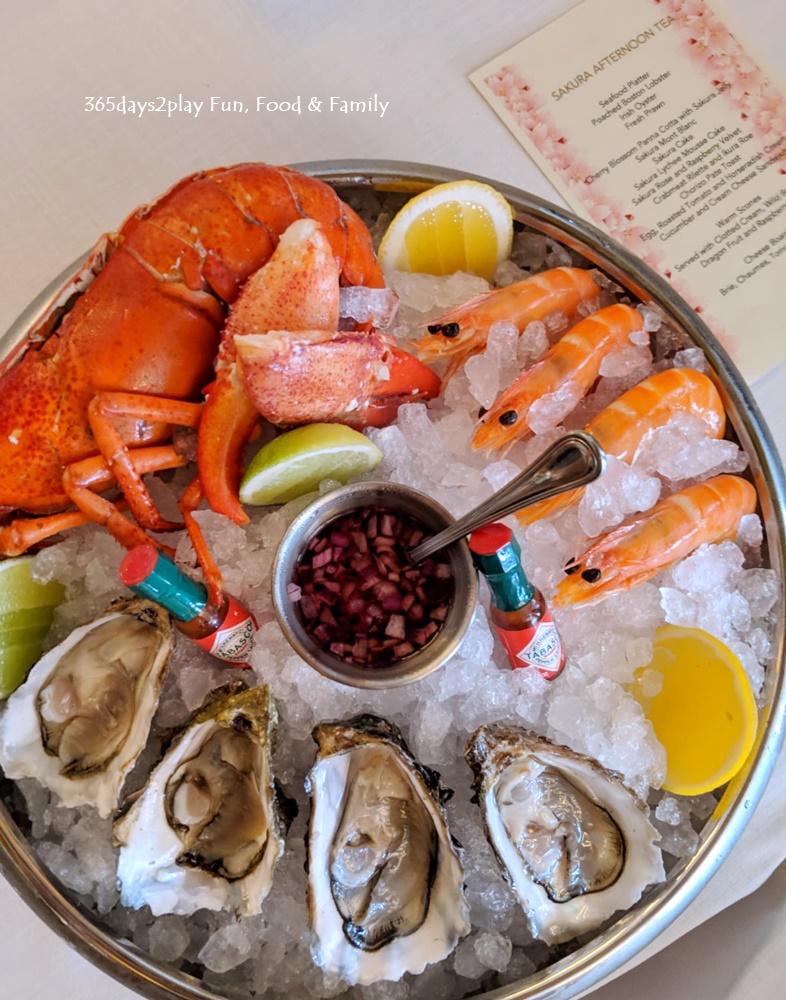 First up, the seafood platter comprising poached Boston Lobster, Irish Oyster and Fresh Prawns. All were very good, especially the Boston lobster which tasted particularly sweet. If only these were refillable!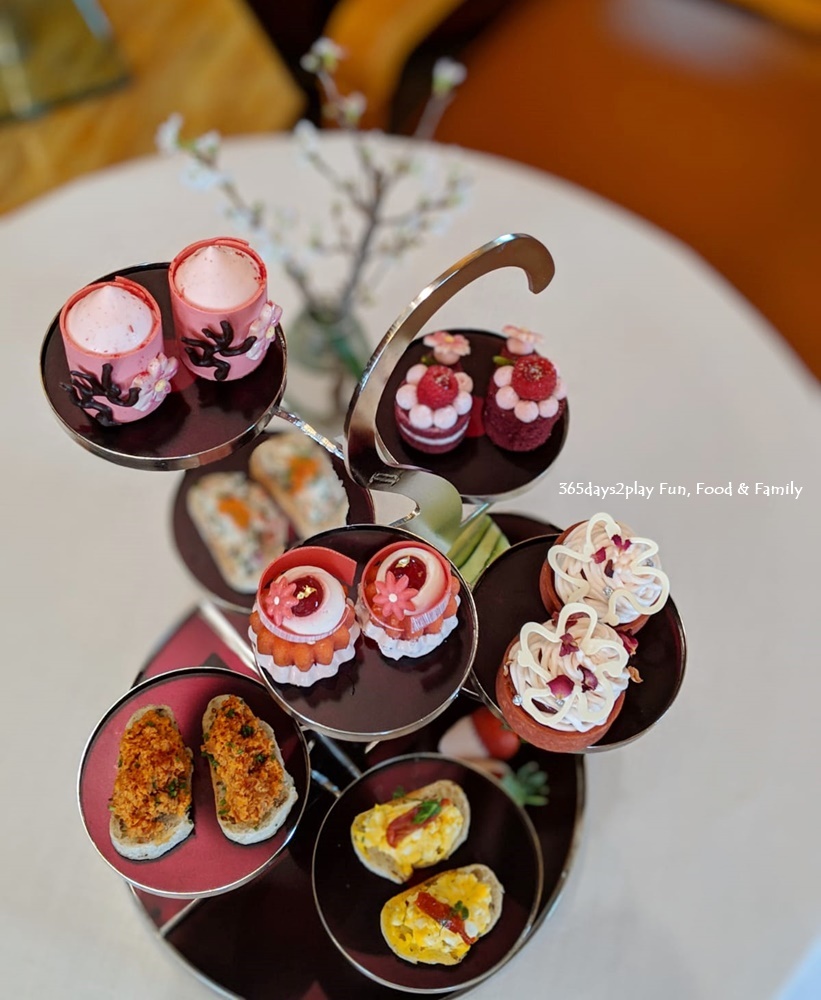 Savoury Delights: Crabmeat Rillettes and Ikura Roe, Chorizo Pate Toast, Egg Roasted Tomato and Horseradish Cream and Cucumber and Cream Cheese Sandwiches
Sweet Treats: Cherry Blossom Panna Cotta with Sakura Jelly, Sakura Mont Blanc, Sakura Cake, Lychee Sakura Mousse Cake and Sakura Rose and Raspberry Velvet
Next up, the mini open-faced sandwiches and petite sakura themed cakes. For the savoury delights, I particularly liked the chorizo pate toast, which had a spicy kick to it. And true to the sakura theme, all of the cakes had sakura flowers incorporated into them and they looked so dainty and exquisite. Edward could hardly contain himself as I tried to take my pictures as fast as I could before he poked a finger in.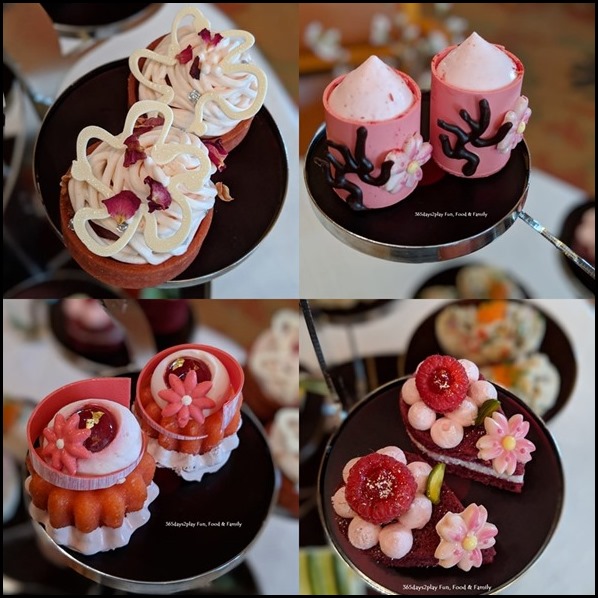 Here's a closer look at the 4 pretty sakura cakes.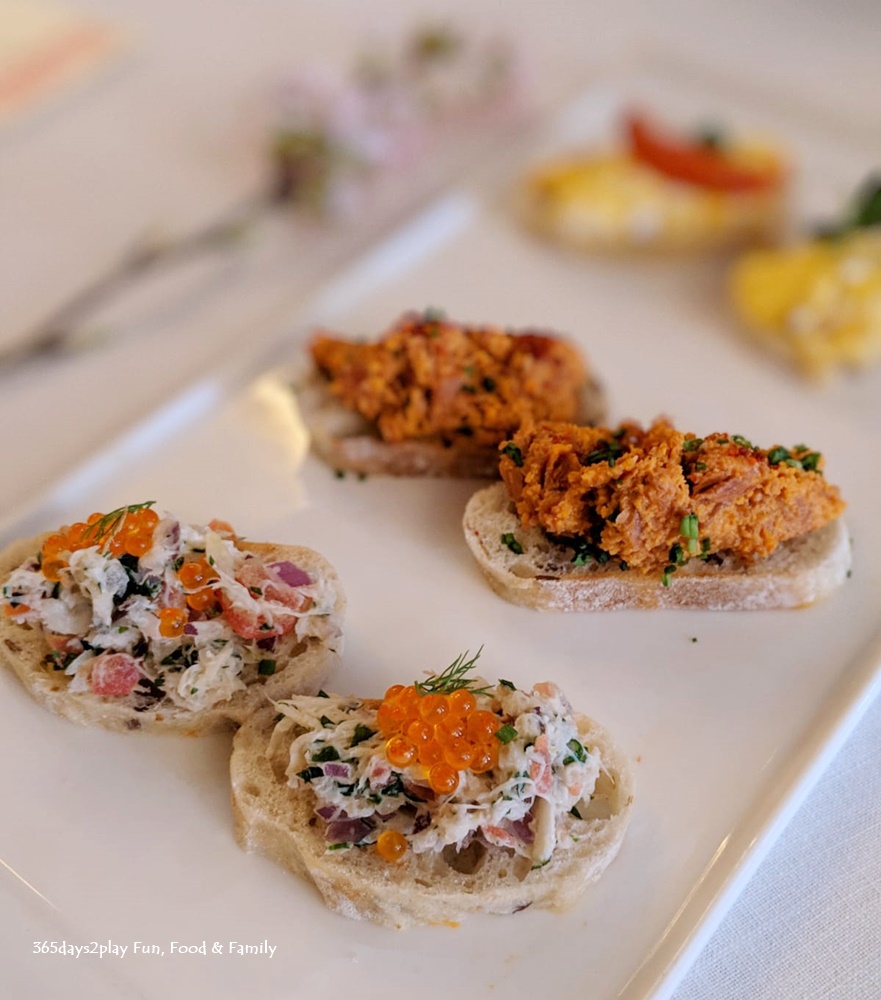 We were also pleasantly surprised to find that we could get additional servings of our favourite items, so of course we did.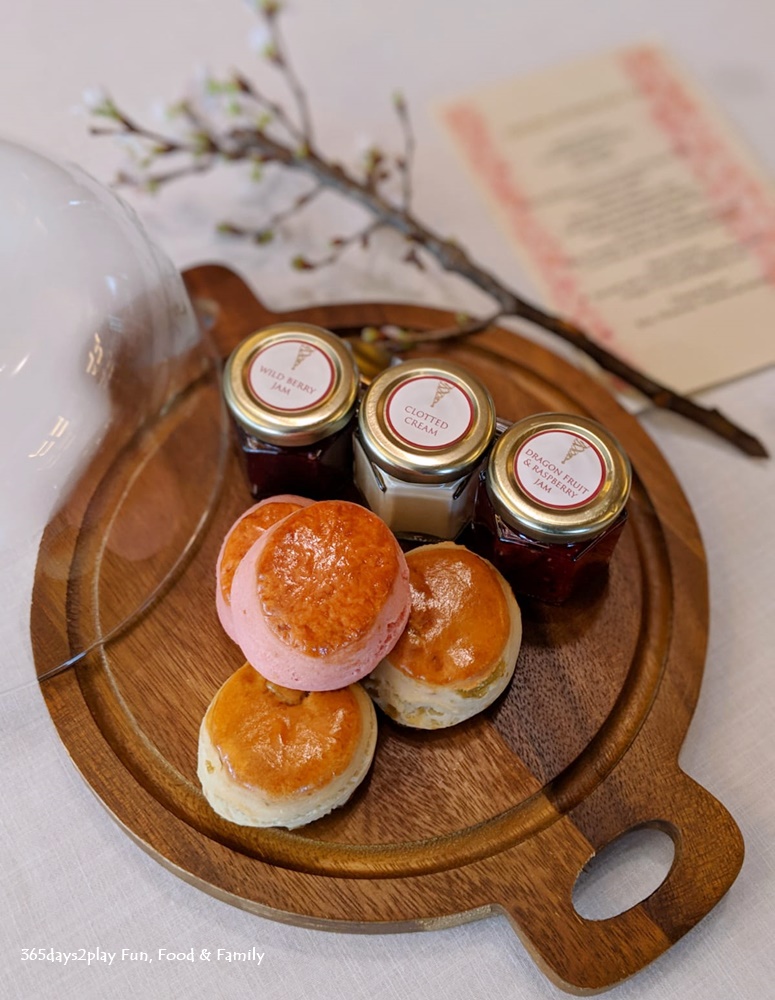 And if you're a true lover of afternoon tea, you won't miss out on the scones. Pink scones, that's indeed a first for me, and yet another creative use of the sakura flower. I loved the wild berry jam and clotted cream combination while the husband loved the dragonfruit and raspberry jam / clotted cream combination. While I can never say no to a good strawberry jam, it's always nice to be offered new flavours of jams to keep the afternoon tea experience exciting. And it also shows that the hotel is not just trying to cobble together a slip shod afternoon tea. My only grouse is I love slathering on generous amounts of jam and clotted cream, and it was difficult doing so with those tiny bottles and a spoon.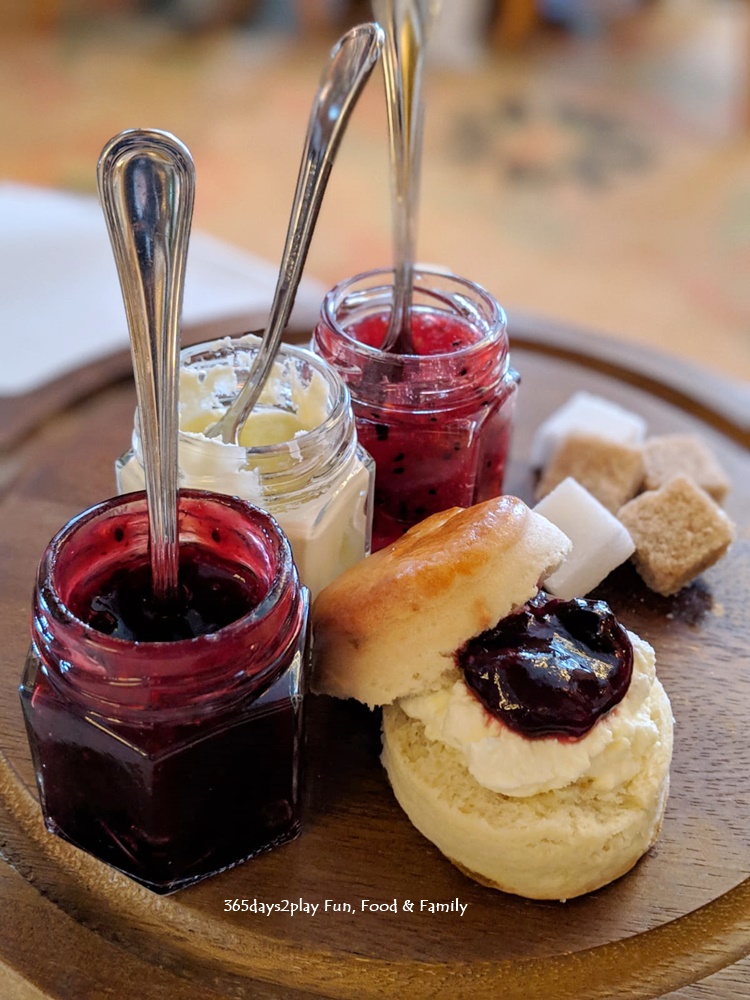 I don't know why something so simple as jam and cream on scones can taste so good. It's just like bread and butter, a match made in heaven.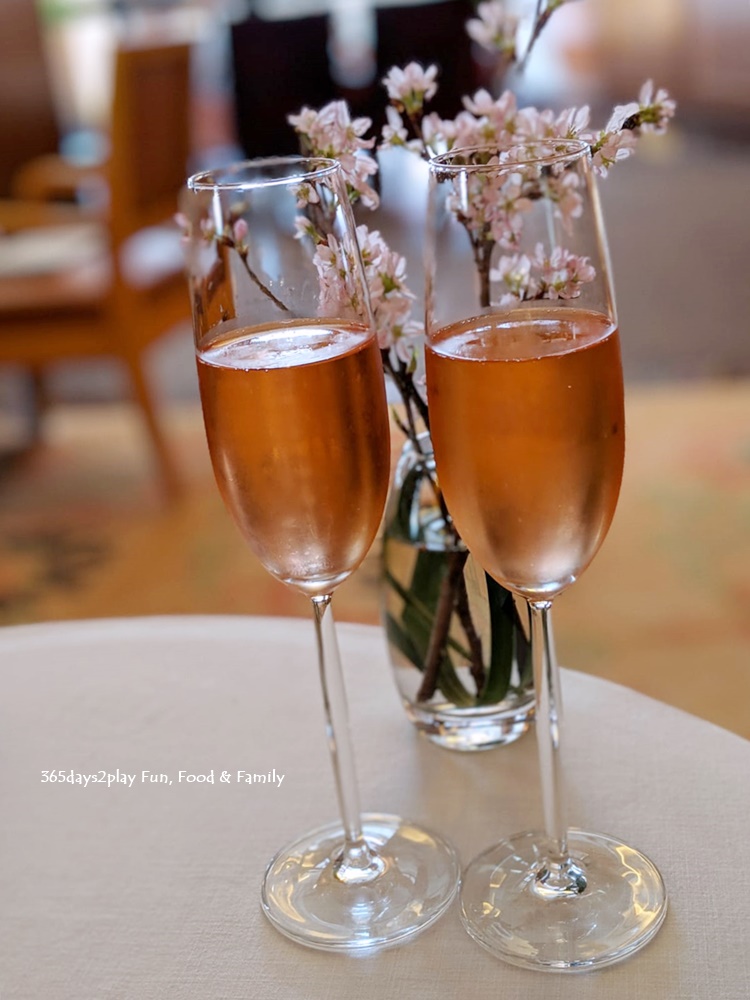 Lovely to be able to enjoy these glasses of Faive Rose Wine from House of Nino Franco. Sweet and easy to drink.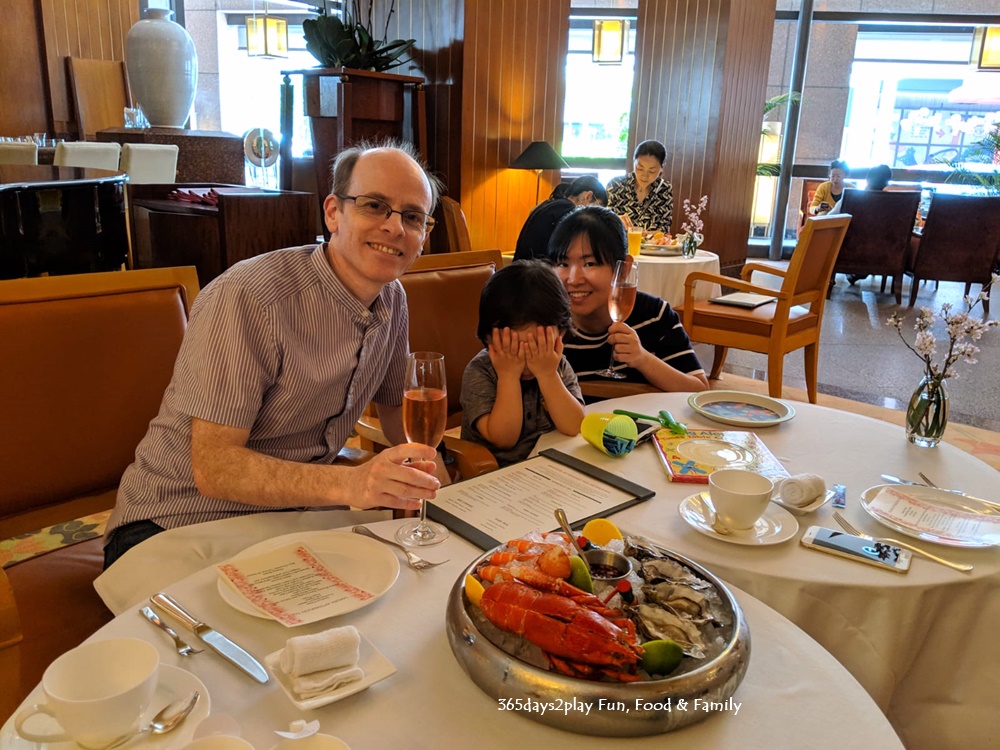 Never know what tricks our friend will be up to. His latest thing is to cover his face when we have group pictures taken. Not sure why, when he loves snatching my phone to look at all the past photos.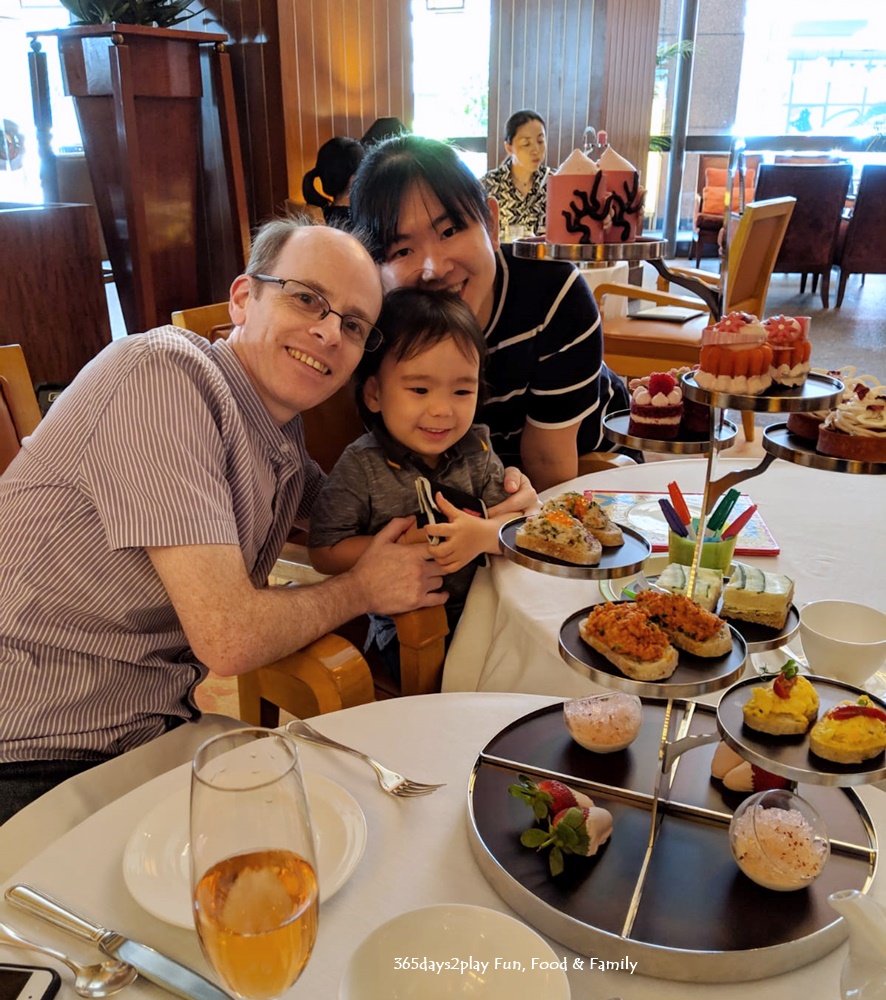 Ok finally a good shot. You can see where Edward's attention is focussed on.
All in all, a very lovely afternoon spent at Conrad Centennial Hotel Lobby Lounge, enjoying afternoon tea with live piano music nearby.
Sakura Afternoon Tea
Monday — Friday | 3.00pm — 6.00pm | S$32++ per person
Saturday, Sunday & Public Holidays | 1.00pm — 5.00pm | S$68++ per person (Includes seafood and cheese platters)
---
Add me on Facebook, Instagram and Twitter if you want to be kept up to date with the latest happenings in the food and lifestyle scene in Singapore!
Other afternoon tea places in Singapore
---
Conrad Centennial Singapore Lobby Lounge
Two Temasek Boulevard, Singapore, 038982, Singapore
Please call +65 6432 7483 or email sinci.lobbylounge@conradhotels.com
http://www.connoisseur.sg/the-sakura-afternoon-tea/.