*Media Invite*
We are all familiar with the bakery chain big boys. I think there isn't a soul in Singapore who hasn't heard of BreadTalk. And of course you have the others such as Four Leaves, DJ Bakery, Sun Moulin, etc. It's interesting that with the proliferation of so many cafes in Singapore, none of these big boys bakery chains have ventured into a proper sit down cafe featuring their baked goods. I suppose BreadTalk's Toastbox comes close, but I wouldn't call it a "cafe" so to speak, because most people just go to ToastBox for kopi and toast.
So, I was pleasantly surprised to find out that Prima has just opened it's 1st upmarket cafe destination bakery called iBake, at Star Vista in Buona Vista. It is the first home-grown full-service destination bakery that uses its own customised Prima flour for its unique offerings of breads. This is offered by no other bakery in Singapore. You may already know that Prima mills its own flour, hence the capability to offer this. I was told that iBake was developed to showcase this special Prima flour, that is used in the atas baked goods that hotels order from Prima. So you won't be seeing tons of iBakes sprouting all over Singapore, although I would be quite happy if there was an iBake near where I live!
Having heard much about Prima's flour during my 3 month intensive baking course at Prima's Baking Industry Training Centre, I was quite keen to find out if the products would live up to the name. iBake offers a fine selection of European crusted breads combined with the light, airy textures of Japanese breads. I personally like European crusted breads as the crust is packed with flavour. When the breads are well made like they are in Europe, you won't find it so chewy, like what most Singaporeans complain about.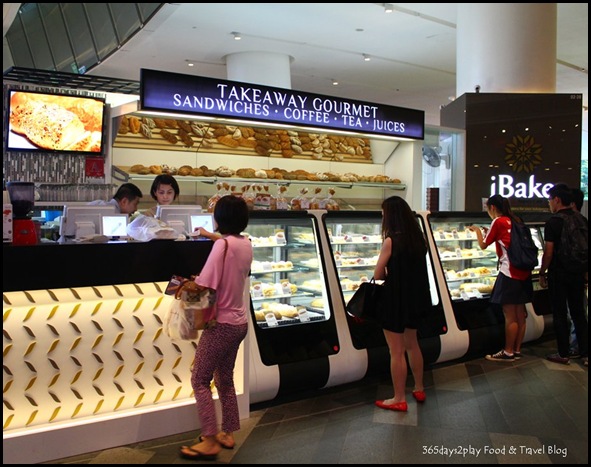 There is a large sit down area, or if you so choose, you may order the smaller bites for takeaway.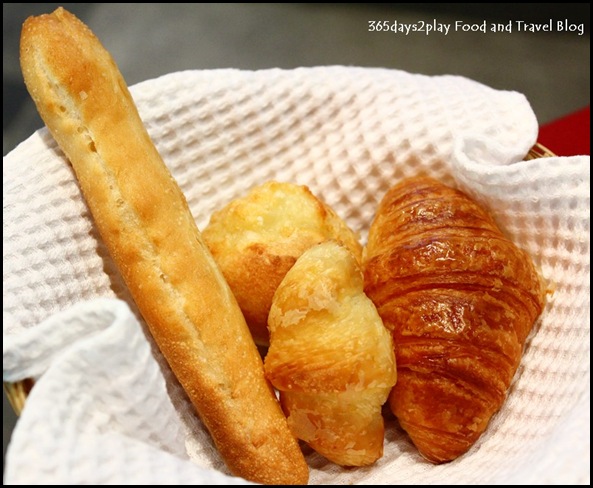 Bread Basket (Petite French Stick with Milk Cream, Petite Gruyere Cheese, Petite Anchovy Croissant and Petite French Croissant)