**Only takeaways available as of 21 June 2012. License suspended for sit-down/dine-in due to traffic congestion issues!!**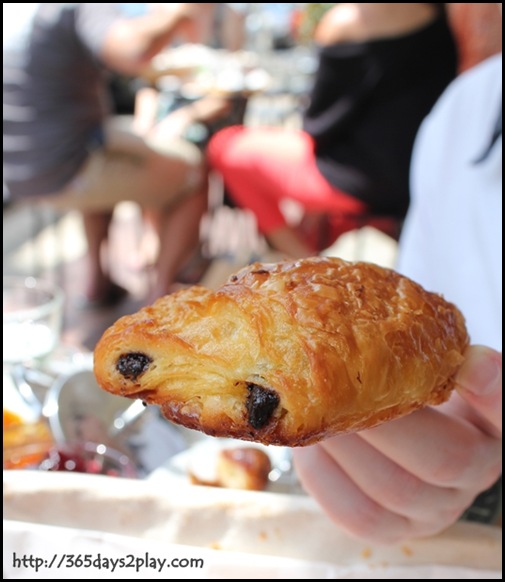 Have you been to the Baker & Cook yet? Our President Tony Tan has! More than once in fact! It looks like 2011 was the year of the proliferation of coffee joints. 2012 seems to be the year of the bakery. Paul, Maison Kayser, Baker & Cook, I suspect we'll be seeing more bakeries popping up with eye catching breads and pastries. For too long, our bakery scene has been dominated by BreadTalk and DeliFrance. Aren't we all lucky that we now have more choices, or are we just late in catching up with other countries?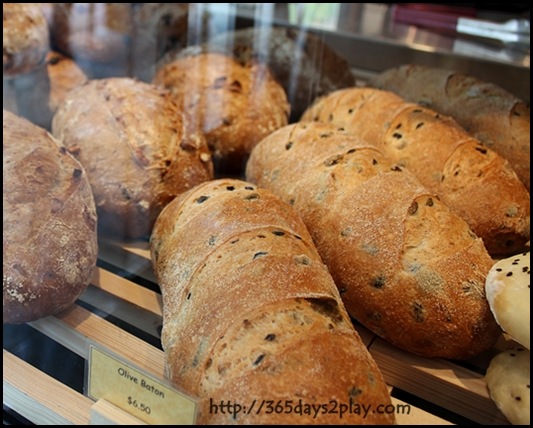 I know how to make this… :o)
I visited Baker and Cook in early February to suss out the place. I think I read about it in the Straits Times, and the minute I saw the photos of the place, I knew I just had to pay Baker & Cook a visit. It's obvious from my blog that I love exploring new cafes. But did you know that I love exploring new artisanal bakeries as well? Artisan Bakery + Cafe, was it any wonder I zoomed to visit the place so soon after it was open? I wrote a brief write-up about Baker & Cook last month in conjunction with my Waitangi Day (New Zealand Day) article. Baker & Cook is one of the few places in Singapore where you can find NZ influences in the food.
The bakery is nestled in the Greenwood Area. Owner Dean Brettschneider is a New Zealander and so is his head baker David O'Brien. The coffee that they serve here, Allpress, is also a NZ brand. You can get a range of jams, chutneys, handcrafted packaged cookies, cakes, as well as cooked breakfast, lunch and dinner.  I like to tell people that our President Tony Tan has already been here at least twice, have you???
There is no other bakery in the Greenwood area, so I think Dean really captured a fantastic location for his cafe. It is the corner shop to boot! I don't know if the madness has died down yet, but when I was there last month, it was as crowded as can be that Saturday morning. There isn't much seating, just a few tables outside, and a long wooden table inside. It can get very hot sitting outside. I should know, cuz my arm got tanned after sitting there for 1 hour. If you drive, you might be better off buying the goodies back home to savour.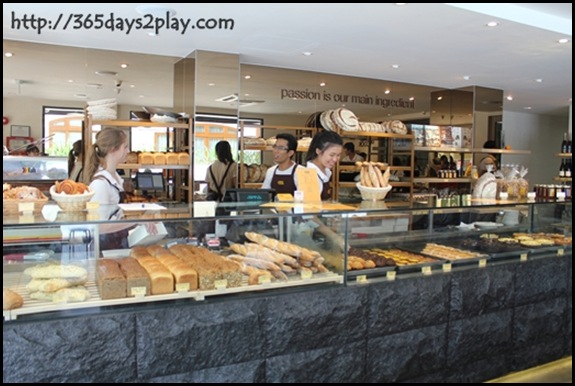 Passion is our main ingredient. I have to attest to that. Where there is passion, there is energy, dedication and creativity.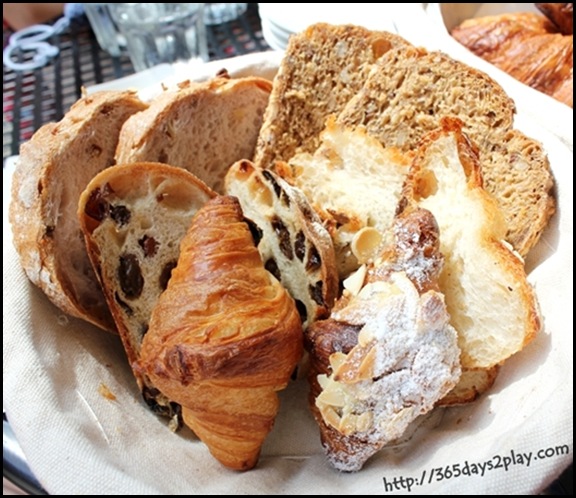 We ordered a Baked Bread & Viennoiserie basket $9.95 to share, which basically comprises of several slices of different types of breads, 2 mini croissants, butter and a selection of 3 types of jams. The breads were all the "European" type breads, meaning crusty on the outside and chewy on the inside. They were pretty good when spread with loads of jam. I would have liked the crusts to be crustier. But between the 4 of us, we still managed to polish off all the bread. The croissants were so so. Not very buttery in my opinion.
If you've been following my blog, you will know that I have been taking baking classes. I completed my bread module just last week, and gone are the days where I gravitate towards soft bread. I now look at bread with different eyes. Yes I like those breads that can crack a wall if you throw them at one. The aspiring baker in me has actually fallen in love with the French Baguette and I'm not looking back! There is a reason why the supermarket loaves are so soft. BREAD IMPROVER my friends. So be careful what you ask for. I've no idea if Baker & Cook uses these chemical additives, but I suspect they don't, them being artisanal.
Behold the 3 jam selection. The jams were quite good! See it was so bright and glaring outside.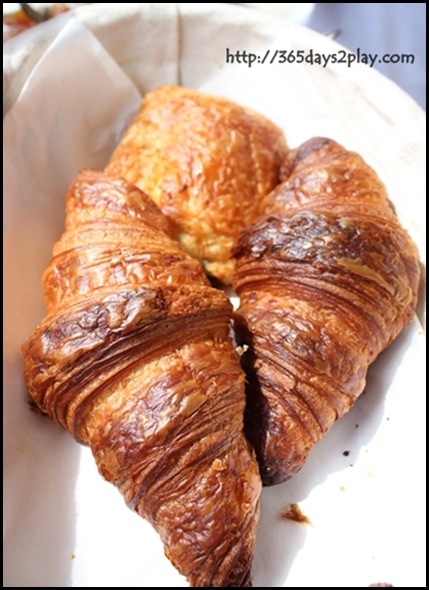 We got 3 extra croissants for free since these were slightly burnt and not fit for sale. Actually they didn't taste burnt at all and I am told in Europe, this is the colour they look for.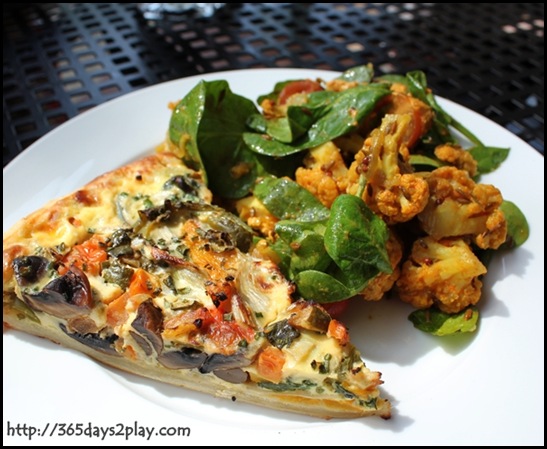 We also got a quiche with accompanying side salad for $7.95. Quite value for money, for the portion size. I liked the spices used in the salad. The quiche was chock full of ingredients, but the Partner would have preferred a little more egg in the quiche to give it more body.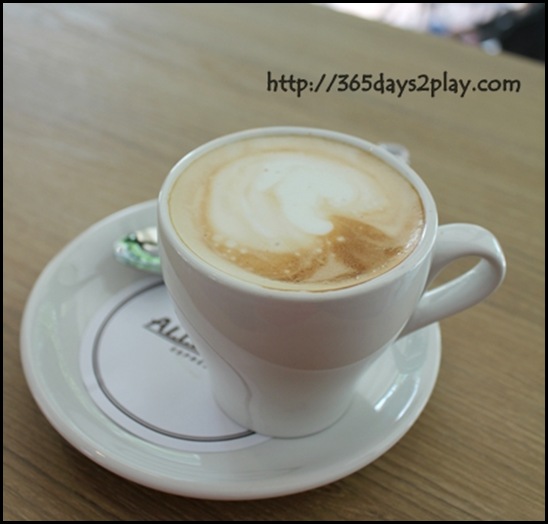 We tried the flat white Allpress coffee for $4.25. True to what Dean told me, this was a fantastic cup of coffee. Will definitely have to come back again for this coffee, if nothing else. But I'm sure I'll be buying a baguette or 2 back.
Didn't get the opportunity to try the hot food. They have stuff like Eggs Benedict, Scrambled Eggs and Pancakes, but these were all going at $14-$17, which I thought was a little pricey.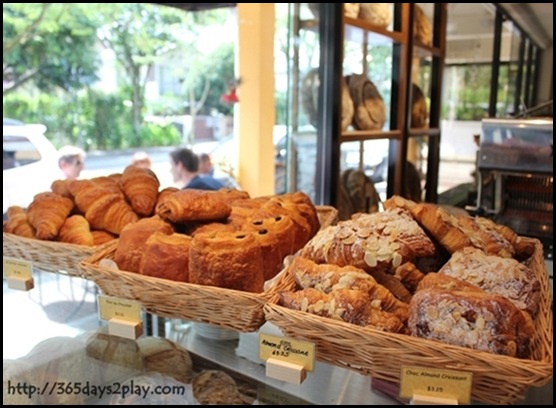 Check out the Baker & Cook's website for the full menu. Did I mention that Dean Brettschneider has also written several cookbooks and has appeared on several TV programmes? New Zealand's hottest baker. Maybe I'll get to watch that when I go back to NZ in June. Speaking of cookbooks, I better lay off that topic. I just bought like $250 worth of cookbooks at the PageOne closing sale. Okay they were all on 50% discount, but STILL!
Baker & Cook
77 Hillcrest Road, Greenwood, Singapore 288951 
Telephone : +65 6469 8834
Opening hours:
Sunday to Thursday – 7am to 8pm
Friday to Saturday – 7am to 10pm