I love whimsical weddings and I have a soft spot for Candybars after the amazing experience I had at my own wedding. I didn't really get to enjoy the full glory of my wedding Candybar, as you can well imagine that I was everywhere but at the Candybar entertaining my wedding guests! The Candybar goodies were completely wiped out by the time the wedding ended, and I was quite regretful that I did not even manage to save a single morsel to reminisce. Only pictures remind me of the wonderful array we had that day.
So when I heard that my good friend was going to have a Candybar catered by Sweet Moments for his wedding at Crowne Plaza Changi Airport, I was overjoyed. Apparently he took inspiration from my wedding, woo hoo! Pay back time Mister! I was going to take the opportunity to raid his candy bar and enjoy it to the fullest!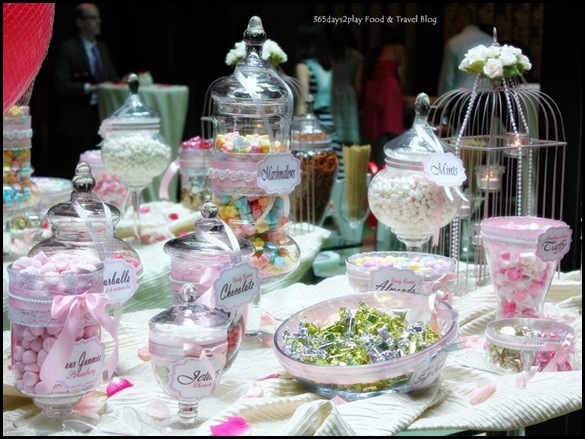 My friend had a whopping 14 different varieties of candy, chocolates and marshmallows! This was in addition to the chocolate fountain as well as strawberries too! What a feast! As you can see, my friend chose a very pink theme!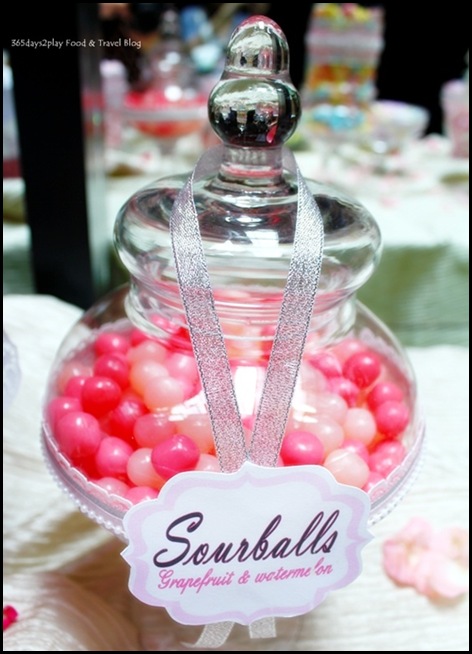 Sourballs – Grapefruit & Watermelon
No matter whether young or old, candy bars will never fail to put a smile on anyone's face! I really do think that candy bars will become the de rigeur for all weddings in the future, just like champagne pouring or having a wedding cake! Remember you heard it here first!