I've always been envious of the people living in the Tiong Bahru, Everton or Duxton area because there are so many cafes there. All they have to do is slip on something casual, get out of their house, walk for 5 minutes or so, and voila, they're having a cuppa at their "neighbourhood cafe".
I kinda feel like the East has been neglected when it comes to cafes. I have to crack my brain real hard where to drive to, each time I wanna have a latte or cake, so can you imagine my surprise when a cafe actually opened in my neighbourhood?? Ok it takes me about 20 minutes to walk there, but still, beggars can't be choosers! It's such a nice feeling to have a cafe to call "our own" that my parents and I have already visited it at least 3 times since it's opening in late 2013. I think all of the people living nearby feel the same way as well because it is always full during peak hours. Luckily there is a relatively large outdoor seating area, at the 5-foot walkway and with awnings so not to worry. You can dine amongst the cacophony of the birds from the bird shop nearby.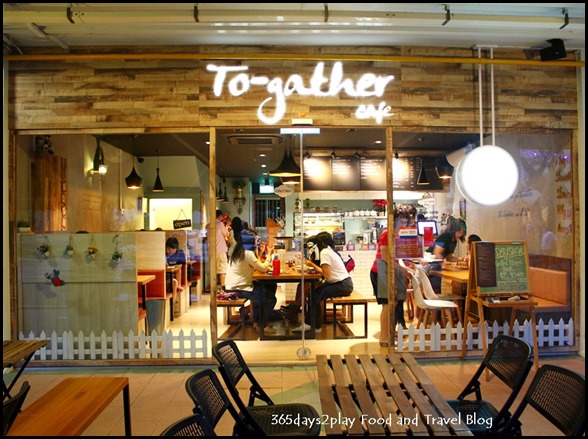 Not bad huh for a neighbourhood cafe? The really great thing about To-gather Cafe is their affordable prices! Cafes nowadays charge an arm and a leg for the simplest of menu items. $15 for eggs benedict, come on, how difficult is it to bloody poach 2 eggs? Or $20 for all day breakfast? My grandmother can fry eggs and sausages with her eyes closed! Prices at To-gather cafe are only a few dollars higher than if you were to dine at the Western Stall in a coffee shop. For example, the mains are almost all below $10.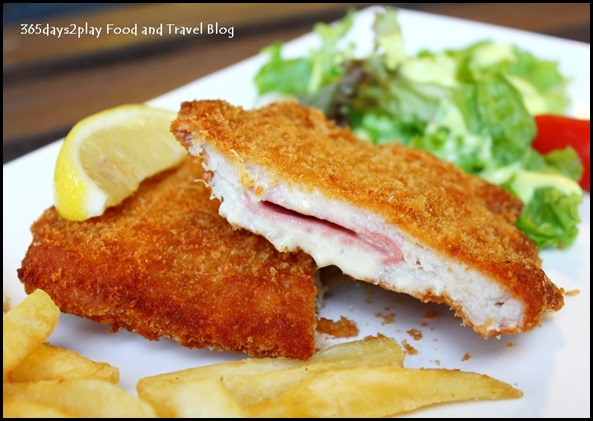 Pork Cordon Bleu  -  $10.9 (Pork Loin Stuffed with Ham & Cheese, and served with fries & seasonal Vegetables)