I've always been envious of the people living in the Tiong Bahru, Everton or Duxton area because there are so many cafes there. All they have to do is slip on something casual, get out of their house, walk for 5 minutes or so, and voila, they're having a cuppa at their "neighbourhood cafe".
I kinda feel like the East has been neglected when it comes to cafes. I have to crack my brain real hard where to drive to, each time I wanna have a latte or cake, so can you imagine my surprise when a cafe actually opened in my neighbourhood?? Ok it takes me about 20 minutes to walk there, but still, beggars can't be choosers! It's such a nice feeling to have a cafe to call "our own" that my parents and I have already visited it at least 3 times since it's opening in late 2013. I think all of the people living nearby feel the same way as well because it is always full during peak hours. Luckily there is a relatively large outdoor seating area, at the 5-foot walkway and with awnings so not to worry. You can dine amongst the cacophony of the birds from the bird shop nearby.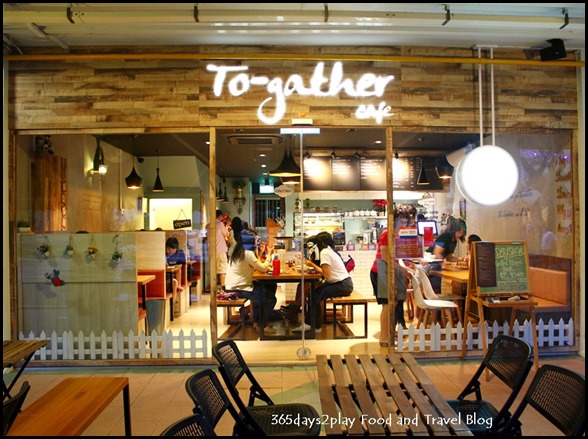 Not bad huh for a neighbourhood cafe? The really great thing about To-gather Cafe is their affordable prices! Cafes nowadays charge an arm and a leg for the simplest of menu items. $15 for eggs benedict, come on, how difficult is it to bloody poach 2 eggs? Or $20 for all day breakfast? My grandmother can fry eggs and sausages with her eyes closed! Prices at To-gather cafe are only a few dollars higher than if you were to dine at the Western Stall in a coffee shop. For example, the mains are almost all below $10.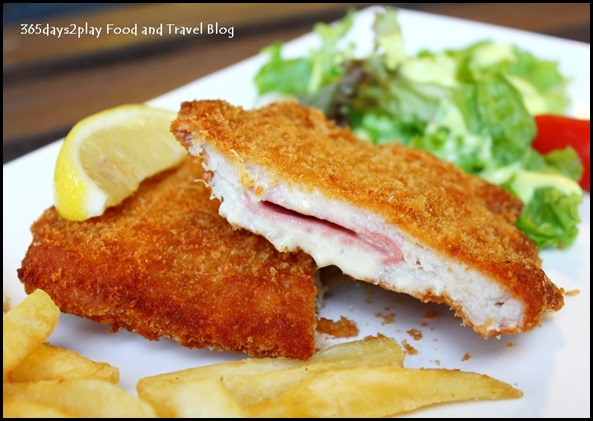 Pork Cordon Bleu  -  $10.9 (Pork Loin Stuffed with Ham & Cheese, and served with fries & seasonal Vegetables)
I ordered one of the 2 mains that were above $10 on the permanent menu. Things like fish & chips, chicken chop and all the pastas are below $10. It's been a long time since I had a meat cordon bleu. It's more common to find chicken cordon bleu in Singapore I think, but because I don't like chicken breast (which is usually the cut used for cordon bleu), I've steered clear of it despite my love for melted cheese! The Pork Cordon Bleu was pretty good. 2 generous pieces, fried to a nice crisp on the outside, with the meat still being relatively moist on the inside. I would have liked just a little bit more of cheese inside the pork loin though.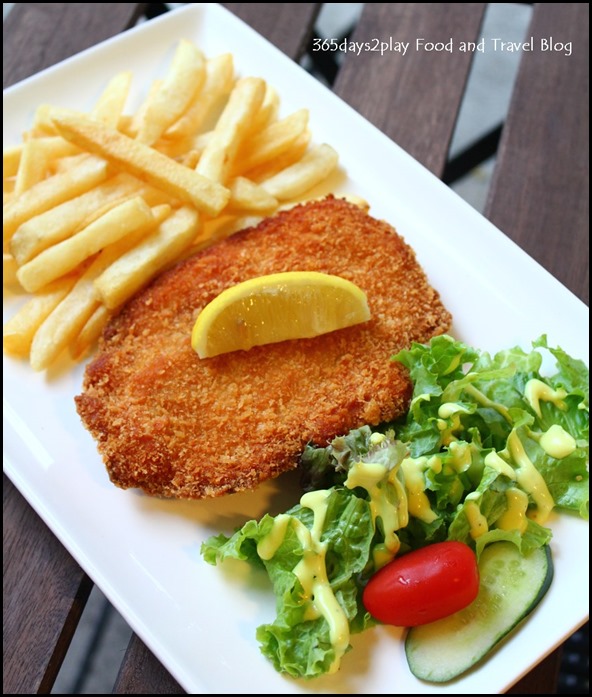 Btw, cordon bleu means blue ribbon in French, and the dish probably dates back to the 1940s, starting out as a cheese filled schnitzel.
 Seafood Aglio Olio  -  $8.90
My parents ordered the seafood aglio olio, which came with bits of salmon, squid and prawns. Also came with a few sliced chillies to give the pasta dish an oomph. It was a pretty pleasant dish, nothing to complain about except that the serving size was just a teeny bit small. Would probably only be enough for a small eater.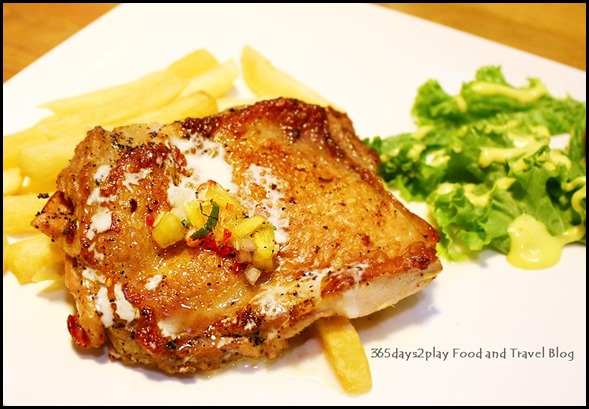 Grilled Pandan Chicken Chop  -  $8.90 Served with honey sauce, fries and Seasonal Vegetables
The Partner ordered the grilled pandan chicken chop. Yes you read rightly, pandan. It might sound a little weird at first, but come to think of it, we do have pandan wrapped chicken, so why not pandan chicken chop. The pandan just adds a nice fragrance to the chicken so you needn't be an adventurous eater to try this. The chicken was nice and tender and had a crispy skin.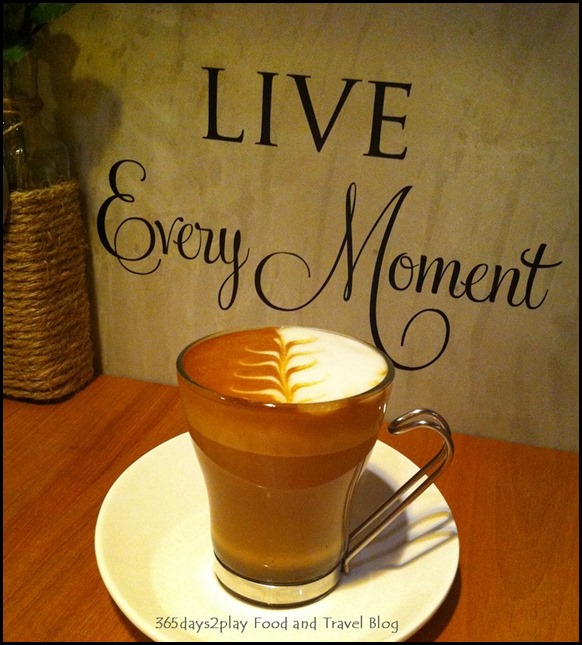 Café Latte  – $4.2 (H) $4.5 (C)
Coffee-wise, I find it average. The latte was a tad bitter, and also not that smooth. The beans used are UCC Coffee beans, not exactly my favourite brand. Given the very attractive food menu pricing, I was kinda expecting / hoping that the coffee would be in the $3+ range, but I guess not.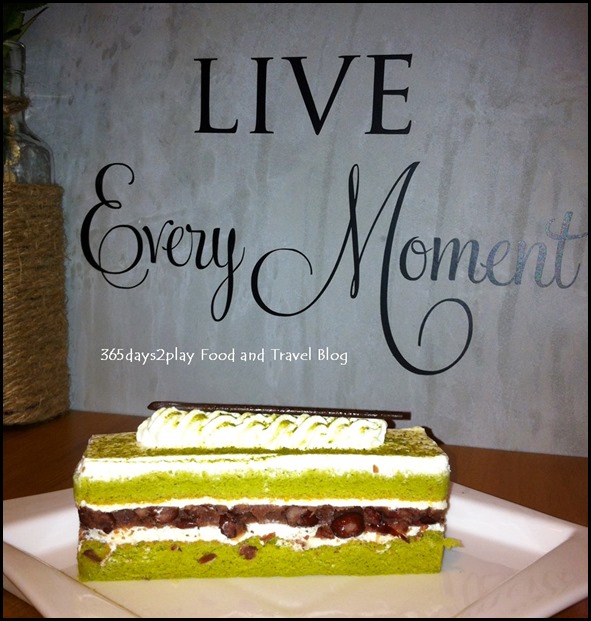 Matcha Red Bean Cake $3.80
The cakes at To-gather Cafe are also pretty affordable. The sliced cakes are all $3.80 or below. Granted that the cakes are smaller than usual, but it's a good pricing if you just want a small sweet ending.
---
Click here to read my food reviews of other Restaurants and Cafes in the East
Add me on Facebook, Instagram and Twitter if you want to be kept up to date with the latest happenings in the food and lifestyle scene in Singapore!
---
To-gather Cafe
Blk 84, Bedok North St 4 #01-27 (The block next to the famous Blk 85 Bak Chor Mee Hawker Centre, but the cafe is on the opposite side facing the HDB blocks and not facing the main road. You can still see it when driving up the side road)
Mon – Thu: 11:00 – 22:00
Fri – Sat: 11:00 – 23:00
Sun: 11:00 – 22:00
http://www.togathercafe.com.sg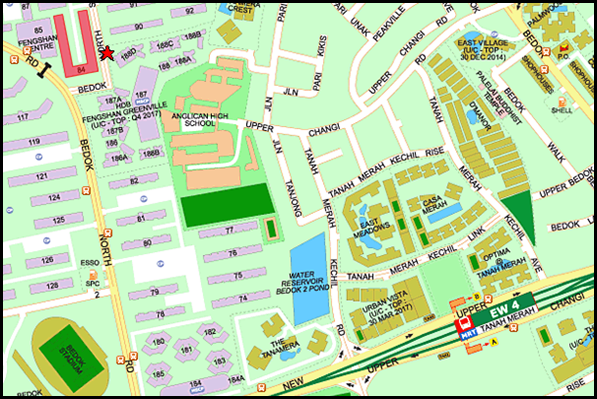 The Star marks the spot where To-Gather Cafe is located. You can take Bus 222 or Bus 14 from the Bedok Interchange to get there. Stop directly in front of the Blk 85 market Bus Stop. Click on the map to get directions.