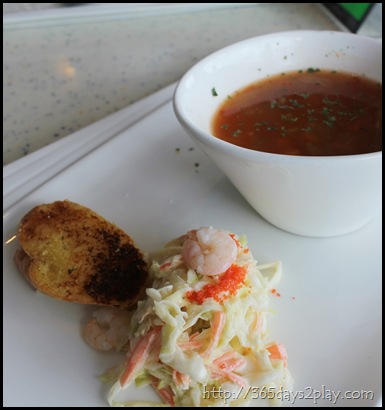 Minestrone Soup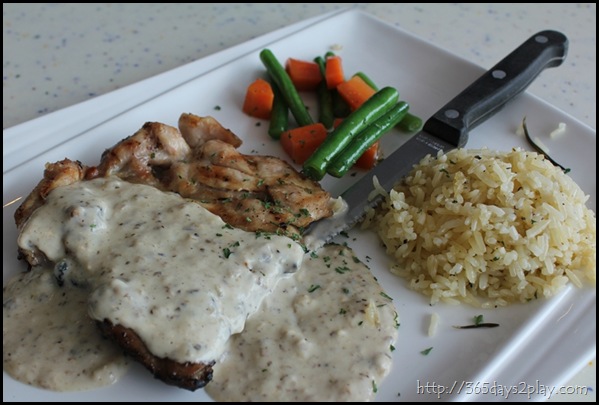 Chicken Chop with Mushroom Sauce
Met up with a group of ex-class mates some weeks back and someone suggested eating at White Dog Cafe in Vivocity. Had vaguely heard of its existence but I had never tried it out before. It was totally full when I got there on a Sunday afternoon at 1pm. Luckily I wasn't the first, so I didn't have the task of getting a table for everyone!
Everyone chose the set lunch because it sounded pretty affordable at just over 10 dollars. Yes the set lunches are available even on weekends. For the price, you get a soup, a mains and a drink. The soup arrived all nicely plated and I was pretty impressed. It was only after the 1st sip that we all unanimously found the soup too salty. It wasn't just the minestrone that was salty, even the other soup, I forget it was clam chowder or corn soup, was pretty salty too. Otherwise, I found the soup nice with just the right level of sourness, and the vegetables still had some bite to it. I liked the coleslaw salad on the side too. It tasted refreshing and had body to it. Coleslaw has had a bad reputation thanks to a certain fast-food chain that offers lifeless coleslaw.
I ordered mushroom sauce chicken chop. The chicken was nice and tasty, and it was quite nice to be able to eat it with fragrant rice rather than with the usual fries. I really liked the mushroom sauce. It was thick and mushroomy, I finished it all! The only thing is, when the mains arrived, everyone was a little taken aback at the size. It's okay for me I guess, I was full at the end, helped along with the earlier soup and garlic bread I had. Big eaters may have to order more sides in order to feel full.  Well I suppose this is the reason why White Dog is able to keep its costs low.
White Dog Cafe
Vivocity 1 Harbourfront Walk #02-131/132
Singapore 098585