I've been a fan of Ritz Carlton's Afternoon Tea for the longest time and after my cousin asked me to recommend me great places to have afternoon tea in Singapore, I started to have cravings again. Yes I know the last time I had afternoon tea at Ritz Carlton was but a mere 6 months ago, but for an afternoon tea lover like me, that just feels like decades ago. Besides, back in December, it was the Winter afternoon tea menu that we tried. It's Summer already for god's sakes!
For the uninitiated, Ritz Carlton Singapore's Chihuly Lounge changes their afternoon tea menu four times a year to suit the four seasons. It's all about getting inspiration from the produce of the season as well as the weather of course. And what better way to celebrate summer than to have a Mediterranean theme for the Summer Afternoon Tea. (I have a good mind to ask Four Seasons Hotel if their afternoon tea is inspired after the four seasons as well, ha!)
The Mediterranean afternoon tea theme is best showcased by their desserts, so let me first tempt you with the dessert pictures. Don't get me wrong though, I was a good girl and ate the savouries first before hitting the dessert table. Actually, I'm the sort who has to have the main course first before dessert. And I can't just have desserts as the main meal. I'll feel as if I haven't had lunch/dinner, even if I'm busting from the cake I just consumed. Interestingly, as long as I've had the mains first, I can go on to dessert and back to savoury again, if we're talking about a buffet setting.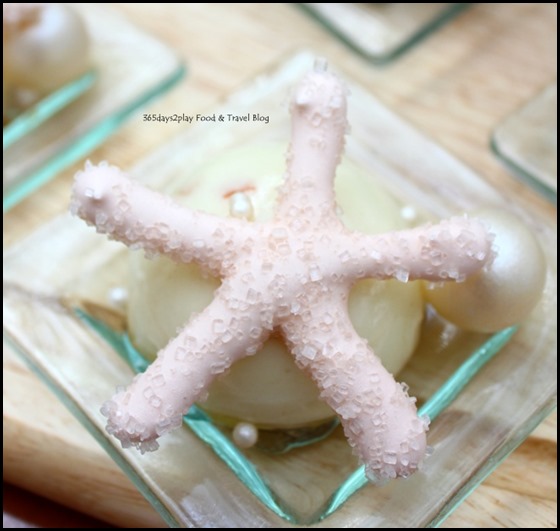 Ivoire Mousse with Candied Orange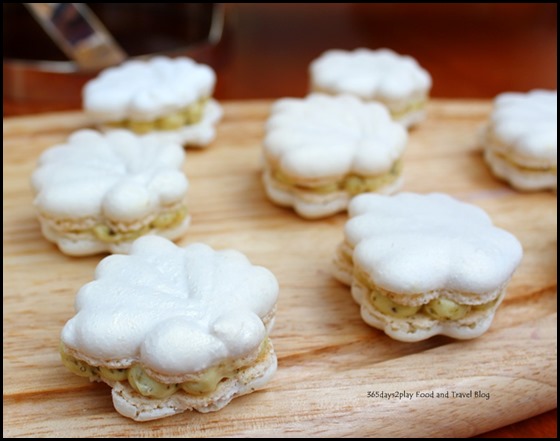 Shell Shaped Macarons with Olive Butter
These were really delicious macarons! Light and airy meringue casings sandwiched together with an interesting olive butter. There was just a tad too much olive butter to my liking but otherwise, the macarons tasted fantastic. Neither were they overloaded with sugar, like how most macarons are. You know what's the best part? You can eat 10 if you want to because it's a buffet!! Probably the most value-for-money macarons ever!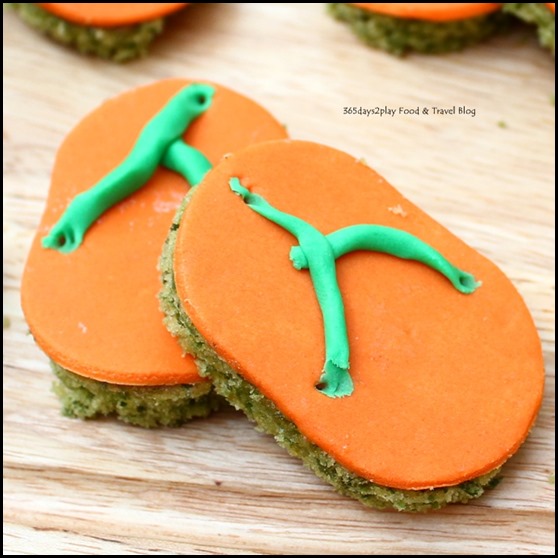 Seaweed Cake
I don't usually eat cakes with fondant, but these were too good to resist. Aren't they cute? I've yet to come across a seaweed cake before. This tasted like a somewhat heavier than usual sponge cake with seaweed flakes all over. Delicious!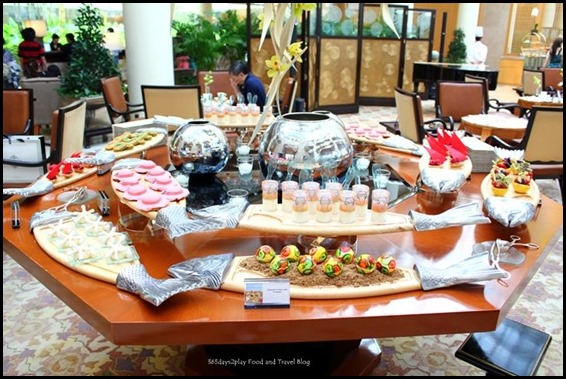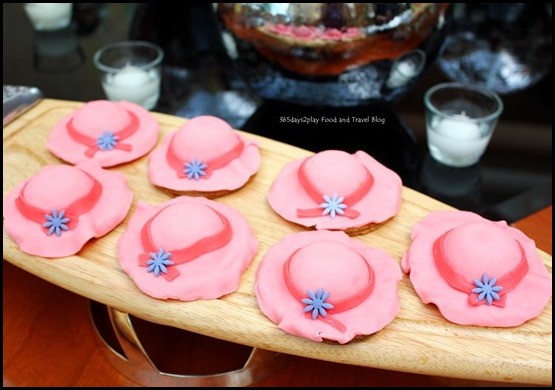 Rose Almond Sun Hat Cakes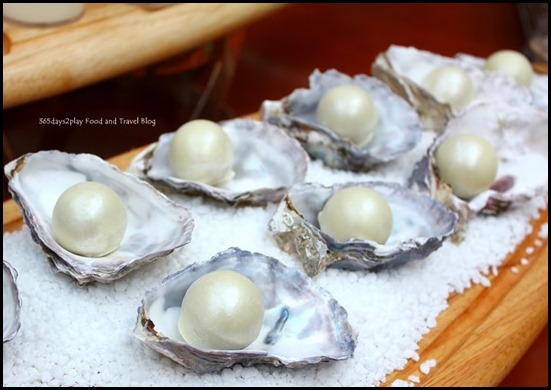 Caramel Mediterranean Salt Truffle
Alas, I had to rush off for another appointment and I forgot to try these caramel truffle balls. I heard they were the highlight of the dessert table! I really do think the chef is so creative to be able to come up with such pretty concoctions, that taste good too! Do these truffle balls not remind you of pearls?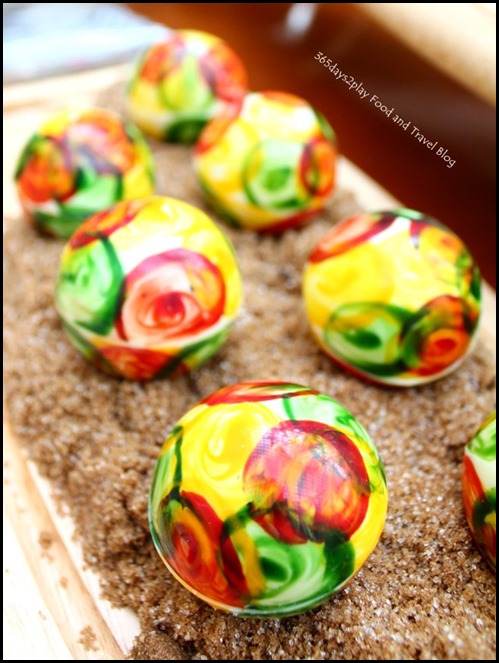 Pistachio Creme with Griottine
Erm, never mind the garish colours, after breaking open the chocolate casing, you would discover a lovely and smooth pistachio creme. I'm not a fan of pistachio but the creme was tasty!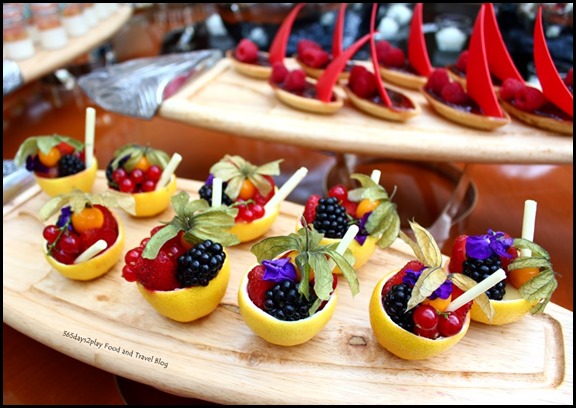 Lemon and Vodka Cup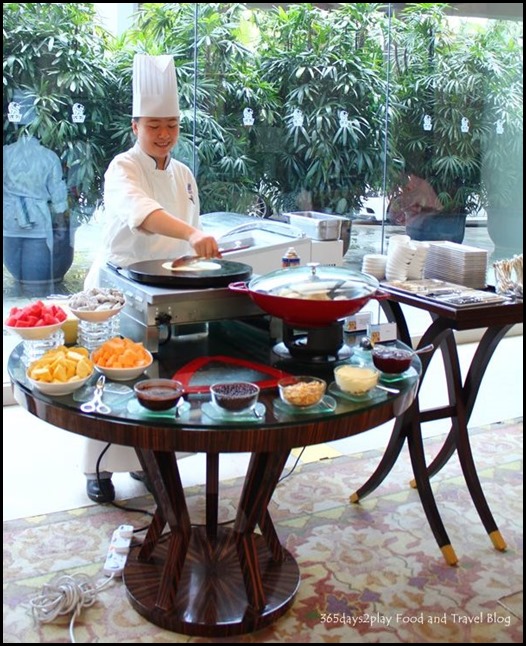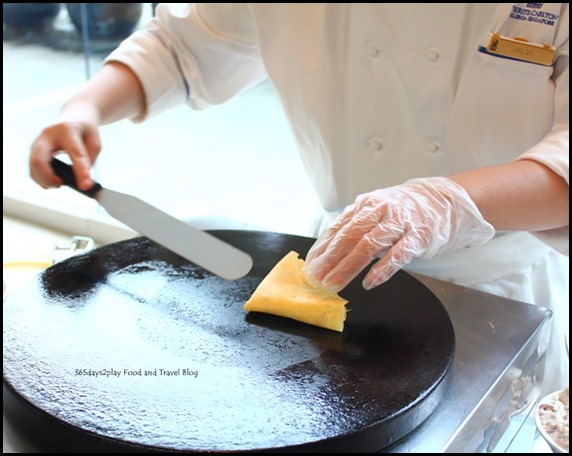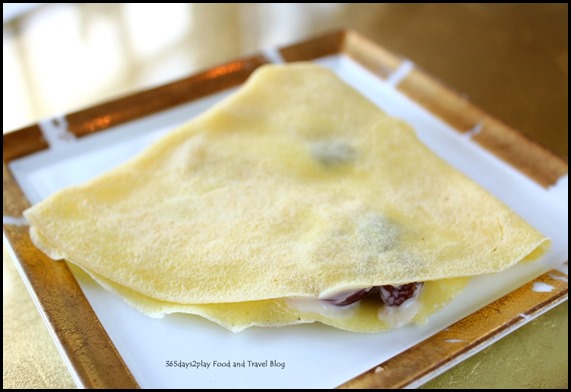 Crepes to order
I tried a piece that the Partner ordered. It's rather plain as the filling is some light cream with raisins. It's not bad tasting but I'd rather save stomach space for other more delightful things.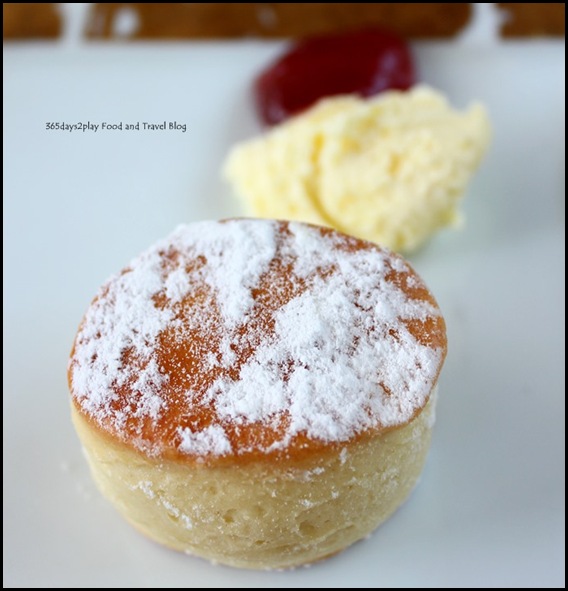 Scones…are they considered savoury or sweet? Available with jam and clotted cream.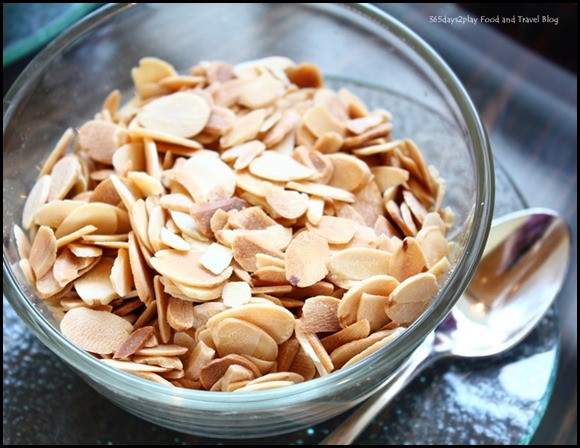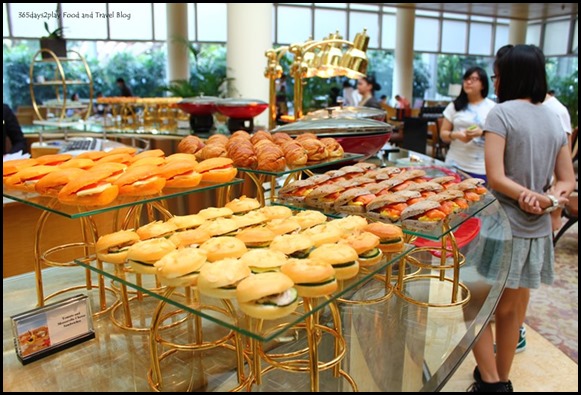 And we arrive at the savouries!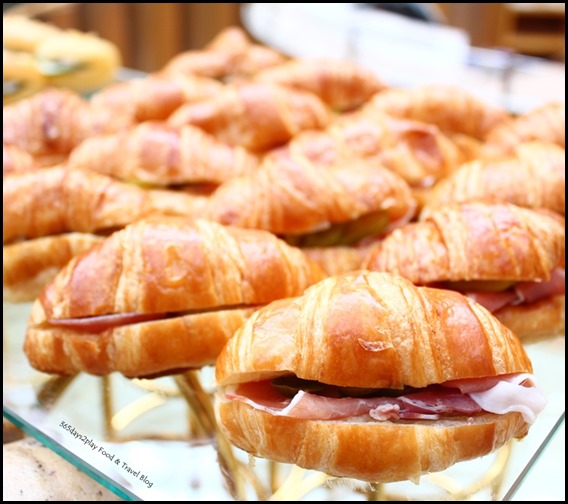 Iberico with Pickled Gherkin in Mini Croissant
I've always had a soft spot for filled croissant sandwiches, and what's not to like when you see the words Iberico? The pickled gherkin helps to give balance to the otherwise slightly fattening croissant and iberico combination. Ok who am I kidding, it doesn't taste fattening but everyone knows croissants are fattening! My only advice is, these taste so good but please remember that croissants are very filling and you will only feel the effects a while later! You have been warned!
I think I want to recount the story of my baking classmate, who wolfed down six hot croissants fresh out of the oven. Seriously, it's very easy to eat the croissants because they don't taste heavy and are so addictive! After 1/2 hr, she had to find a chair somewhere to rest as she could barely move!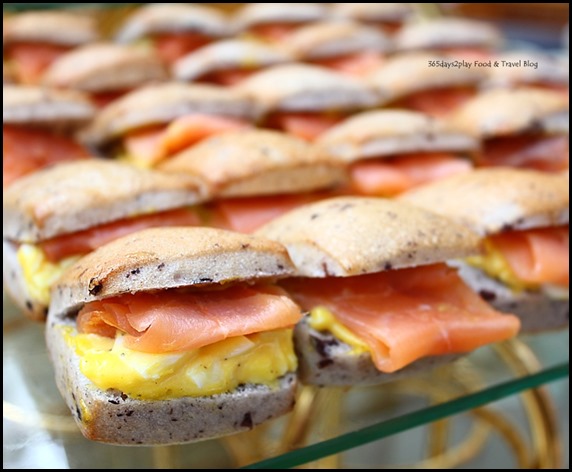 Smoked Salmon and Egg in Olive Foccacia
When at a cafe, I almost always have a problem trying to decide between the egg sandwiches, and the smoked salmon sandwiches. As much as I adore egg salad sandwiches, I hardly ever order them as it seems a bit unhealthy to have so much egg and so little of other things. It was lovely to be able to see my 2 loves within the same sandwich.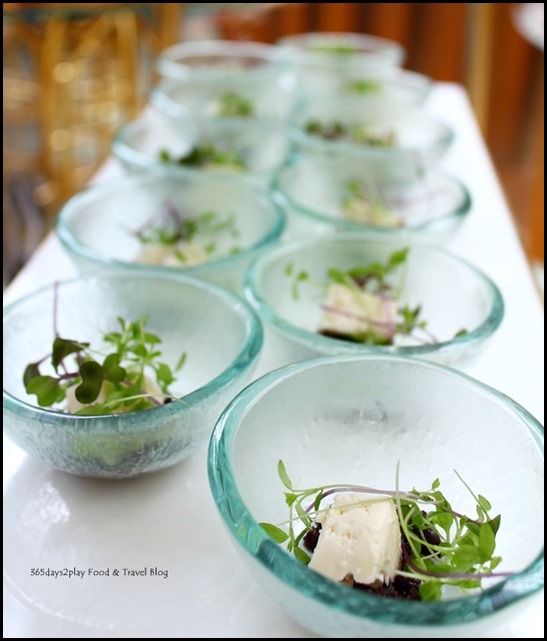 Marinated Feta Cheese with Olive Tapenade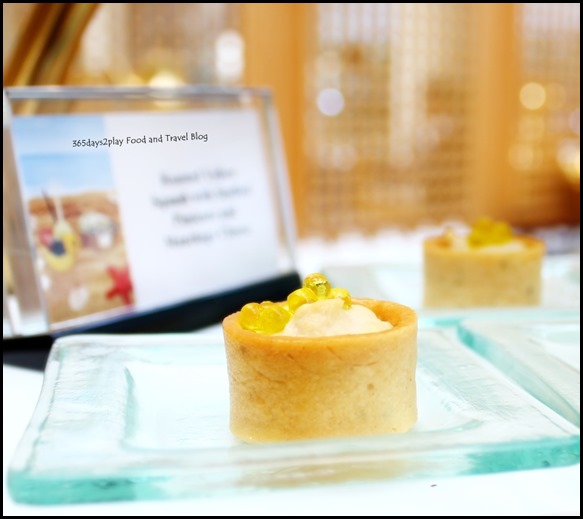 Hummus Tart with Olive Caviar
This was my favourite item from the savoury section, not only because it was tasty, but because it was rather different from the usual types of canapes you find. I thought it was a really creative way to make use of hummus. Hummus in a savoury tart casing is so moreish! And the olive caviar is made using molecular gastronomy techniques!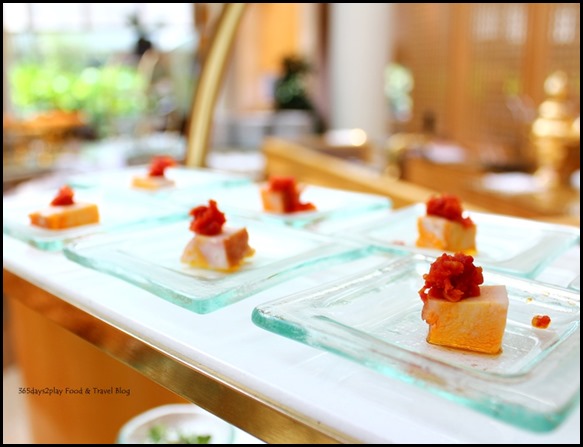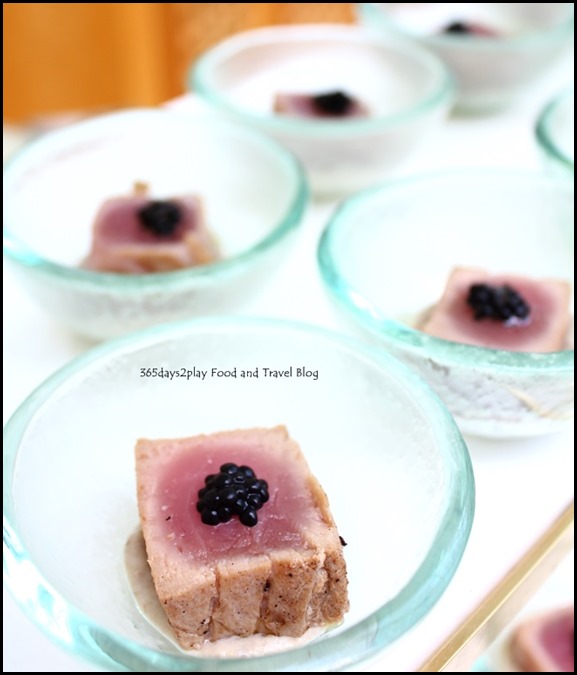 Seared Tuna with Caviar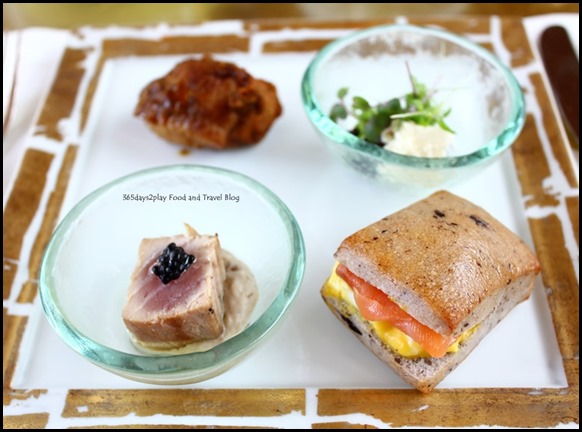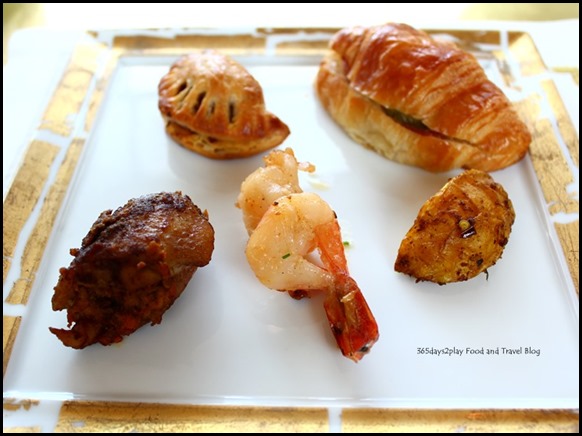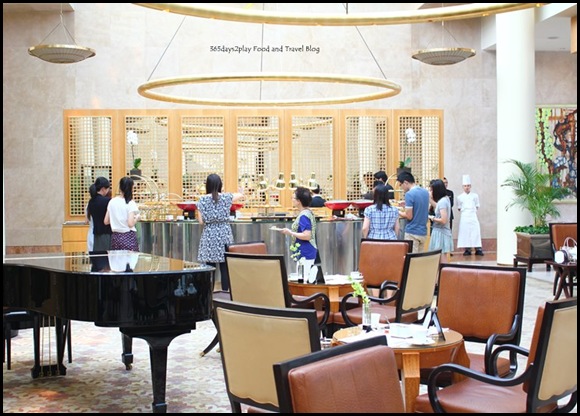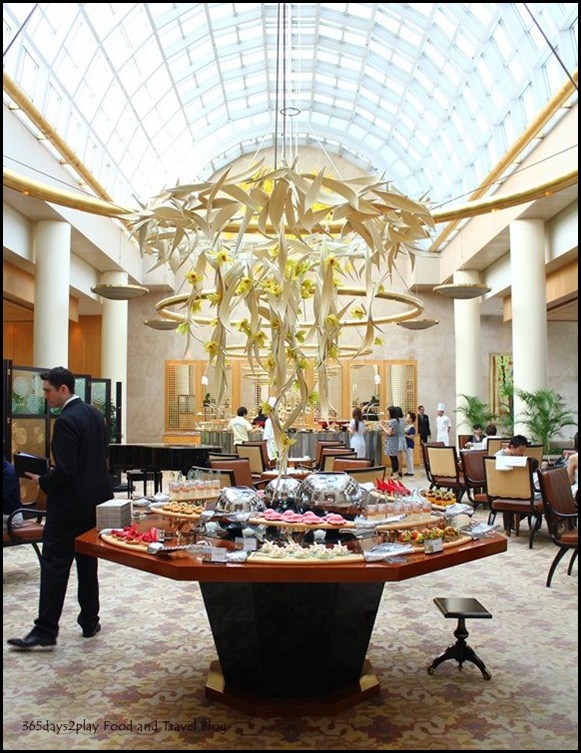 More Afternoon Tea posts available at… https://365days2play.com/tag/afternoon-tea/
~~~~~~~~~~~~
Read about my previous visits to Chihuly Lounge for Afternoon Tea
https://365days2play.com/2012/12/02/ritz-carlton-afternoon-tea-at-chihuly-lounge/
https://365days2play.com/2010/07/17/afternoon-tea-at-chihuly-lounge-ritz-carlton-singapore/
https://365days2play.com/2010/07/17/afternoon-tea-at-chihuly-lounge-ritz-carlton-singapore-part-2/
~~~~~~~~~~~~
Add me on Facebook, Instagram and Twitter if you want to be kept up to date with the latest happenings in the food and lifestyle scene in Singapore!
~~~~~~~~~~~~
Ritz Carlton Chihuly Lounge
7 Raffles Avenue Singapore 039799
Tel : 6434 5288