…I have ever eaten to date that doesn't come from a restaurant! There is this little secret hidden gem called Fan Play Savouries. It occupies one of the stalls right inside Carrefour Supermarket at Suntec City, near the vegetable section. I tell you, it's worth the long walk through the mall to find this hidden gem. This is the best chee cheong fun I have eaten in a very long time too.
**Fan Play Savouries has moved from Suntec City Carrefour and Tanjong Pagar! Address at the bottom are their new addresses.
Fan Play Savouries sells Ipoh Chee Cheong Fun. I am told, Ipoh is famous for its Chee Cheong Fun and noodles because of the special qualities in the water that is readily available there. Apparently, even if the rest of your Chee Cheong Fun recipe ingredients are the same,as long as the water is different, the final product will exhibit a taste and texture that is quite different! The Chee Cheong Fun is sourced from one of the top Chee Cheong Fun manufacturers in Ipoh. During the research phase, the Boss of Fan Play made numerous trips down to the various manufacturers in Ipoh before finally deciding on the best one.
I have to agree that Fan Play's Chee Cheong Fun is so silky smooth and soft, it just slides and glides so easily down the throat. The texture is simply amazing. And the interesting thing is, it doesn't look like Chee Cheong Fun. If I hadn't known any better, I would have thought that it was Kuay Teow I was eating. Strictly speaking, Kuay Teow is broader and thicker, but who cares? A rose by any other name smells as sweet!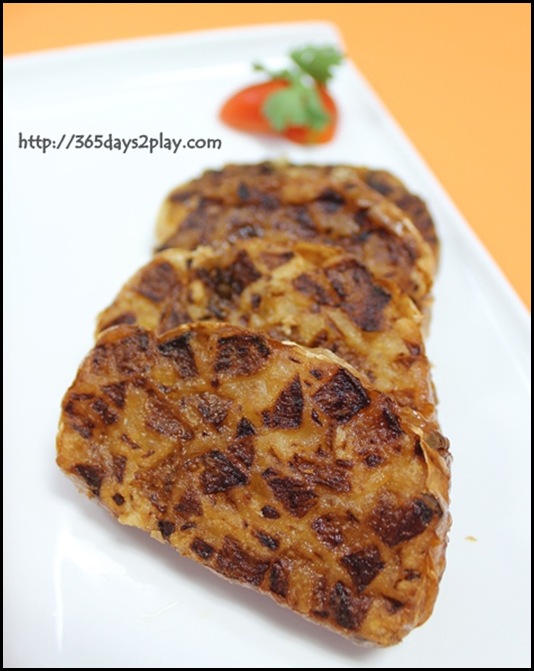 Sar Kok Liew (Stuffed Yam Bean) – $0.50 per piece