…I have ever eaten to date that doesn't come from a restaurant! There is this little secret hidden gem called Fan Play Savouries. It occupies one of the stalls right inside Carrefour Supermarket at Suntec City, near the vegetable section. I tell you, it's worth the long walk through the mall to find this hidden gem. This is the best chee cheong fun I have eaten in a very long time too.
**Fan Play Savouries has moved from Suntec City Carrefour and Tanjong Pagar! Address at the bottom are their new addresses.
Fan Play Savouries sells Ipoh Chee Cheong Fun. I am told, Ipoh is famous for its Chee Cheong Fun and noodles because of the special qualities in the water that is readily available there. Apparently, even if the rest of your Chee Cheong Fun recipe ingredients are the same,as long as the water is different, the final product will exhibit a taste and texture that is quite different! The Chee Cheong Fun is sourced from one of the top Chee Cheong Fun manufacturers in Ipoh. During the research phase, the Boss of Fan Play made numerous trips down to the various manufacturers in Ipoh before finally deciding on the best one.
I have to agree that Fan Play's Chee Cheong Fun is so silky smooth and soft, it just slides and glides so easily down the throat. The texture is simply amazing. And the interesting thing is, it doesn't look like Chee Cheong Fun. If I hadn't known any better, I would have thought that it was Kuay Teow I was eating. Strictly speaking, Kuay Teow is broader and thicker, but who cares? A rose by any other name smells as sweet!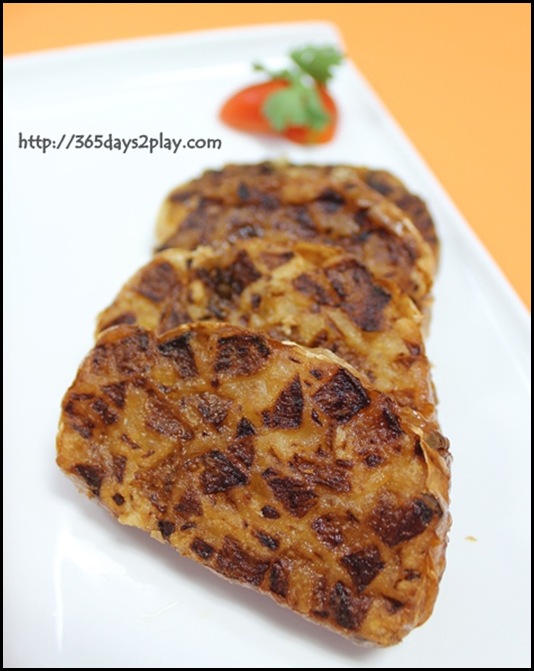 Sar Kok Liew (Stuffed Yam Bean) – $0.50 per piece
Now that I have caught your attention on the Chee Cheong Fun, let me first showcase the item we savoured last. This is Sar Kok Liew, which is made from the Yam Bean, also known as Bang Kuang in Malay. I have never heard of this snack before, let alone seen it and I was glad to make its acquaintance! The Yam Bean pieces are mixed together with some kind of starchy filling and fried together. This tasted sweet due to the yam bean yet savoury at the same time. I loved the crunchy and gluey texture. It can be quite addictive, but be warned that it is deep fried!
Apart from Sar Kok Liew, there are other nibbles like Fish & Pork wrapped in Beancurd Skin, 5-Spice Minced meat wrapped in Beancurd Skin, Fried Wanton and Crispy Beancurd Skin. All going for $0.50 per piece.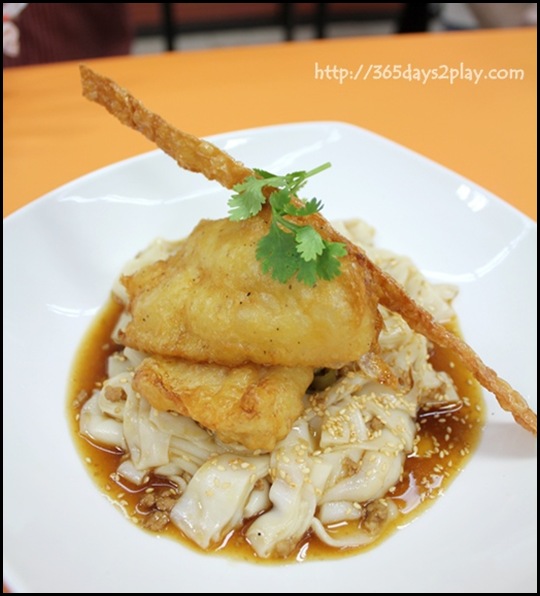 Classic Brown Sauce with Beer Battered Dory Fish Chee Cheong Fun
This was the 1st Chee Cheong Fun we tried. As described in the main text above, one of the best Chee Cheong Fun I have ever eaten in terms of taste and texture. The pieces of fish are very good too. Came piping hot. Fish was flaky and flavourful.
Szechuan Gong Bao with grilled Chicken Thigh Chee Cheong Fun
If you don't want fish, you can go for the Gong Bao grilled chicken. This is only mildly spicy after being moderated to suit the Singaporean palate. The authentic Ipoh version would have been more spicy. I liked the chicken very much as I thought it was very tender. Also liked the sweet Gong Bao sauce.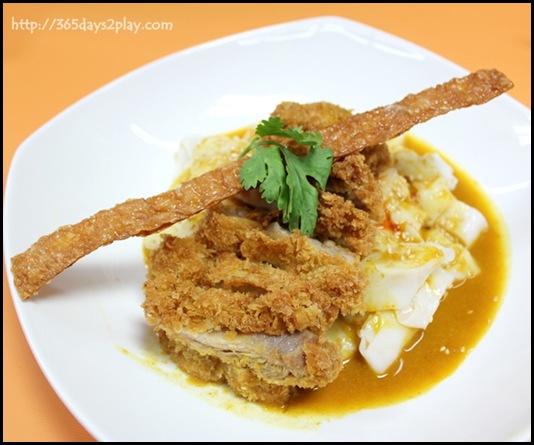 Singapore Curry with Chicken Cutlet Chee Cheong Fun
Chee Cheong Fun with curry was definitely a first for me. It took a bit of getting used to as I think I would prefer a lighter sauce with the delicate Chee Cheong Fun. The Fried Chicken Cutlet was good, but since it was fried, also added to the heaviness of this curry version.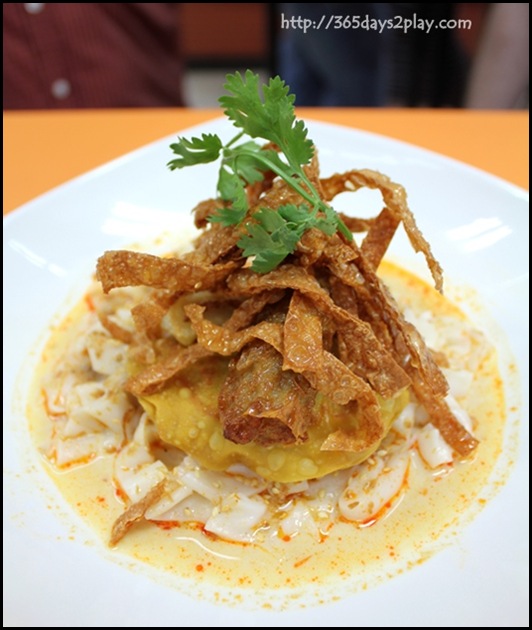 Singapore Laksa Chee Cheong Fun
Last but not least, the Laksa version. Now contrary to the Katong Laksa types, this Laksa gravy was pretty light. I think this was pretty palatable, and together with the Chee Cheong Fun was a nice and unique combination. However, those looking to satisfy their Laksa cravings may not be happy with this as the gravy is not as rich as the real Laksa.
Oh, you also have to try the Organic Soya Bean drink. I don't have a picture of it but it tasted so good. First of all it was organic, which was a good thing since I'm a huge proponent of the organic movement. Secondly, unlike other soya bean drinks which need loads of sugar before they are palatable, this organic soyabean drink had a subtle sweetness to it which I thought was fantastic. I loved the lightness of it as other soyabean drinks tend to be heavy. I am told once again this is due to the Ipoh water! Goodness this must be some miracle water!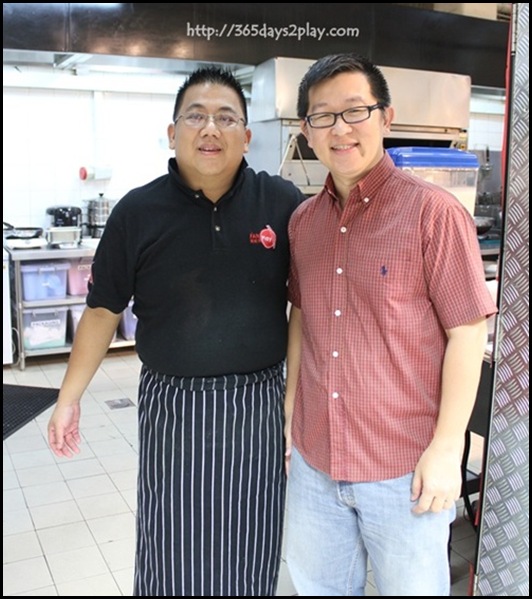 The owner Robert Goh, and the chef of Fan Play Savouries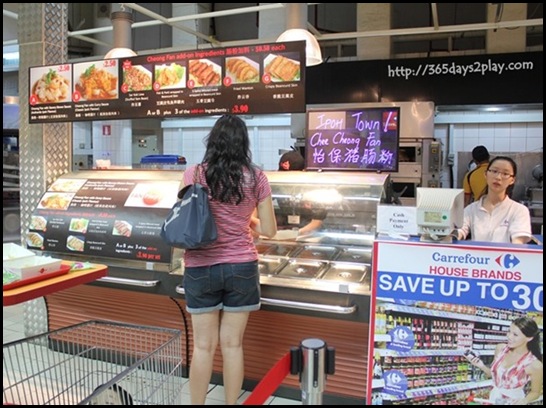 Standing room only, no sit down area for the Fan Play outlet at Carrefour. They do have another outlet at Hot Kitchen @ Tanjong Pagar with a seating section, however it is only open in the mornings.
**Food is served in takeaway paper containers.
Fan Play Savouries
Wong Poh Coffee Shop @ Blk 3004 Ubi Avenue 3 (S) 408860
Mon – Sat 7.00am to 3.00pm
Closed on Sun & PH
Hoha Coffee Shop @ The Vertex, 33 Ubi Avenue 3 (S) 408868
Mon – Fri 7.00am to 3.00pm
Closed on Sat, Sun & PH
Tel      : +65 6221 4844
Fax     : +65 6224 5855
Telephone : 9021 1890
http://www.facebook.com/fanplaysavouries#!/fanplaysavouries
**Thank you Fan Play Savouries for the kind invitation.
If you've enjoyed this post, help vote for me for the top food blogger award at the Singapore Blog awards organized by Singapore Press Holdings. Thank you! 🙂 🙂 🙂