A couple of months back, my father mentioned the opening of a new cafe at VivoCity. He'd heard about how good it was from his colleagues so he imparted the knowledge to me with much enthusiasm. I made sure to have it checked out during my next visit to VivoCity but I was not impressed by what I saw. There were quite a number of those fake plastic models of the ice creams and desserts they served, and this is something I do not associate with cafes serving good coffees and desserts! I must admit I had judged a book by its cover, but who doesn't when choices are aplenty but money isn't?
Then it so happened that my colleagues and I were at VivoCity after an event so we just stopped at St Marc Cafe for a quick break. I ordered a Royal Milk Tea without too much expectations. The drink turned out to be a pleasant surprise! The milk tea was unlike any other milk tea I have ever drunk in my life! It was very thick, had a bit of a caramel flavour and was just extremely delicious in taste. Unfortunately, I don't have a picture of it as I didn't have my DSLR with me that day, but if you ever go to St Marc Cafe, you have to try the Royal Milk Tea! If I'm not wrong it costs $6!
Fast forward to 2 weeks ago, I was kindly invited by Sixth Sense Communications to join in a media tour of the latest highlight at Marina Square : The Dining Edition. The Dining Edition is Marina Square's new gourmet dining zone and was renovated to a tune of $15m. The 50,000 sq ft area boasts 16 exciting mid-to-upscale restaurants, bistros, café bakeries, patisseries and coffee joints and the eclectic mix is made up of both local and international brand names.
This was when I was reacquainted with St Marc Cafe again! We had the opportunity to try 2 of St Marc Cafe's best loved items, the Choco Cro as well as the Little Fuji.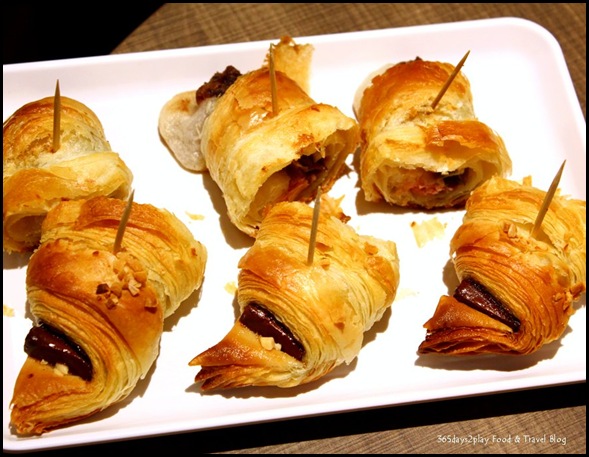 Choco Cro