I recently went on a quick trip to Bintan Lagoon Resorts. It was so quick, I left on a Friday afternoon and returned back to Singapore on a Saturday evening! I don't think anyone missed me, but I sure accomplished a lot while I was there. I will write more about it in the next post, complete with pictures. I took over 300 photos so be prepared for a deluge of pictures. While I sort the rest of the photos out, let me first stuff you with pictures of my lovely lunch at Miyako Japanese Restaurant in Bintan Lagoon Resorts.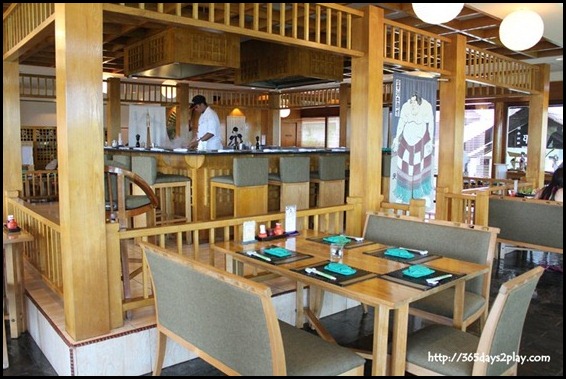 Miyako Japanese Restaurant is next to the main hall, just on the left of Kopi-O Restaurant which is where most people will have their buffet breakfast. It's a bright and cheery place as it's nearly all glass walls. There's a huge Teppanyaki station in the middle of the whole restaurant, with tables lined all around it.
I'll be upfront with you. The food here isn't cheap, but it is really very fresh tasting and of good quality. Well food in Bintan Lagoon Resort is a little pricey, it's a holiday resort after all, but I think the Japanese restaurant takes the cake. Therefore, if you're in for a good pampering, Miyako's the place you want to go or take your business clients.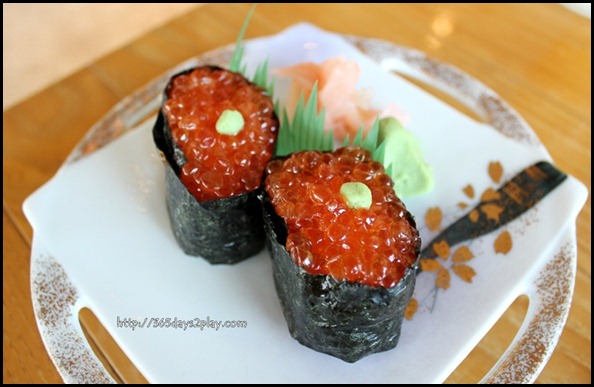 Ikura Sushi also known as Salmon Roe Sushi $15
Eating this was fantastic as the delightful slightly salty liquid from the little voluptuous balls of salmon roe burst in my mouth.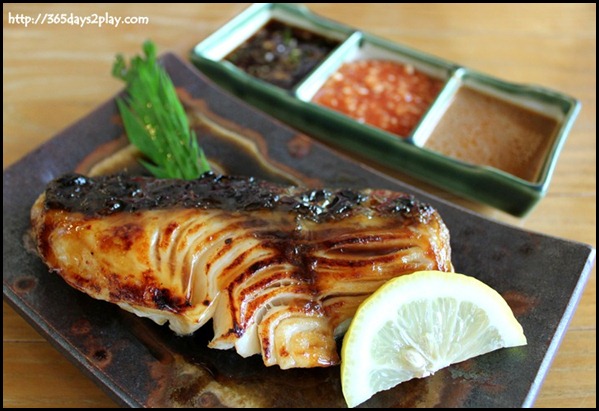 Gindara (Cod) in Teriyaki Sauce $25
One of the best Gindara I have ever tasted. You can see from the picture that the cod was extremely flaky and practically slid down my throat without much effort. The flesh was moist and creamy flavoured. I could have just eaten this cod whole, together with a bowl of steaming rice! That would really make me a very happy person.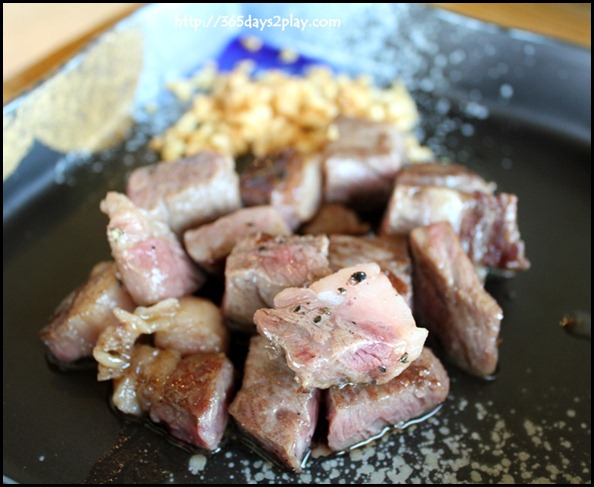 Wagyu Beef 200gm Teppanyaki $135
This was the killer dish, in terms of pricing. What you see here is half a portion because my mother took the other half. You have to order the whole 200gms though, but I wouldn't advise it if you are dining alone. The meat is rather rich, although not extremely so. I believe it's just a medium level Wagyu beef, forgot to ask the grading. Taste wise, I would actually prefer wagyu beef with more marbling. But if I didn't know it was Wagyu beef, I would say that it was good beef teppanyaki.
I do think that this is one dish I wouldn't recommend ordering. It tastes nice, but $135, it just seems a little too much, especially when you consider places like Morton's charge only $100 for a slab of beef, albeit not Wagyu grade.