I love enjoying a spot of afternoon tea but I've been neglecting this ritual thanks to the numerous cafes that have been popping up and taking away our attention. Although both activities seem to be similar in nature, ie relax and chit chat over hot drinks, having afternoon tea strikes me as a much more relaxing affair, and usually more hassle free. Apart from the hotels, there are unfortunately no good afternoon tea places if you are looking for the quintessential English afternoon tea. I wonder who will be the next brave entrepreneur who will fill the gap in this market.
Interestingly, although we love the idea of having afternoon tea and think that it's such a British affair, I'm not so sure if the Brits think of afternoon tea with such fondness. I do know of British colleagues who scoff at the conversation whenever somebody "mistakenly" states that the British like to have afternoon tea. Also, this idea of having afternoon tea only started to come about in the 1800s, when dinner began to be pushed further and further back from lunch time due to the availability of artificial lighting, resulting in a gap that needed to be filled.
Fullerton Hotel serves their afternoon tea via a three-tier afternoon tea set. The set is refillable, meaning you can order more of the items that you like. Each set also comes with 2 choices of tea, and of course unlimited top ups of hot water.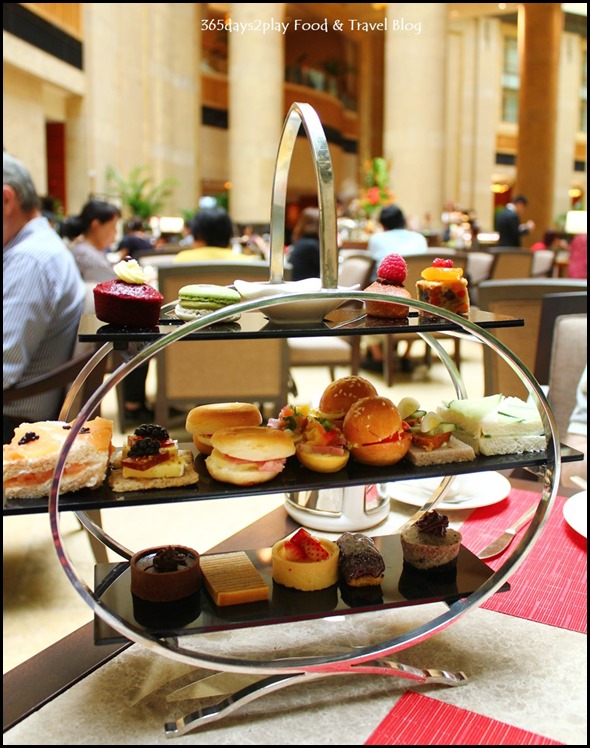 This is the 3 tier afternoon tea set that will be served. The middle row aka the savoury row is always my favourite because I'm a savoury sort of person. I really love these dainty morsels, and they put you n such a good mood when you see them. If only I could have 2 rows of savoury, and just 1 row of sweet treats. Alas, despite 2 rows of cakes, they don't have a super decadent chocolate cake, which in my world, is mandatory.