I love enjoying a spot of afternoon tea but I've been neglecting this ritual thanks to the numerous cafes that have been popping up and taking away our attention. Although both activities seem to be similar in nature, ie relax and chit chat over hot drinks, having afternoon tea strikes me as a much more relaxing affair, and usually more hassle free. Apart from the hotels, there are unfortunately no good afternoon tea places if you are looking for the quintessential English afternoon tea. I wonder who will be the next brave entrepreneur who will fill the gap in this market.
Interestingly, although we love the idea of having afternoon tea and think that it's such a British affair, I'm not so sure if the Brits think of afternoon tea with such fondness. I do know of British colleagues who scoff at the conversation whenever somebody "mistakenly" states that the British like to have afternoon tea. Also, this idea of having afternoon tea only started to come about in the 1800s, when dinner began to be pushed further and further back from lunch time due to the availability of artificial lighting, resulting in a gap that needed to be filled.
Fullerton Hotel serves their afternoon tea via a three-tier afternoon tea set. The set is refillable, meaning you can order more of the items that you like. Each set also comes with 2 choices of tea, and of course unlimited top ups of hot water.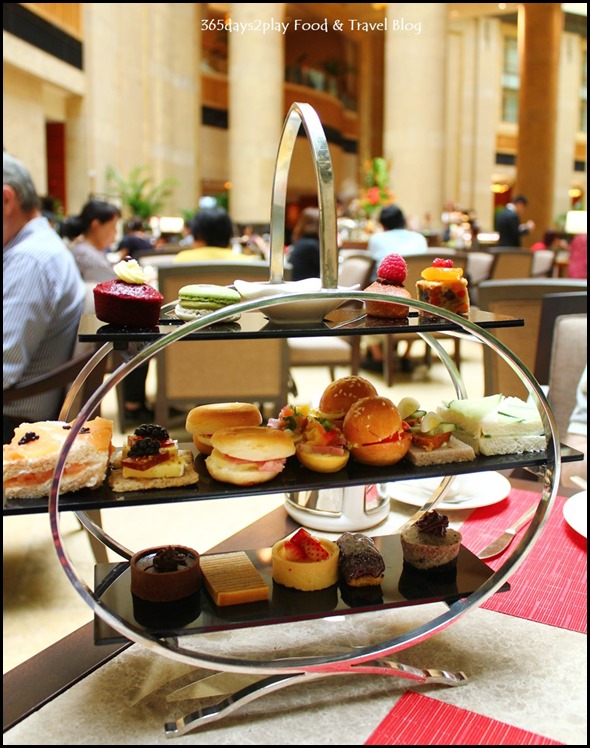 This is the 3 tier afternoon tea set that will be served. The middle row aka the savoury row is always my favourite because I'm a savoury sort of person. I really love these dainty morsels, and they put you n such a good mood when you see them. If only I could have 2 rows of savoury, and just 1 row of sweet treats. Alas, despite 2 rows of cakes, they don't have a super decadent chocolate cake, which in my world, is mandatory.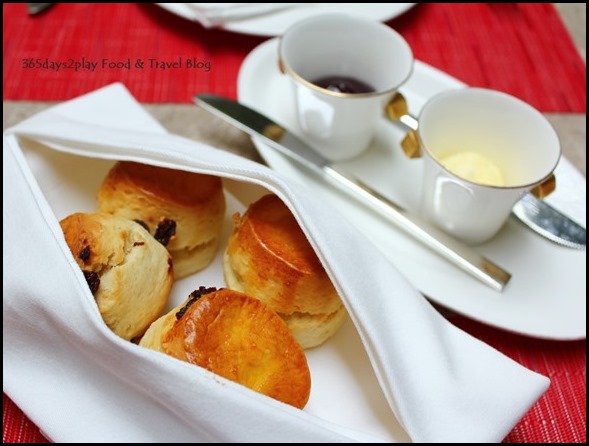 The scones are served separately. 2 raisin scones and 2 plain scones, for the 2 of us. As accompaniments, clotted cream and strawberry jam. Frankly, this is where Fullerton has not lived up to my expectations from previous visits. The clotted cream had the consistency of whipped cream and did not have the distinct rich taste of clotted cream, while the strawberry jam, it was more of a thickened strawberry syrup! How disappointing!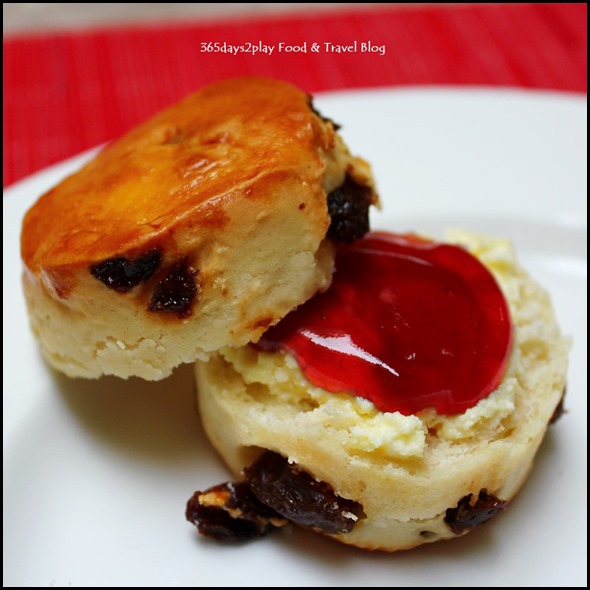 As you can see from the picture, the "jam" with a too runny and too smooth consistency and the slightly curdled "clotted cream". When I look at the pictures I took several years back, it looks like the same darn jam! Scones on their own were nice though.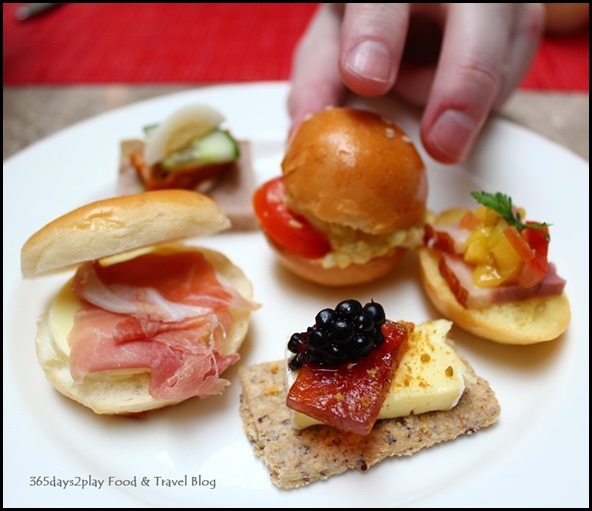 Closer look at the savoury bites which we had transferred onto a plate. I loved all of them, and in particular the little parma ham and cheese burger as well as the cheese and fruit jelly cracker. Another interesting one was the otah on cracker. It would be lovely if the chefs could put their creative skills into creating a wider range of these canapes. I would certainly be back in a jiffy if this were the case.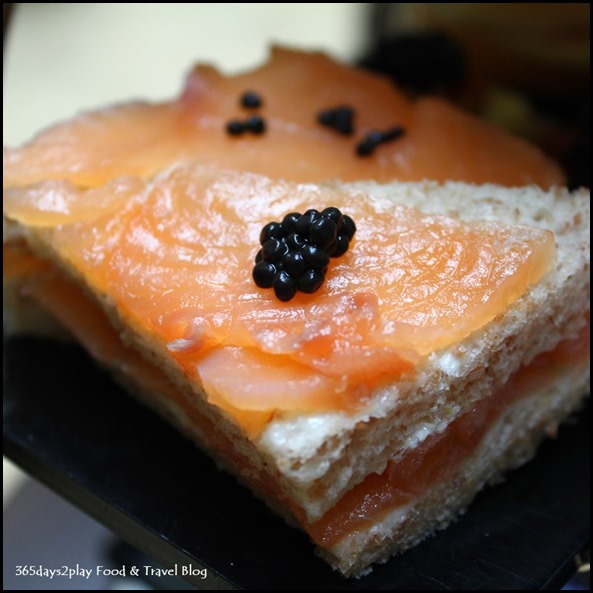 Salmon and cream cheese finger sandwiches with a spot of caviar on top. I think I had about 4 of these, they were delicious. As they say, can't go wrong with smoked salmon sandwiches.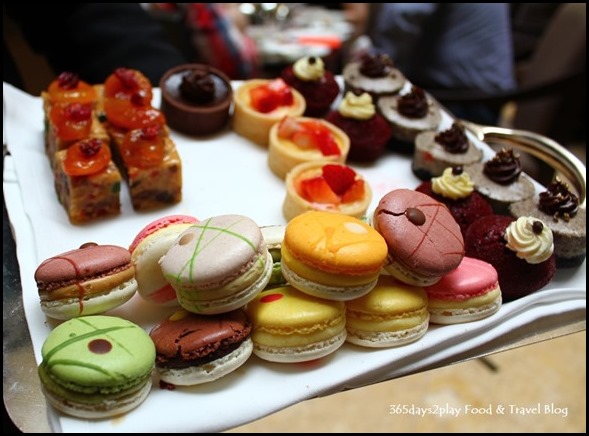 See I told you you could get refills. The waitress will come along with additional stuff. You have to keep your eye out for her and make sure you catch her before other hungry customers swipe all the stuff away. Even though I'm not that great a fan of macarons, I enjoyed these very much, I took 2! I think 2's as much as I can eat before it start getting all cloying and sickly. If you love macarons, well, need I say more? You can treat this like a "macaron buffet"!  Red velvet mini cake awas also quite nice. The other cakes were so — so.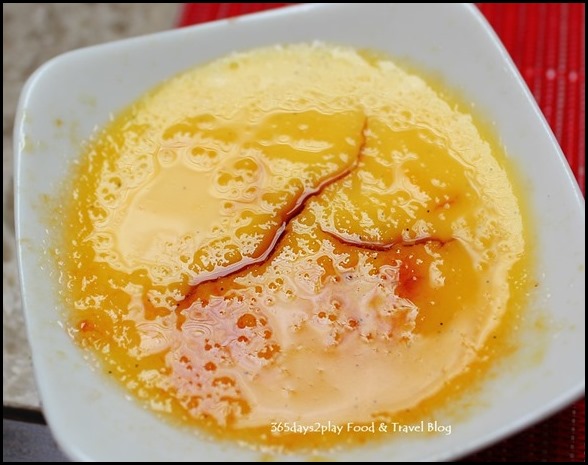 The creme brulee was my favourite dish from the dessert row. Utter decadence and creaminess after you've cracked open the thin caramelised sugar top. Despite me feeling quite full at this stage, I just HAD to go for seconds. Not the best looking creme brulee I must admit, which was why I left it to the end, but what a lovely end it was.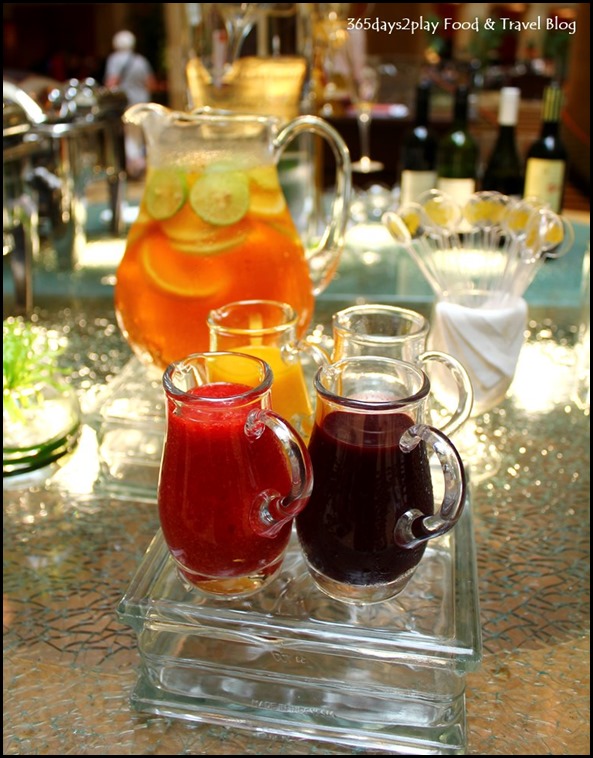 I didn't know we could have fruit teas until we were walking out of The Courtyard and saw these. I don't mind sticking to my unsweetened hot teas with all those desserts around, but if you want fruit teas, don't miss these.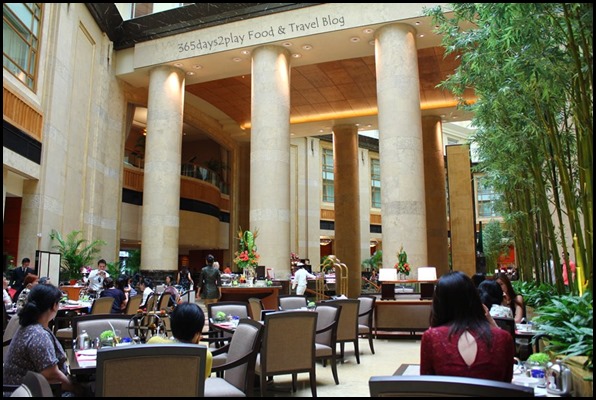 I think the standards at Fullerton Hotel have dropped somewhat compared to my previous visits. Also, 2 hours to enjoy afternoon tea is too short a time frame, if you ask me, and 1.5 hrs for the 2nd seating on weekends, why bother. With the opening of new hotels, and more hotels jumping on the afternoon tea bandwagon, and competition from the cafes where you can while away your afternoon at a cheaper cost, I do hope to see The Fullerton hotel upping the wow factor in the afternoon tea that they serve.
---
Add me on Facebook, Instagram and Twitter if you want to be kept up to date with the latest happenings in the food and lifestyle scene in Singapore! 
Read about my previous visit to Fullerton Hotel for afternoon tea
Read about my previous visit to sister hotel The Fullerton Bay Hotel for afternoon tea
Other places to have Afternoon Tea in Singapore
---
The Courtyard at Fullerton Hotel
1 Fullerton Square, Singapore 049178
Tel : (65) 6877 8129 or email thecourtyard@fullertonhotel.com
http://www.fullertonhotel.com/dining/diningCategories_4-en.html
Afternoon Tea
Monday to Friday: 3.00pm to 6.00pm
Saturday, Sunday & Public Holiday: 2.00pm to 4.00pm (1st seating), 4.30pm to 6.00pm (2nd seating)

Traditional English Afternoon Tea + Glass of Champagne : $63
Traditional English Afternoon Tea + Glass of red/white wine : $53
Traditional English Afternoon Tea : $43
Chocolate Buffet
Friday & Saturday: 8.00pm to 11.00pm