*Invited Tasting*
Cake cake cake cake cake galore! I couldn't decide on which irresistible cake photo to put up first so I decided to put up a group shot first! And that is the dilemma you will face when you step into The Audacious Cakery! All of the cakes look so exquisite and mouth watering! It was lucky we got the opportunity to sample it all, or I should have a hard time choosing.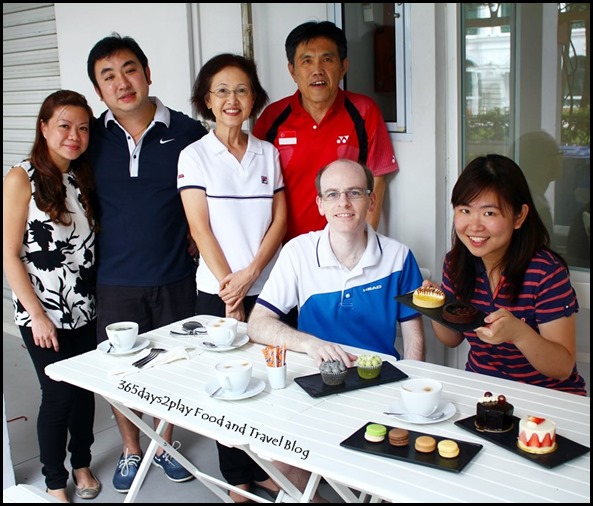 There's Sharryl Ng, co-founder and Executive Pastry Chef of The Audacious Cakery and her husband on the left of the photo. I love meeting people who have great passion for the food that they create. When food, or cakes in this case, are made with love, short cuts and mediocre ingredients are not used in the name of profits. I could never imagine myself selling stuff I didn't believe in.
The Audacious Cakery bakes it cakes and pastries daily on site and to maintain its quality and
freshness, a limited quantity of each product is produced each day.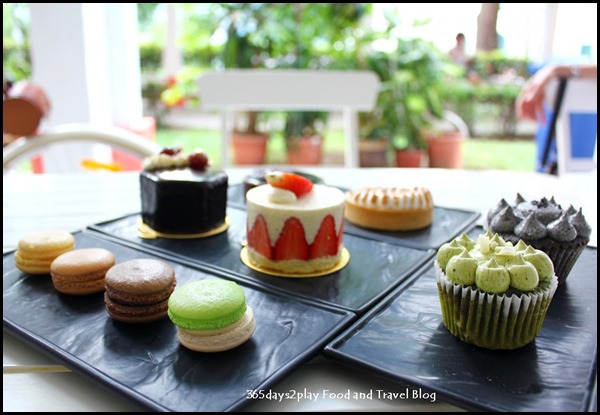 The Audacious Cakery has 4 main offerings, ie Cakes, Cupcakes, Tarts and Macarons.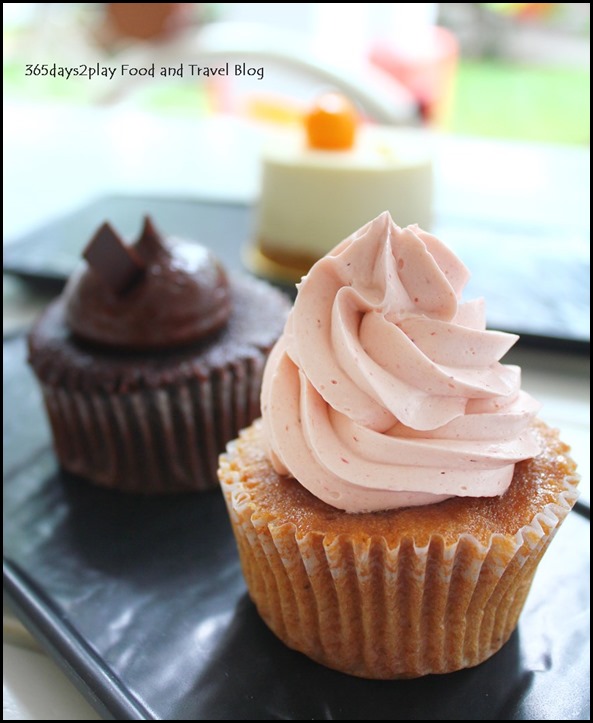 Strawberry cupcake with strawberry Italian meringue buttercream $3.50 in the foreground and Chocolate cupcake with Valrhona chocolate cream cheese frosting $4 in the background.
The cupcakes sold here are pretty sizable, and come with signature frostings that complement the cake base. I have to admit, I've never been that much of a cupcake fan, mainly because I find the frosting too sweet, and in the way my eating the actual cake! This was not a problem at The Audacious Cakery. Instead of my usual preference of flinging the cream somewhere, it was actually very palatable eating the cream together with the cake. I would definitely recommend this strawberry cupcake which has light hints of strawberry, or if you want something heavier, the chocolate cream cheese.
By the way, with exception to the Strawberry Cupcake, all of the other "cakes" are not sponge based, so if you are craving for some sponge, you'll have to go for the "cupcakes".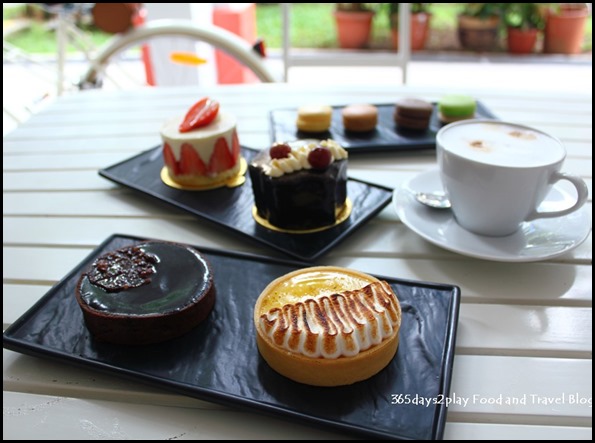 Moving on to my favourite item of the day, the Lemon Meringue Tart $5.80. Luscious tangy lemon tart made with French churned butter on a biscuit base. You know, I've never really known myself to be a lemon tart person, and once, after I saw a recipe for lemon curd, I was like, who on earth would eat that, I would rather eat kaya! But this Lemon Meringue tart changed me for the better. Ever since this Lemon Meringue tart I have been hankering for lemon tarts day in day out. I think I've gone to at least 3 or 4 other places where I've ordered lemon tarts, hoping to satisfy my craving. But so far, none of them have hit the spot as much as THIS Lemon Meringue tart from The Audacious Cakery has.
For one, the lemon curd base was great. Just the right amount of tanginess to whet your appetite, and so nicely balanced out by the sweet and slightly bouncy meringue. The 2 went perfectly together, and encased in a delicious tart base. All the components were excellent, something which other places have apparently failed to achieve. If you are visiting The Audacious Cakery, my top recommendation would be the Lemon Meringue Tart, and good news, it is one of the cheaper items on the menu under the "Cakes and Tarts" section!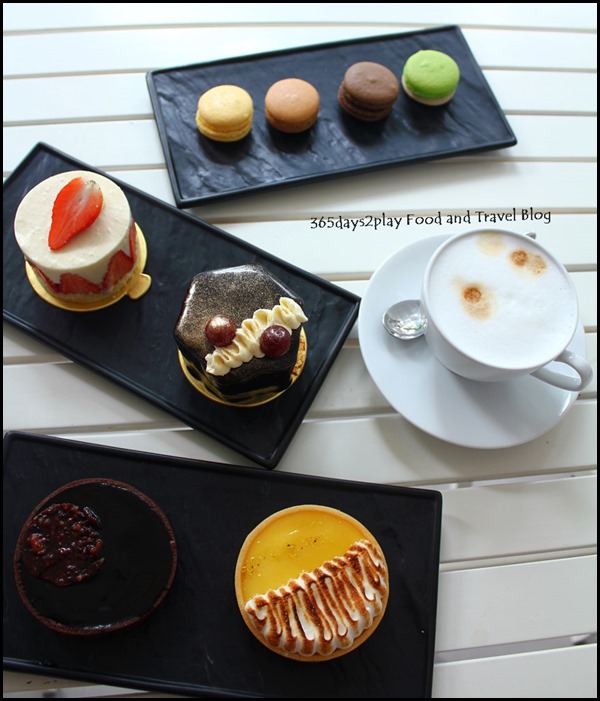 The Chocolate Souffle Tart $6.80
Made from dark chocolate, the soufflé centre gives it a light yet chocolaty punch. I was quite excited to try out this souffle method of making the chocolate filling. It was indeed lighter tasting, although still keeping its nature of being a rich chocolate tart.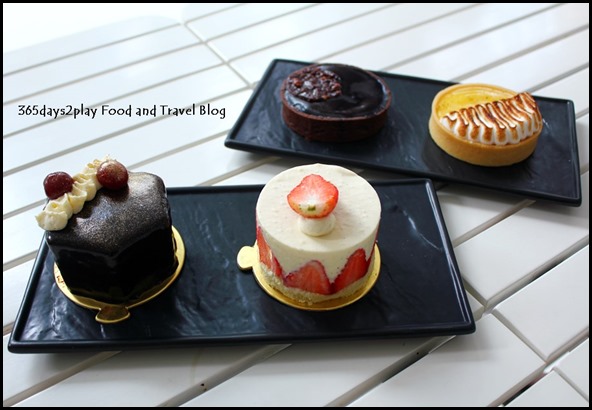 Foret Noir (Black forest) $9.80 — Alcoholic Valrhona dark chocolate mousse, Kirsh soaked cherries and Kirsh Cream on a dark Valrhona chocolate genoise
Strawberry Shortcake $6.80 – Made with fluffy white sponge, layered with succulent strawberries & luscious vanilla cream
The Black forest unfortunately did not live up to its name. I guess all of us have grown up with black forest cake, and for me, a cake is not a black forest cake if it does not taste like those of yesteryear. If you are however looking for a fresh twist, this would be a good choice. The Kirsh is evident with each bite of the cherries and does add some oomph to eating it.
The partner is a big fan of shortcakes and in particular strawberry shortcake and he raved about this one. A very light sponge with fresh strawberries and wonderful cream. If he wasn't so full from trying all the cakes he would definitely go back for seconds. I did think it was a great Strawberry shortcake, but not good enough to beat those coming from the Japanese cake shops such as Flor Patisserie.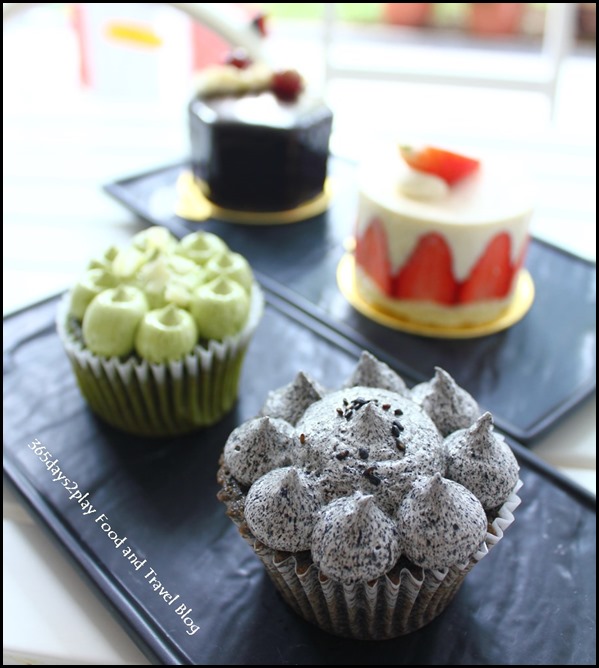 Matcha (green tea) cupcake $3.50 with matcha buttercream dusted with green tea powder and white chocolate curls
Black sesame cupcake $3.50 with black sesame buttercream made from pure sesame paste
The black sesame cupcake is one of those items that most people have to be a big fan of that particular flavour to enjoy it. My mum likes black sesame and therefore thought the cake was wonderful as it has an intense sesame flavour. The partner on the other hand doesn't like sesame and therefore found the flavour of this cake to be too strong. In my opinion, the green tea cup cake was a more palatable cupcake as compared to the black sesame one.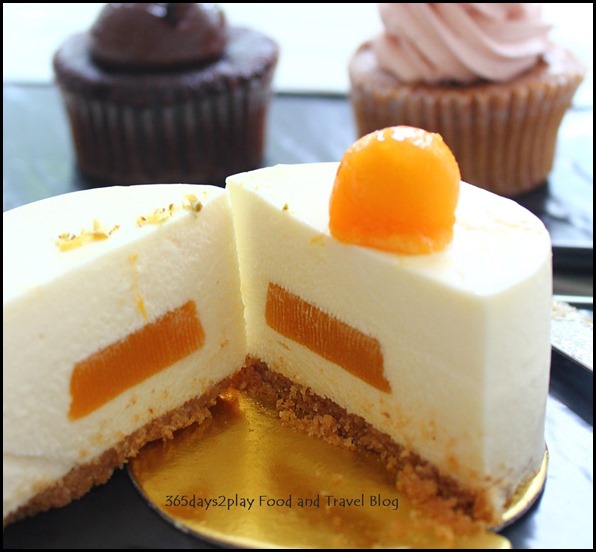 Zacharie $7.80 – Mango passion fruit cheese mousse with a mango passion fruit centre on a ginger biscuit base
We were originally not going to try this out because I'm not a fan of cheese cakes so I'd thought I'd give all the cheese cakes a miss. Turns out that this one one of our favourite cakes! The reason why I dislike cheese cakes is because 10 — 20 years ago, most cheese cakes are the American Cheesecake variety, which is heavy and "furry" on the palate. This cake couldn't be further from that. You hardly notice the cheese actually, since it is in a mousse form. The mango and passion fruit flavours are really strong which gives the cake a really refreshing flavour. Definitely another must order.
Passionfruit Cream Cheese, Salted Caramel, Intense Chocolate, Coconut Lemongrass $2.50 — $2.80
All the macarons were the right combination of slight crispiness on the outside and sweet chewy goodness on the inside. With many different flavours to choose from including some unique items like coconut and lemongrass there is sure to be something for everyone. My only grouse is that for $2.50, these not so huge macarons were a little on the steep side. I would rather spend my money on a more substantial cupcake for $1 more!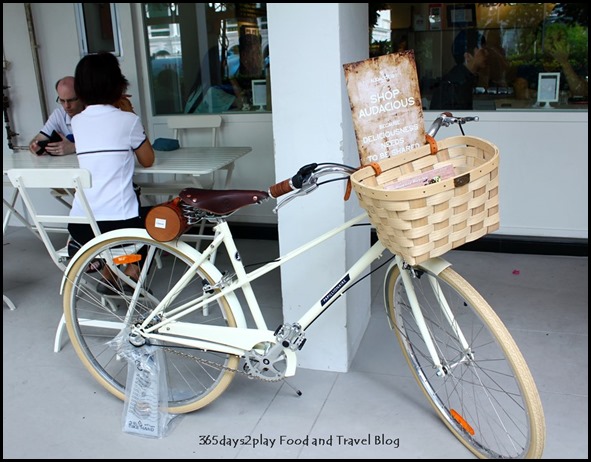 Love this pretty Papillion Bike displayed outside The Audacious Cakery. After the cakes, check out The Redundant Shop which retails this bike and many more interesting items!
---
Add me on Facebook, Instagram and Twitter if you want to be kept up to date with the latest happenings in the food and lifestyle scene in Singapore!
Visit other Cafes in the Everton Park / Kampong Bahru area
---
The Audacious Cakery
Block 2, Everton Park, #01-61 Singapore 081002
Opening Hours: Monday — Saturday, 10am to 7pm
Closed on Sundays and Public Holidays
Website: www.theaudaciouscakery.com