When it comes to dining with the Partner, I am usually the one who provides the suggestions. So for once, he surprised me and suggested we might like to try out The Royal Mail, a new restaurant and bar within the Ascott Serviced Apartments. It used to be a Julien Bompard restaurant, but I believe they moved out in 2010.
I know why the Partner might have suggested going to The Royal Mail. It serves British Roasts, one of his favourite things! Actually I love a good roast too, and it's a treat if it comes with Yorkshire puddings! So I checked out their website last week and discovered that they were going to serve free Martinis from 6.30 – 7.30pm to promote their Martini Thursdays. I'm not really a fan of Martinis, but since there was nothing to lose (aka FREE), I said hey why not. I told a friend about it and he promptly rescheduled his gym session, and even managed to pull his wife and his gym buddy along.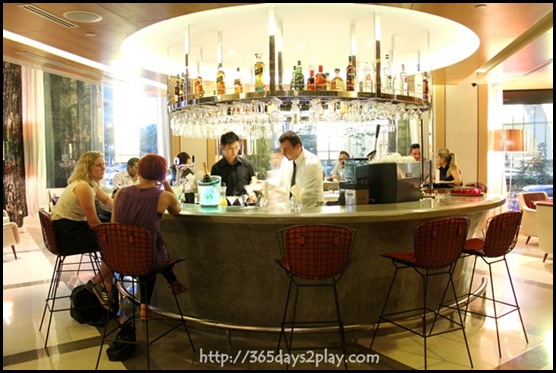 The bar area is quite small. We were kiasu so we arrived at 6.30pm on the dot. Turns out, we were the main customers. Guess the place is still new. Well if you have me on Facebook, you would have seen me hooting about the event. Better add me if you don't want to lose out next time. 🙂
What is a Martini anyway? According to Wikipedia, the classic Martini is supposed to be made with gin and vermouth. However, the 3 Martinis they were offering, Cosmopolitan, Fuzzy Navel and Mojito Martini didn't contain those elements. Vodka was used instead, which is apparently also acceptable.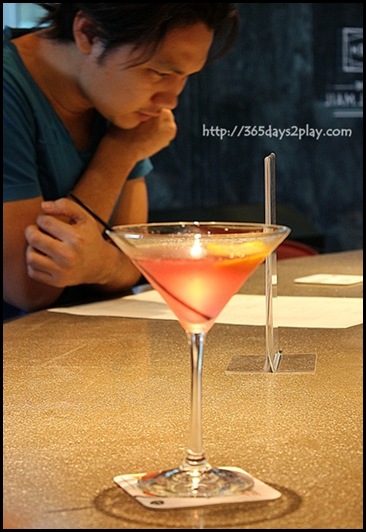 Cosmopolitan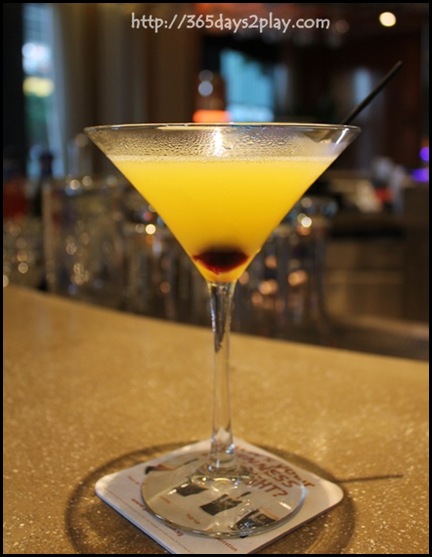 Fuzzy Navel
I had this. The Royal Mail Version is made with Peach Schnapps, Vodka and orange juice. But according to Wikipedia, if a Fuzzy Navel has vodka in it, it becomes a Hairy Navel (obscene sounding leh!). I dislike Vodka very much so for my 2nd drink, I asked for a real Fuzzy Navel, ie without the vodka. The little black thing at the bottom of the glass is a shrivelled plum.