When it comes to dining with the Partner, I am usually the one who provides the suggestions. So for once, he surprised me and suggested we might like to try out The Royal Mail, a new restaurant and bar within the Ascott Serviced Apartments. It used to be a Julien Bompard restaurant, but I believe they moved out in 2010.
I know why the Partner might have suggested going to The Royal Mail. It serves British Roasts, one of his favourite things! Actually I love a good roast too, and it's a treat if it comes with Yorkshire puddings! So I checked out their website last week and discovered that they were going to serve free Martinis from 6.30 — 7.30pm to promote their Martini Thursdays. I'm not really a fan of Martinis, but since there was nothing to lose (aka FREE), I said hey why not. I told a friend about it and he promptly rescheduled his gym session, and even managed to pull his wife and his gym buddy along.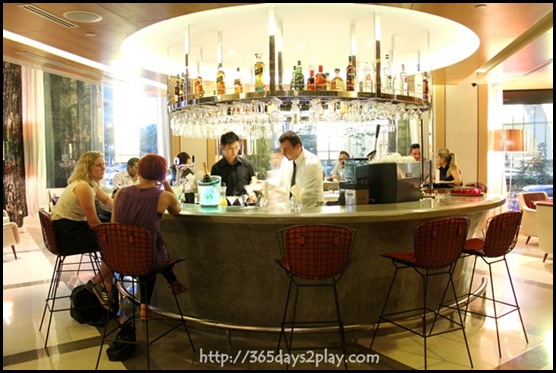 The bar area is quite small. We were kiasu so we arrived at 6.30pm on the dot. Turns out, we were the main customers. Guess the place is still new. Well if you have me on Facebook, you would have seen me hooting about the event. Better add me if you don't want to lose out next time. 🙂
What is a Martini anyway? According to Wikipedia, the classic Martini is supposed to be made with gin and vermouth. However, the 3 Martinis they were offering, Cosmopolitan, Fuzzy Navel and Mojito Martini didn't contain those elements. Vodka was used instead, which is apparently also acceptable.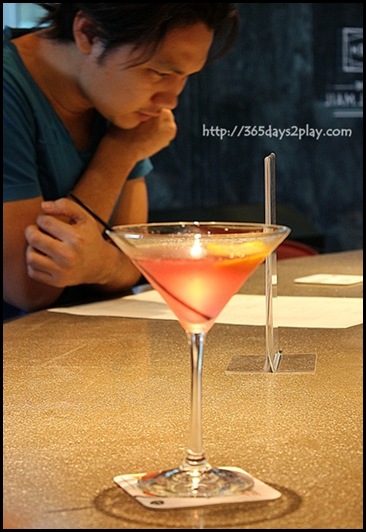 Cosmopolitan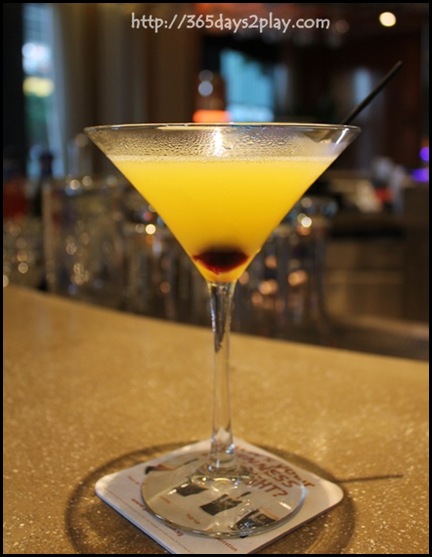 Fuzzy Navel
I had this. The Royal Mail Version is made with Peach Schnapps, Vodka and orange juice. But according to Wikipedia, if a Fuzzy Navel has vodka in it, it becomes a Hairy Navel (obscene sounding leh!). I dislike Vodka very much so for my 2nd drink, I asked for a real Fuzzy Navel, ie without the vodka. The little black thing at the bottom of the glass is a shrivelled plum.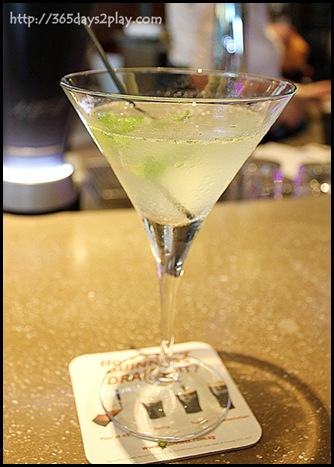 Mojito Martini – Basically Vodka with lime juice and lots of mint.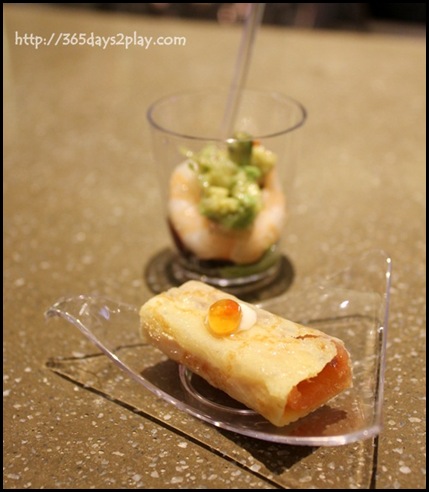 Prawn with Avocado and Salmon Crepe
The Royal Mail also served some complimentary canapés. They were delicious! The salty smoked salmon went very well with the plain crepe and an egg roe on the top. The prawn with avocado was a nice combination too.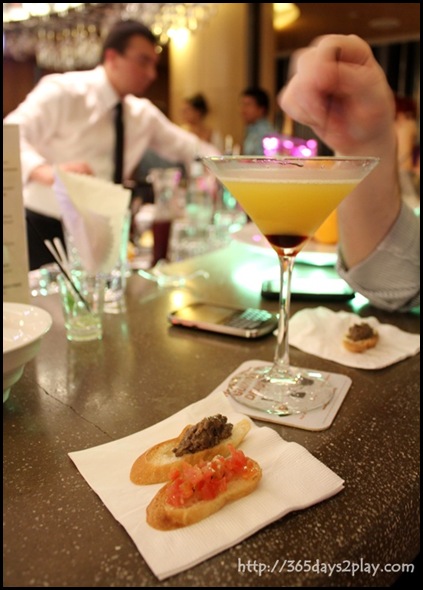 Bruschetta
The bruschetta slices were delicious too. Just simple plain tomatoes drizzled with olive oil on a super crusty baguette slice, so simple and yet so tasty. Can't remember what the darker one was, I believe its minced olives.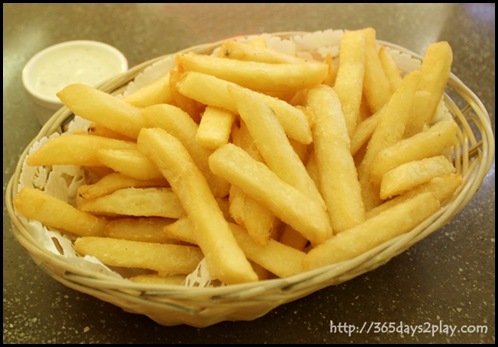 Straight Cut Truffled French Fries $13
My friends, yes the ones who were supposed to go to the gym decided to order a basket of truffle fries to go along with their martinis. The truffle flavour wasn't very strong but you could definitely detect it there. The fries were served piping hot and each one was crisp on the outside yet fluffy on the inside. Also served with a delicious truffled mayonaise.
I would have liked to have my drink at these seats, which were largely unoccupied throughout the evening. But because we had 5 people in total, we had to sit at the bar counter. I think The Royal Mail bar is quite nice. It's a small bar so it lends itself to a cosy atmosphere. But I think they could do with increasing the seating area. Then again, if you don't mind carrying your drink a few metres away, there are huge sofa seats near the concierge area. Not sure if it would be allowed though.
In the end, we spent 2 hrs at the bar and never did make it to the restaurant. Next stop for me would definitely be to try out those ROASTS! Who's coming with me?
_____________________________________________________________
The Royal Mail Restaurant & Bar
Ascott Raffles Place Singapore, 2 Finlayson Green, Singapore 049247
Telephone: +65 6509 3589    Fax: +65 6509 0894
Email: info@theroyalmail.sg   http://www.theroyalmail.sg/ 
https://www.facebook.com/TheRoyalMailSG 

Restaurant
Mon — Fri
Breakfast: 6.30am to 10.30am
Lunch: 12 noon to 3pm (last order 2.30pm)
Dinner: 6.30pm to 11pm (last order 10.30pm)
Sat
Breakfast: 7am to 11am
Lunch: Closed
Dinner: 6.30pm to 11pm (Last order 10.30pm)
Sun & Public Holidays
Breakfast: 7am to 11am
Lunch — Closed
Dinner — Closed
Bar :  Mon — Sun 3pm to 12mn
*If you've enjoyed this post, please vote for me at the Singapore Blog Awards. I'm a finalist! Voting ends 30 June 2012, but you can vote once per day!