*Invited Tasting Session*
I was delighted to receive an invitation from FoodNews to come down to view Kinki and have dinner several weeks ago. The Partner was busy so I tried to find a substitute. I had this impression that I would be able to find a keen soul easily. I mean who doesn't like free food at a great restaurant??? Alas, the 3 people I asked all chickened out and the Partner had no choice but to cancel all appointments to save the day. I wonder if it had anything to do with Kinki's name. Maybe my friends thought I was asking for something else….
Anyway, located along the Marina Bay Waterfront at Customs House, Kinki Restaurant + Bar conveys a refreshingly urban concept, with its cheeky moniker as one of the many things that sets Kinki apart from conventional Japanese restaurants. Kinki's decidedly hip-urban décor is designed by Chris Garver of Miami Ink fame, bearing vibrant colours and echoing his signature style of intricate Japanese tattoo designs.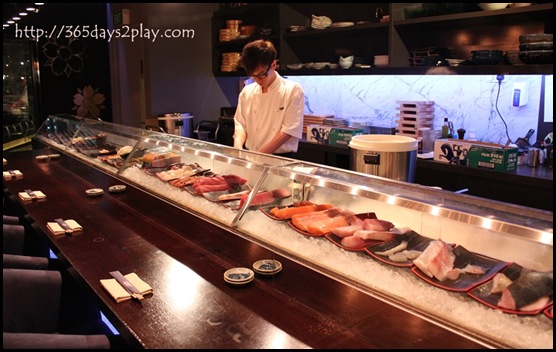 Kinki has a really long sushi counter. I don't think I've seen that much fish on display before.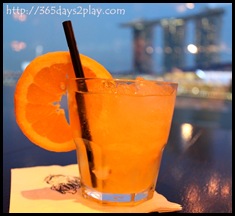 To start us off, we got some drinks. I ordered the Yuzu Caipirinha $16 because I had a great Yuzu Cooler at Shin Kushiya and I thought I might enjoy something similar. Wasn't at all the same actually, and in fact, the Yuzu Caipirinha was more of an orange drink.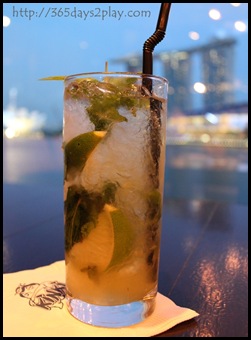 The Partner got the Ume Mojito $16.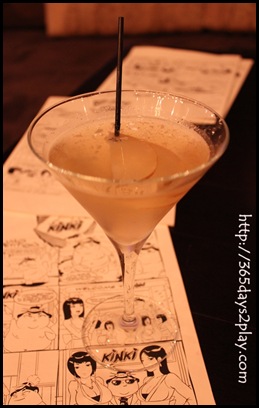 Japanese Pear Martini $20 was what Shasha from FoodNews ordered. I bet she knew that I would like it because she kept asking me to try it. In fact, I loved it so much, I took over her drink and left my Yuzu Caipirinha alone! Not only that, I had 2 of these delicious Japanese Pear Martinis. I am surprised myself because I was never a fan of martinis. Definitely a must order!!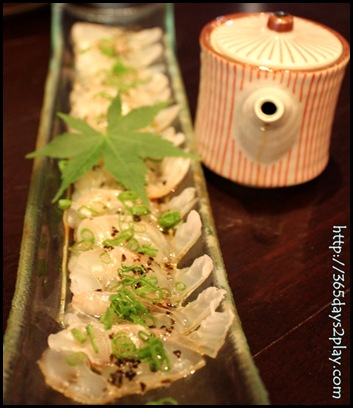 Tai Carpaccio $30 – Thinly sliced snapper with shio konbu and Kinki's truffle dressing. Oh my god, this one was so delicious. If there's one recommendation I have to make at Kinki, it would be that you simply have to order this, if money is not an issue! The special truffle dressing with an Asian twist complimented the slivers of snapper so well! I am salivating just thinking about this.
I love sashimi! The ones served at Kinki tasted really fresh. Also, the slices of fish were larger than usual, which is great because I hate it when the slice of fish flops limply on my chopsticks. Give me a plate of sashimi, plus some hot steamed rice and wasabi and I'll be content. My all time favourite has got to be sword fish, that's the pale one on the right bottom. I can eat loads of it!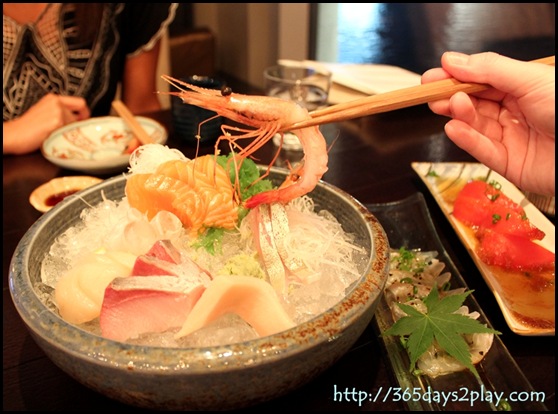 Amaebi, also known as sweet prawns are a favourite of mine! I love the sweet taste of the prawn. Don't you find that there's something unique about the texture of the prawn, it is ever so slightly mushy. I hear that the crunchy succulent textures of prawns found especially in Chinese restaurants is due to them having been soaked in alkaline water. Wonder if that's a healthy thing to do?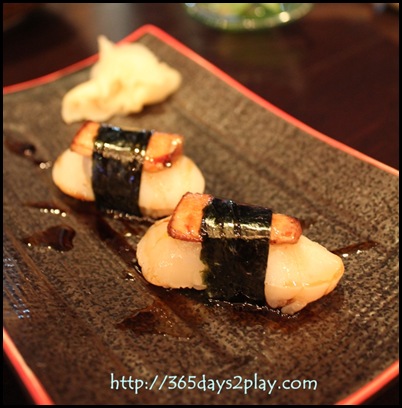 Foie Gras and Scallop Sushi $22 — An eye popping $22!! The foie gras was delicious as usual but it being so good, kind of overwhelmed the flavours of the scallop. I seriously don't think it's worth the price if you're just after the foie gras because it was tiny!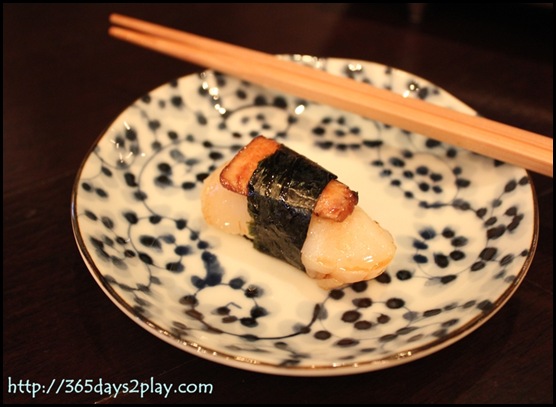 Since it was so expensive, I had to take extra photos of it. Love this picture of the foie gras and scallop sushi. Don't you think it looks so dainty on the pretty plate? Love the design! One thing about Kinki, they sure have a variety of plates and dishes to add colour to the meal.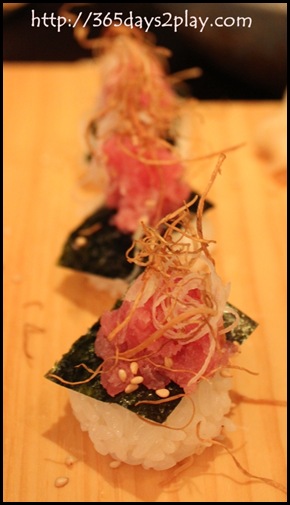 Fatty Blue Fin Tuna with Fried Burdock Sushi $28 — My 1st time eating fatty blue fin tuna I believe. While I couldn't really detect the difference between this vs the normal tuna, I did like the combination of fried burdock with the tuna.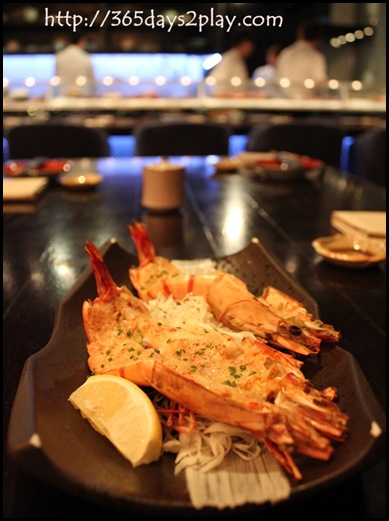 Giant sea prawn grilled with spicy cod roe and Japanese aioli $24 — Very tasty prawns! Love the grilled flavour. Texture of the cod roe was great and I loved the salty flavours. Another must order dish, if you ask me. It gets a bit messy eating this with chopsticks, so do ask for fork and knife, or just dive in with your fingers!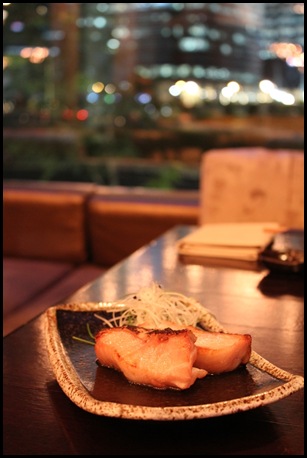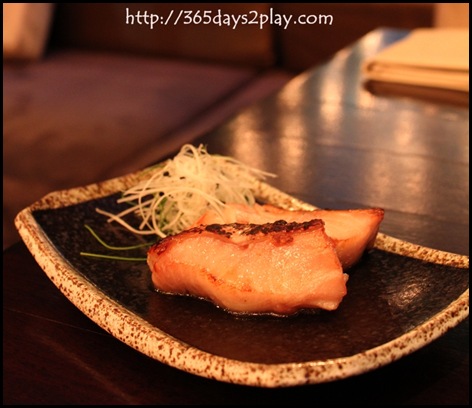 Pomegranate Miso Black Cod $24 — Loyal followers of my blog will know that cod is one of my most favoured fishes. I was really looking forward to this dish, but it kind fell below my expectations. I wouldn't say it's a bad dish. Rather, it had a very weird buttery taste that I wasn't used to.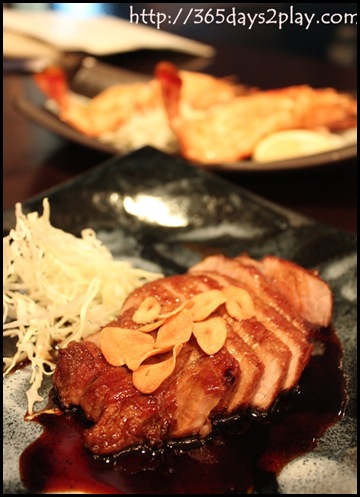 U.S. Prime Beef Teriyaki $24 — Just an average dish. Meat was not very tender. Stick to the seafood dishes, as that's Kinki's speciality.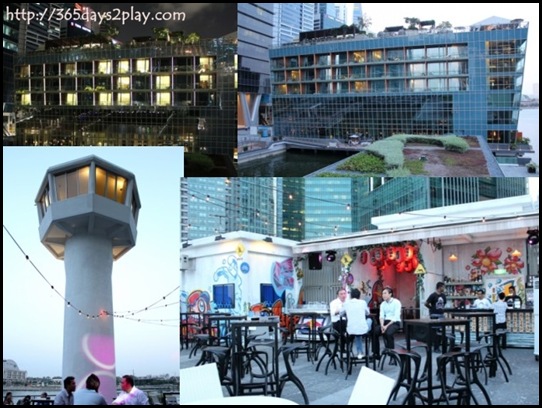 One should definitely go up to Kinki's Rooftop bar to have a drink as well as take in the views of Marina Bay Financial Centre (MBFC) and Marina Bay Sands. The views from up there are astounding and there's just nothing blocking your view at all. Of course, night views are the best and it's more romantic! Oh, Kinki Rooftop bar would definitely be one of the best places to view the NDP 2011 fireworks! Check out my photos of MBS!
We were early so the place was pretty empty.  Love the flower motifs on the walls.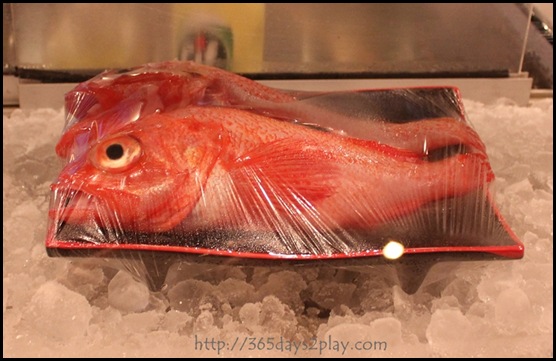 The Kinki fish. Now you know what the restaurant is named after.
On the whole, Kinki is a great place to take your corporate clients or to celebrate a special occasion. If you're going on your own, the prices can be a bit steep, especially the sashimi and Kinki's Customs. Order from the cooked food section and the prices should be more manageable. See Kinki's menu here. Right now up until National Day, Kinki will also be having a special National Day's celebration menu. Check it out at their website!
*Many thanks to Kinki and to Shasha from FoodNews for hosting the wonderful dinner.
Kinki Restaurant + Bar
70 Collyer Quay #02-02
Customs House, Singapore 049323
T: +65 6533 3471 | F: +65 6533 3473
enquiry@kinki.com.sg
Operating Hours
Mondays to Fridays
Lunch from 12pm (Last order at 2.30pm)
Dinner from 6pm (Last order at 10.30pm)
Saturdays and Public Holidays
Dinner from 6pm (Last order at 10.30pm)
Sundays Closed