When in Margaret River, it's not just vineyards that you can visit. If you're a teetotaller or just want to see more of what Margaret River has to offer, check out Olio Bello Olive Farm and Cafe. Apparently the hot summers are great conditions for the olives to grow and you will notice olive platters on many a restaurant's menu.
I happen to love olives and had been gorging on them (like an entire platter to myself for 2 consecutive days since the Partner doesn't like olives although he loves olive oil) so it made sense to visit the olive experts and see if I could stock up on olive oils and olives.
Olio Bello employs sustainable, organic food and farming systems, and everything that is grown on the farm is untainted by synthetic chemicals or fertilisers. Commercial olive oil makers use heat and chemicals for faster extraction of the oils from the olives, but not so for Olio Bello. Their extra virgin olive oils are unfiltered and allowed to naturally settle in stainless steel vats over a longer period of time.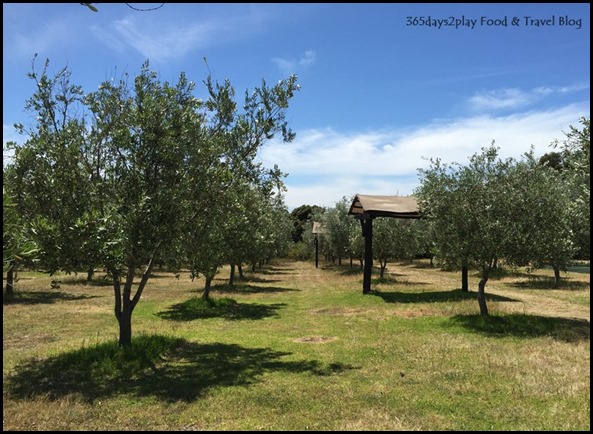 You can visit their 10,000 olive tree grove to roam around on your own. I don't think they do official tours on a regular basis, but if there's a truckload of you arriving, they just might show you around the place.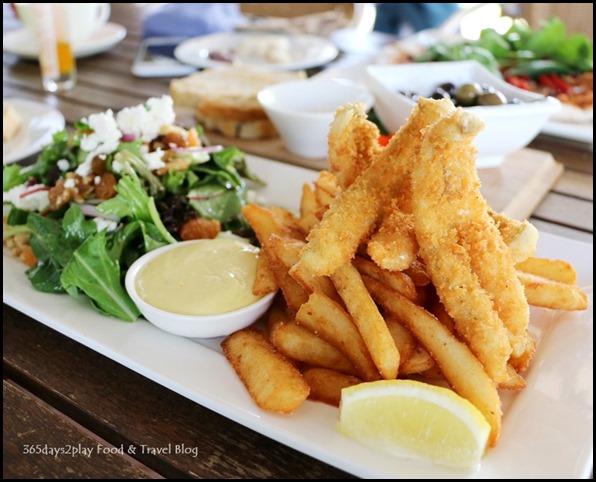 Augusta crumbed whiting, feta salad and beer battered chips $27
I highly recommend that you stop for lunch at the Olio Bello cafe like we did. Their fish & chips use Augusta whiting (a type of fish sourced from Augusta, which is like a 1/2 hr drive from Margaret River town) and it was simply delicious. We tried whiting in a couple of other places, but in my opinion, Olio Bello serves the best version. The fish was tender, piping hot and crispy. Dip that in the olive oil based mayo and you have a match made in heaven!