Ok so the steak's not going to be ready until 8pm. To keep me quiet, the Partner decided to prepare some cheese on crackers first. Our friend who recently returned from a holiday in New Zealand brought back some cheese for us from Hawkes Bay Te Mata Cheese Company. I was there exactly 2 years ago. We carted back so much cheese, chocolate, honey and olive oil that we busted the 20kg limit by several kgs and had to smile very nicely at the lady manning the check-in counter.
If you are planning to visit New Zealand's North Island, you have to make a trip down to Hawkes Bay. That where you can find a lot of their wineries, olive oil and cheese producers. You can have a field day just going to winery after winery, cheese factory, mushroom farm, olive oil plantation and more.
Don't forget to bring a huge ice-box to keep all your stuff cool, especially if you're going in the summer time. I highly recommend staying at lodgings which have cooking facilities. Cuz it just totally sucks when there's so much fresh and cheap produce to be bought and you can't buy them if you're not cooking. Just to let you know how affordable food is in New Zealand, in season produce that is, meat costs less than half what it costs here. A whole bag of apples can be obtained for SGD$2. I once paid SGD$2 for half a kg of brown mushrooms.
Okay, there. A plug for NZ! …and back to my cheese on crackers story….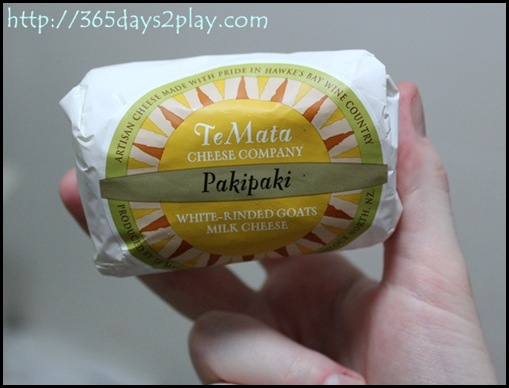 This is the white-rinded goats milk cheese that our friend got for us. It has a texture some what similar to brie. It has less of a milky buttery flavour, but it is quite pungent!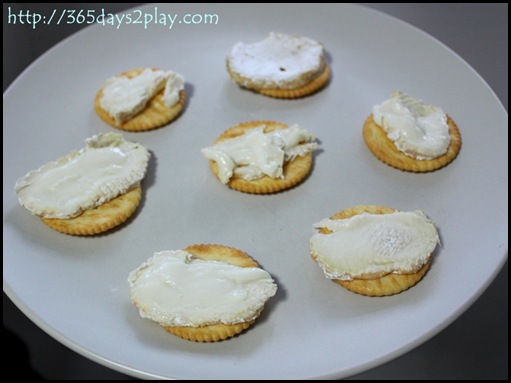 We had it on Ritz Crackers. The Partner likes Ritz crackers but I find them too savoury to fully enjoy the flavours of the cheese.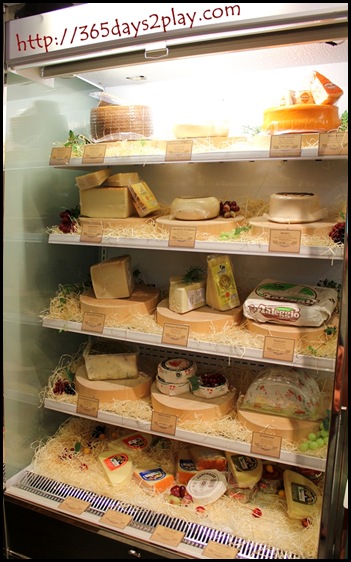 It's hard to find New Zealand cheese in Singapore. There are lots of French and Italian types, but no New Zealand soft cheeses. I know you can get the NZ brand Mainland here, but that's only for cheddar. Just 2 days ago, I discovered that Bakerzin at MyVillage has also started selling cheeses. They have cheeses like Manchego, Reblochon, Pecorino Sardo to name a few, but all from France, Spain and Italy only! I wonder if they would like to consider bringing in some New Zealand cheese as well? I'd surely be their 1st customer! Okay maybe the Partner would be the 1st and I would be the 2nd.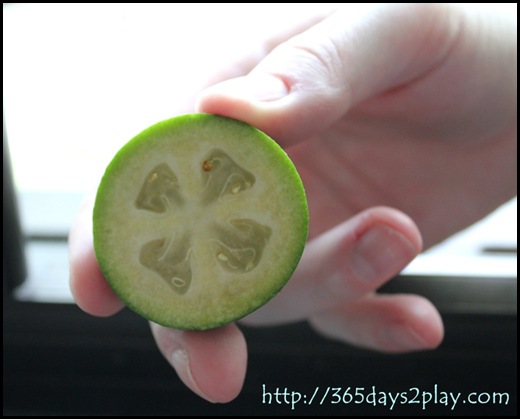 And since we're on the topic of New Zealand food, here's a photo of a Feijoa. It's the Partner's favourite fruit, and apparently only grows in Southern Hemisphere countries such as New Zealand, Brazil, Argentina and Uruguay. Tastes like a combination of Pineapple and Guava, and has a texture of a soft, somewhat gritty guava. If you go to New Zealand, you can even find Feijoa flavoured vodka! As usual, it's not sold in Sunny Singapore.
Seriously, I'm beginning to wonder what foods from New Zealand are exported here? I used to think that milk was, but if you check, there is no Fresh Milk (the chiller section type) from New Zealand. They are mostly from Australia, Malaysia and Japan! The only NZ milk you can find here is the UHT type and the milk powder type from Fernleaf and Anlene.
And now, I'm going to check if the chef has fainted. It's almost 8!!!