When it comes to Dim Sum, the Parents have probably tried more places than I have in the last few months. They have been secretly dining out without inviting me, on the pretext that I was too busy with my own programme. What kind of an explanation is that?? My programme is always flexible when free food is involved. Yeah they knew they were on shaky ground, so a reservation was quickly made at their latest discovery, aka Crystal Jade Dining IN at Vivocity.
I was initially surprised that they would suggest Crystal Jade. Although I had a good dim sum meal at one of the casual Crystal Jade restaurants several years ago, I just didn't associate Crystal Jade (a really affordable restaurant) with good dim sum. I forget that Crystal Jade has so many outlets ranging from cheap to premium. Crystal Jade Dining IN is of course one of their premium restaurants.
I love this Vivocity outlet. Not only do you get a view of Sentosa, the natural light coming in makes for great food photography! The staff are really attentive and will not hesitate to fill up your cup with tea the instance it is empty. We were sitting at the lower tier, nearest the glass walls, and because of the tiered seating, we didn't realise that the restaurant was totally full during lunch, it was that cosy.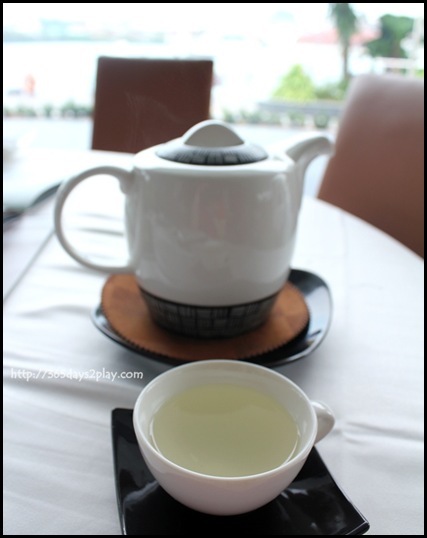 Believe we ordered Tie Guan Yin (Iron Buddha) tea, The tea is a little light because I was too hasty in pouring it out.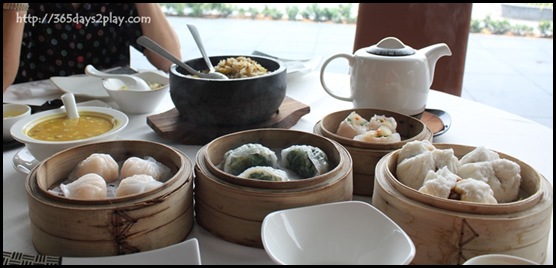 I haven't caught on to the Tapas fad, but small bites in the form of Dim Sum is okay for me. I wonder why.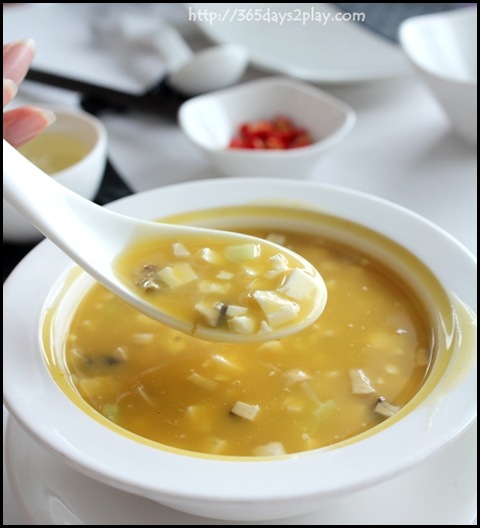 Pumpkin soup with Seafood $12
I thought my parents were joking when they said they were going to order pumpkin soup. I've never been a fan of pumpkin, and much less pumpkin soup, which I expected to be a thick puree of pumpkin. Thankfully, it wasn't and it was a really good recommendation too. There wasn't a strong pumpkin taste actually. It lent itself in the colour of the soup, the smooth/slightly thick texture and sweet flavour. I loved the diced vegetables and seafood in the soup. I like my soups to have something to bite into, and not just be pure liquid.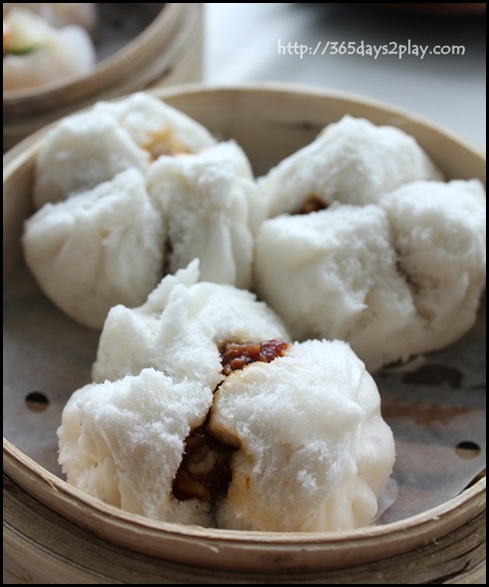 Char Siew Bao aka Steamed B.B.Q Pork with Honey Bun $4.20
I found this to be delicious at first bite, with the sweetness of the BBQ pork being just right. The pork was also firm and I did not detect fatty bits, which to me is a sign of a cheap quality bun. Towards the end, I did feel like there was a sort of off flavour in the pork, which made me wonder if the pork was not fresh.