You may have heard of the stock market, but have you ever heard of a beer market? You heard me right man. I recently discovered this lovely hangout place in Clarke Quay called Beer Market. It is run by 3 beer loving best friends who used to study together at SJI. They say many a friendship is ruined when friends become colleagues. Guess this rule doesn't apply to the trio as Beer Market has been going strong for the last 3 years!
Beer Market, as the name suggests, really works like a stock exchange.There is no shouting of course, anyway it's all automated nowadays, except for the Chicago Mercantile Exchange I believe. Incidentally, I was working at the Singapore Exchange when they closed the floors, but I digress.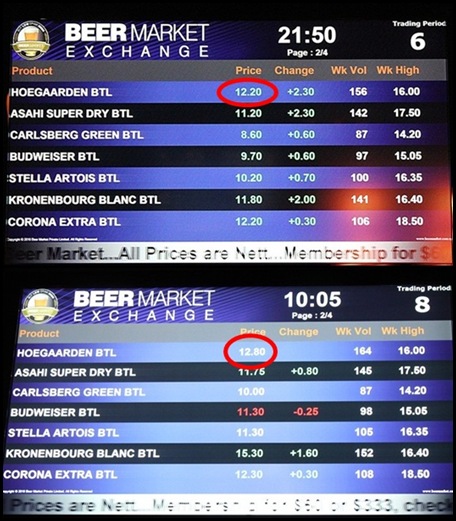 Screens like these are located all over the restaurant pub. It's not too difficult to grasp. All you have to do is keep watch of the prices, which is the price you'd pay if you ordered a beer at that instant. The prices change every 30 minutes, so there's no need to be on your toes the entire time. If you like the price, you buy. If you don't, you wait, or you choose a different beer. Easy peasy right? For detailed instructions, click here.
If you love sampling new types of beer, Beer Market is the perfect place. There is less risk in trying out beers with low buying volume as those beers are at a cheaper price! Wow I love this concept!