You may have heard of the stock market, but have you ever heard of a beer market? You heard me right man. I recently discovered this lovely hangout place in Clarke Quay called Beer Market. It is run by 3 beer loving best friends who used to study together at SJI. They say many a friendship is ruined when friends become colleagues. Guess this rule doesn't apply to the trio as Beer Market has been going strong for the last 3 years!
Beer Market, as the name suggests, really works like a stock exchange.There is no shouting of course, anyway it's all automated nowadays, except for the Chicago Mercantile Exchange I believe. Incidentally, I was working at the Singapore Exchange when they closed the floors, but I digress.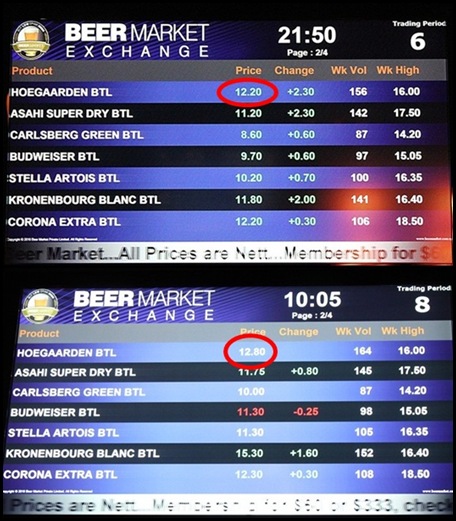 Screens like these are located all over the restaurant pub. It's not too difficult to grasp. All you have to do is keep watch of the prices, which is the price you'd pay if you ordered a beer at that instant. The prices change every 30 minutes, so there's no need to be on your toes the entire time. If you like the price, you buy. If you don't, you wait, or you choose a different beer. Easy peasy right? For detailed instructions, click here.
If you love sampling new types of beer, Beer Market is the perfect place. There is less risk in trying out beers with low buying volume as those beers are at a cheaper price! Wow I love this concept!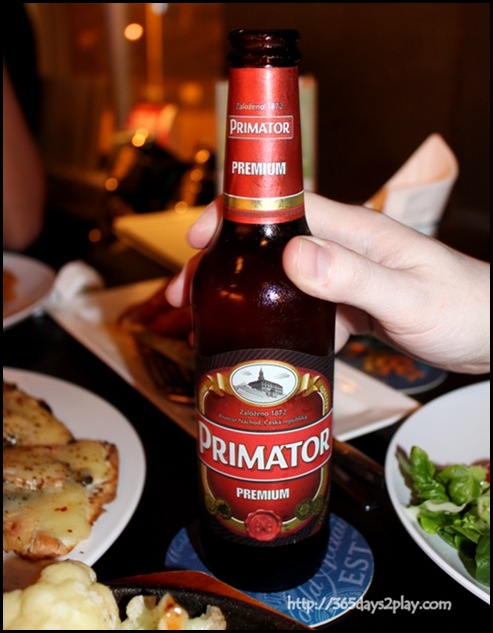 For example, this beer Primator. I think only 3 such beers were sold the entire time we were at Beer Market. And one out of those 3 was ordered by us! Alex, one of the owners of Beer Market, loathes this beer to the core and rues the day they brought the shipment in. Yet the Partner (my Partner) loved it! I'm on Alex's side on this one. I thought it was diluted and bitter, but then again, I drank the last bits of it.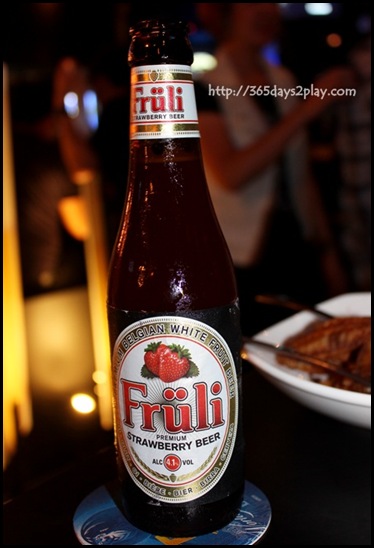 On the contrary, I thought this was one of the most horrendous beers I have ever come across. If you'd blindfolded me, I would have told you this was a fruit juice or smoothie that had overdosed on sugar. Guess what, it's Alex's favourite beer! Wake up your idea ALEX! Okay fine, in his defence, lots of ladies like this beer, but not me. But that's the great thing about Beer Market, you can come here to try lots of exotic beers, and order them when the price is right!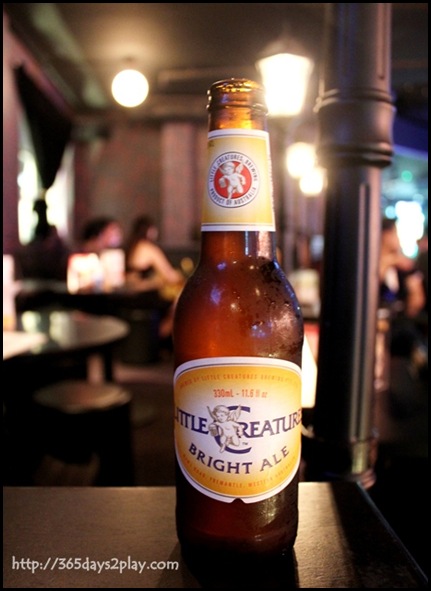 This was my favourite beer of the evening, Little Creatures Bright Ale from Perth. It has a nice name, just a little bit fruity and not bitter at all. People who think that they don't like beer after drinking Tiger, you should try Little Creatures. Good for beginners haha. Btw, I've been to their brewery in Perth. 🙂 🙂

More beers. Next time I want to try the HobGoblin. I sense a finger pointing in my direction…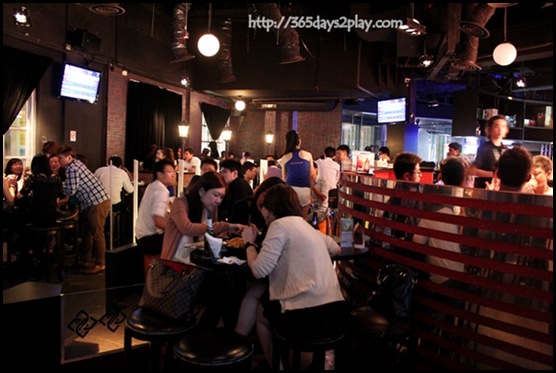 My 3 dining companions and I really like the atmosphere at Beer Market. We arrived at about 7.30pm on a Friday and it was already quite full. When we left around 10 plus, there was a queue of people trying to get in! It's not a pretentious kind of place, and the crowd is mostly local Singaporean, as compared to if you were to go to the Pump Room or Brewerkz nearby. They have a live band going on at quite an early hour too.
It's a good place to have dinner as well, even if you don't drink beer. Most of the dishes are only around $10 – $20, and they even have a Tze Char menu, with rice if you request for it! Click here to see their full menu.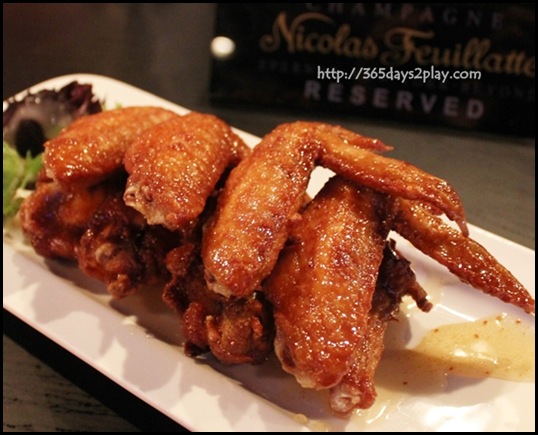 We tried both the Spicy Buffalo or Honey Glazed BBQ Wings, each platter costing $10. I prefer the spicy ones as there is a bigger kick. For $10, the portion is generous. Oh, if you come during happy hour from Monday to Thursday, and all day Sunday, you can get these wings for only $2!!!!!!!!!! Even if you don't order anything else, you can still get them for $2. Is that a deal of the century or what?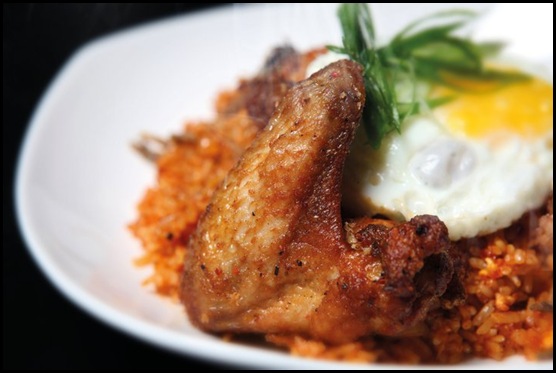 Sambal Fried Rice with Crispy Chicken $10
I found this to be a little too spicy for me and also a little too plain. It does come with a huge load of ikan bilis, if you're a fan of that.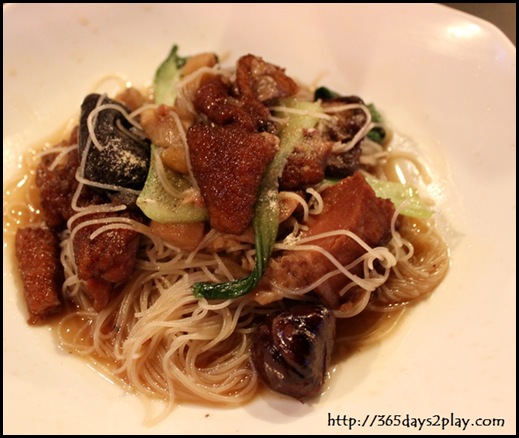 Pork Leg Bee Hoon $10
We ordered this Tir Kah Bee Hoon for laughs and also because it sounded like the most unique dish on the menu. It was a good choice because the dish was chock full of ingredients and the broth was rich and tasty.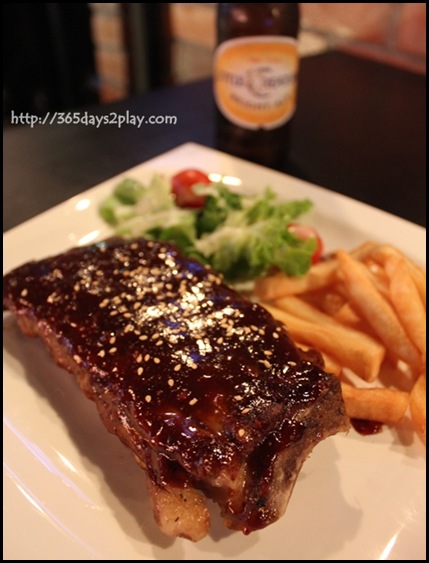 Spicy BBQ Pork Ribs $15
I enjoyed this pork ribs very much. The meat was soft and tender, while the BBQ sauce had just the right amount of spiciness so as not to overwhelm the flavours of the pork ribs.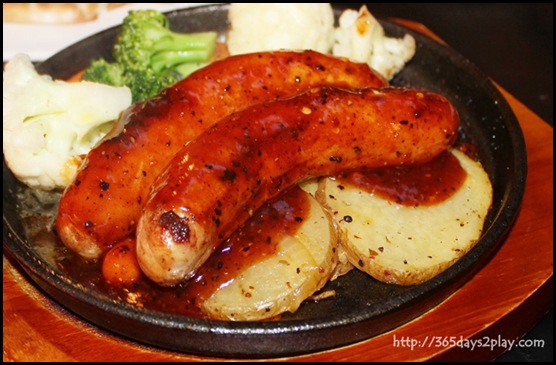 Grilled Pork Cheese Bratwurst served with sliced potatoes, onions and seasonal vegetables $13
The Partner thought that the sausage had too much cheese in it, while I, the cheese lover thought that there was not enough cheese. It's hard to go wrong with this hearty dish though.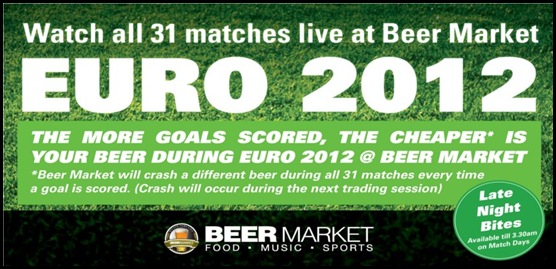 If you're wondering where to watch the Euro 2012 football matches in Singapore, the Beer Market would be a good place to do so. They will be open until the match is over, and each time a goal is scored, a new beer will be offered at a rock bottom price, aka crash the market. Reservations are limited to latest 10pm every day due to logistical issues. However, customers can call 96618283 before the games to check on the availability of seats. Eurocup 2012 where to watch? Now you know.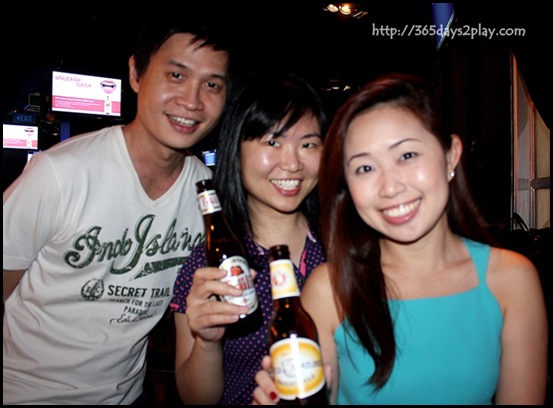 Thanks Alex for the invite! And to Charlie too for painstakingly explaining the intricacies of the trading system to us. We had fun. 🙂
If you've enjoyed reading this post, please vote for me at the Singapore Blog Awards 2012. I'm a finalist in the Food Category. Please press VOTE ME and it's only successful if you see the words VOTED come up!
Beer Market — Food.Music.Sports
3B, River Valley Road, #01-17/02-02 Clarke Quay Singapore 179021
Beside main road taxi stand and Shanghai Dolly, facing the old River Valley Swimming Pool.
Tel : 96618283 (after 6pm)
Email: drinking@beermarket.com.sg