A very Happy New Year to all readers of 365days2play Lifestyle, Food and Travel blog! Hope your new year has been off to a great start! Here's wishing you good health, happiness and an even more exciting 2017 to come!
Speaking of exciting, I thought it fitting as my 1st post for 2017 to blog about a really fantastic meal I had in 2016. As the title of this post reveals, its our anniversary which we celebrated at the one Michelin-starred restaurant Summer Pavilion.  It's the 1st time we formally celebrated it after being married for 4 years! Can you believe that? In some circles, that would be grounds for divorce! But truth be told, Christmas is the occasion that we spend our efforts celebrating (with family and all), that by the time 29th December comes along, it doesn't feel as if we need yet another celebration.
Nevertheless, I was really happy to be able to have the opportunity to celebrate our anniversary. Even though I have dined at quite a number of posh restaurants,  I hadn't been to Summer Pavilion before, and it has been more than 2 years since I was last at Ritz Carlton, so the whole experience was very exciting! It did help that the Christmas decorations were still up, and the hotel looked so pretty! The stark black and white tableware set up also exuded refinement and was like a prelude of good things to come.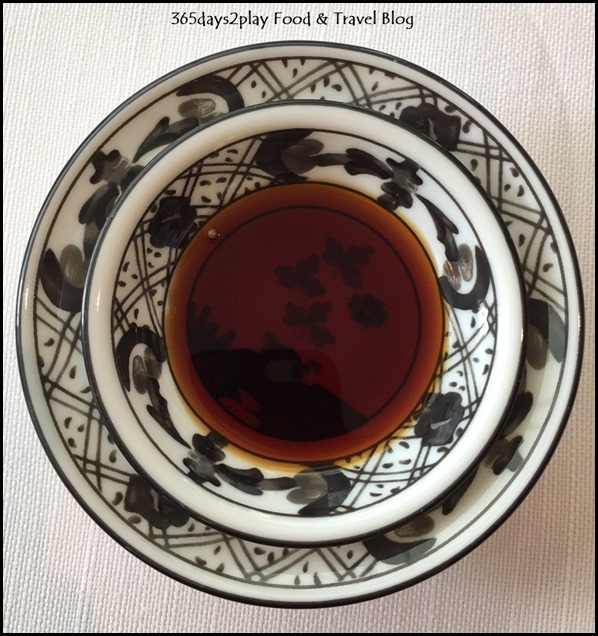 You know you're in for a treat when even the soya sauce looks like an art work.
We opted for the Lily Dinner Set. Yes, they were able to serve that during lunch (I'd checked when I made reservations). I can certainly see why they managed to obtain the coveted Michelin Star. The 5 main criteria that the Michelin inspectors look out for are as follows:
Quality of the products

Mastery of flavour and cooking techniques

The personality of the chef in his cuisine

Value for money

Consistency between visits
While I can't comment on point 3 and 5, I can certainly state that with the exception of dessert, all the dishes we were served that day wowed us. Dessert tasted good too, except there wasn't any wow factor. As for value for money, at $88++ per pax, I think that you could possibly find a handful of Chinese restaurants in Singapore that might be able to match this standard for a lower price tag, if you look hard enough. For hotel restaurants, Yan Ting of St Regis or Wan Hao of Singapore Marriott Tang Plaza Hotel come to mind, but they aren't very much cheaper either. Lei Garden or Crystal Jade Golden Palace may be cheaper too, but guess what, they're also Michelin Starred restaurants!
One thing that the Michelin inspectors don't value is ambience and decor. But I do. Ambience, decor, service and how comfortable I feel dining in a restaurant are all important factors to me when it comes to enjoying a meal out. If it were just the quality and taste of food, home cooking would have sufficed!
Anyway… scroll down for the low down on each of the dishes.