After the wonderful pictures that my friend took at the last Restaurant Week back in March at Salt Grill, I've been keeping a mental note about this place. I really love the look of the place, so much that earlier this year, I seriously considered holding my wedding here. The views are fantastic, if you are lucky enough to come on a blue sky day.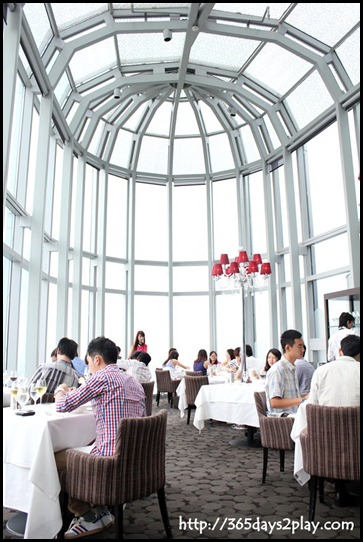 Anyway, finally got the opportunity to dine at Salt Grill & Sky Bar during the October 2012 Restaurant Week season. We got a seat next to the window, and the 2 chairs were already placed in such a way that we were facing the views. I guess that's definitely a huge reason why people pay top dollar to come to Salt Grill & Sky Bar huh.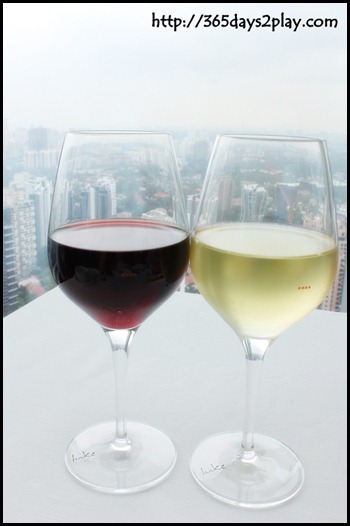 The restaurant was having a promotion so we got ourselves 2 glasses of wine to accompany the meal.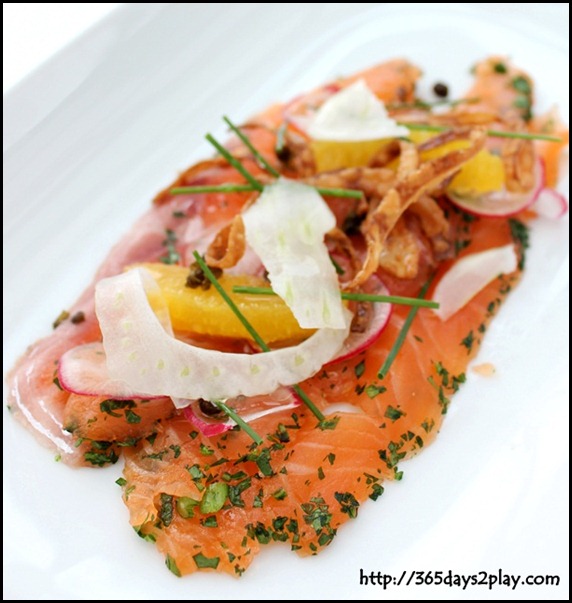 Salmon Gravlax, Crispy Capers, Radish, Fennel, Orange, Onion Rings, Lemon Olive Oil
This salmon gravlax was the perfect starter. There's just something about fresh and bright colours that whets the appetite. Salmon Gravlax is a Nordic dish comprising of raw salmon cured in salt, sugar and dill. The texture is very similar to smoked salmon, but in this case, the textures were jazzed up from just plain and slippery to having a bit more bite from the crispy slivers of onion rings. I don't think I've ever had salmon together with orange but it all went very well together!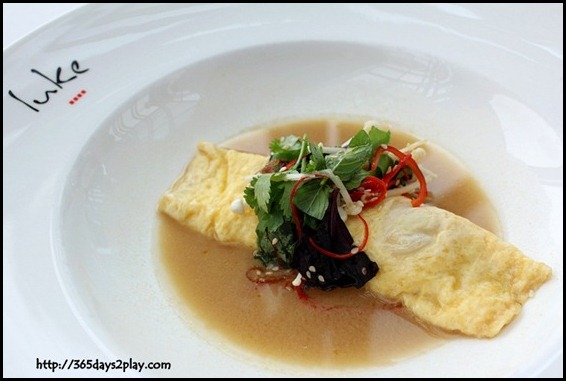 Glass Sydney Crab Omelette, Miso Mustard Broth
This was a pretty substantial dish and once again, was a very pretty appetiser. The eggy omelette was fluffy and not oily. I don't really think the crab did much for me as I could hardly taste it. I did like the miso mustard broth, which imparted a more savoury flavour to the dish.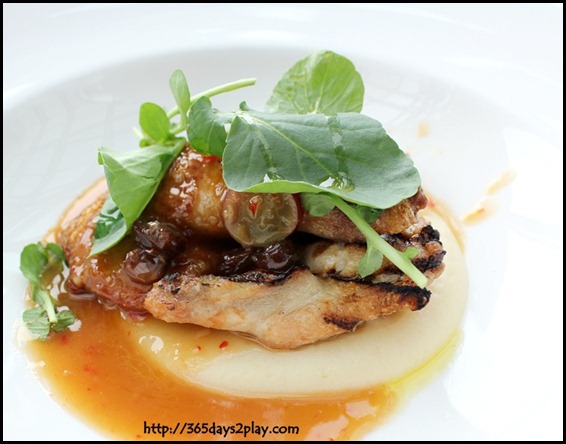 Grilled Spatchcock, parsnip puree, grape and currant dressing
Was expecting a bigger main course, although this did fill me up substantially. You have to feed the eyes first you see. The thigh of the spatchcock was absolutely delicious and tender, with a meatier than usual flavour. Interesting that it is so because it's supposed to be meat from a young bird. Another stunner was the parsnip puree. Instead of the more common mash potato, Salt Grill served mashed parsnip. It had a rooty and sweeter flavour and if you love parsnips, you'd definitely love parsnip puree! I only wish more restaurants could serve this!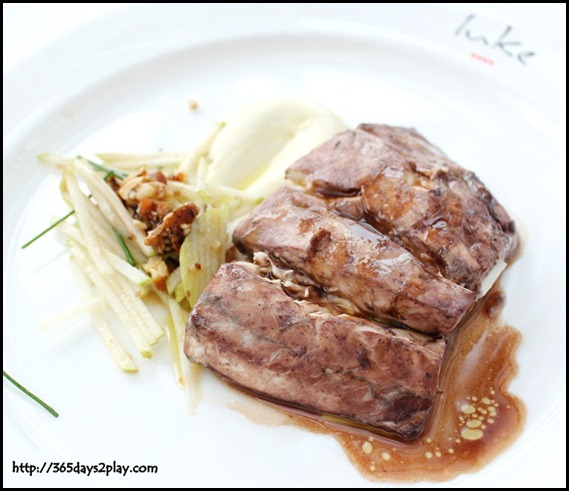 Red wine poached barramundi, Cauliflower puree, nashi pear
Okay, the ugliest dish of the day if you ask me. Thanks to the red wine, the white flesh of the barramundi had turned into a dark rusty colour. Quite unappetising looking, but once we got over that, the fish was pretty good. The Partner enjoyed it. The cauliflower puree, just like the parsnip puree was a hit and I just wish they'd given more of it! The nashi pear was somewhere in there, but just slivers of it.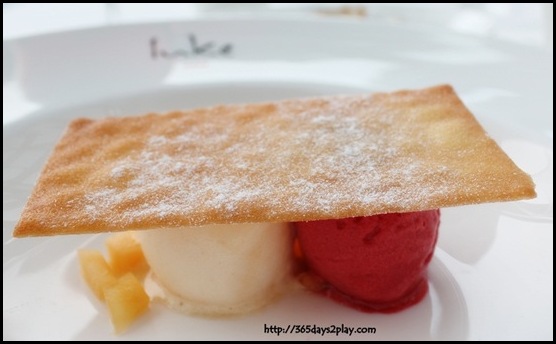 Rock melon & Raspberry Sorbet
The Partner was overjoyed to find out that dessert was sorbet, while I was CRUSHED! I think I'm okay with ice-cream for dessert, but I just feel ice-cream is too simple. I want a decadent chocolate dessert! And it wasn't ice-cream, it was sorbet, meaning it wasn't even a cream based ice! The Partner loves fruity stuff so needless to say, he enjoyed the dessert tremendously. Well, I quite liked the rock melon sorbet. It was sweet and refreshing. The raspberry sorbet was too sour for me.There was a crisp slice of buttery shortbread which looked very presentable, but I thought was a bit too sweet when paired with the sorbet.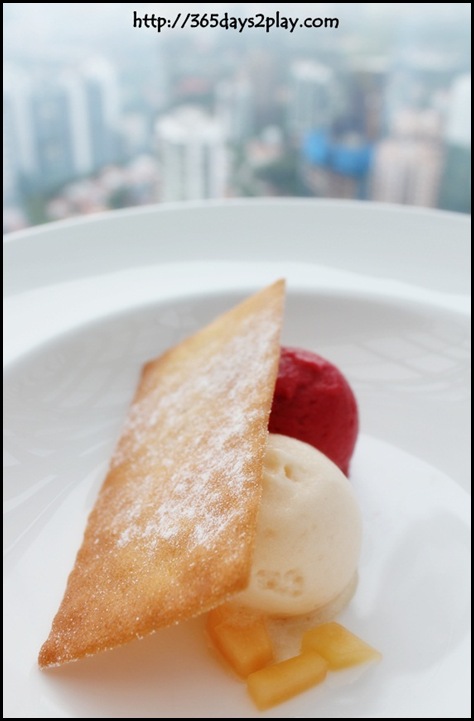 Another look at the offending sorbet…okay I kid.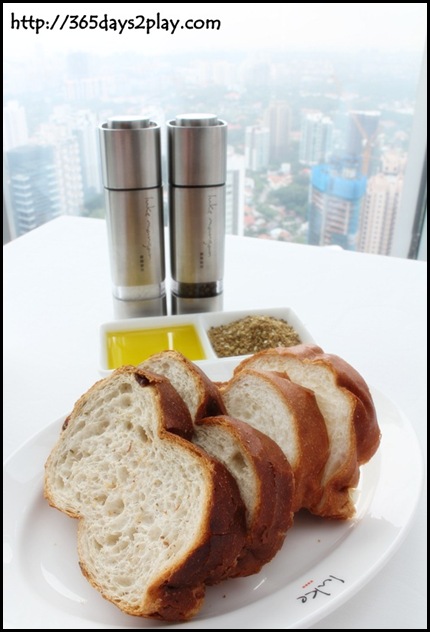 We were served a delicious bread basket. It was so good, I made sure the waiters did not take it away until after dessert!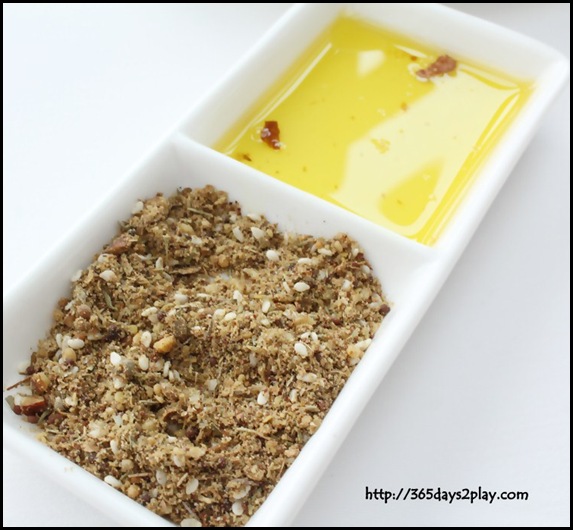 The secret was in the spice dip. Restaurants may serve good bread, but good butter or good oil must also be provided. In this case, this spice dip really made the difference.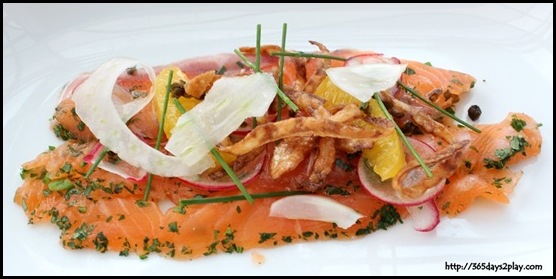 Another look at the lovely salmon gravlax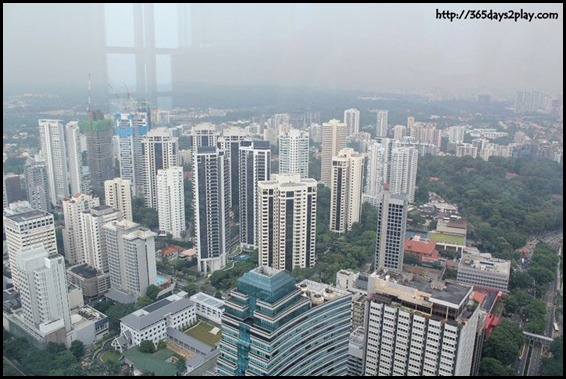 As you can see, it was not a blue sky day, but certainly it was amazing to be able to see all the buildings from this height. This is probably the highest point that you can go in Orchard Road, and apart from being able to view Orchard Road itself, you can also go to the opposite end to see the Botanic Gardens and the Bukit Timah Nature Reserve beyond. It's a bit surreal actually, because from this height, it really looked like a vast expanse of greenery, to the extent that I wondered if that was still part of Singapore! Didn't know we have so much land just dedicated to Nature Reserves!

Check out all the other Restaurant Week restaurants I've tried!
~~~~~~~~~~
Salt grill & Sky bar
2 Orchard Turn, Level 55 & 56 on ION Orchard
Telephone : +65 6592 5118
Operating Hours: Monday to Sunday
Restaurant : 11.30 -14.00 (Last Order) and 18.00 — 22.00 (Last Order)
All-day Bites : 11.30 — 17.00 (Last order at 16.00)
Sky Bar : 18.00 — 23.30 (Drink last order at 23.00)
Dress Code: Smart Casual
http://www.saltgrill.com/ (includes the various menus)