It seems like the turkey has hardly been stuffed before one needs to contemplate a fitting way to end the year with a blast. The truth of the matter is that I'm always quite shocked to discover (after Christmas) that the New Year is but 7 days away.
Well, what to do for New Year's Eve has been put on the front burner after I received this invitation to sample Salt Grill & Sky Bar's New Year's Eve menu. And should I call it New Year Eve 2014, or New Year Eve 2015? December 31 is undoubtedly still in 2014, but put another way, it is also the eve of the new year of 2015! You tell me the answer.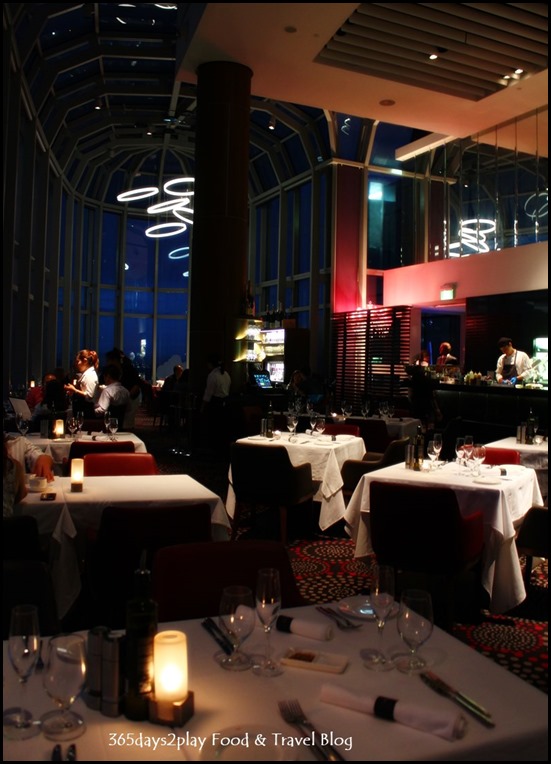 I love dining at Salt Grill & Sky Bar. If you've been there, you'd know that the view is fantastic. You can see out for miles and miles, and some how, it feels like Singapore has fewer high rise buildings than I would have thought. Singapore boasts quite a number of roof top / sky high restaurants, but many are in the financial district. So, another thing that Salt Grill has going for it is its convenience, being perched 50 storeys above the ION Orchard shopping mall. This is probably why they've come up with a brunch menu as well as an afternoon tea service, to cater to the ladies of leisure (or aspiring ones) who may feel peckish after a spot of shopping. The private room, perched one level higher is also the spot for many a business dinner, as was the case the last 2 times I was there.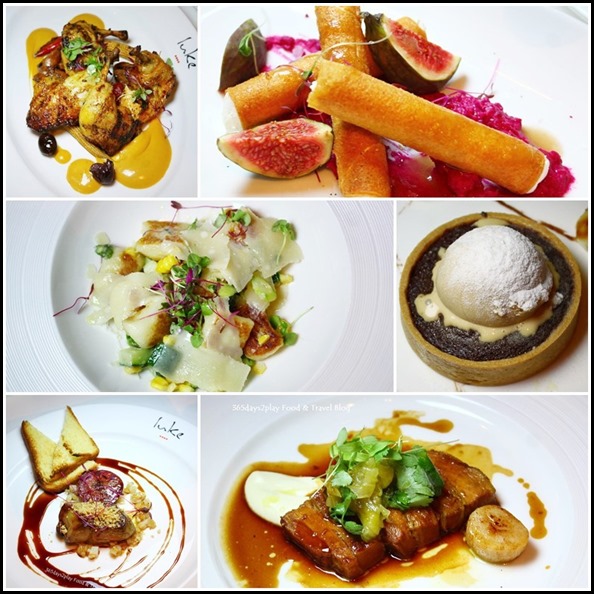 Anyway, after arriving for dinner, I was promptly told that I would be sampling ALL the dishes on New Year's Eve 2014/2015 menu. No problem! I had just spent 1 hour at the Takashimaya Trim Shop jostling with the other early bird Christmas shoppers so I had dutifully worked up an appetite. As always, you will be greeted with a welcome soup, in the form of a coconut broth with Sydney spice served in a shot glass. It tastes exactly as its name suggests, and not only warms you up but whets your appetite in anticipation of what's in store.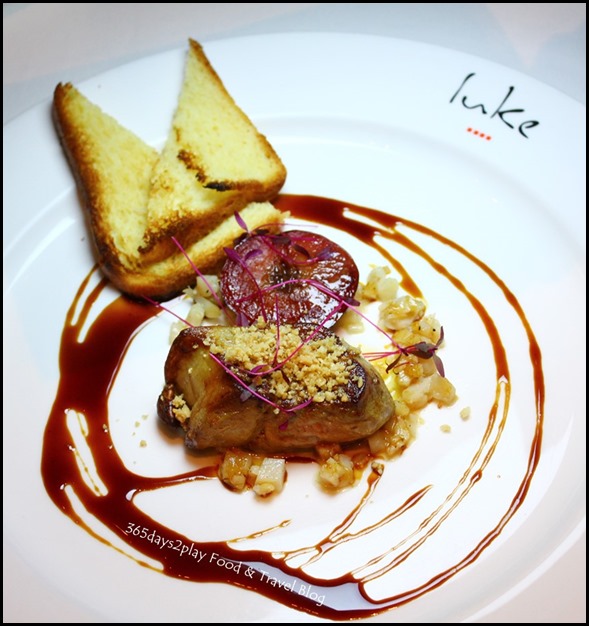 Seared Foie Gras, Pine Nut Crust, Scallops, Plum, Brioche
Foie gras is always a crowd pleaser, and so it did please during the tasting session. A creamy interior encased in a lightly crisp exterior, I wish I had the whole piece to myself. The brioche was a tad too hard in my opinion and did not pair well with the soft as clouds foie gras. The scallops also seemed out of place when they are usually the highlight of a dish in their own right.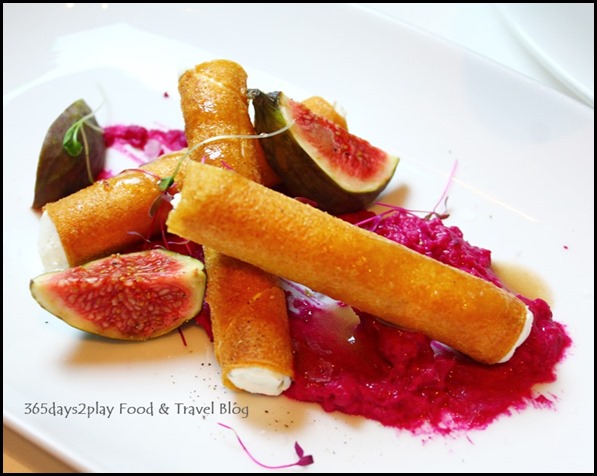 Cigar of whipped goats cheese, beetroot hummus, fig
When you pay top dollar to dine out, you don't just want great tasting food, you want to be entertained and surprised with new dishes. I thought this dish was pretty creative, wrapping the whipped goats cheese in a semi-crisp wafer layer. The taste and texture elements were just right. As the goat's cheese is rather filling for an appetiser, you might want to share this with another person.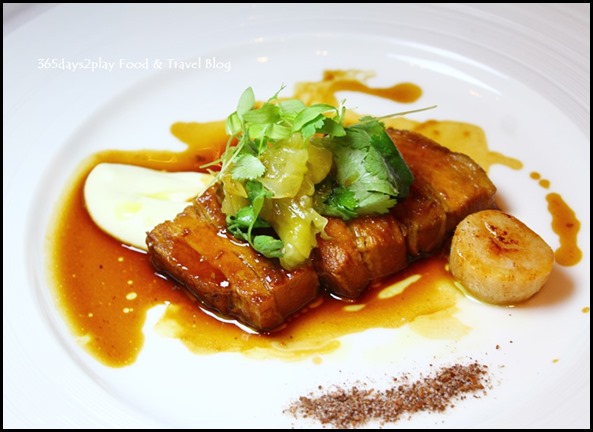 Star anise pork belly, seared scallops, cauliflower puree, pickled cucumber
Chef and owner Luke Mangan loves incorporating Asian elements into his cooking, and it is most evident in this dish. The cooking techniques are not totally Asian, for example the pickled cucumbers are shaved rather than sliced. The pork incorporated the star anise flavour well, however the melt in your mouth texture I was hoping for did not quite come through. On the contrary, I thoroughly enjoyed the seared scallops, which were plump, tender and tasty.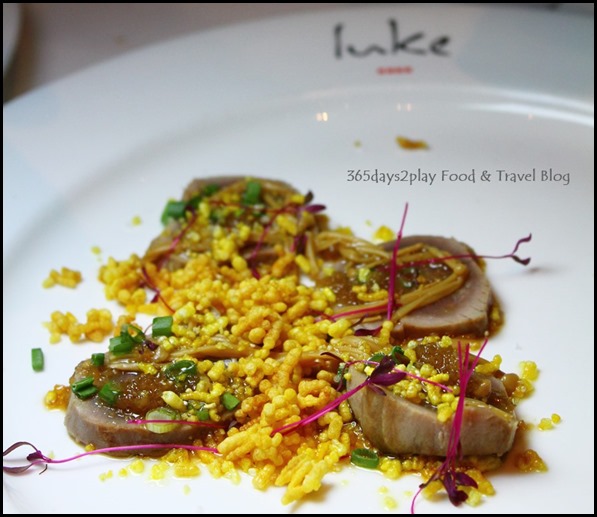 Tuna tataki, ponzu, smoked enoki, onion, puffed rice
I do not normally like tuna, as I find it rather tasteless for some reason. However, done this way, the tuna does exhibit a nice sweet flavour, helped along by the playful use of puffed rice to give texture.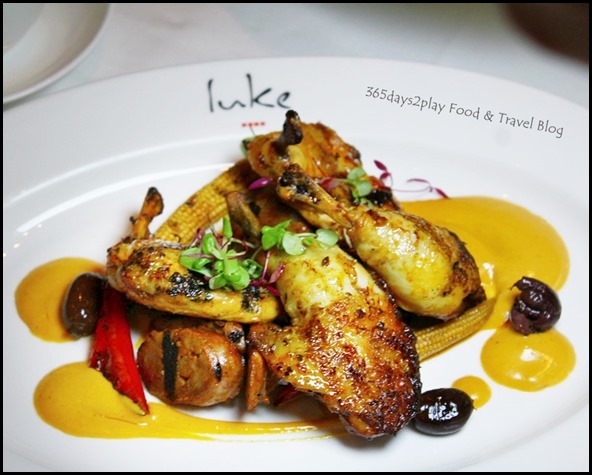 Portuguese baby chicken, grilled corn, chorizo, chilli, olives
I seldom rave about chicken dishes, because, well it's just chicken. But this chicken was done so beautifully, it was probably the highlight of the main courses, if not the entire meal. The chicken was really tender, with a smoky flavour and hints of Middle-Eastern spices. The saffron sauce was another killer component, elevating all the ingredients on the plate. I hope no one noticed that I was single-handedly polishing off the grilled capsicums and olives one by one, making sure they were well coated in the delightful sauce first.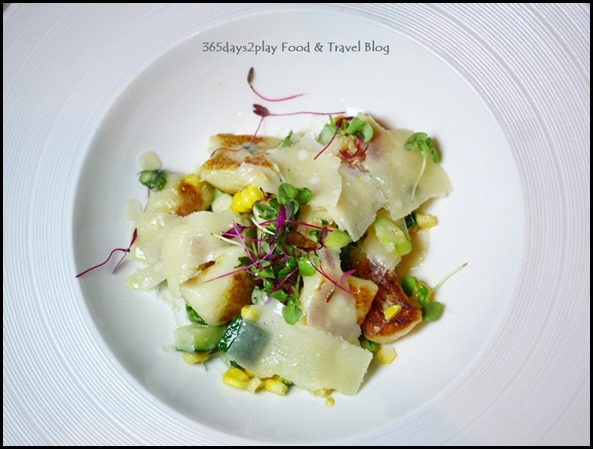 Pan fried potato gnocchi corn asparagus zucchini parmesan, thyme, truffle verjuice dressing
Most of my dining companions found this dish to be too plain and starchy. I have to agree that for a New Year's Eve menu, this might appear simple. However, it is still beautifully done gnocchi nonetheless. The gnocchi had a nice seared exterior which gave it a slightly crispy texture that went well with the softer insides. Some found it too doughy but personally, I enjoyed the textures and taste. And for once, the gnocchi wasn't smothered in heavy cream sauce, like it usually is at other restaurants.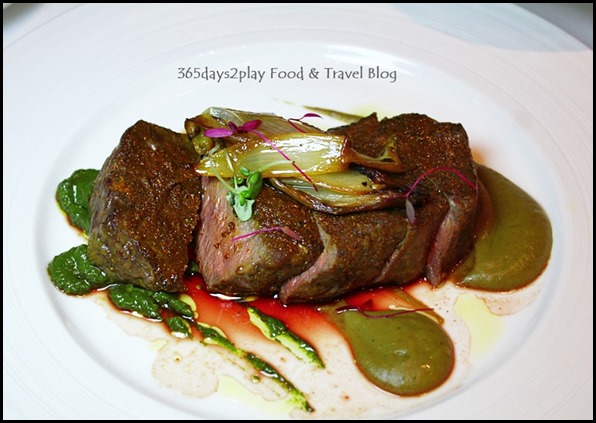 Cape grim striploin caramelized endive, eggplant, salsa verde
Compared to the 1st two dishes, the striploin steak seemed ordinary. the eggplant puree as a sauce was an interesting touch though.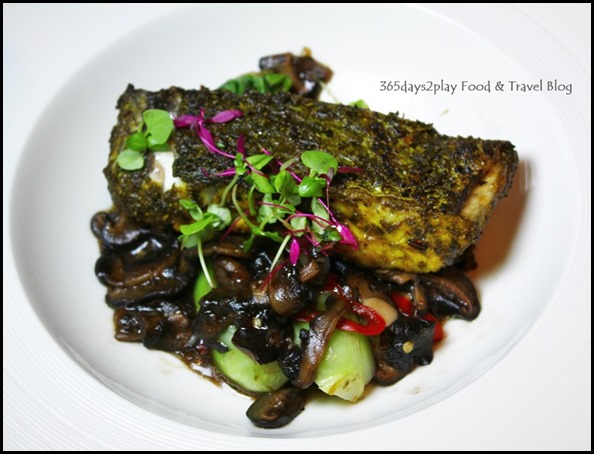 Sydney spiced barramundi, char sui mushrooms, bok choy
I am not a fan of barramundi, which I find to usually be too dry for my liking. My companions thought it was nicely done and tasty though.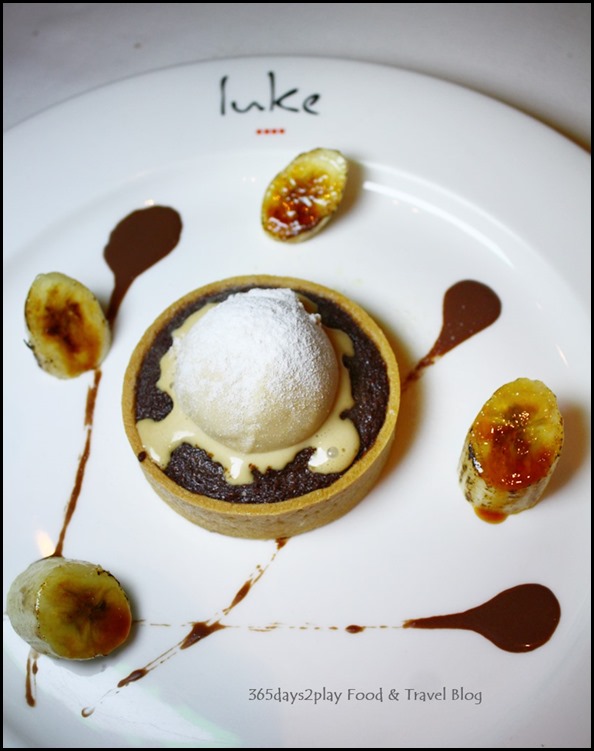 Chocolate tart, praline ice-cream, brulee banana
This is the 2nd time I am seeing molten chocolate lava tarts being served. The 1st time I tried it at Burlamacco Restaurant at Amoy Street, I was thoroughly impressed. This version by Salt Grill was pretty good too, with hints of something extra in the chocolate which I can't quite put my finger too. Nutella perhaps? I would have liked a more buttery and crumbly tart base though.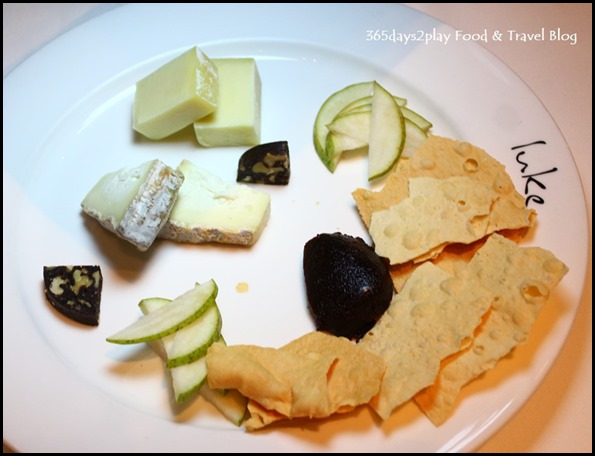 Cheese selection quince paste lavosh
The cheese platter is seriously worth consideration. At least get one person at the table to order this. The two cheeses we tried, Gruyere right at the top and Pouligny-St-Pierre (unpasteurised goat's cheese) were beautiful and very palatable. I don't think I've enjoyed cheese like that in a long time!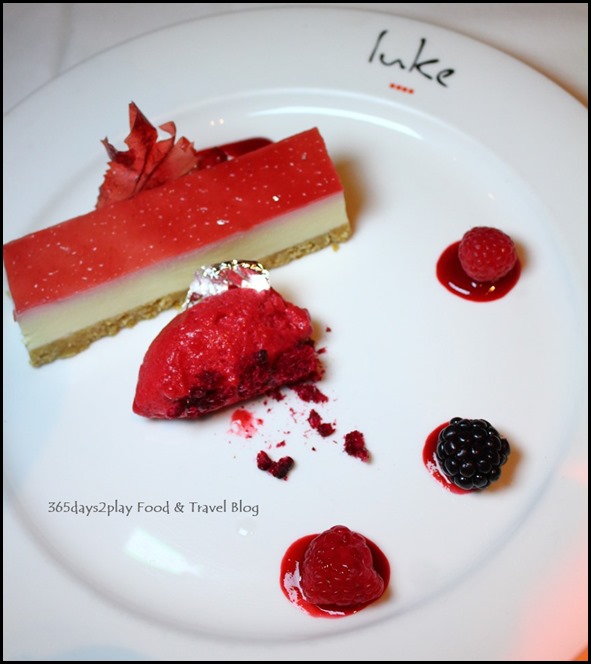 Raspberry Cheese Cake
A light tasting cheese cake, that I could possibly finish on my own. The raspberry sorbet was too sour for my liking though, and didn't seem to serve any purpose. Perhaps a sauce, or some textured element would have been a better pairing with the cheese cake, although the cake is perfect on its own.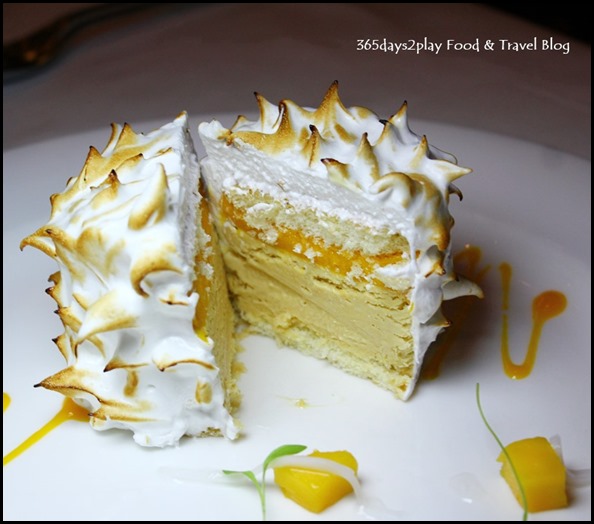 Mango & Coconut bomb Alaska
Really not a fan of this bomb Alaska. It's stunning on the plate to be sure, and there is a delightful coconut candy tasting ice cream somewhere in the layers that I would have loved to eat separately, but the soft meringue did no favours to the already mostly soft interior.
And there you have it, the entire Salt Grill & Sky Bar's New Year's Eve menu excluding the sides of starches and veggies which we didn't try. Here's to a great 2015 ahead!
---
Add me on Facebook, Instagram and Twitter if you want to be kept up to date with the latest happenings in the food and lifestyle scene in Singapore!
Read my other review on Salt Grill & Sky Bar for Restaurant Week
Other roof top dining restaurants in Singapore 
---
Salt Grill & Sky Bar by Luke Mangan
2 Orchard Turn, ION Orchard, #55-01 & #56-01 Singapore 238801
Tel : +65 6592 5118
Restaurant
Lunch: 11.00 — 14.00 (Last Order)
Dinner: 18.00 — 22.00 (Last Order)
Friday Saturday Dinner: 18.00 — 22.30 (Last Order)
Degustation Lunch: 11.00 — 13.30 (Last Order)
Degustation Dinner: 18.00 — 21.30 (Last Order)
Sky bar
11.00 — 23.30
Brunch (Weekend)
11:00-14:00 (Last order)
Afternoon Tea: 14:00-17:00
Dress Code: Smart Casual