Attended Far East's Media Party held at Oasia Hotel opposite Novena MRT yesterday. It was a blast and I really enjoyed myself!
You may be familiar with Far East Organization as a property and shopping mall developer, but did you know that Far East Organization also has a Food & Beverage arm as well as a Hotel arm?
Far East Hospitality operates the largest hospitality portfolio in Singapore, comprising of 8 hotels and 9 serviced residences. Heard of Orchard Parade Hotel, Village Hotels and Quincy Hotel? Those are all under Far East Hospitality. And of course Oasia Hotel, which I will blog about in the next post.
Yesterday was the launch of the new StayFarEast.com website. With the launch, the group is offering 40% off its Best Available Rates with a minimum of 2 nights' stay from 1 September 2012 to 3 March 2013. Bookings must be made between 28 August and 3 September 2012.
Kitchen Language Restaurants
But for me, the highlight of the evening had to be dinner, served up by the various Kitchen Language Restaurants. Did I mention that Kitchen Language is the F&B arm of Far East Organization? Cold Stone Creamery, KUMO, OChre, SALTA, SPRING JuChunYuan, Saltwater Cafe, Zaffron, Quiznos Sub and Tully's Coffee are all operated by Kitchen Language.
All the food tasted fantastic, so I won't comment too much but to let the pictures do the talking.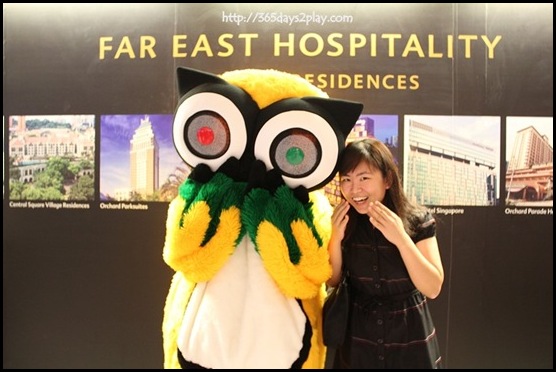 Far East Hospitality has won awards from Trip Advisor so the Ollie the Owl was here to lend support. I'm not too sure why he seems to perpetually have a shocked look. Maybe he's shocked at the rock bottom hotel deals out there….
Zaffron

Kueh Pieti
KUMO Japanese Kaiseki Restaurant

Delicious and succulent sashimi