Be warned, this post will inundate you with lots of meat photos, so don't read with a hungry stomach!
After work yesterday, to avoid the noisy F1, we decided to go to the Tanjong Pagar area to see if we could find somewhere interesting to dine. Having previously really enjoyed exploring the nooks and crannies of the Tanjong Pagar area, I had no doubts that we would be able to find some place nice.
Didn't take long. We veered towards Icon Village and into Salta Argentine Parrilla and Grocer. The restaurant has a contemporary look with understated dark tones, which made it exude a comforting yet upper-end vibe, helped along by the wine glasses on every table. I like dining at nicely decored places. The photos look nicer too.
For some reason (before I saw the name of the restaurant), I had immediately assumed that Salta was Italian. Obviously, it's not. Salta offers Argentine food, with a huge focus on meats. Apparently, Salta is the only restaurant in Singapore to serve Argentine food. As we had never tried Argentine food before, Brazilian Churrasco I presume being the closest we have tried, we gladly settled for dinner at Salta.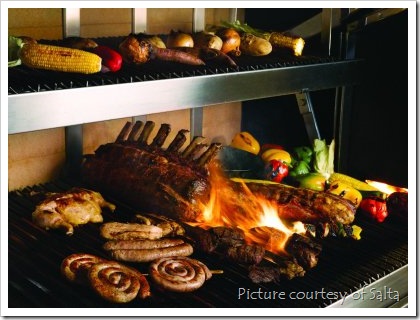 We took a nice table near the flat screen TV which was perpetually stuck on the same image. Thanks to that image it will now be etched in my brain forever that just like New Zealand, the fertility of the Argentine soil and the temperate climate helps grow lush nutrient rich grass, which allows Argentina to produce some of the best beef in the world. Like New Zealand, the beef used is from free range grass-fed cows. It is more environmentally friendly than grain-fed cows (and tastes better in my opinion). This is as how nature intended it. The Partner will have me add that since we are in Singapore, it is better to choose New Zealand beef as compared to Argentine beef, as the carbon footprint will be smaller. Ok back to the food!
Salta doesn't have an extensive menu. There are about 10 main courses on offer, mostly meats, with 1 or 2 seafood dishes, and 2 pasta dishes. They have beef skirt, beef rump, sirloin, ribeye and lamb chops etc. We found it hard to decide on which dish to choose so we selected the Parrillada mixed grill for 2 people. All the meats and veges are grilled on a charcoal infused parrila.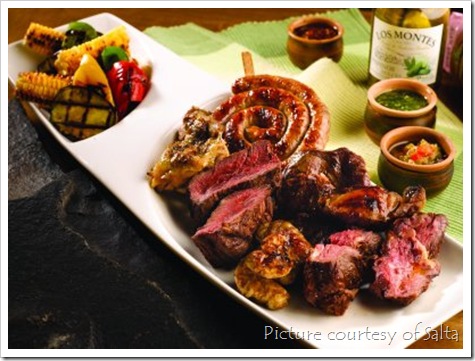 This is the mixed grill for 4 people: – Beef Sirloin, Beef Skirt, Chicken, Kurobuta, Sausage, Sweetbread, Vegetables & Potato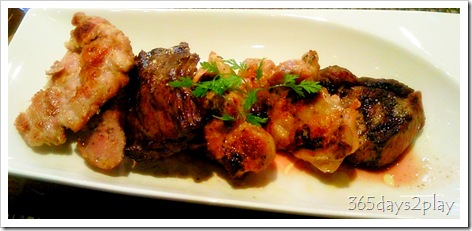 This is the size of the mixed grill for 2 people. Same meats, but smaller portion.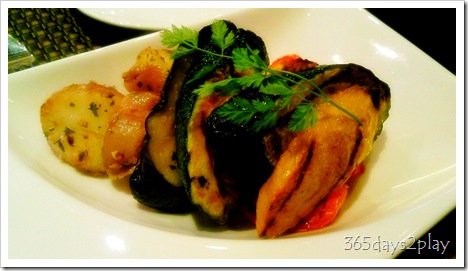 This is the grilled veges and potatoes
Most of the meats were quite tasty and juicy. The most outstanding piece of meat to me was the Beef Skirt. Skirt steak is a long, flat cut below the diaphragm of the cow, that is prized for its flavour rather than tenderness. I have to say that without a doubt, this is one of the tastiest, if not the tastiest pieces of beef I have ever eaten. On my next visit, I am definitely going to order the skirt steak as my main dish. I don't know how Salta did it, but that skirt steak was pretty tender too.
Another highlight was the sweetbread, which is not related to bread at all. It is meat from the neck of the animal. This one was grilled lightly and tasted like extra tender and tasty chicken. I'd thought it was chicken, until the Partner suddenly wondered if sweetbread was brains. It wasn't brains, which I'd like to try someday. Unfortunately, I think you can't order sweetbread as a main-course on its own.
The vegetables were pretty ordinary in comparison to the meats. I thought they were a bit too greasy for my liking too.
The Parrillada Mixed Grill costs $70 for 2 people. The portion was just right for the 2 of us, but big eaters may still feel slightly hungry. For such people I would recommend the individual main portions as they range from 200-300gms. Still, the mixed grill is a good choice as it allows you to sample many of the nice meats on offer. The main courses range from about $20 – $35, which I think are very reasonable prices for the quality offered.
Salta does not charge GST or Service charge, so you pay the exact same price you see on the menu. Also, there is an OCBC credit Card promotion going on, which gives a further 20% discount. A really good deal!
We didn't have time for dessert, maybe next time! Read about my 2nd visit to Salta Parrilla for Christmas Lunch.
SALTA Argentine Parrilla + Grocer
< em>Icon Village, 12 Gopeng Street #01-56 Singapore 078877 
Phone: 6225 8443
Mon – Thurs: 11:30 am – 2:30 pm ; 6:30 pm – 10:30 pm

Fri – Sat: 11:30 am – 2:30 pm ; 6:30 pm – 11:00 pm
Read about my 2nd visit to Salta Parrilla for Christmas Lunch
See these links for more on what to do in Tanjong Pagar.