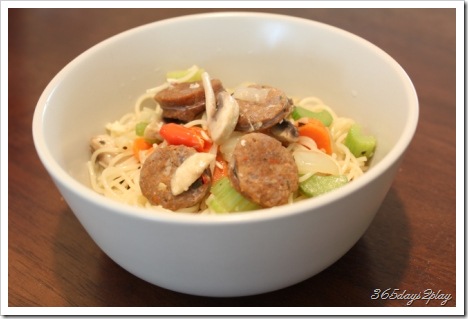 Today we cooked pasta for lunch. I love cooking pasta because its so easy and it helps us finish all the weird bits of vegetables or meat that we can't fit into other meals. We have a very systematic way of cooking at our place. The Partner is in charge of the dicing and slicing while I am in charge of the frying, stirring and sauce making.  Today's sauce was extra easy because it was just lemon juice, olive oil and parmesan cheese. I had a bit of trouble squeezing the lemon using a spoon (no lemon squeezer here), but otherwise, it was easy peasy!
A lot of Singaporeans do not like cream based pastas as restaurants in Singapore tend to overdose on the cream, resulting in something that is too heavy for the Asian palate. In this case, a lemon and olive oil base would be just the thing as this is a very light dish.
Click more to find out the recipe and instructions
Lemon Chorizo Pasta (serves 2)
Ingredients:-
1 Spanish Chorizo sausage (or a sausage of your choice), sliced
2 Stalks of Celery, diced
1 small carrot, diced or julienned
6 brown or white mushrooms, sliced
1 large onion, diced
3 cloves of garlic, diced
Pasta of your choice (about 100gm per person)
1 lemon
Parmesan cheese
2 tablespoons of Olive oil
Salt, pepper and chilli to taste
Instructions:-
1. Boil a pot of your favourite pasta
2. While pasta is boiling, slice and dice your vegetables, mushrooms and sausage as per above
3. When pasta is cook, drain and set aside
4. Heat a frying pan with 1 tablespoon of oil
5. Saute the garlic and onion until brown and quickly add in all the vegetables and sausage. Stir occasionally. Add chilli if desired.
6. Meanwhile, squeeze the juice from 1 lemon into a bowl. Add another tablespoon of oil into the lemon juice. Add a pinch of salt and pepper to taste.
7. When vegetables and sausage have been cooked through, pour pasta into frying pan and stir together with vegetables.
8. Remove pan from fire and drizzle your lemon juice and olive oil mixture into the pasta. Ensure sauce is mixed evenly. Sprinkle parmesan on top.
The reason for removing the pan from the fire is so that you don't end up evaporating all that precious lemon juice.
9. If you prefer more liquid in your sauce, add a few tablespoons of hot pasta water saved from earlier.
10. Eat while hot!