[Media Invite]
Roots Mediterranean is a new restaurant nestled along Greenwood Avenue which has taken over the former Donna Carmela Italian Restaurant's premises. Here you will find an extensive menu featuring Mediterranean fare that combines Italian, Spanish, Greek and Levantine cuisines. The menu is so extensive, you will be hard-pressed to decide what dishes you want, so the trick is to come with a whole group of friends or family and then you can order more. Indeed there were many tables with large groups when I was there a few Saturday evenings ago. Certainly, the rustic and earthy decor makes for a convivial ambience.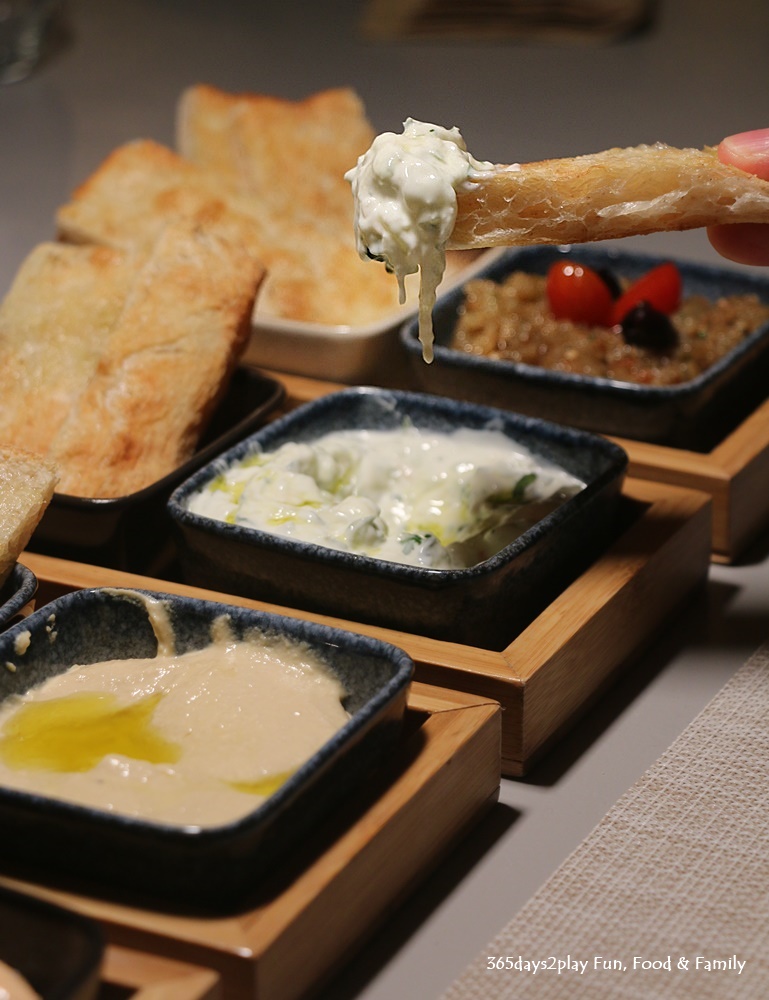 When at a Mediterranean restaurant, one has to try the dips. They are so much more exciting than just plain ole bread with butter or olive oil. I often feel as if I could just survive on this appetiser alone without needing to go into the main courses. The breads here are particularly good too. Light and slightly crisp, with a little bit of flavour even when eaten plain. If you only have space for 1 appetiser, I'd recommend going for the dips.
For pastas, the restaurant boasts a whopping 10 different raviolis with many different fillings, various lasagnas as well as the usual favourites like pasta carbonara done the traditional way. I particularly liked the crab and lobster meat ravioli in Butter and Sage Sauce, in part thanks to the wonderfully rich sauce.
If you want your Instagrammable moment, go order the "pizza in teglia alla romana", which is a special rectangular pizza that has a slightly thicker dough but yet still light and airy. This is due to the high hydration and long fermentation time of 48 hours. We ordered 4 different pizzas and they were served on a metre long board to much fanfare! They'll even tell you to get your cameras ready!
With so much ordered, we only had space for 1 mains. Unfortunately, it was not particularly memorable so I shall not comment further.
The desserts were thankfully a wonderful end to the meal, served to us in petite shot glasses. This is another area which the chefs have outdone themselves. Be sure to save space for the desserts because you won't want to miss them! And if you need a recommendation, I'd say go for the Tiramisu, which was done very well.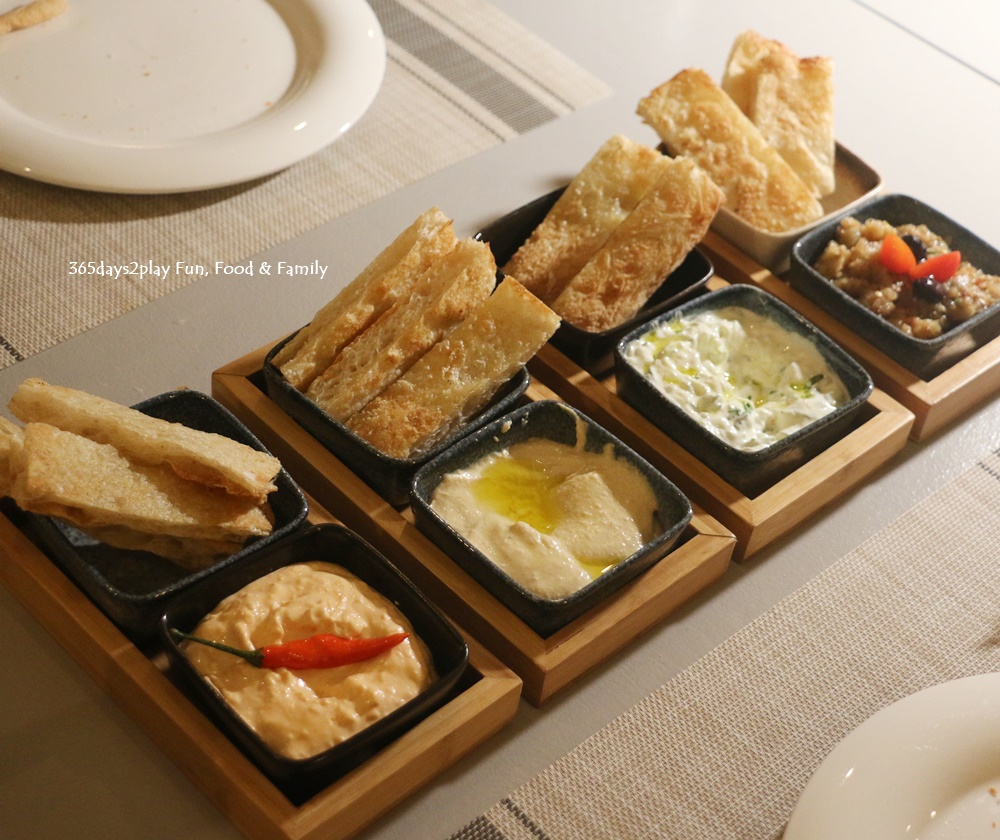 -Tzatziki – $8 The most loved Greek dip, Yoghurt, cucumber, garlic and extra virgin olive oil
-Tirokafteri – $10 A spicy and cheesy dip. A spread with yoghurt, feta cheese and chilli
-Hummus – S$8 The most iconic Middle Eastern dip: chick peas cream with sesame paste
-Melinzano Salata – $8 Roasted eggplant dip with lemon, extra virgin olive oil and parsley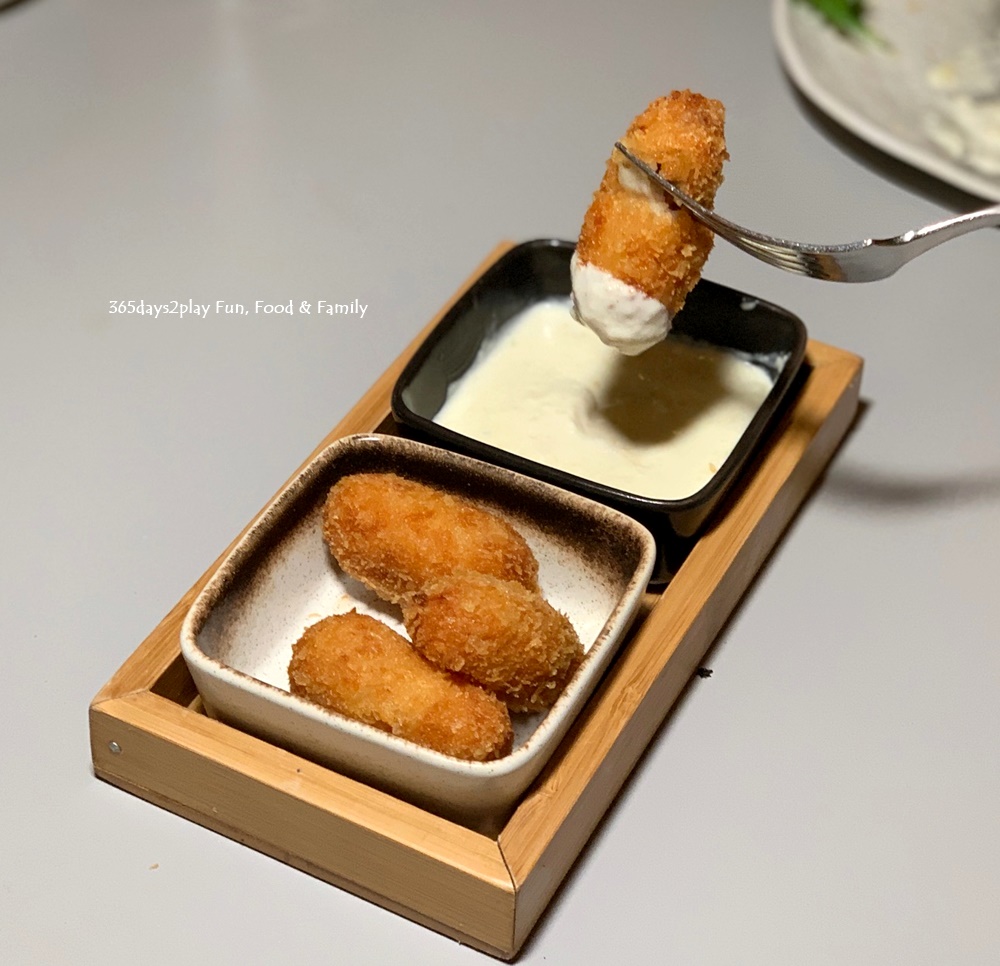 Croquettas de Jamon Y Queso – S$8 Crisp fried breaded ham & cheese croquettes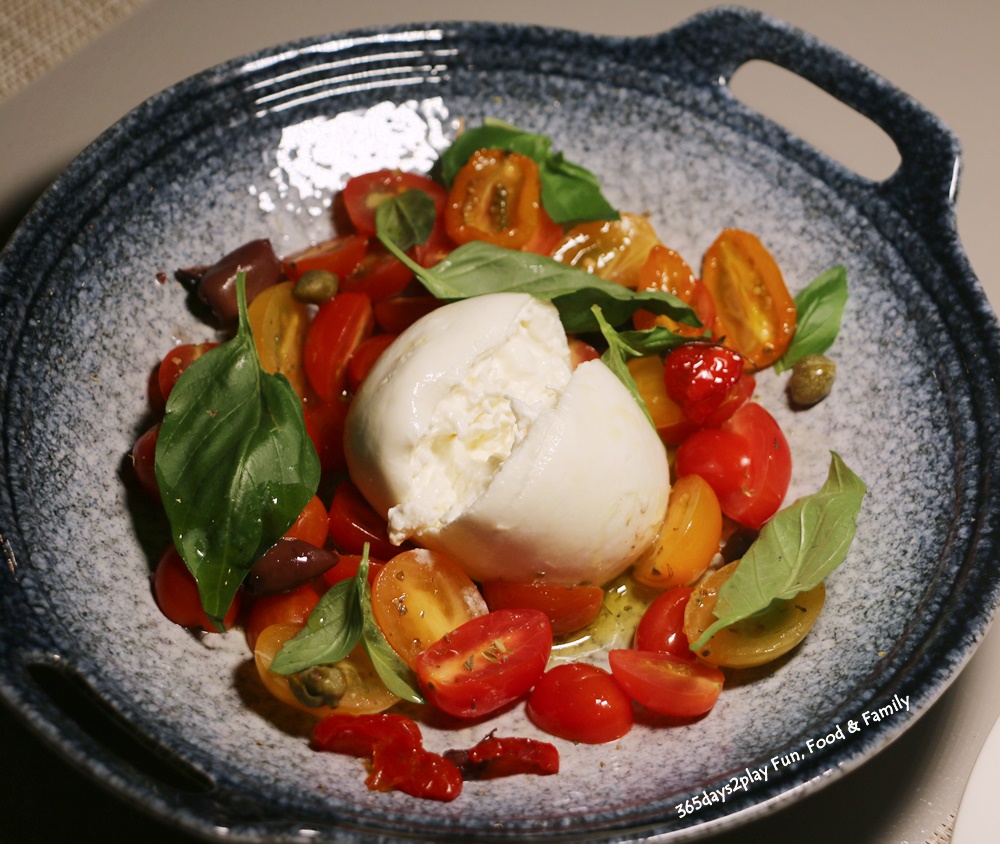 Burrata E "Datterini" – S$24 Imported Burrata with cherry tomatoes, capers and olives
Unfortunately, not as creamy as I would have liked.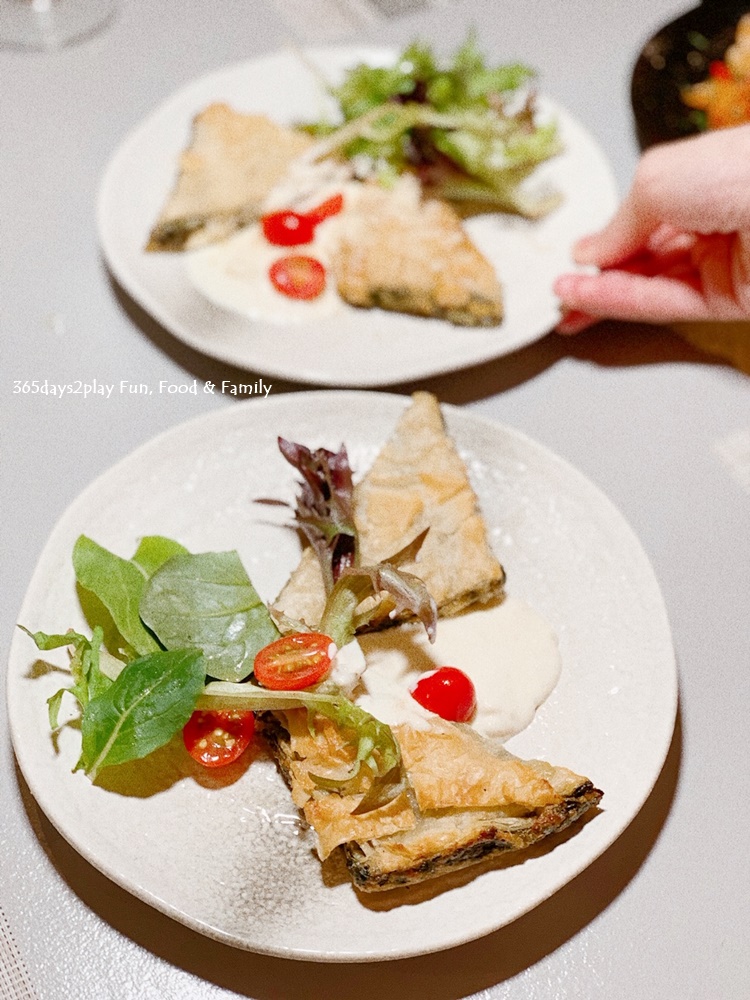 Spanako Tiropita – $8 A crispy phyllo dough pie with spinach and feta cheese
Also not as good as I would have liked. They were rather dry, and I would have preferred if they were a little puffier with more fillings.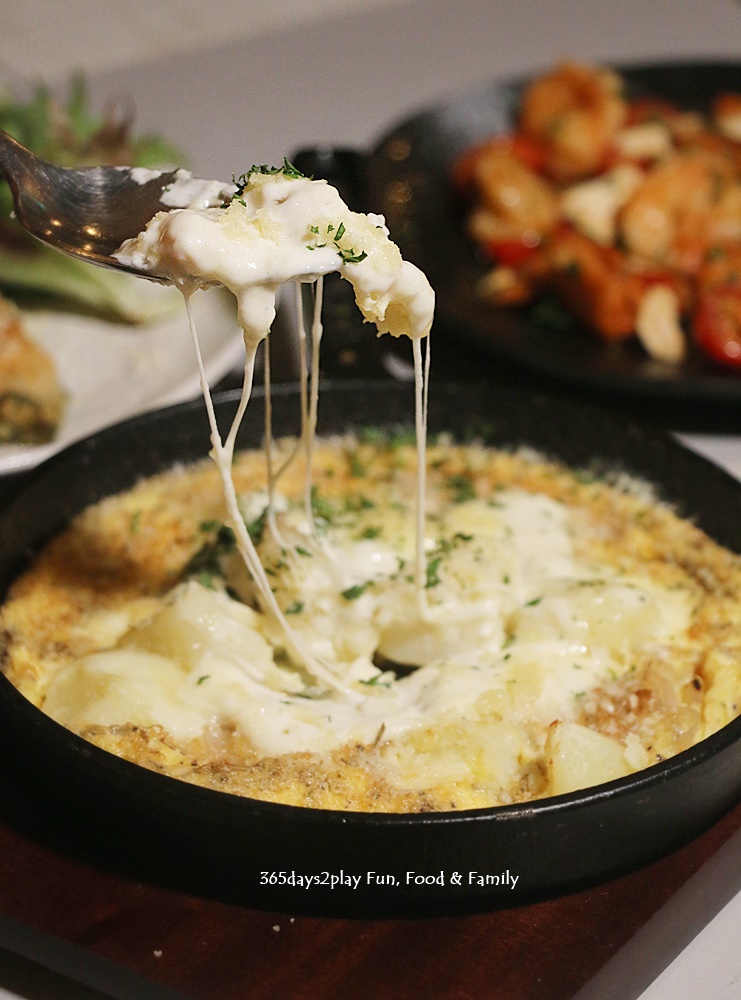 Tortillas de Papas Y Queso Fundido – S$8 The typical Spanish Omelette with potatoes topped with melted cheese
This was very good. A must try for carbs and cheese lovers.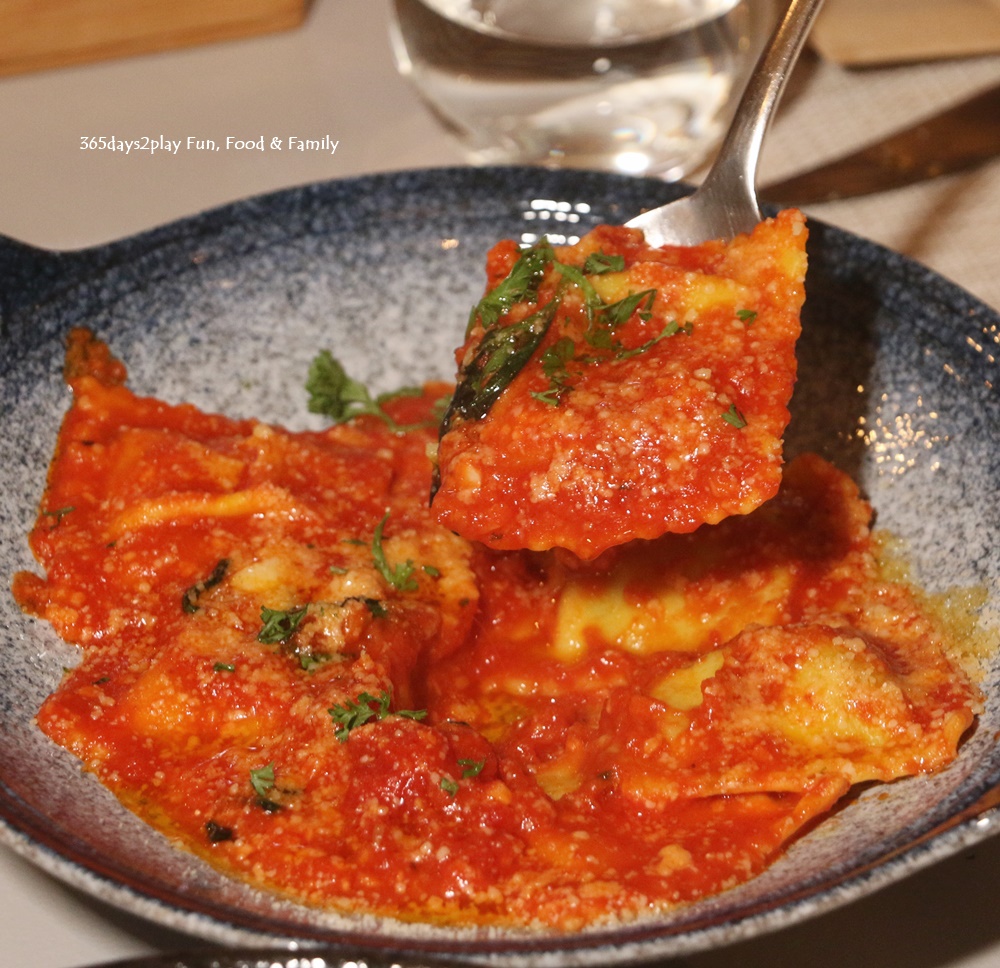 Tortelli with Ricotta Spinach -S$20 Tortelli with Ricotta Cheese and Spinach in Tomato Sauce
Very good, savoury and piquant, ravioli al-dente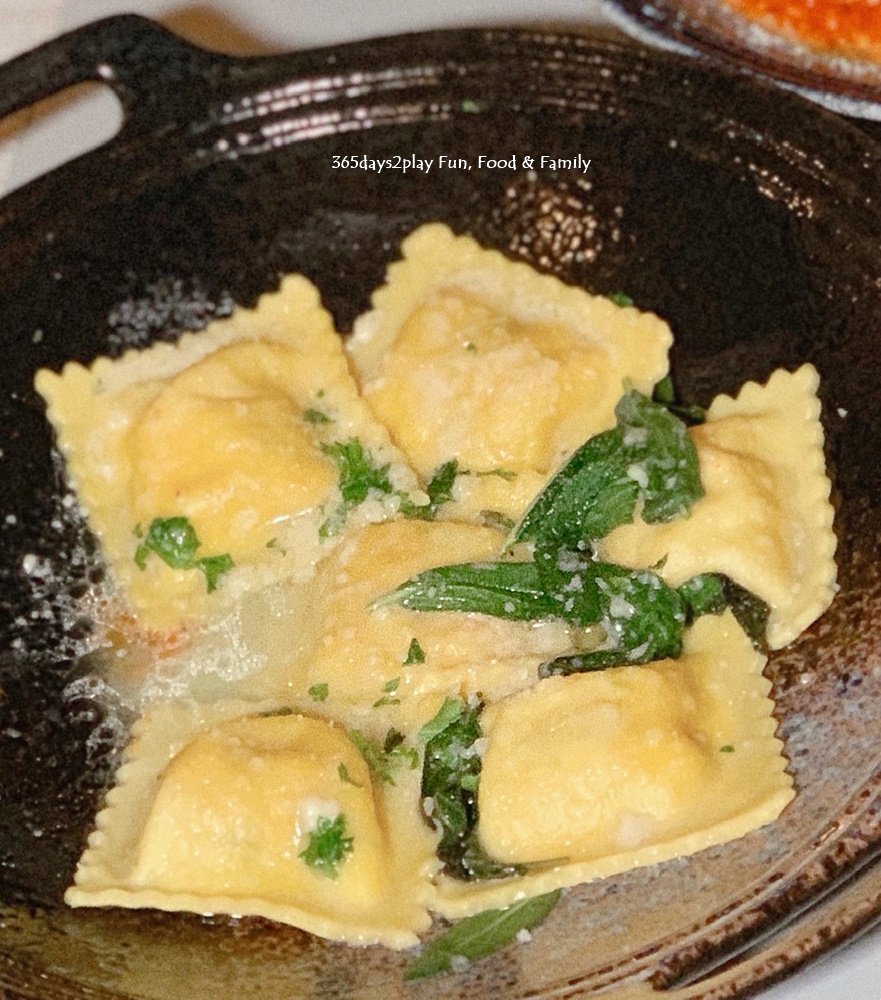 Tortelli Crab Lobster -S$24 For the seafood lovers, pasta stuffed with crab and lobster meat in Butter and Sage Sauce
My favourite pasta dish for the evening.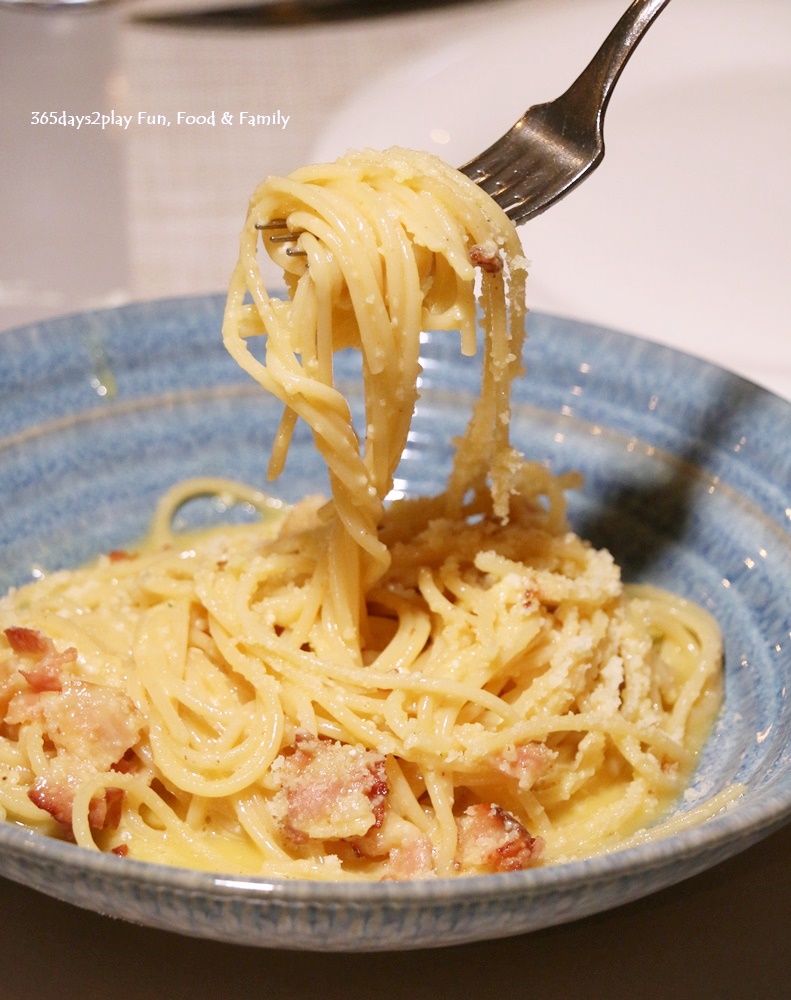 Spaghetti Carbonara – S$20 Crispy bacon, egg yolk, pecorino cheese and black pepper
Done the traditional way, which is without adding any cream. If you haven't tried the traditional way, you ought to.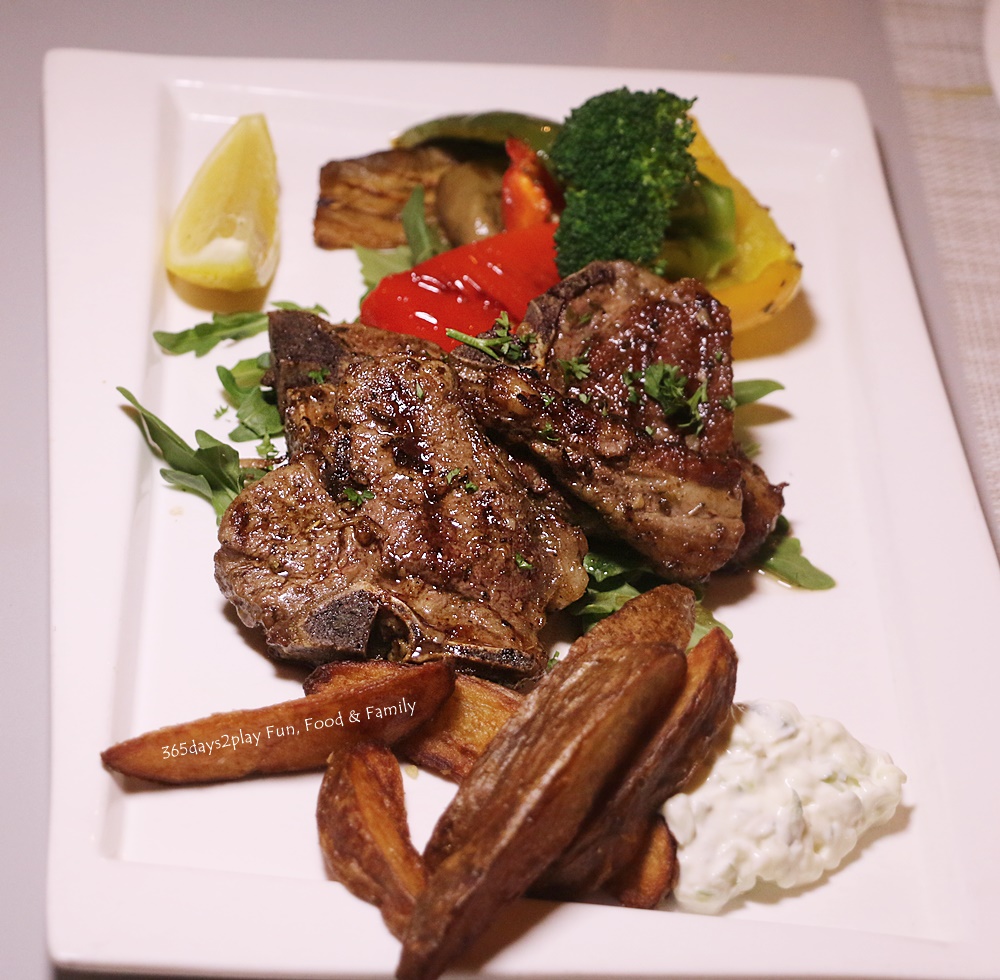 Paidakia (Greek style Lamb Chop. Marinated with oregano, garlic and lemon with grilled vegetables, mixed salad and tzatziki sauce on the side – S$35
A bit too bland and not tender.
Roots Mediterranean – Parma and Burrata, Salami and Truffle, Prawn Arrabbiata, Sausage Pizza (25cm $18, 50cm $26, 1 metre S$50)
This style of pizza may be popular in certain parts of Italy, where the dough is thicker, I think I still prefer the Neapolitan style, ie the thin floppy type pizzas.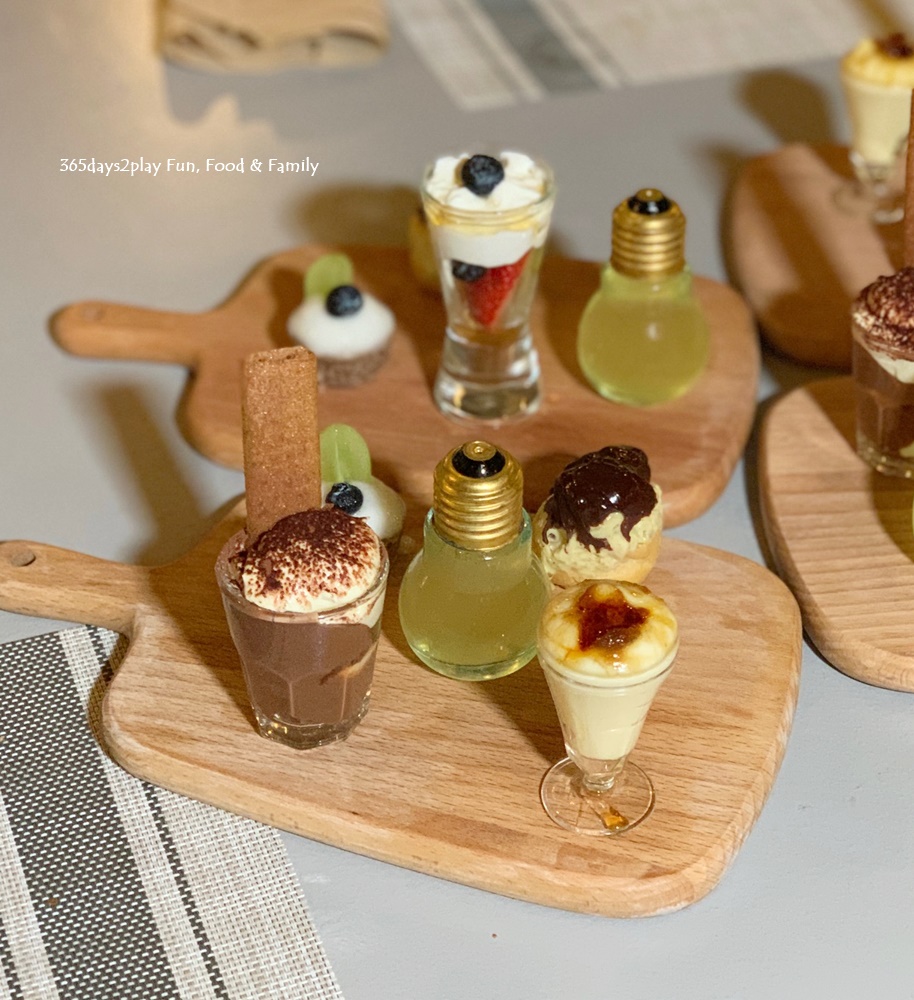 -Tiramisu – S$9 The classic and iconic Italian dessert done on the spot for you.
-Frozen Pistachio Profiteroles, Hot Chocolate and Cherries- S$9 Crispy choux filled with pistachio ice cream, topped with hot chocolate and amarena cherries
-Crema Catalana – S$9 Spanish cream, scented with vanilla, cinnamon and lemon est. Served cold with caramelised sugar crust.
-Yiaurti -S$9 Authentic Greek Yoghurt topped with honey and walnuts
-Strawberry Sorbet S$4 per ball
Desserts are a must order!
---
Add me on Facebook, Instagram and Twitter if you want to be kept up to date with the latest happenings in the food and lifestyle scene in Singapore!
---
Roots Mediterranean
2 Greenwood Ave, Singapore 289189
Operating Hours : 11am to 11pm daily
Tel : +65 6463 4206
Email : info@therootsrestaurants.com