Every year since Edward was born, we have the same problem of birthday celebration fatigue. We have 3 birthdays in February, the first being Edward, followed by my father, and finally myself. Being the baby of the family, naturally all efforts are on Edward's birthday, and said effort namely coming from myself. By the time my birthday rolls around, I'm lost for ideas as to where to celebrate. This year, given the COVID situation, all the more we didn't want to have a protracted celebration in a crowded location. In addition to watching out for potential sneezers and coughers, Edward has absolutely no self-restraint and will touch things and suddenly touch his face or rub his eyes!
So it was great when I saw on the Burpple App that South Union Park was offering 1-for-1 discounts on their main dishes. (Click on the link if you want a 30% discount code to purchase the Burpple App) I've been to South Union Park before almost 4 years back. Edward was still a baby back then! It's nestled in a quiet neighbourhood in Kembangan, and you have to drive to get there or it'll be a very sweaty 10 minute walk from the Kembangan MRT station as the walk will be mostly unsheltered.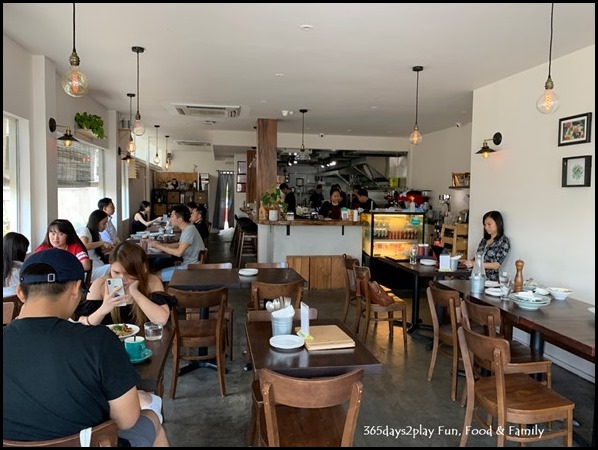 South Union Park was first started by chefs who had fine-dining background. Many things were made in-house. I think things have changed over the years, but thankfully the pasta dishes that we ordered were still pretty good. They only have 1 type of pasta made in-house now, which you have to top up $3 for, unless you order the specific pasta dish that already comes with that.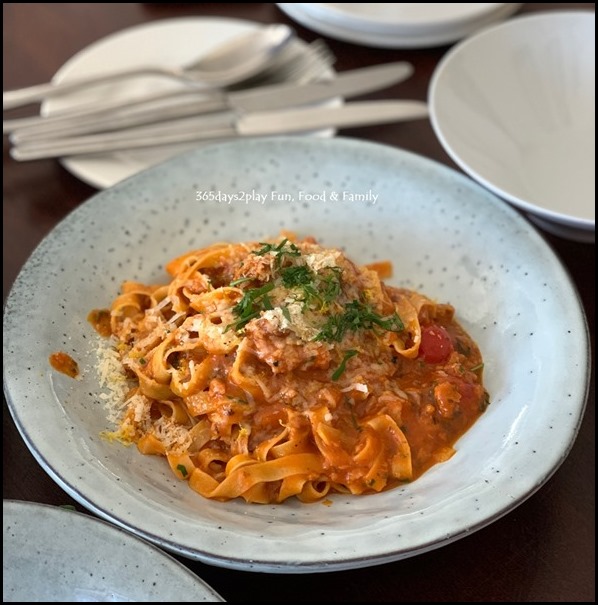 Chicken sausage pasta $21
Lucky for my husband, he chose the chicken sausage pasta $21 which already comes with the in-house tagliatelle. A very comforting dish comprising small pieces of chicken sausage in tomato passata sauce.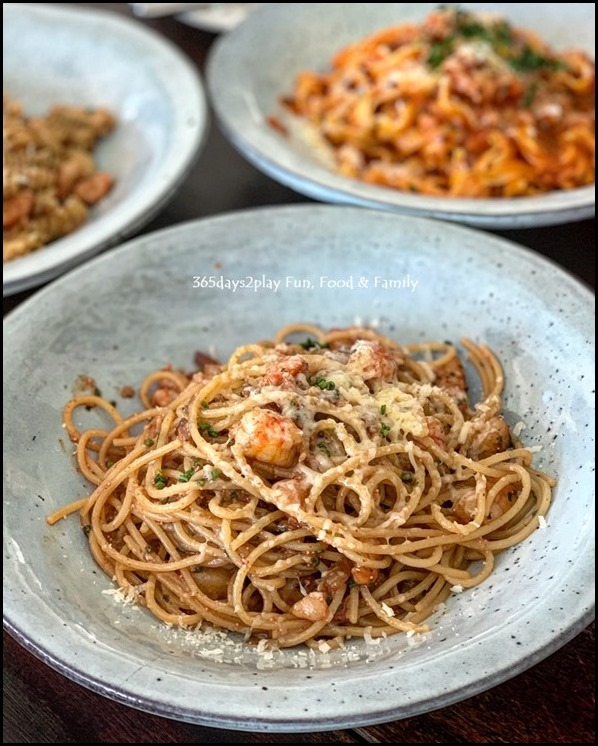 Seared Prawn Mentaiko Pasta (Spaghetti) $23
My father and I both chose the Seared Prawn Mentaiko Pasta. I opted for spaghetti whereas my father opted for fusili. While the pasta tasted nice, I think we both agreed that it was not exactly what we had in mind. Firstly, both dishes didn't look filling, perhaps because there was no thick sauce to make it look more voluminous? It's times like these when I wonder how much it would cost the restaurant to put a couple more strands of pasta into the dish to make it look more generous?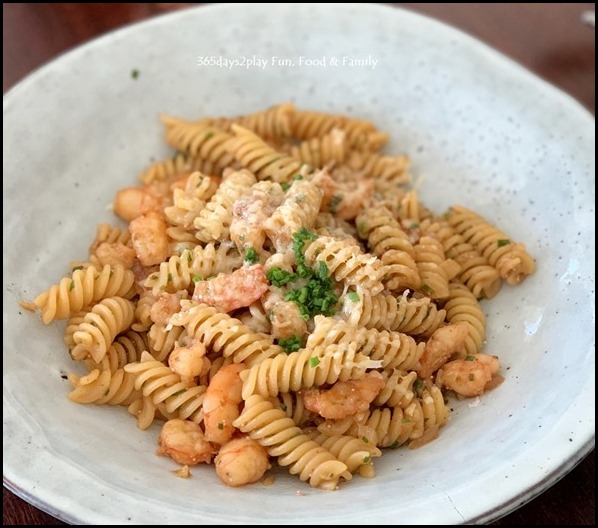 Seared Prawn Mentaiko Pasta (Fusilli) $23
Also, we had expected large prawns, but were given chopped up prawns. Perhaps it is to facilitate the "searing" (cooking quickly at high heat), but nevertheless, everyone knows we eat with our eyes first. Lastly, the mentaiko flavour was quite mild too. Don't be expecting those creamy Japanese mentaiko pasta types here.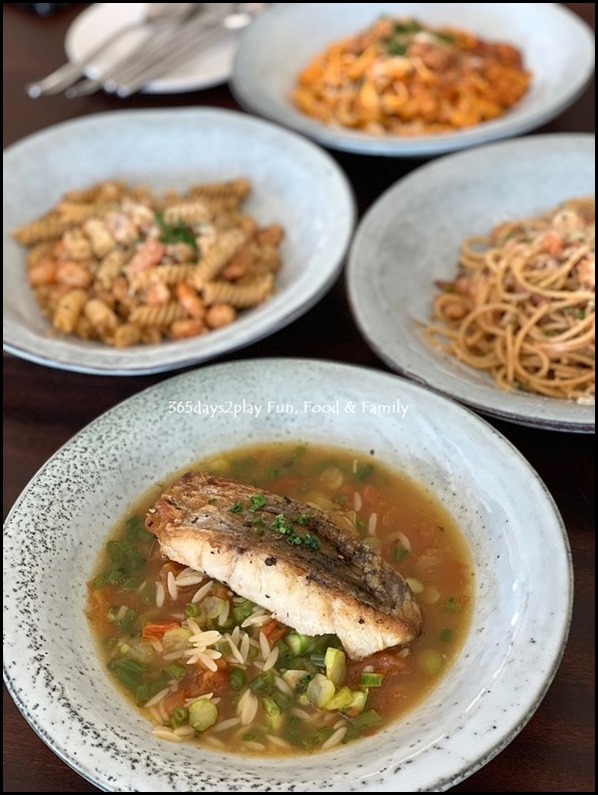 Buillon with Seared Seabass $24
And as for my mother's dish, she chose the Buillon with Seared Seabass $24, served with risoni in tomato broth. We all agreed portion-wise, this was the most value for money as it was the most filling. Risoni btw is pasta that looks like rice grains. A pretty hearty and comforting dish too.
And as for Edward, he had a bit of everyone's dish and was super satisfied!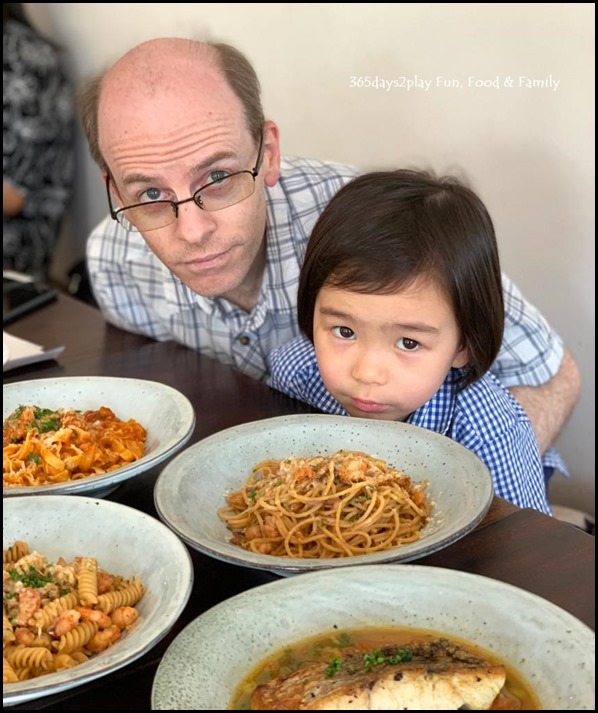 All in all, homey tasty pasta dishes. Keen to return again soon especially with the Burpple App 1-for-1 discount going on. I would probably not order the same pasta dish again as there are other pasta dishes that look promising, in particular the in-house made Chocolate Parpadelle with braised beef at $24. All prices quoted above are prior to discount. If you want to read about my previous visit back in 2016, the link is here.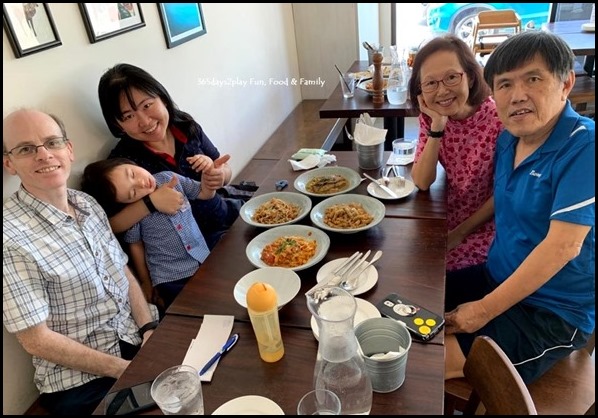 Click on the link if you want a 30% discount code to purchase the Burpple App
---
Add me on Facebook, Instagram and Twitter if you want to be kept up to date with the latest happenings in the food and lifestyle scene in Singapore!
Here are a couple of new cafes to try out
---
South Union Park
101 Jln Kembangan, Singapore 419139
Tel: 9061 8703
Email : southunionpark@gmail.com
Facebook: https://www.facebook.com/southunionpark/