Jun 2, 2010 @ 23:40
I think I have been binging a lot lately. I keep posting food picture after food picture. I hope people don't start thinking of me as a glutton, although I suppose I have to be grateful I am able to eat well.
People tend to be creatures of convenience and familiarity, and I am no different. When it comes to choosing where to eat, the Partner and I tend to gravitate towards tried and tested places. It's really inevitable that this is so. When you are hungry, you are irritable. The last thing you want is to have your meal botched up by an untested restaurant. And even if they cook the meal well, the very fact that it could differ from your usual preferences is enough impetus for one to go back to the same restaurants over and over again.
Now that I have a food blog, I feel the desire to try something new each week. Yet the afore mentioned fears are as strong as ever. Today, I am glad to say that good triumphed over evil. The risks paid off.
We were in the mood for Western food, but we had no idea where to go. Didn't feel like Coffee Club, didn't feel Aerins, what else is there in the City Hall area? We felt like steak from Hog's Breath, but we've been there many times already. So finally we decided upon Bobby's Taproom Grill & ribs at Chijmes. If Bobby's sounds familiar, it is because it was previously known as Bobby Rubino.
They have a lot of meat dishes on offer such as Tenderloin Beef Steak, South Down Lamb Chops, Lamb Shank Char-Grilled King Prawns. They also have a few pasta and pizza dishes. Even the appetisers sounded very substantial, for example the Quesadillas and the $16.50 Nachos with the works.
Everything sounded so good but we finally decided upon the Signature Baby Back Pork Ribs and Grilled Pork Chop.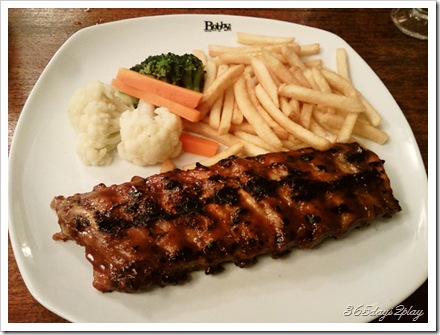 Bobby's signature baby back pork ribs with their signature bbq sauce was so so delicious. The meat was so tender, it flaked right off the bone, exactly how they had described it in the menu. I finished all the ribs on my own even though I am seldom able to do that. I only wish they had more of their special sweet bbq sauce. I would love to have slurped it down on the side! The fries were also exactly how I liked them, stiff and crunchy. The veggies on the side were also very nice. Lightly boiled and still firm, instead of the limp and mangy kind that some restaurants serve. Conclusion: Best ribs I have tasted in a long long while.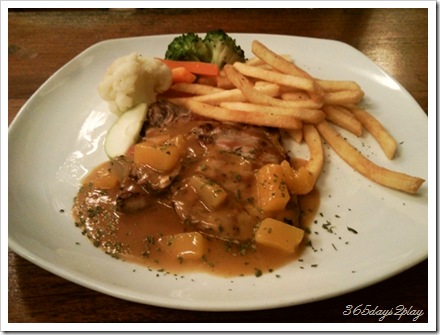 The Partner liked his pork chops too, although they were a tad overdone. The accompanying sauce was wonderfully flavoursome though, not some silly sauce poured out from generic bottles.
We had a good time at Bobby's today and I think we agree we'd like to return again to try the other dishes as well as some of the desserts.
Bobby's has TV screens on the sports channels so World Cup fans have yet another place to hang out come World Cup fever!