Last week, I was privileged to be invited by the owners of Cafe Epicurious at the Rail Mall to try out their new Family Style Dinner menu. Having enjoyed the brunch menu tremendously at their other outlet (Epicurious at Robertson Quay) twice before, I was delighted to receive this invitation.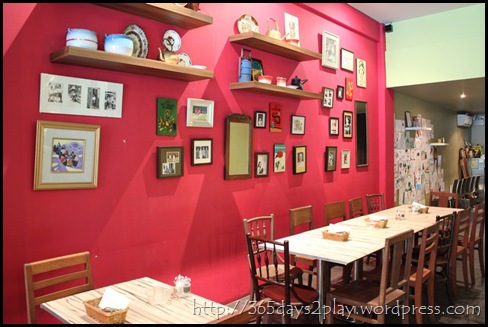 If you've been to Epicurious at Robertson Quay, you will know that the indoor portion is quite squishy, so most people sit outside. Cafe Epicurious at the Rail Mall on the other hand is more spacious. The red wall with little photo frames hung all over made the whole place look very bright and cheery.
Cafe Epicurious has come up with this new Family Style Dinner concept whereby if you choose from this menu, all dishes served will be for communal sharing. Depending on the number of persons eating, the food portions will increase accordingly, with the exception of the main courses whereby each person selects a main course of his choice. The 2 course Family Style Dinner costs $28/pax while the 3 course Family Style Dinner costs $35/pax.
My mother and I decided to go for the 3 course Family Style Dinner. My father went for a main course from the normal menu (but included himself in the sharing of the Family Style Dinner anyway!)
Since only my mother and I ordered the Family Style Dinner, the items featured below are portioned for 2 people and not 3.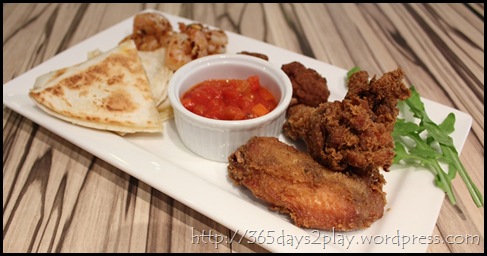 Epicurious Platter — Ah Ma's deep-fried curry chicken wings, savoury beef meatballs with tomato-basil sauce, devil shrimp with garlic and chilli, melted cheese and sweet onion quesadilla. The quesadillas were particularly delightful in my opinion. It's almost unbelievable the the quesadillas are the amalgamation of only 3 main ingredients! My parents loved the spicy prawns and they almost forgot to leave me a piece.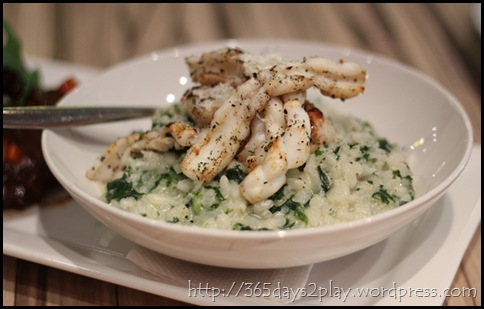 Grilled Seafood Risotto — Creamy Arborio rice with spinach and mascarpone and topped with grilled prawn, scallop and calamari
Okay I haven't eaten risotto all that much in my lifetime, but what I can say is, if risotto everywhere tastes like this, I have been missing out big time. Once again, this was simple comfort food at its best. You could taste the creaminess of the rice in each mouthful, and I liked the fact that the rice grains still remained firm to the bite.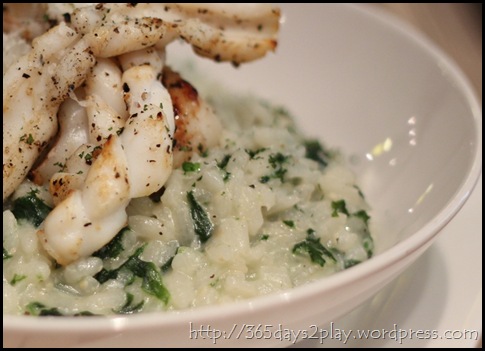 Here's a close up view of the wonderful Risotto. You know, for this dish alone I plan to make another trip back to Cafe Epicurious.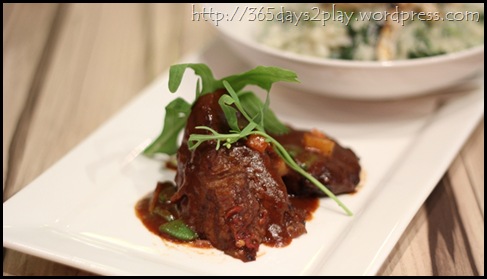 Braised Angus Beef Short Ribs — Slow-cooked off the bone in red wine until it falls apart in your mouth. Served with buttered carrots, sugar snap peas and horseradish cream. 
The portion did look slightly smaller than I had expected, but given the huge dessert yet to come, the portion managed to fill the gap. The beef was as tender as how the menu had described, and the sauce was rich and flavourful. It certainly filled the spot for me in terms of  taste and quantity, but big eaters may want to opt for another dish, lest they feel underfed.
Apart from the Grilled Seafood Risotto and Braised Angus Beef Short Ribs, you can also choose to order Lamb Shank Tagine or Roasted Half-Chicken as part of the Family Style Dinner. These dishes are also all available from the usual ala-carte menu too.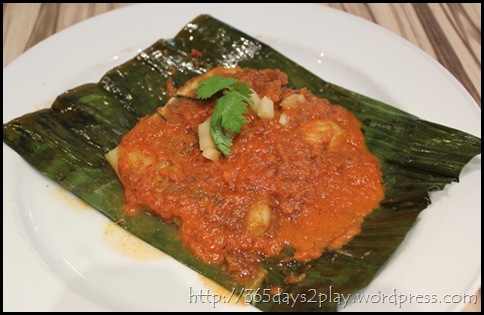 This was the Red Snapper in red curry paste $14 that my father ordered. I was a little worried that it might be too spicy, given the generous amount of curry paste, but luckily the curry paste contained just the right amount of heat, such that the flavours of the flaky fresh fish came through very well.  If you're not having the set dinner, you can also order the Creamy Risotto on its own to go with this Red Snapper. The contrasting creaminess of the rice and the spiciness of the fish really goes well together!
Interestingly, the Red Snapper was ordered from the Sweet Salty Spicy Restaurant next door. Cafe Epicurious and Sweet Salty Spicy share the same kitchen and wait-staff, and you can sit in either restaurant and order from the other.
Dessert Platter — Devils chocolate and raspberry ripple cake, classic lemon and lime tart, sticky date pudding with caramel sauce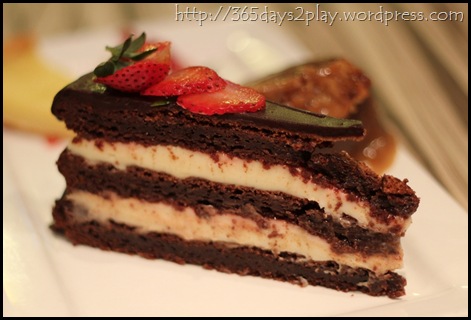 I think this photo doesn't do justice to the Devil's Chocolate cake. This is like one of the BEST chocolate cake I have ever eaten. I can't believe it's flourless too! And whoever thought of pairing mascarpone in between those layers of chocolate cake, he/she is a genius. Promote him/her. Maybe I'm sua koo but I thought it was a really unique yet perfect combination. You know if anyone ever needs comforting, this is the chocolate cake to gift. Just remember to exercise a little bit more the next few days after eating this cake though.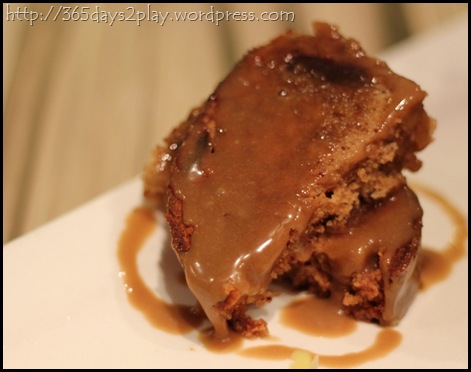 Sticky date pudding. Not bad, but I have to admit I was never a fan of toffee type puddings.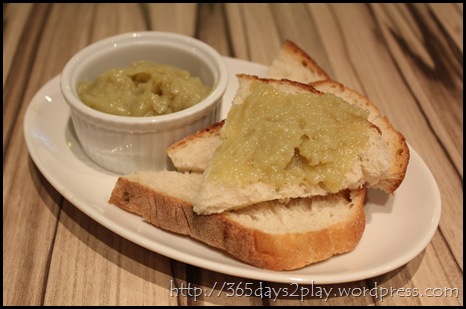 Cafe Epicurious also let us sample some of the homemade Kaya they made, which is usually only available for breakfast. I quite liked the kaya. It was just the right sweetness for me, although I wouldn't mind if it was a tad less sweet. The texture and colour was also of the type that I like. However, the Kaya seemed to taste a little more like the Kaya you use in Pulut Seri Kaya (Malay rice kueh, you know the rectangular kueh, on top green, and rice at the bottom)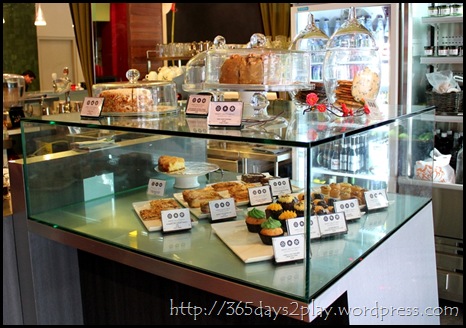 And if eating dessert in the restaurant is not enough, you can also buy their valrhona chocolate cupcakes, madeleines, tarts and tartlets, cakes and cookies to bring home. I love their sweet treats glass counter, it's so pretty I can't help gravitating towards it!
How can you resist?
Café Epicurious at The Rail Mall
392 The Rail Mall, Upper Bukit Timah Road
Tel: 6894-5926
Brunch
9am to 4pm, Saturday & Sunday
Lunch
11:30am to 2:30pm, Monday—Friday
Dinner
5pm to 10pm, Sunday—Thursday
5pm to 10:30pm, Friday & Saturday