Yes, Man Man Japanese Unagi Restaurant and Uya Japanese Unagi Restaurant are both Singapore brands, but Unagiya Ichinoji is the first unagi restaurant hailing from Japan to open in Singapore! If you are a fan of unagi and simply can't get your fill, you might just want to check out Unagiya Ichinoji.
Unagiya Ichinoji is opened by Miyagawa Honten, which is one of Tokyo's most well-known unagi restaurants, with a history spanning 125 years. Miyagawa Honten operates 20 outlets in Japan, and its outlet in Meguro-ku Tokyo has recently been awarded Bib Gourmand in Michelin Guide Tokyo 2018. Unagiya Ichinoji is its first foray overseas.
So what's the difference between the unagis? According to the media release, the unagis aka eels are first steamed then grilled. The sweet basting sauce (tare) is from a recipe that has been passed down for 4 generations.  I personally have not tried Uya, but I have tried Man Man Japanese Unagi. I would say that Man Man's unagi have a crisper exterior, and a light and flaky interior. Unagiya Ichinoji's unagi is firmer to the bite and less crispy.
The following are the various preparation methods we tried. You should go for the preparation method which best suits you. Ie, go for the Seiro Mushi if you want something really light, and go for the Mamushi Donburi if you want something with stronger flavours. The Hitsumabushi is kinda like the all-rounder to me.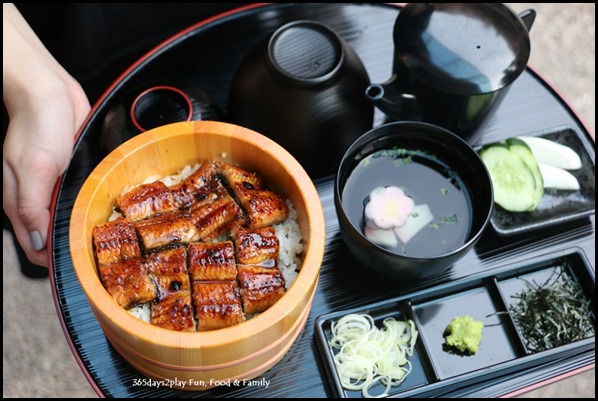 Hitsumabushi (L) $32.80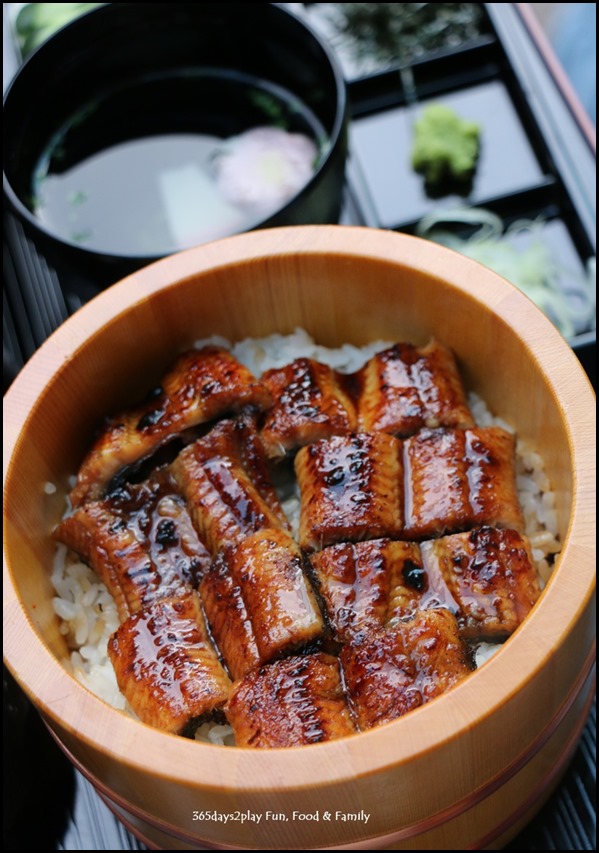 The Hitsumabushi is the Nagoya style of enjoying unagi. First, divide the bowl into 4 portions, and enjoy the 1st portion as it is to savour the natural taste of the eel. Next, add the seaweed, wasabi and green onion. For the 3rd portion, add the dashi soup contained in the little jug. And finally, enjoy the last portion as you like, or with additional condiments on the table. Adding soup to my rice has never appealed to me, so I usually eat this and drink the soup separately. I must say the sansho powder and chilli powder are a must try, they really add a zesty kick to the dish, especially if you feel the unagi is too mild.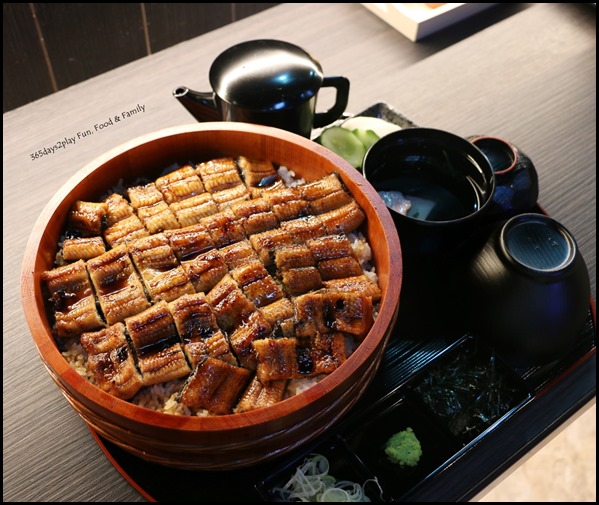 Hitsumabushi (XL) $77.80
The hitsumabushi comes in S, M, L and XL, so order what you will depending on your appetite!
Seiro Mushi $24.80 (w/ Chawanmushi) / $19.80 (w/o Chawanmushi)
This style of preparation hails from Yanagawa, Fukuoka, where the unagi is first charcoal grilled, then steamed in a bamboo steamer. I found this version too light for me and had to top up with liberal amounts of chilli and sansho powder.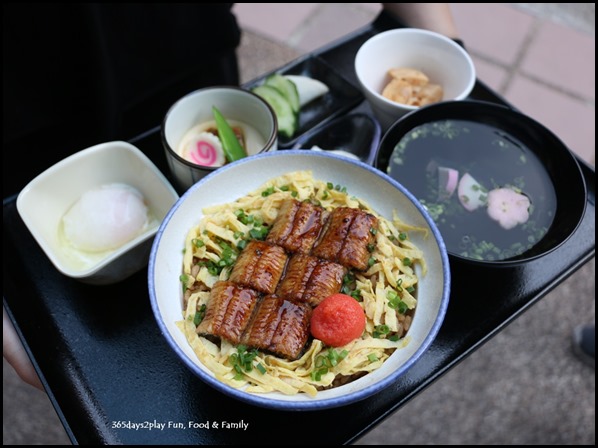 Mamushi Donburi $23.80 (w/ Chawanmushi) / $18.80 (w/o Chawanmushi)
This was my favourite of the 3 preparation styles, and also the favourite of everyone else at my table. We all agreed that this was the most flavoursome, thanks to the mixing in of the onsen egg and a bit of the Japanese yam puree. The combination, aside from giving it more taste, also provided a velvety texture that was quite enjoyable.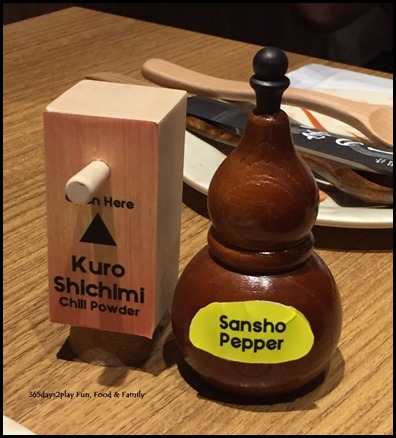 This is the Kuro Shichimi chilli powder and Sansho pepper I am talking about. Normally I do not pay much attention to the condiments available at restaurants, but these 2 here are really nice. Try them!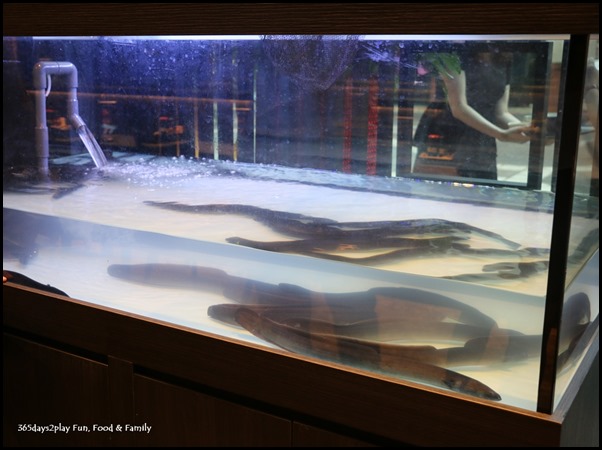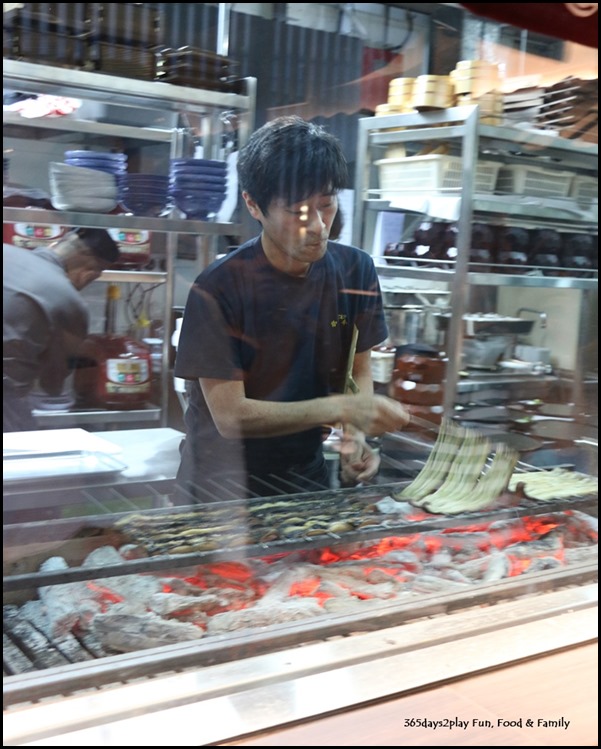 I'm sorry, you won't find a video of the unagi preparation, where they took an eel from the tank, nailed it to the chopping board and filleted it. I couldn't bring myself to watch it, even though I didn't have an issue eating the eel. Is this considered double standards? I wish they didn't have to nail the live eel to the board though. Its head and heart were still throbbing away even half a minute after being sliced, although it's probably due to automatic spasms or what you call it. Couldn't they do it in a more humane manner? They also do it this way at Man Man Japanese Unagi.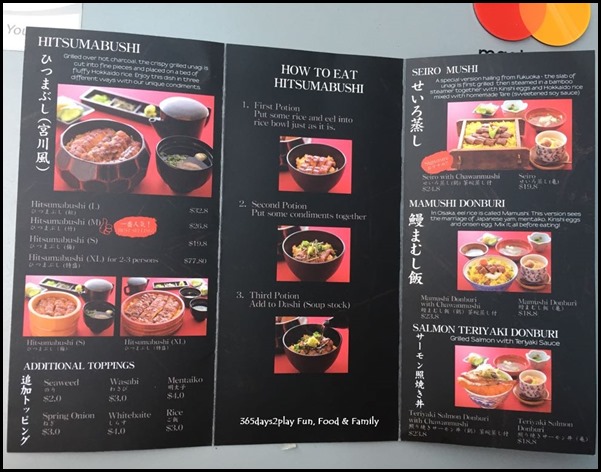 Here is the Unagiya Ichinoji menu. Other dishes available include unagi chawanmushi, unagi bone cracker, unagi sushi roll and unagi simmered boiled liver. Darn, I would have loved to try the bone cracker, and the boiled liver! Ah well, next time. Currently, due to limited seating capacity of only 34 seats, they do not accept reservations. This might change in the future depending on crowd level.
---
Add me on Facebook, Instagram and Twitter if you want to be kept up to date with the latest happenings in the food and lifestyle scene in Singapore!
---
Unagiya Ichinoji
Address: 01-05 Village Residence Robertson Quay (formerly know as Riverside View), Robertson Quay, Singapore 238251 (Go into the alleyway/courtyard when you reach this building, it's across from the restrooms)
Tel: 6732 1970
Facebook/Instagram: @UnagiyaIchinoji
Operating Hours : Daily 11.30am — 3pm | 5.30pm — 10pm