Visited Wildfire Kitchen + Bar back in February when they first opened (and again yesterday). Although it is a skip and a hop away from my office, my colleagues had till then not been too keen to check it out because firstly, not everyone likes burgers, and secondly, spending twenty bucks on lunch is not everyone's cup of tea either.
But, it was my birthday so everyone gamely trooped there to check it out. Although there are quite a number of staff milling around, WildFire is a self-service restaurant, meaning, you have to place and collect your orders at the counter. Don't be shy to plonk your butt down at the nearest available table, seating is self-service too.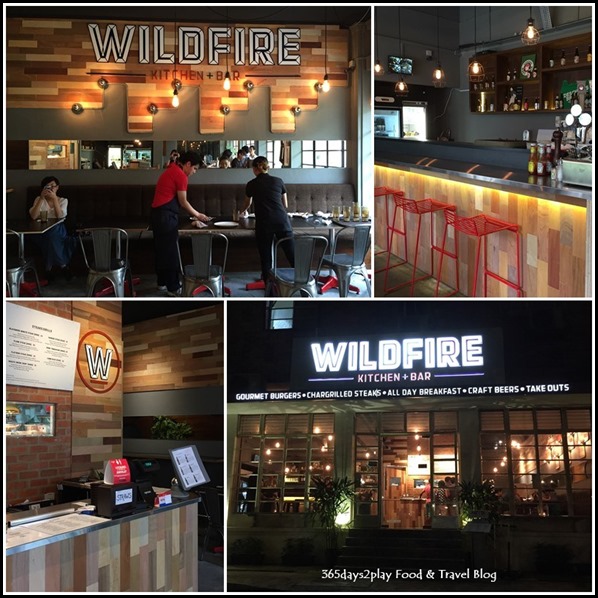 Burgers are Wildfire's speciality. There are a total of 12 burgers to choose from, in addition to 2 hot dog types, as well as fish and chips, and hanger steak. When they first opened in February, there were 7 types of steaks to choose from, but I guess they were removed from the menu because most people know Wildfire as a gourmet burger outlet. It's not hard to see why, as the beef patties used are 100% beef patties, as opposed to having cheap fillers in them.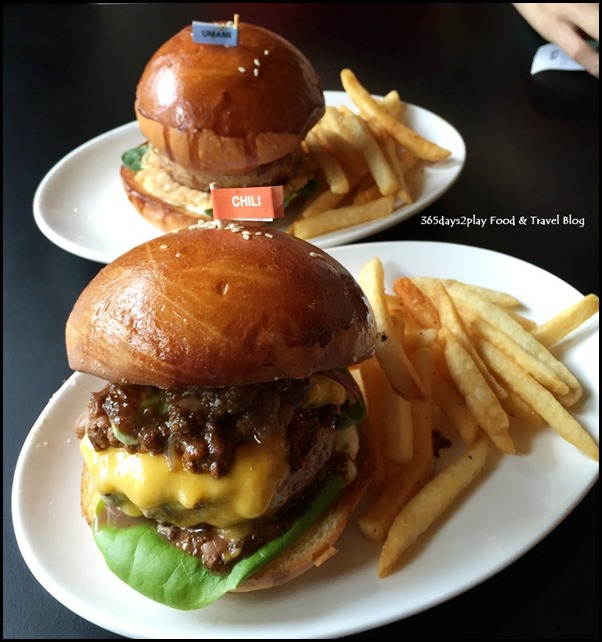 Chili Con Carne $19 and Umami $17
All burgers are cooked to chef's recommended doneness, unless otherwise requested. This usually means a doneness of medium rare. However, during my first visit, most of my colleagues complained that the patties were overdone and too dry. The running joke for that day was that the burgers were done very well… However, yesterday, when I was there with the Partner, who is very experienced in burger eating for obvious reasons, his lamb burger was quite rare. We had to have it exchanged and the 2nd one came back perfect. My classic 001 was medium rare to rare, so it was okay for me.
The meal back in February was quite forgettable to be frank, but things have since improved as of yesterday's visit. Although both the Partner and I agreed that the burgers we had were not earth shattering, they were still enjoyable. The fries were also very delicious, crisp outside and fluffy inside and I finished mine before I finished the burger.
Wildfire Kitchen must have its loyal fans though. When we were there from 7pm —8pm on a Saturday, it was nearly full house. Many people stopped by for takeaways, including this guy who ordered like 10 burgers to takeaway! Some ang mohs were seen chomping down into their burgers with gusto, so I guess the burgers hit the spot.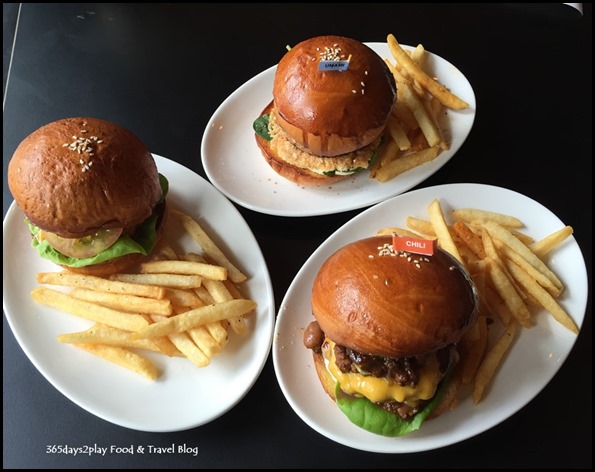 Wildfire Kitchen and Bar Gourmet Burgers range from $16 — $26.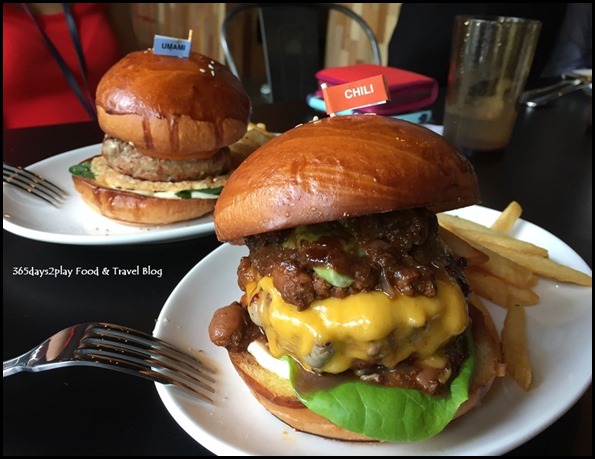 The Chili Con Carne Burger at $19 is the most Instagram worthy burger in my opinion, with the striking yellow cheddar cheese just oozing all over the place. 120 day grain fed beef patty with butterhead lettuce, spanish onions, jalapenos, guacamole and sour cream is what goes into the power packed burger.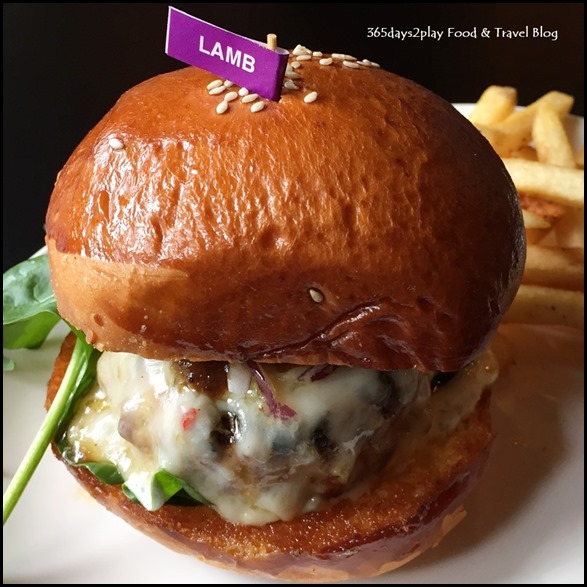 Lamb Burger $22 — Maori Lakes lamb patty with spanish onions, semi-dried tomatoes, tzatziki and signature master sauce. The lamb has a mild taste, in case you're worried about that. I wouldn't mind a stronger flavour though.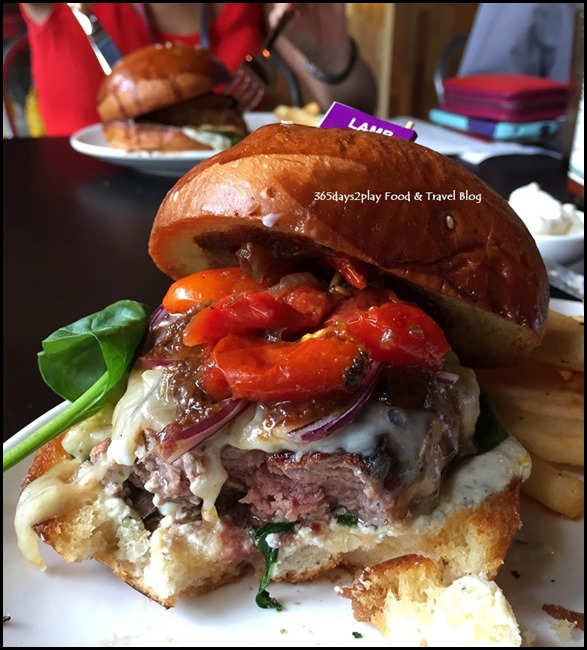 The insides of the lamb burger.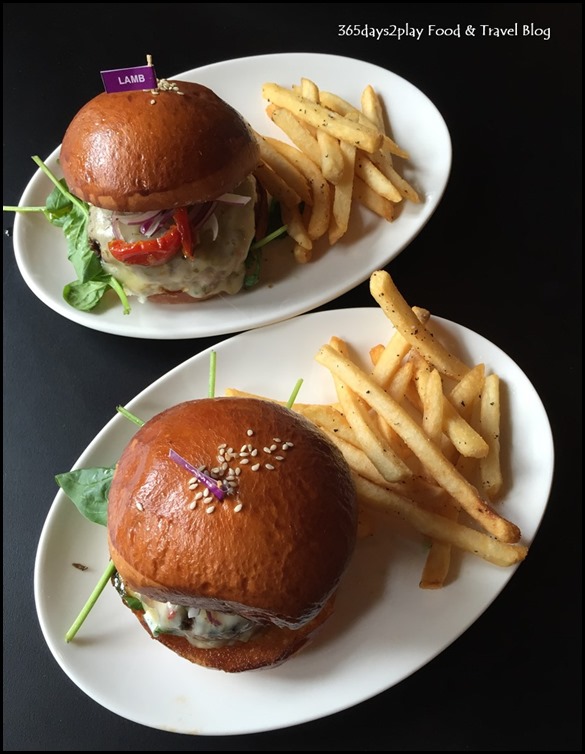 A shout out to the toasted burger buns themselves too. I just love how cute they look, so round! They are soft and fluffy too, perfect buns to soak up the meaty juices. The buns are specially ordered from Christophe Grilo's B.A.O (Bakery Artisan Original).
Wildfire Kitchen + Bar's Lunch and Dinner Menu, available from 12 pm onwards.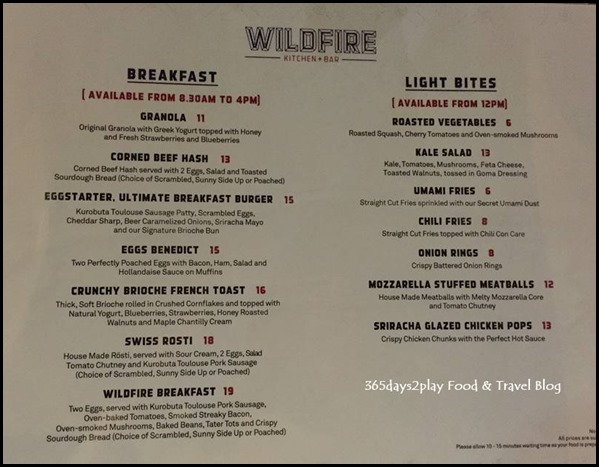 Wildfire Kitchen + Bar's Brunch menu, available from 8.30 am to 4pm. The brunch menu looks really promising. Going to have to return again to check that out.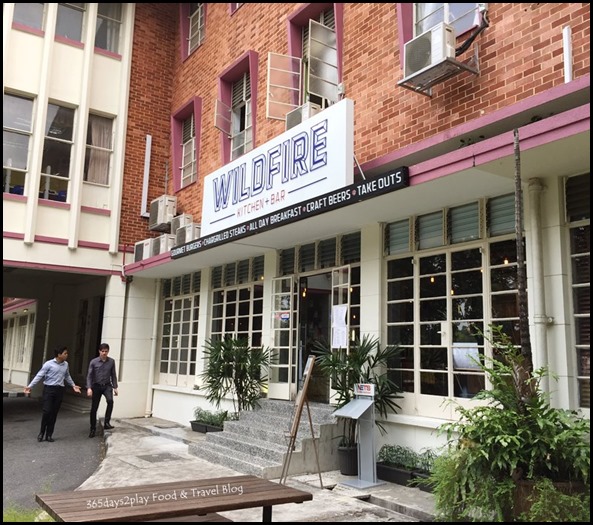 Wildfire Kitchen and Bar is located at Evan's Lodge, next to The Wine Company and the forever packed Assembly Cafe. If you're driving along Evans Road, you won't miss it! Ample parking next door.
---
Add me on Facebook, Instagram and Twitter if you want to be kept up to date with the latest happenings in the food and lifestyle scene in Singapore!
---
Wildfire Kitchen + Bar
26 Evans Road Singapore 259367
Tel : +65 6734 2080 (They don't take reservations)
Website : http://wildfire.com.sg/ (doesn't seem to have been updated)
Facebook : https://www.facebook.com/wildfirekitchenbar/timeline
Email : info@wildfire.com.sg