Once in a while, I come across a gem of a restaurant that is so worthy of being mentioned and shared with the world that I've decided to bump it up the queue and write about it asap. Interestingly, if not for my foodie friends who organised this makan session, Burnt Ends would not have featured in my radar so I am really thankful for having made the acquaintance of Burnt Ends!
Burnt Ends is a modern Australian barbeque offering seating at the countertop table looking directly into the open kitchen. The reason why I said Burnt Ends would not have been my first port of call is because comfortable seating is extremely important to me. Food is of course important, but to be able to enjoy it in comfort, without having to fret about a confined space, and being able to face my dining companions, those are important factors for me too. Buttttt, having said that, we enjoyed the food here so much, I'm willing to say that I'll forgo the comfort again for another chance at that lovely Pulled Pork cheese burger and the lamb!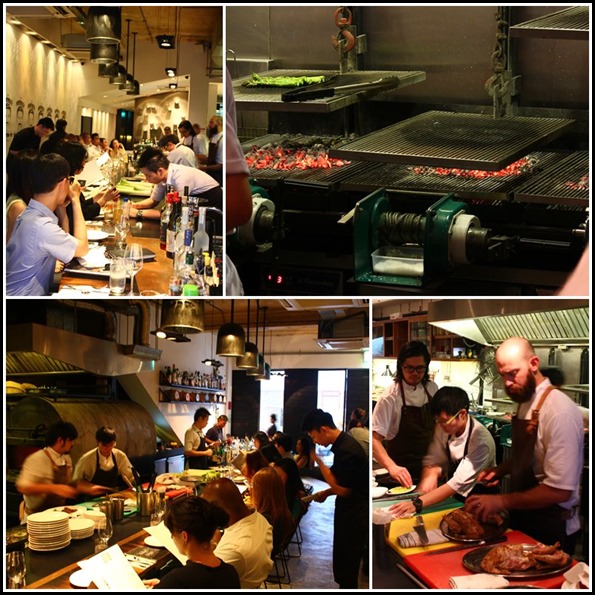 As you can tell from the name, Burnt Ends also specialises in barbequing, smoking, slow roasting and cooking directly on coals. Check out those said coals in the picture above!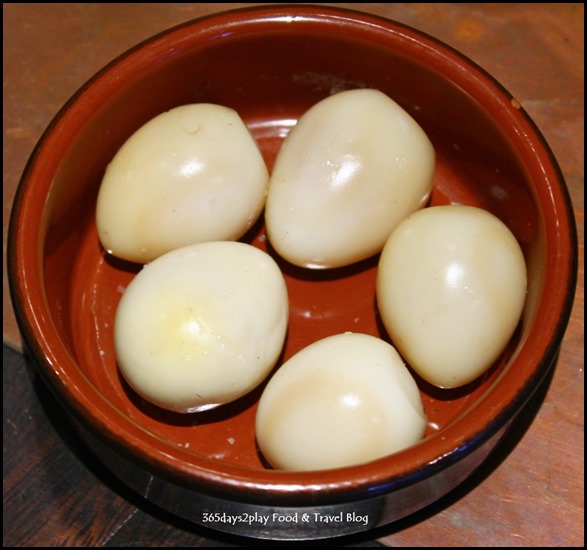 Started off our meal with these Smoked Quail Eggs $6. 1 egg $1, not a bad pricing for a restaurant. You won't believe these eggs, they look like normal quail eggs, but the minute you bite into them, this wonderful smoky flavour envelopes your tongue, it's almost as if they'd injected smoky soup into where the yolk would have been!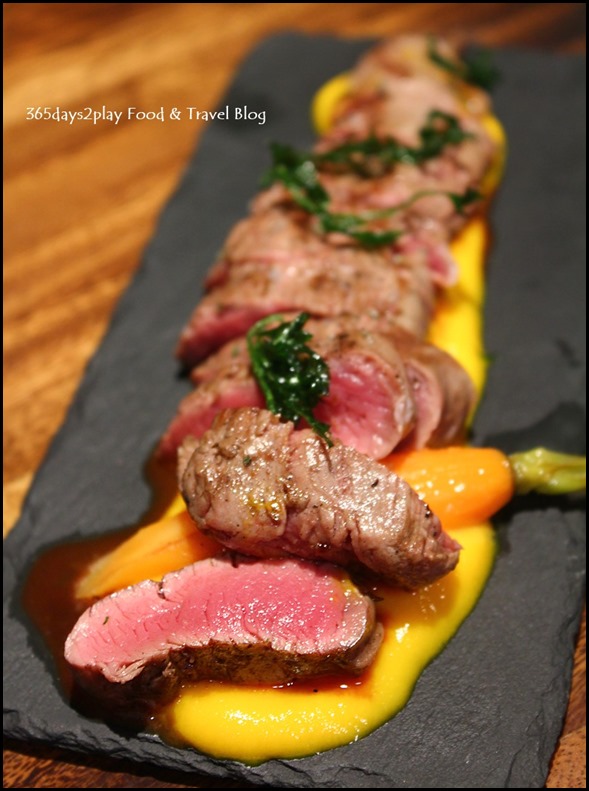 Lamb and Carrot $14
The appetisers got better and better. Thoroughly enjoyed this lamb and carrot commbination, which somehow works wonderfully together. Lamb was so tender and flavourful, and for the amount of meat that was served, at least 100 gms I would estimate, it's a very good pricing!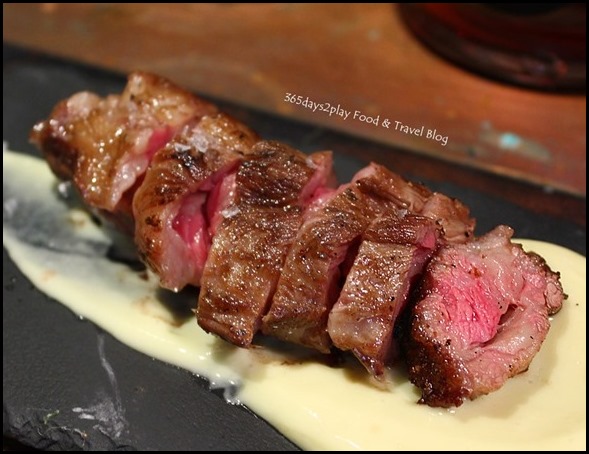 Jacobs Ladder $14
You can definitely taste the smokiness in this beef dish. The meaty bits were tender and delicious, although you had to navigate a bit past the quite obvious gristly bits as well. One thing that Burnt Ends does well is that the sauce and purees they use to accompany the meats are well thought out and compliment the meats very well. It was a joy to scrape up the puree.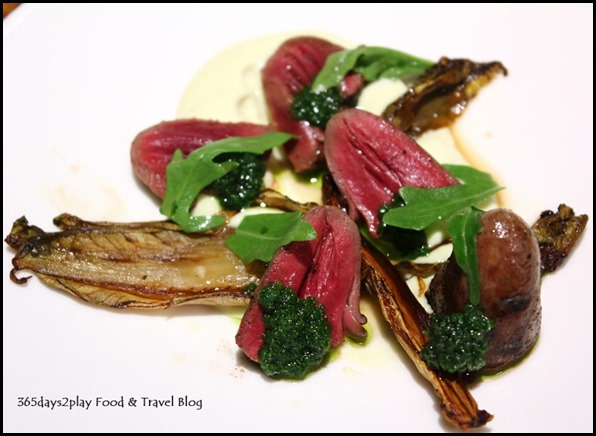 Duck Hearts, Endive and Aioli $18
Duck hearts dish a bit more ordinary and more pricey when compared to the 3 dishes above. Can give this a miss, although I did enjoy the half a heart that I consumed, whole-heartedly.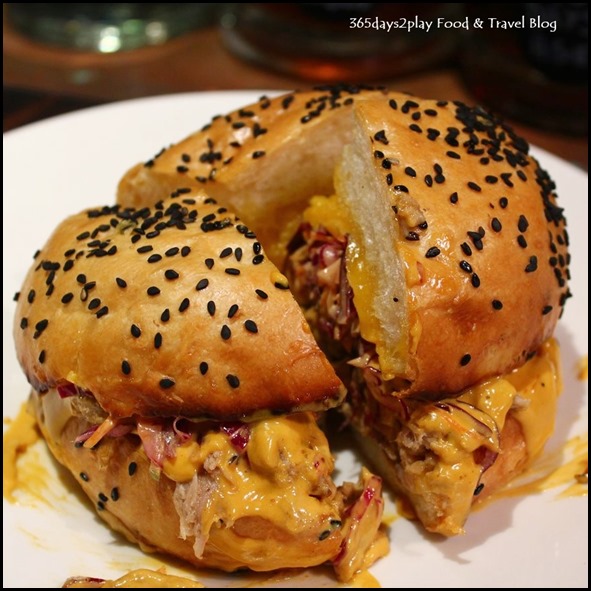 Sanger (Pulled Pork Shoulder, Cole Slaw, Chipotle Aioli, Brioche Bun) $20
If I could only choose 1 dish as my favourite that evening, it would have to be this pulled pork burger. It was JUST.SO.GOOOOOD!!! It was chock a block with fillings, it isn't very meaty I must say, but the combination of the meat, the slaw and the super delicious cheese sauce just went together so perfectly that I can probably say that this is the best burger I have ever eaten in Singapore!
I realise if I had just eaten this burger on my own, my meal would have cost $20, instead of the $80 that it eventually cost.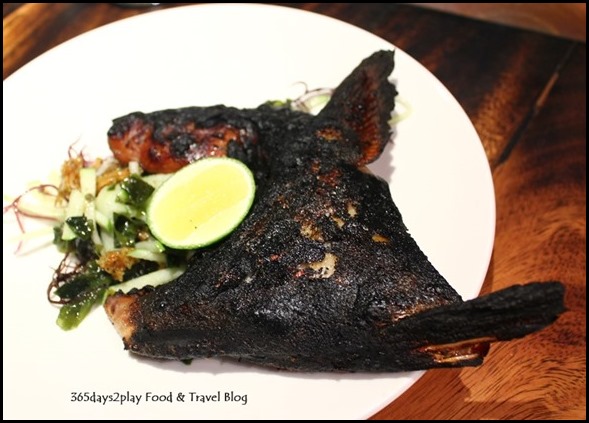 Kingfish, Apple and Seaweed $21
I must say the mains were rather forgettable as compared to the appetisers. This fish was way too burnt, although the flesh within was still moist within. After navigating through the many bones, the flesh that I managed to pile together was pretty tasty though.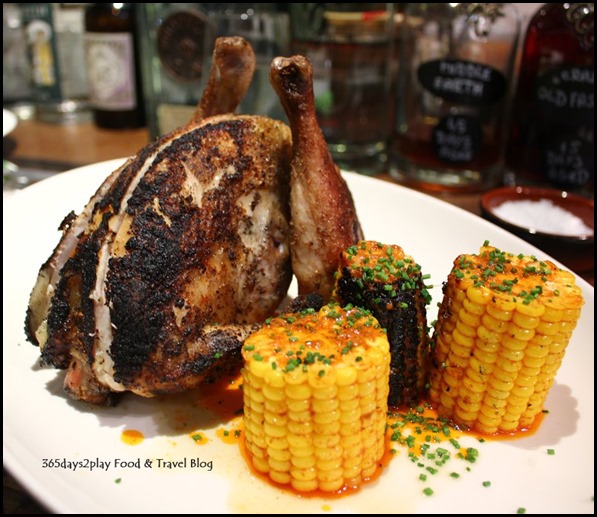 $60 for 2 pax
Pretty pricey, for a chicken. Once again, despite the charred exterior, the chicken flesh was still wonderfully moist, to the extend that there were reddish bits. We were told that the entire chicken had been soaked in a brine before hand, and therefore does not need to be cooked thoroughly. I don't know about that, but I finished the slightly reddish piece of chicken thigh with no ill effects. Some of the others decided to skip the reddish parts.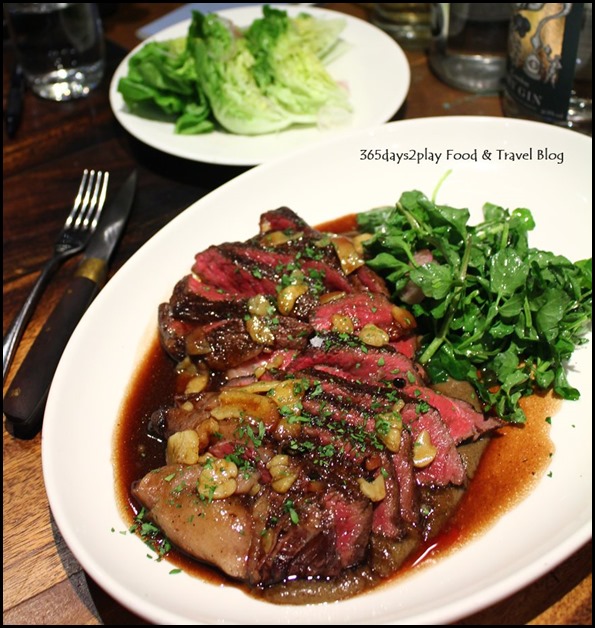 Rump Cap, Burnt Onion and Bone Marrow $23 per 100g
This was quite tasty, but just not as nice as the meats presented for the appetisers, and more expensive, so I would say go for the appetisers instead. This portion you are seeing here cost $115.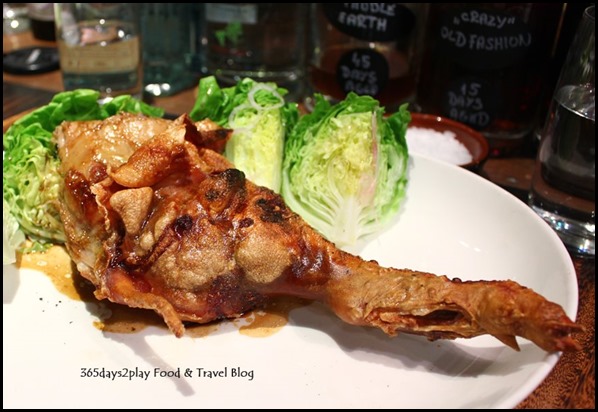 Suckling Pig and Cider $65 for 2 pax
Last and most disappointing was the suckling pig. I guess we were all thinking that we were going to be served something much more substantial? This looked hardly enough as a mains for 2 persons. 2 small eaters maybe. Also, the crackling was not of crackling consistency, being rather tough and chewy at parts.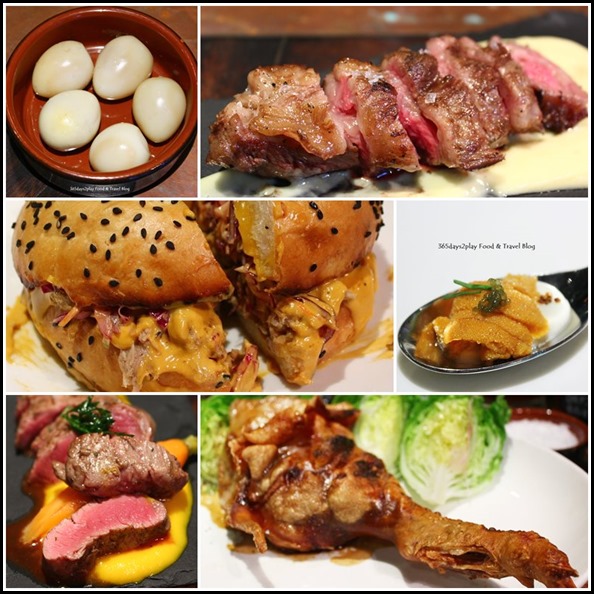 To summarise, the appetisers were fantastic and completely worth the price, and so was the pulled pork burger. The mains, skip it and spend your money on the appetisers instead. I heard Burnt Ends does not accept reservations for a group size of less than 6.
---
Add me on Facebook, Instagram and Twitter if you want to be kept up to date with the latest happenings in the food and lifestyle scene in Singapore!
---
Burnt Ends
20 Teck Lim Road Singapore 088391
+65 6224 3933
eat@burntends.com.sg
Opening Hours
Lunch: Tuesday – Saturday 11:45am to 2pm
Dinner: Monday – Saturday 6:00pm to Late
Closed Sundays