Jun 5, 2010 @ 21:25
I was back again at Purvis Street Bugis so I decided to take some better shots of the place. Don't want to run the risk of the government or some commercial entity pulling down the old shop houses before I've had a chance to record them down properly.
There are lots of interesting shops and cafes along Purvis Street. The big name restaurants are Garibaldi, Gunthers, Yhing Thai, Restaurant Ten to name a few. Garibaldi and Gunthers are very expensive Italian and French restaurants respectively. A main course there would cost above $30 at least, although there are cheaper dishes to order too, if you want to sample the place but not overspend. Yhing Thai, is not surprisingly a Thai restaurant. I've not dined there before. As for Chinese cuisine Restaurant Ten, click here to read the review of Restaurant Ten I did a few weeks back.
In addition to the restaurants, there are also the local favourites YY Kafei Dian, Chin Chin (think Hainanese food and pork chops), Killiney Kopitiam, Yet Con (famous chicken rice) etc. Click here to read my review of YY Kafei Dian. Also, there is a motley assortment of other shops like furniture shops and spas.
Purvis Street Shophouses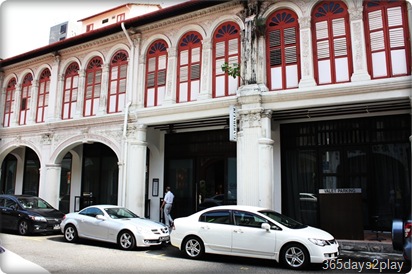 You are looking at the Garibaldi restaurant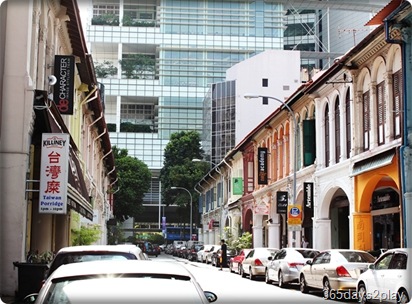 View of the entire Purvis Street, with the National Library in the background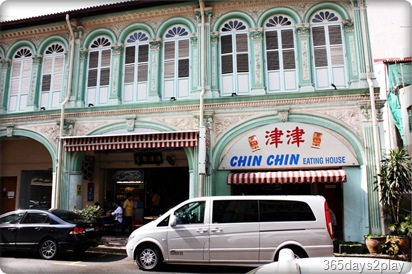 Chin Chin Eating House, the one which serves good Hainanese pork chops, so I hear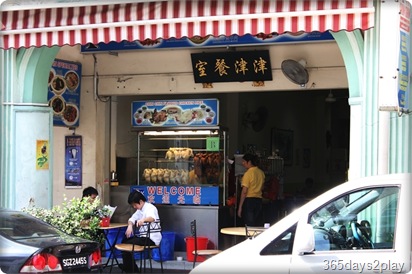 And Chin Chin also serves Hainanese chicken rice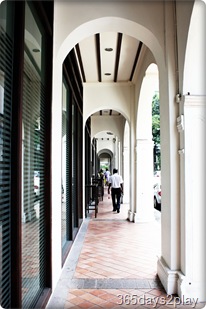 View of the 5-foot way in front of Garibaldi. 5-foot ways used to be a very important aspect of Singapore in the early days.