It was a total spur of the moment that we ended up at VeganBurg. Had previously heard about it from Tiny Island, and just as we were driving past it, my father said he'd heard about it too. That was good enough reason to stop by and try it out, never mind it was only 5pm and not really dinner time yet!
VeganBurg looks quite nice and inviting. I like the bright and woody feel to the place. 3/4 of the seats were taken up, not bad for 5pm and a place slightly off the beaten track. It's only 5 minutes from Eunos MRT station and just off the turn-off from the PIE, but not along the main pedestrian routes.
VeganBurg specialises in vegan fast food burgers. There are only 5 burgers to choose from, but it seems they also have a 6th Christmas themed one. In addition, they offer sides like seaweed fries, vegandog (like a hotdog), potato spinach pops etc. The potato spinach pops sounds interesting, wish I'd ordered that! Coffee is quite affordable too. A cafe latte costs $3.80. We didn't try the coffee since we were trying to keep with the healthy theme here. Click the photo below to see the menu.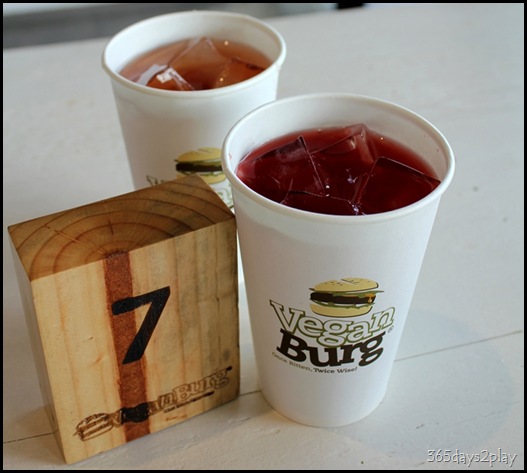 The burger meal comes with drinks and fries. We chose the Apple Blackcurrant and Beetroot Carrot. Tastes quite nice but unfortunately, the drinks come out of a bottle and aren't freshly made.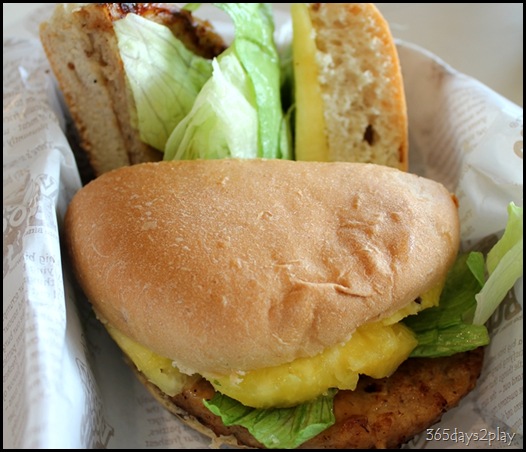 My father tried the Hawaiian Pineapple Burger — Organic Ciabatta bun with a pan-grilled pineapple slice and a soya patty glazed with sweet plum sauce. He didn't enjoy the burger and said it was  too plain.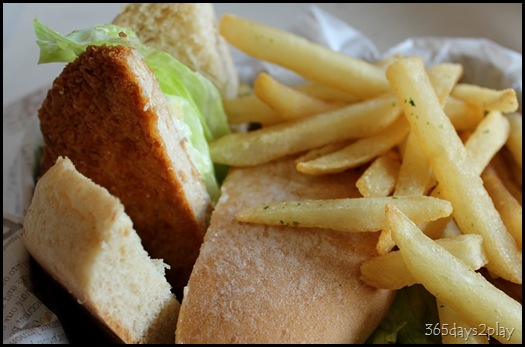 I had the Tangy Tartar Burger — Organic Wholemeal Bread, soft and flaky Vegan patty that is bread crumbed and battered and deep fried, tangy tartar sauce with alfalfa. I thought it was quite good actually! The bread was soft and light, while the patty had a very nice texture. I can't really describe the flavour, to say it tastes like soya beans would be wrong. I'll just say that if you didn't tell me this was a vegan patty, I may not have known. I do wish they had reduced on the Tartar Sauce, I had to use a fry to scoop the excess out.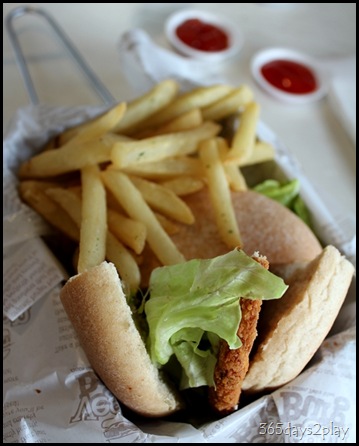 The chilli dips have onion powder in them. Tasty! Try dipping the fries in the pepper mix too, tastes great. I often dip my fries in pepper at McDonalds, does anyone out there do the same?

Vegan Burg's Menu

Each table has a magazine slot with magazines in them. A nice touch.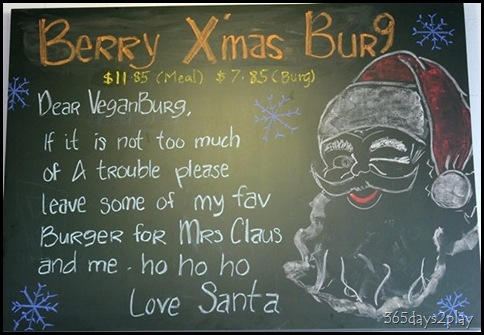 Great to know that Santa doesn't eat meat. How did he get so fat then?

Veganburg is situated next to a pet store. There will be kitties strolling past outside but they are cute and harmless. The flatface kitty next door also likes a good rub. He was enjoying it very much!
VeganBurg®
44 Jalan Eunos Singapore 419502
Tel: 6844 6868    Fax: 6844 1021
Opens Daily from 11am to 10pm
Website: http://www.veganburg.com
Directions : – http://www.veganburg.com/contact-us/