It's been a while since I had brunch with my parents. Several weekends were burned just preparing for the photo-shoot and trip to New Zealand. And then of course I was away for the trip itself, so that was another 2 weekends.
My parents don't quite fancy Western food, but brunch is something they don't mind. My father will order Eggs Benedict 99% of the time while my mother's eyes will hover all over the menu trying to find a healthy dish even though she secretly wants some meat. My mother is the healthiest in my family and eschews fatty food and meat if she can. But I mean what's the fun in going for brunch if she's going to order Eggs Benedict too? The eggs are poached, so she has deemed it healthy enough. The following is a typical scenario.
Daughter : Order this big breakfast
Mother : But it has fried sausages in it.
Daughter : Just order it. Or you want the Bircher Muesli instead?
Mother : Okay are you really sure I should order the big breakfast?
Daugher : Yes.
And later the plate will be clean. You see, it's fine if I'm the bad guy.
I might have mentioned before that I really don't like going back to the same place twice when there are so many new eateries to explore. This rule goes out the window when it comes to where to eat in the East. Is it just me or do Easties think that there is a severe shortage of cool cafes in the East of Singapore? I cracked my brain real hard and I only managed to summon up Chock Full of Beans, a small little cafe in Changi Village. My parents were game for it as we had a good dinner there the last time. I caved in for a lack of better suggestions, and also because it was brunch we were going to try out this time round.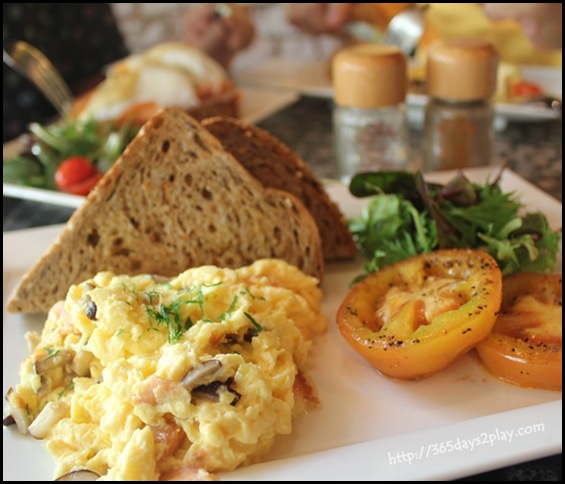 Scrambled Eggs with 3 Fillings (I chose smoked salmon, mushrooms and Swiss Cheese) $12
The menu actually lists Omelette with 3 fillings, but I asked to have scrambled eggs instead, which Chock Full of Beans kindly obliged.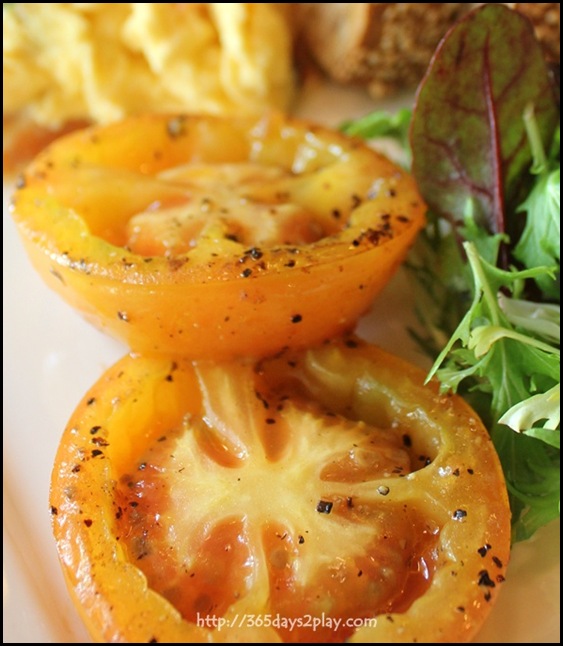 Oh before I describe the eggs, let me first give a shout out to these lovely grilled tomatoes. They were just beautiful. Grilled perfectly such that they retained their juiciness, I love how the sweet taste of the tomatoes went so well with the smoky flavour of the bit of cracked black pepper.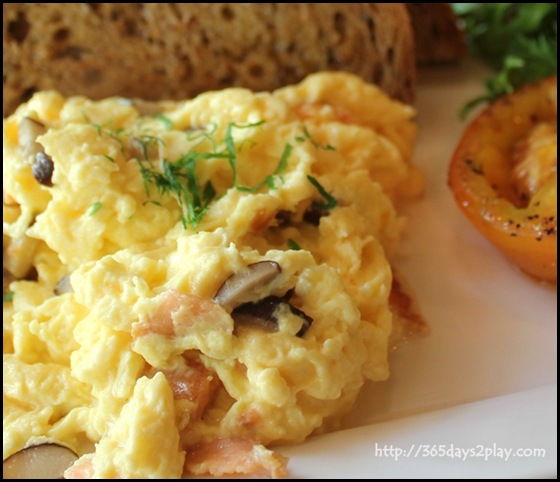 The eggs were average. I think they could have done with a bit of the cracked black pepper, and just a little bit more salt. The Swiss Cheese had completely melted away, but rendered a milky flavour to the eggs that was just faintly detectable. More cheese to give texture would have been appreciated. Smoked salmon was a little overdone and had also lost its salty smoky flavour. Yet the eggs didn't seem to have incorporated the smoky flavour. I like strong tastes you see, but this scrambled eggs would be great for my parents who don't like the smokiness of salmon!
Eggs Atlantic (Eggs Benedict with Smoked salmon instead of ham) — $13
I ordered this for my mother. At least it's slightly different from the Eggs Benedict she was also eyeing. Have never heard of Eggs Atlantic to be frank. I tried a portion of this and I thought it was very good. Wish I'd ordered it myself! I cannot tahan when I see oozy egg yolks, especially when they're not on my plate! Oozy egg with smoked salmon on buttered multi-grain toast, fantastic combination. The bread, which is a feature in all 3 of our dishes, was very good. And it is also big and thick enough to be able to mop up all the eggy goodness! I forgot to ask if it is made in house.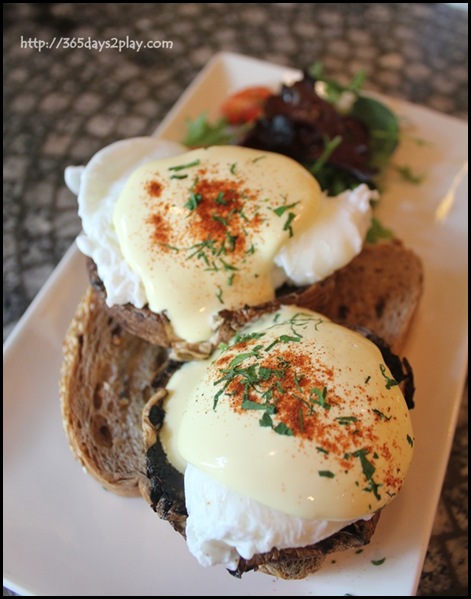 Portobello Eggs Benedict $11
Guess what, my father didn't order Eggs Benedict because there was PORTOBELLO Eggs Benedict. It doesn't come with ham so it's suitable for non-meat eaters. I love the creativity. 3 types of Eggs Benedict available at Chock Full of Beans! And it appears to be even cheaper at $11, as compared to the traditional Eggs Benedict which costs $12.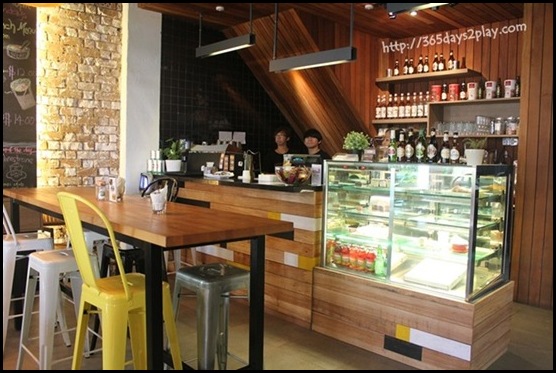 Read about my previous visit to Chock Full of Beans back in Jan 2012.
Chock Full of Beans
Blk 4 Changi village road #01-2090, Singapore, Singapore 500004 · Get Directions
Phone : 62148839
Website : http://www.chockfullofbeans.com.sg
Tue — Fri : 11:00 am-10:00 pm
Sat — Sun : 9:00 am-10:00 pm