More pictures of my visit to the Singapore Food Trail Food Street hawker centre at the Singapore Flyer. Calling it a hawker centre seems incorrect, yet it is not a food court either since food courts are air conditioned? Perhaps Food Street really is the correct word since it used to be a driveway before it got converted into this new eating concept. And if you look at the flooring, it is designed to look like a road, complete with the double yellow lines at the side!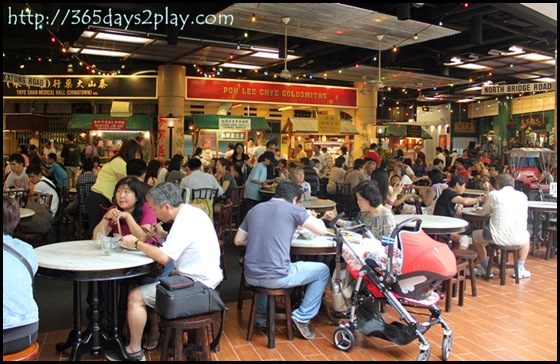 This is the "indoor" seating area, which seems to be more popular than the "outdoor" area. Indoor or outdoor, the whole place is not air-conditioned. I didn't feel hot though, it seemed pretty breezy. One bad thing about sitting here is that when a hawker goes on a vengeance and starts deep frying something, you and your clothes can't escape the smell.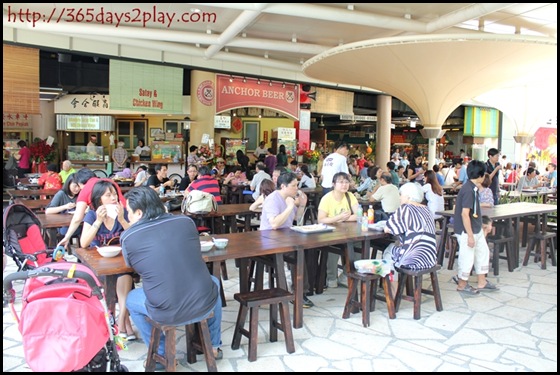 This is the more "outdoor" seating as it faces the main road. It can get quite sunny here even though the shelter covers all the seats. But one thing good about sitting at this area is that you don't get the smoke smells from the cooking.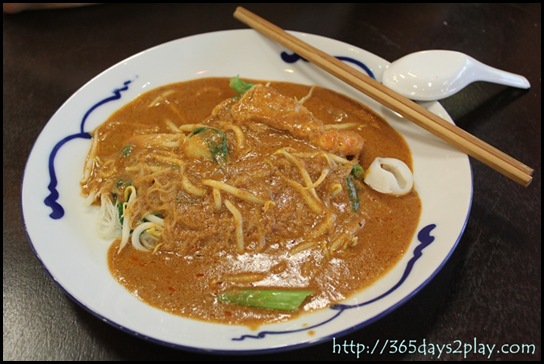 Satay Bee Hoon — Not that fantastic. Very few ingredients and satay sauce had no kick. If you like the non-heavy type, then perhaps this may be for you.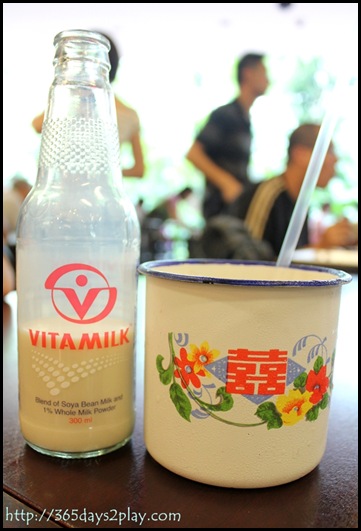 Did you know, VitaMilk (soya bean drink with added milk powder) has palm oil in it?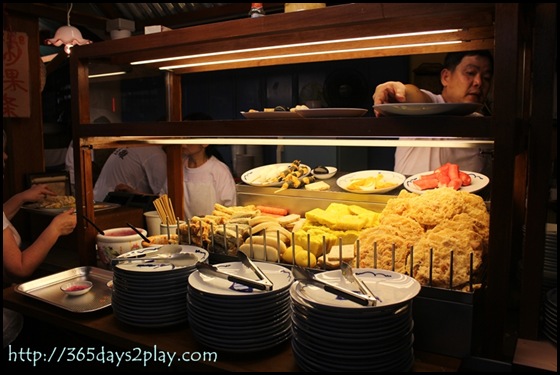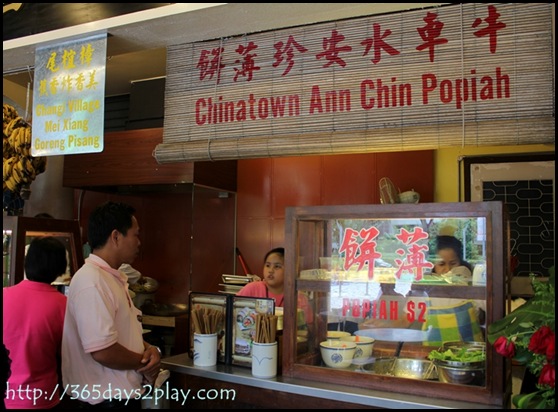 Popiah for $2 each. There isn't a sign to tell you upfront that you have to buy a minimum of 2 popiahs, so be warned.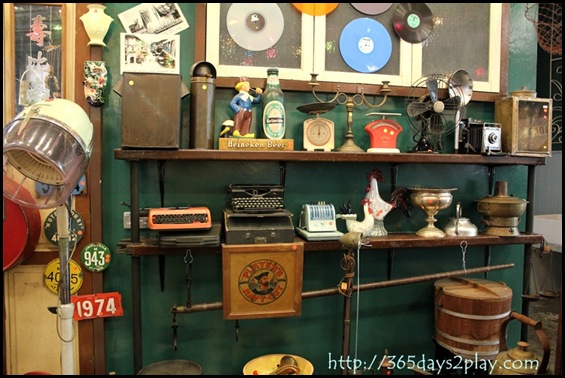 They also have a little area showcasing objects from an era past.
I love this little tiny museum of sorts!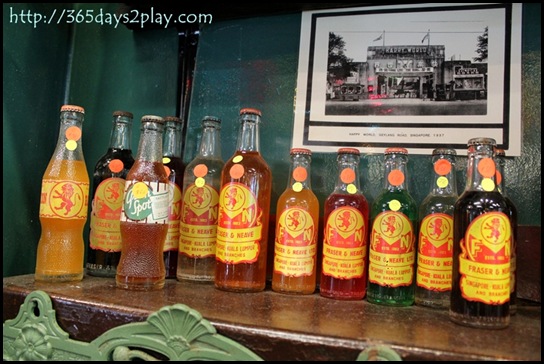 Old F&N Soft Drink Bottles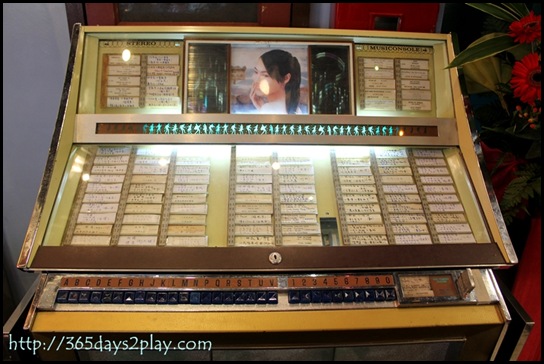 There is even a juke box belting out old songs. It seems like you can choose the songs you want by pressing on the buttons. It's free. I chose a michael jackson song, so that when it played, i would be able to recognise it from all the old Chinese songs that I have never heard before. Didn't hear the Michael Jackson song come up though.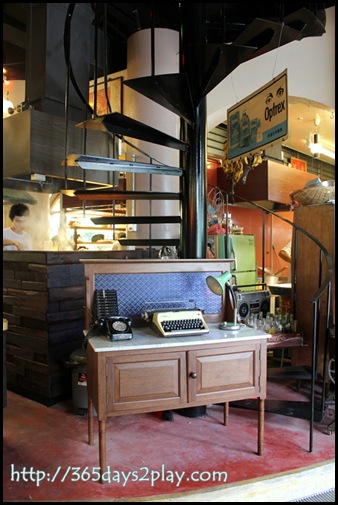 Old typewriter. I still have one in my house! When I was younger, I derived much pleasure in jamming all the keys together!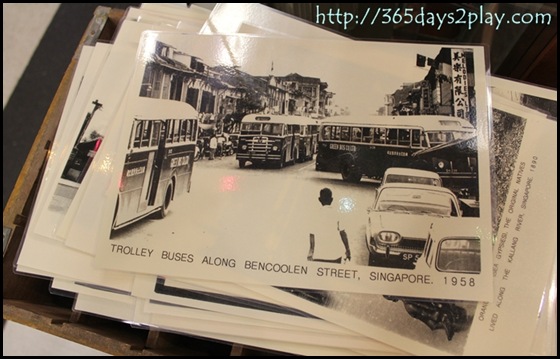 Laminated old photos to reminisce the old times (sounds like I am the one reminiscing, but no I was not born yet in 1958.)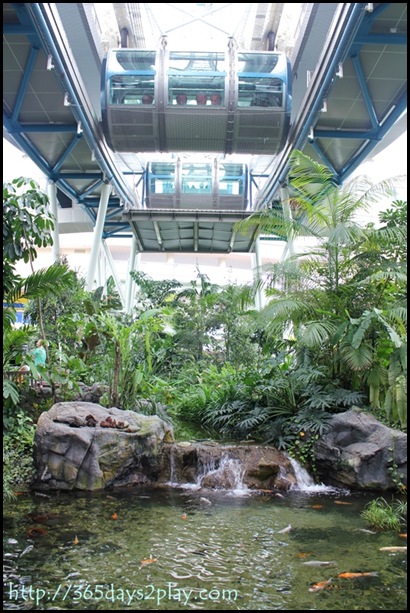 Oh yes, almost forgot that the Singapore Flyer's main business is getting people to go on the Flyer itself….Well I think the Singapore Flyer's marketing team have hit the jackpot this time round. The new Singapore Food Trail is sure to pull in the crowds. Even the tourists were enjoying their food there. Not so sure if the restaurants would welcome the Food Trail, but if you've a shop selling something there, you'll be happy.
For more pictures, see Singapore Food Trail Part 1