I realise I haven't finished posting about my week long birthday celebrations. On the Friday before my birthday, we went to Gunthers at Purvis street to have lunch. My 1st visit there was back in 2007 when they just opened. It was a birthday treat for my colleague and we had a private room which was cosy, but strangely very blue hued.
Don't ask me why Gunthers has the tagline "modern French cuisine". Gunthers aint no French name, it's German! One of the ang moh staff who looked like the head waiter or boss of the place was speaking in German too. Ok I just googled and I realise one of the owners is a German called Gunther. Hmmm but won't the other owner get jealous?
Anyway if you've been to Garibaldi's, which is just next door, Gunther's is also another small and cosy restaurant along Purvis street. There aren't that many tables unless there are many hidden rooms. Those that the eye can see, I estimate about 15 tables of 2 and 4 seaters? The staff are really friendly and most eager to answer each and every request that you may have.
We both opted for the $38 +++ set lunch, which comprises of the following:
Starters:
1. Braised Portobello mushroom, sunny side up; or
2. Glazed Foie Gras Ravioli; or
3. Roasted tiger prawn salad cocktail
Main Course:
1. Stewed carrot, sweet pea, potato mousseline, mustard sauce; or
2. Gunther's creation; or
3. Roasted threadfin glazed vegetables, hollandaise sauce
Dessert of the Day
Tea or Coffee
Petit Fours
I don't know if anyone would order the Stewed carrot main course? It sound quite unsubstantial, but then again, they must know what they're doing.
Here's what we had, starting with dessert first of course!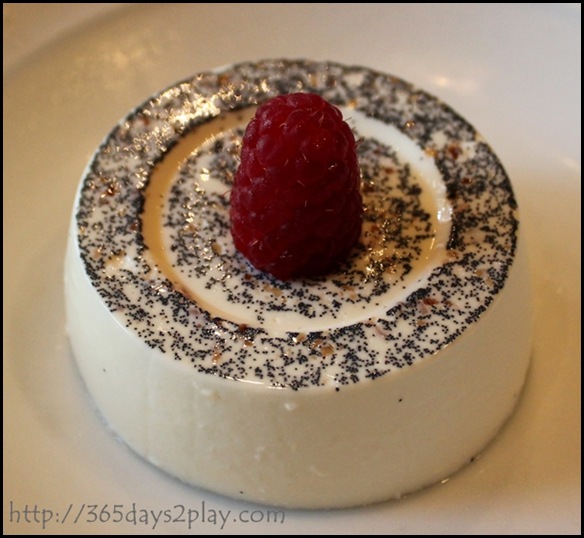 Vanilla Panna Cotta — Best panna cotta I have eaten to date. And it's fun to eat too. I found it quite hilarious to have it wobbling around. Kept giving the plate a little shake, while the Partner tried to hide in embarrassment….I liked the raspberry on top. It looked so funny wobbling on top of the wobbling panna cotta, but it refused to topple!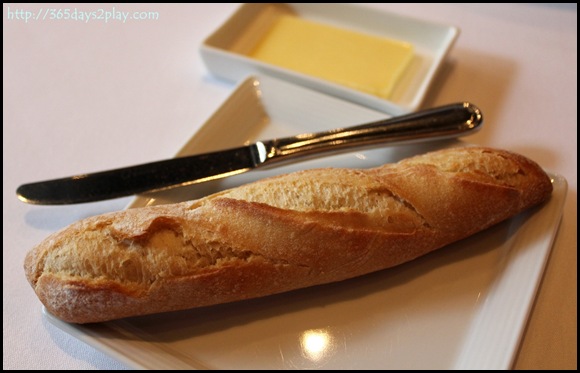 I love the mini baguette. It tastes so good!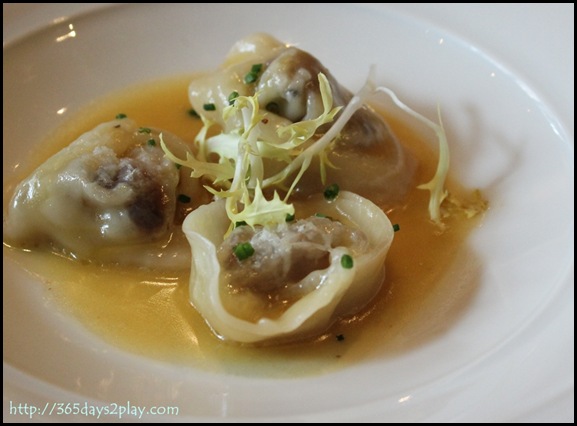 Foie Gras Ravioli — I had this and it was damn good, as all foie gras are apt to be. I wish the ravioli were bigger, each was barely bigger than my thumb!
The partner had the fish, which he said was tasty and tender. The rice was too little though and tasted like chicken rice. which was quite unexpected.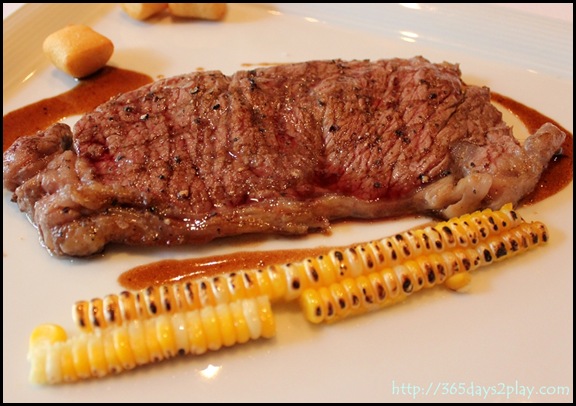 I had the Striploin steak. The meat was very tasty, despite the seeming lack of sauce. Perhaps that's the mark of good cooking, when the meat is well marinated such that you don't need a side serving of sauce? Once again, Gunther's could have been more generous with the starch. The 3 potato puffs at the top left of the picture was basically the only starch for the dish.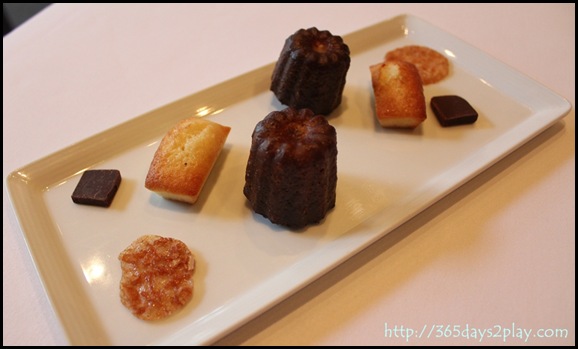 Despite the lack of starch, I still felt damn full after the dessert, such that when the Petit Fours were served, I was close to collapsing. Didn't even realise we were going to be served some, since it was not in the menu. A welcomed gesture nonetheless.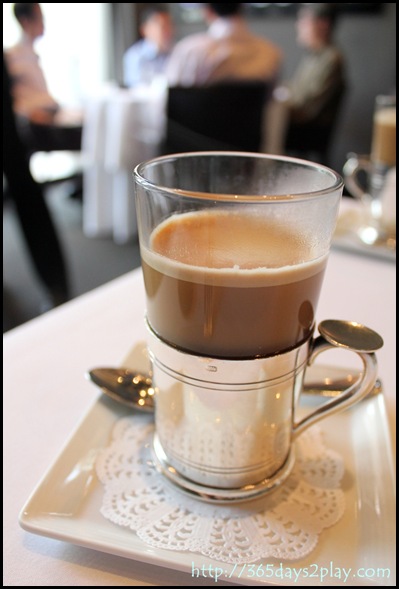 Nice coffee served in a cool looking glass. I normally don't have much faith in the complimentary coffee served for set meals. I feel the cheapest stuff is used. Luckily this coffee was nice and I finished most of it, which was why I was close to bursting by the time the Petit Fours were served.
Is it a blessing to get full easily, or to be able to eat and eat and eat and still have room for more?
Gunther's — Modern French Cuisine
36 Purvis Street #01-03 Singapore 188613
Tel: (65) 6338 8955 Fax: (65) 6337 3770
For Reservations, please email: restaurant@gunthers.com.sg
For Events, please contact: sales@gunthers.com.sg
Open from Monday to Saturday
Closed on Sunday
Noon – 3pm
6:30pm -10:30pm
Valet parking available
* Gunther's has a 'no children under the age of 7' policy at the restaurant.