*Bloggers' Invite*
I feel like an ambassador of myVillage. After 3 months, I am still not done with the posts of my numerous visits there, and guess what, I was there again today. After this post on Chinta Manis, do keep a watch out for reviews on Daikokuya, Bakerzin, Obolo, Da Paolo Gastronomia (coffee visit), Old Hong Kong Taste (2nd visit!) and Shin Kushiya (2nd visit!).
Ok so back to Chinta Manis. Everyone has heard of Bengawan Solo, which is famous for its kuehs and Chinese New Year goodies such as love letters. You may even have heard of Kedai Kue Kue, which also sells kuehs, although I have never tried it. Chinta Manis is the new kid on the block, just about a year old with 3 outlets already, the latest one being located at the basement of myVillage.
Meaning "Sweet Love" in Malay, Chinta Manis combines both heritage and innovation by serving a range of Nyonya Kuehs and Desserts, all hand made and without any preservatives at all! Chinta Manis prides itself on being modern. To keep up with the changing tastes, they've even come up with things like Chendol Agar Agar. Apparently they are quite sellable. One of the business partners of Chinta Manis told me many of the people who buy the Chendol Agar Agar are youngsters who love the idea of trying out new things.
I have to admit I am not an expert at kuehs so I'll be keeping my comments short. I hardly eat any these days although when I was younger, my grandfather used to buy lots of them, especially my favourite Pulut Seri Kaya. I still love Pulut Seri Kaya but these days I like ondeh ondeh too because of the gula melaka liquid inside them.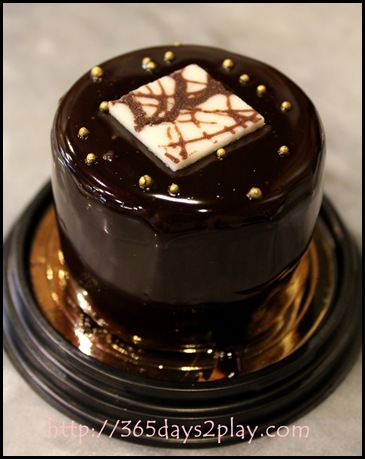 But the one thing you definitely have to try, and you must listen to me because I'm a self-proclaimed expert on chocolate cakes

, is the Chocolate Ecstasy Cake. It's really damn good. For only $4.50 for a small chocolate cake, it's a bargain, when similar looking cakes from Canele are going at almost double the price. This Chocolate Ecstasy Cake is deliciously chocolatey with a good combination of sponge in between the fudge layers.
After trying out the single serve, you can consider buying the whole chocolate cake, for a birthday or for days when you need to ward off depression.
See the 2nd tier, that's the Chendol Agar Agar. Is that creative or what?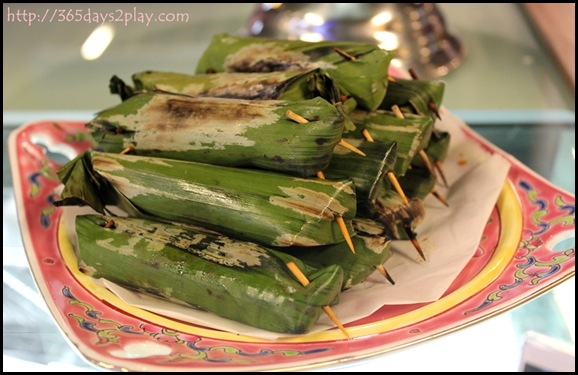 Rempah Udang $1.20 — Some prawn thing with rice I believe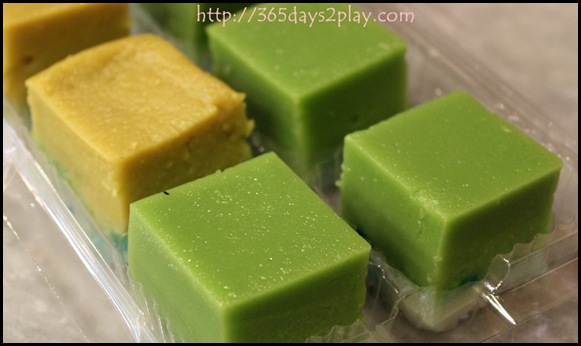 Pulut Seri Kaya $0.90 — The top part is kaya jelly while the bottom part is sweet rice. I am so used to the Bengawan Solo or the traditional ones which are rectangular. Those sweet tooths (or is it sweet teeth) amongst us would love it that the ratio of kaya to rice is higher than the traditional type. The yellow one is durian I believe. The ones I sampled there were fine, but the rice on the ones I bought back home was kinda of hard. I wonder if it's a no no to keep kueh more than 1 day?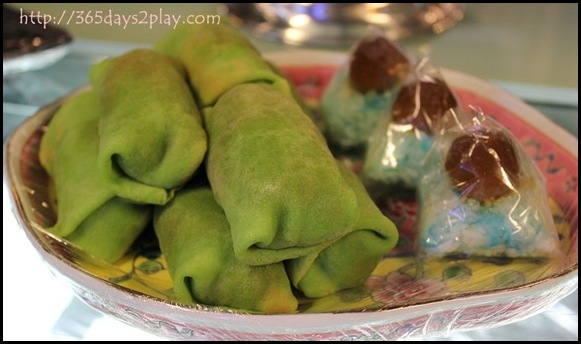 Pulut Inti $0.90 — That's the green one.Didn't get to try this one.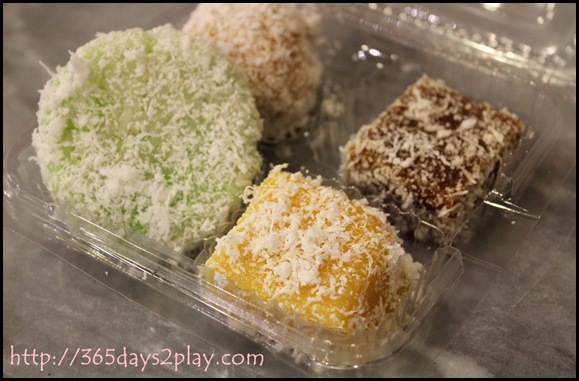 Clockwise starting from the green one Kueh Lopis $1 for 2, Ondeh Ondeh $0.70, Kueh Koswee $0.70 and Ubi Kayu $0.70 – Tried these at home. Didn't like the Ondeh Ondeh because it didn't have the squirty gula melaka liquid in it. The Kueh Lopis rice was also rather dry. The Kueh Koswee and Ubi Kayu tasted fine but texturally were not as bouncy as the ones from Bengawan Solo. I have no idea which is supposed to be the authentic style, you decide.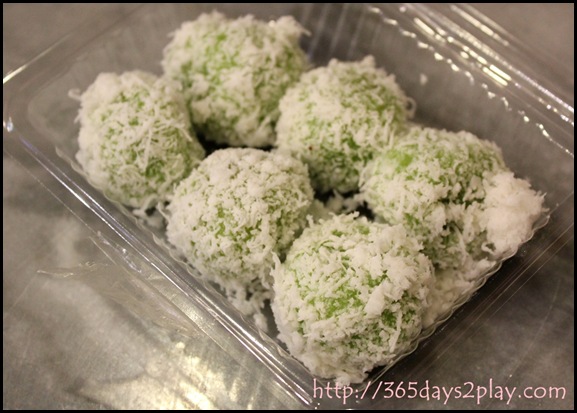 Ondeh Gula Melaka $2.50 for 6 — I love eating this because of the gula melaka liquid in them. The more liquid the better. I just love it when the liquid squirts out with the 1st bite. It's always a wise idea to close your mouth when eating this! I tried some this evening. They were also little hard and dry but thankfully still retained enough of the gula melaka.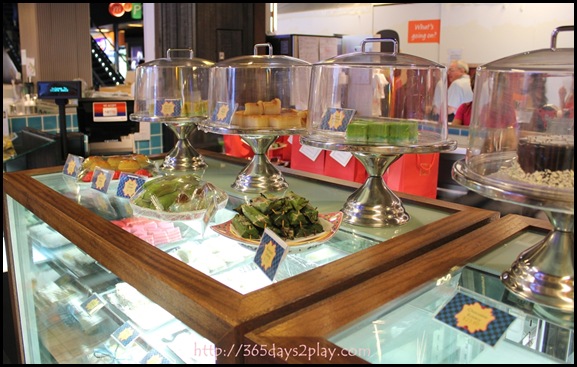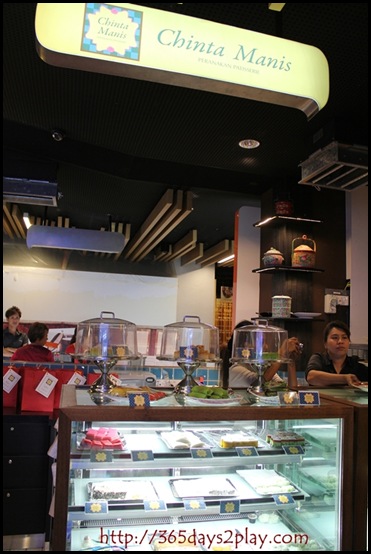 Chinta Manis @ China Square Food Court
51 Telok Ayer Street #01-03
Singapore 048441
Tel: +65.6225.4754 | Fax: +65. 6225.4729
Business Hours
Mon — Fri | 8:00am — 8:00pm
Sat — Sun | Closed
Chinta Manis @ myVillage Serangoon Gardens
1 Maju Avenue, # B1 -05K
Singapore 556679
Tel: +65.6634.5424
Business Hours
Mon — Fri | 10:00am — 8:00pm
Sat — Sun | 10:00am – 10:00pm
Chinta Manis Kiosk @ Daily Toast
65 Killiney Road
Singapore 239524
Tel: +65.6235.0065
Business Hours
Mon — Fri | 7:00am — 7:30pm
Sat — Sun | 7:00am – 3:00pm