I have been craving cafe food lately so I went back to look at my old pictures and realised that I have not been blogging about cafes in Singapore for the longest time! So to make amends, you will be seeing more cafe posts in the coming weeks! Hold on tight because there's going to be a deluge of pancakes, eggs Benedicts, waffles, grain bowls, hot chocolates and flat whites coming at you! I'm sure you won't mind, would you?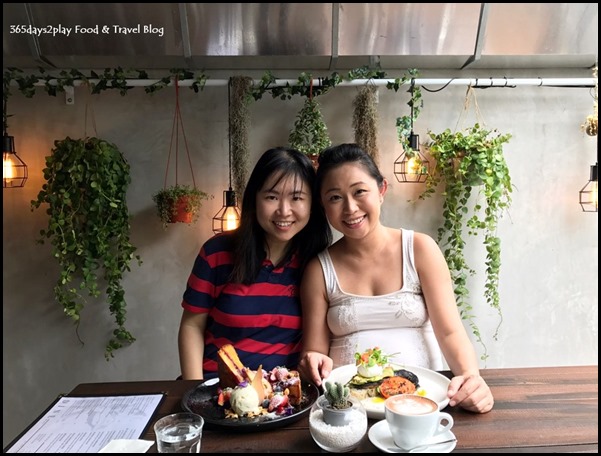 Visited Botanist late last year when my friend was still pregnant and on early maternity leave. Run by the same guys who also run Pacamara Boutique Coffee Roasters and Alchemist, Botanist is probably well known in the cafe hopping scene because of its garden-like decor. Aside from Instagram opportunities, it is quite soothing to see the touches of greenery all around.
We had intended to visit more cafes but she popped soon after, about 2 weeks after this picture was taken! One hardly thinks about it but there's a lot of nice cafe food that you can't have while you're pregnant. Think coffee/caffeinated drinks, dishes with runny yolks, smoked salmon, salad…. the list can be long depending on how strict you want to be!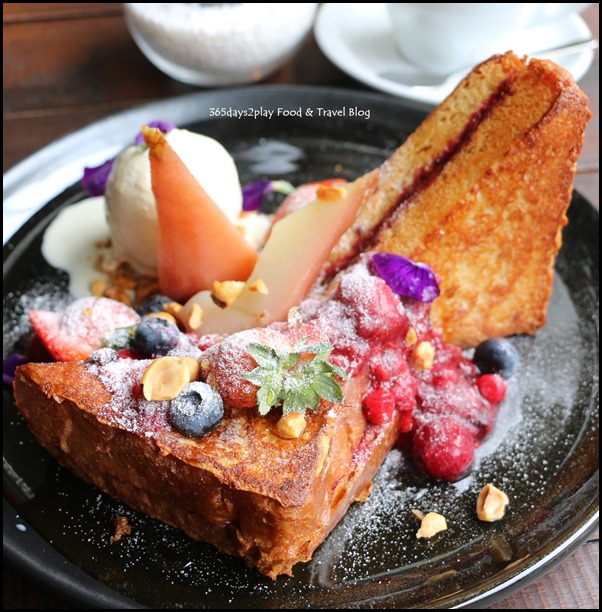 French Toast (fried brioche, rhubarb berry marmalade, fresh berries, almond flakes, poached pear, vanilla ice-cream) $18
Let's not waste time and get to the point. They did not have their popular maple pancakes when I was there, so I opted for the French Toast, which tasted as good as it looked. Substantially sized pieces of French toast with lots of toppings plus a huge dollop of ice cream, I actually couldn't finish the entire dish myself, which is a rare feat. Because of the generous amount of berries and ice cream, this was quite a sweet dish. If you're looking for something savoury, you might be better off choosing something else.
Another shot of the delicious French toast. I've got to try the maple pancakes one day too.
Egg Florentine (Portobello mushroom, wilted spinach, avocado, poached eggs, tomatoes, chive hollandaise served on toast) $19
My friend ordered this, and I must say it looked pretty good too, wouldn't you agree? Like that there's lots of fresh greens to go along, and that they're not just an afterthought posing as garnish.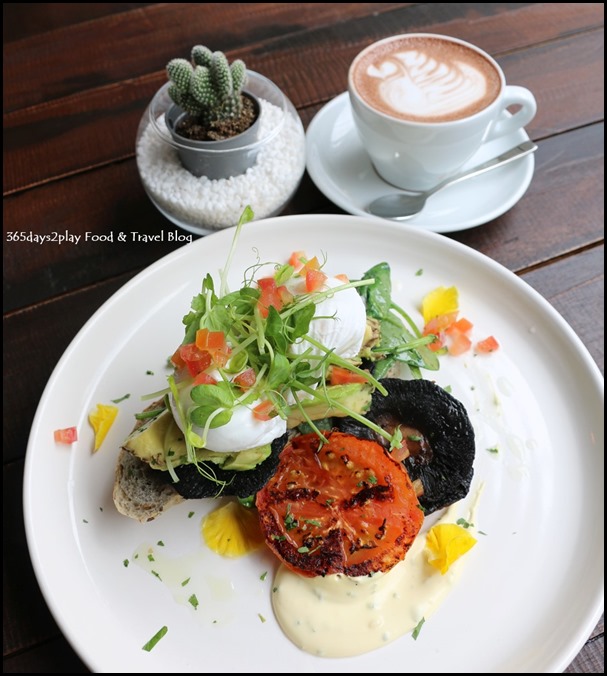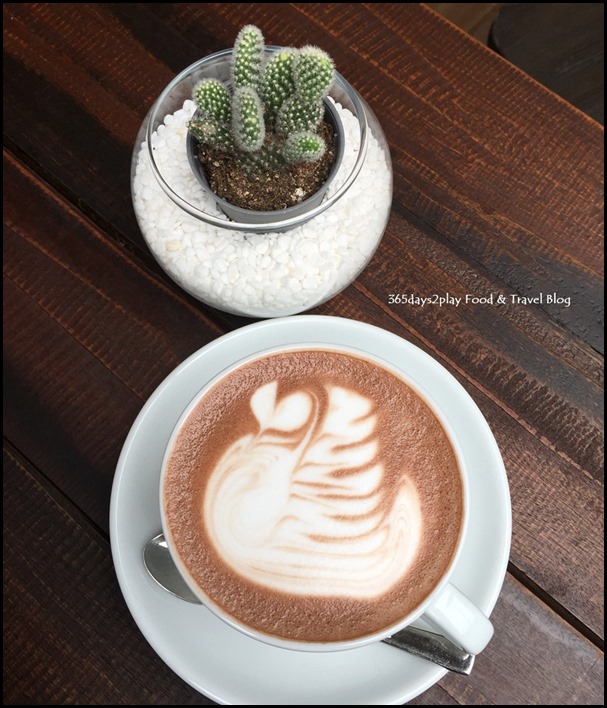 And the nice cuppa hot chocolate with a swan as the foam art.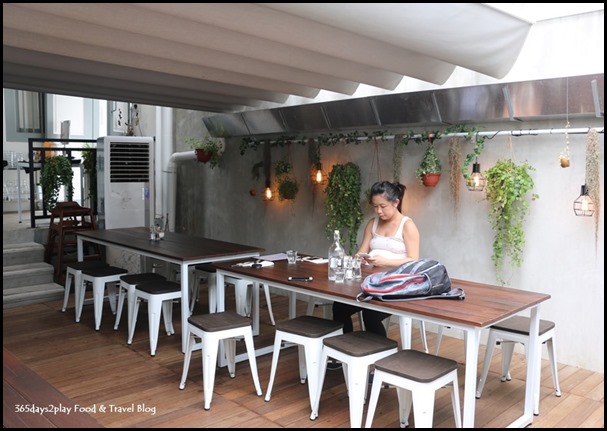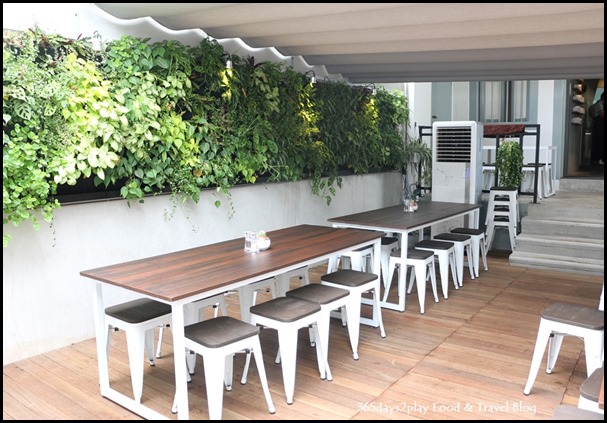 The green wall of vertical plants on one side of the seating area. Would you like to face the green wall or have your back to it?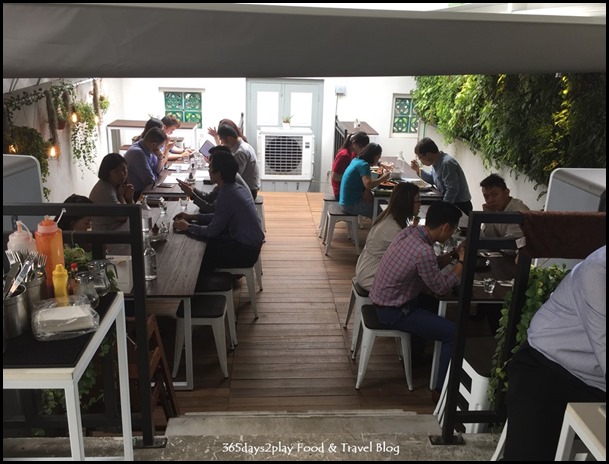 About 2/3 of the seating area is al-fresco. There are some seats indoors but I wouldn't recommend sitting there because the space is rather narrow, it's directly next to the ordering queue and the cooking smell is stronger there. Also, it's not actually that cold because the door is perpetually open. Besides, part of the novelty of visiting Botanist is to enjoy the plants, and there ain't any indoors.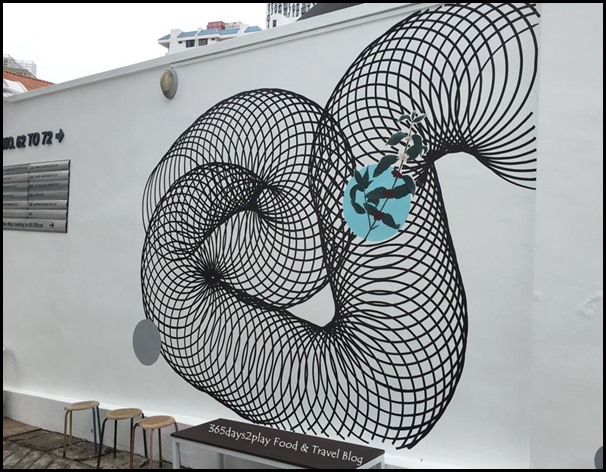 There's this wall art on the outside. I'm a little apprehensive about it actually, it looks like a huge snake to me….wouldn't like to walk past it at night.
---
Add me on Facebook, Instagram and Twitter if you want to be kept up to date with the latest happenings in the food and lifestyle scene in Singapore!
Other cafes with a greenery theme
Casa Verde at the Singapore Botanic Gardens
---
Botanist
74 Neil Road Singapore 088839
Walk in basis only, no reservations
Tue – Sun, 8am – 6pm
Last order timing
Food — 5pm  Beverage – 5.30pm