Once upon a time, I used to work in a lovely part of Singapore. Not only was it a convenient location, the place was steeped in history. The oldest church in Singapore was situated just next to my office, not to mention that there are several museums in the vicinity as well. Those were good times.
A few years ago, the building next to us, 36/37 Armenian Street, was acquired for refurbishment. Although we (or I at least) was sad to have to see the character of the old building change (hey there used to be people living in the upper quarters and we could see their laundry from our boardroom!), the consolation was that the building would be turned into something hip and happening, with cool cafes to cater to the Peranakan museum tourists. Alas, we never got to experience these cool cafes because we vacated the premises before the refurbishment was complete.
Anyway, the first cafe SoHo7 Cafe & Bistro is now open and I paid it a visit last week. Driving to Hill Street, it felt like being back home again, even if it came with a twinge of sadness. Standing along the street I could see that our old furniture was still there. The movers were just beginning to attack at it after we've left for nearly half a year.
Ok enough of the reminiscing and on to SoHo7 proper. It's a tiny little cafe that occupies the corner unit of 36 Armenian Street. I think it can probably fit 30 people inside. There are a few high tables outside. Not a bad idea to sit outside on a cool day, sipping a cuppa while watching the cars whiz pass. It really is a peaceful hideaway just off the main road and 5 minutes from City Hall MRT.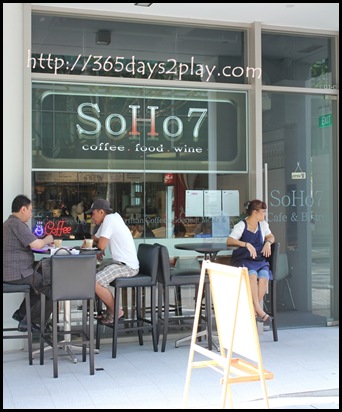 SoHo7's focus is on breakfast dishes as well as burgers and sandwiches. The breakfast dishes are served daily from 8am until "the moon shines".
SoHo7's Best Ever Burger (with egg, bacon n swiss cheese) $9.70 — Very decent price for a burger this size. It's chock full of ingredients and made to order. SoHo7 has this special sauce which really enhances the burger. The meat was also very juicy but a little fattening in my opinion. Interesting the way the stick a knife in the burger but that's required due to the sheer amount of ingredients! Don't wait too long to eat the burger because it will get slightly soggy with the amount of juices from the patty and the sauce. I did feel a bit sinful after eating this burger but if you're lost for choice as there are quite a number of burger selections, you won't go wrong with this one.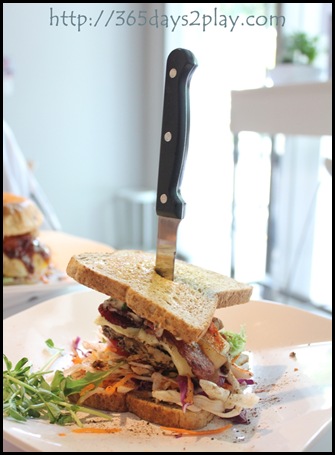 Grilled Chicken, Bacon, Swiss Cheese n Avocado Sandwich $8.70 – All the ingredients complemented each other. Not a single ingredient overpowered the rest. The lettuce was crisp, the bread was nice and fresh. The chicken was tender and tasty. Seriously, this sandwich costs like only a few dollars more than a burger from a fast food restaurant. I'd definitely go for this, knowing all the ingredients are fresh and the food is made with love.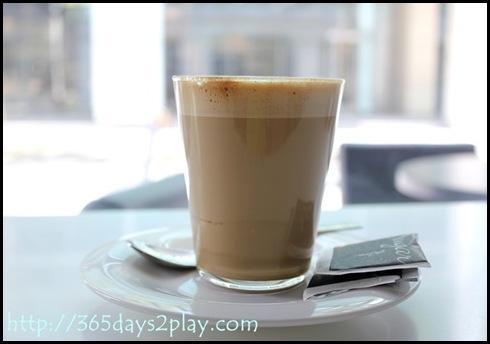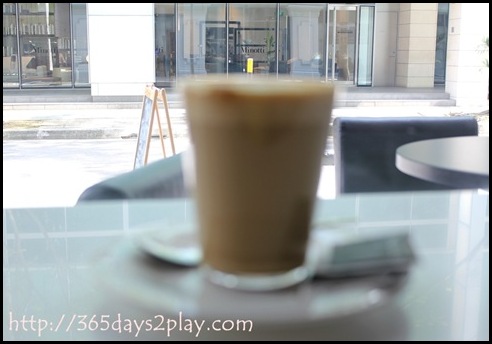 Cafe Latte $4 — Good coffee for a decent price.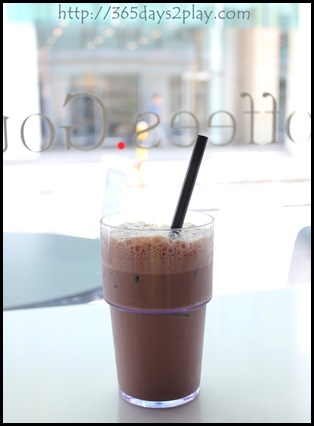 Iced Chocolate $4.50 — Actually this is quite chocolatey, which is how I like it. But I didn't like it that it is served in a cheap looking plastic cup.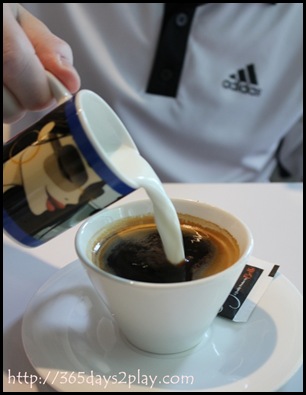 House Blend Coffee  – Nice flavour, medium body.
Chocolate Cupcakes with peanut frosting $2 !! — Unbelievably good. The chocolate flavour was intense and there seemed to be a tinge of something different in it. Can't quite put my finger on it. It seems denser than usual for cupcakes but I really don't mind because what I want is flavour! You have to try this cupcake if you're at SoHo7. Kudos to whoever who supplies these goodies to them.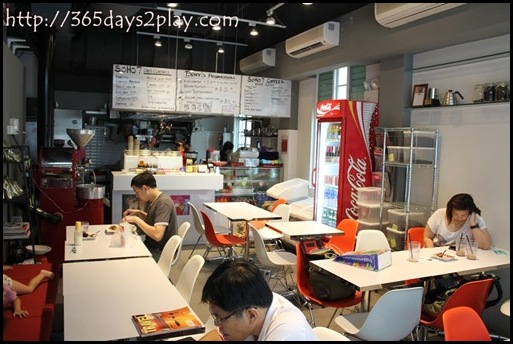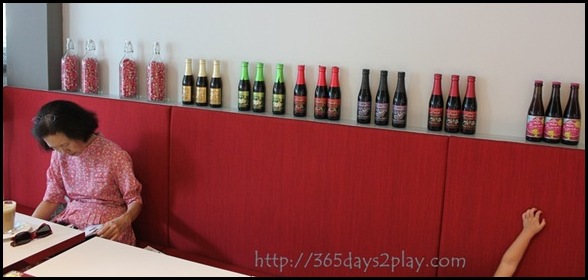 Beware the evil arm…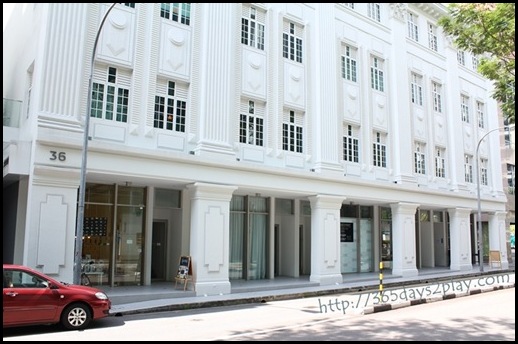 PS: Ventilation here ain't that great. Don't wear your best shirt here!
SoHo7 Cafe & Bistro
Mon – Fri: 8:00 am-8:30 pm
Sat: 9:00 am-6:00 pm
Sun: 9:00 am-6:30 pm
There is a open-air car park diagonal to 36/37 Armenian Street.