To celebrate her 4th year at the company, my very generous colleague decided to treat us to a huge meal. At first, it was going to be a 1 night's stay in Bintan! But alas, we booked too late for the Hari Raya weekend.
The outing was the day after I arrived back from Norway. I woke up at an ungodly hour of 5am thanks to the jetlag, fell back asleep again somewhere around 8am, and managed to crawl to the Botanic Gardens at 10.30am. The rest of my colleagues were already there, snapping photos of everything in sight as we'd also organised a mini photography competition. Yours truly got second place, darn!!
After the photography session, we made our way to Au Jardin. In contrast to the hoards and hoards of people at Casa Verde, and just about any other spot in the Botanic Gardens, Au Jardin was refreshingly quiet and serene. Au Jardin occupies an elegantly restored 1920s colonial residence and serves French fine-dining food. A waiter greeted us at the ground floor and led us upstairs to our table. I was glad to discover that Au Jardin is quite small. Apart from us (9 people), most of the other diners were couples enjoying a romantic date together. It really is a very romantic and peaceful setting, with a view out into the lush gardens. I'm sure Au Jardin must have been witness to many a wedding proposal over the years.
We were there for the Sunday brunch, which comprises of an appetiser and soup buffet, plus choice of eggs, mains and dessert, for the price of $88. From the Les Amis website (they own Au Jardin), it appears that the mains and dessert selections have changed, but the following was what we had when we were there in the 1st week of November.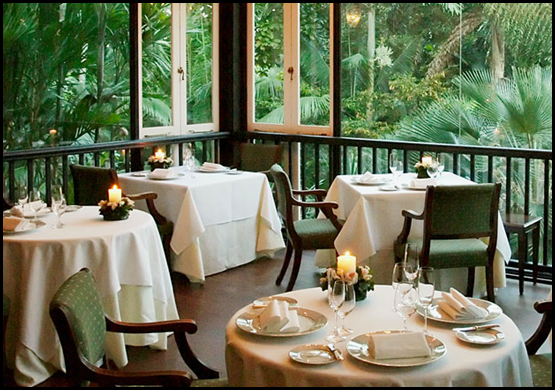 Photo courtesy of Au Jardin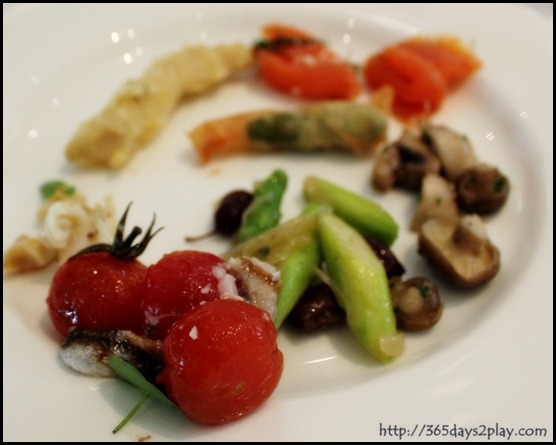 Appetiser buffet – Vine-ripened tomatoes are one of my favourites. Ever since I learnt about the difference between vine-ripened and artificially ripened tomatoes, I've not turned back.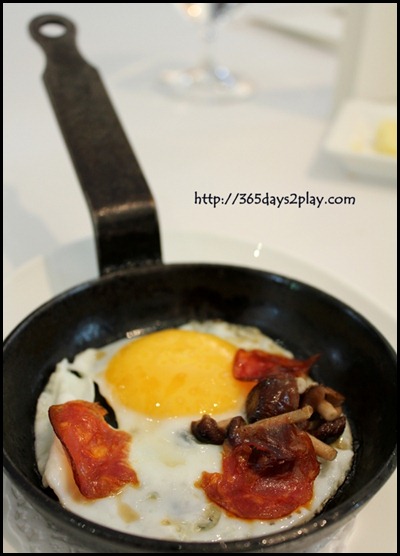 Egg selection — Eggs benedict, cocotte, scrambled or fried. I chose fried because I love my eggs sunny side up. Eggs benedict I thought would be a little too heavy considering that we still had mains coming up.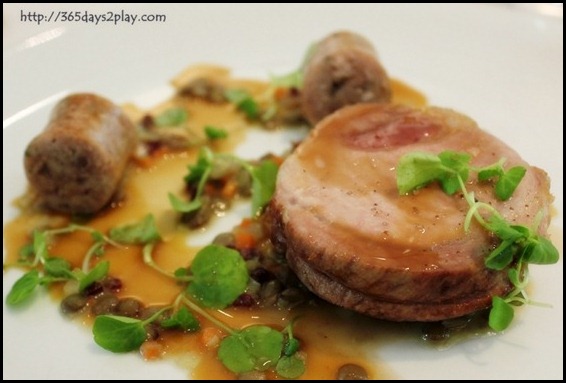 Roasted Pork Loin with garlic sausage, smoked bacon and mustard sauce — This was my choice of mains and I had no regrets. The pork loin was very tender and juicy. Finished the whole thing. Garlic sausage was a nice addition and made me feel like I was getting 2 for the price of one.
No idea about how the other mains tasted. Didn't ask, shy lah…
Pan fried meagre fish with butter leek and green peas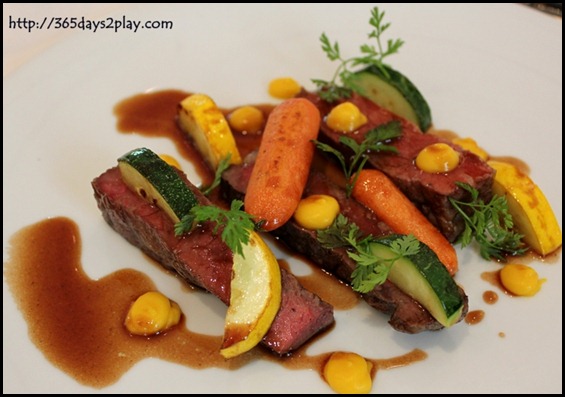 Grilled Angus striploin, butternut puree, roasted zucchini and red wine sauce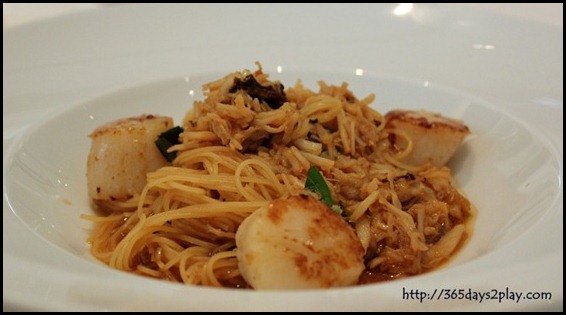 Crabmeat pasta with seared scallop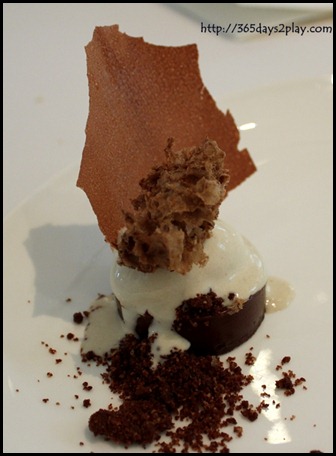 Manjari chocolate tart with sable breton, "soil"& burnt butter ice cream — I was the only one who chose this as I usually can't resist chocolate desserts. The chocolate tart and chocolate bits were very delicious, definitely for the chocolate lover. The ice cream was so so.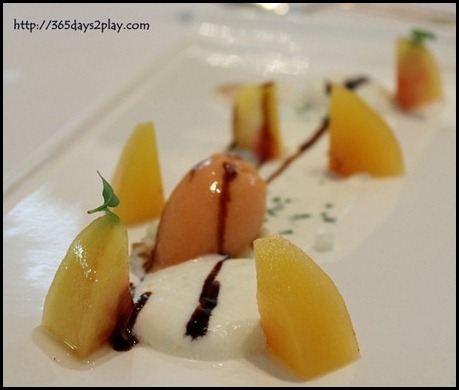 Poached peach with fromage cream, balsamic glaze & tomato sorbet — The 8 other colleagues chose this as they somehow all wanted a lighter dessert.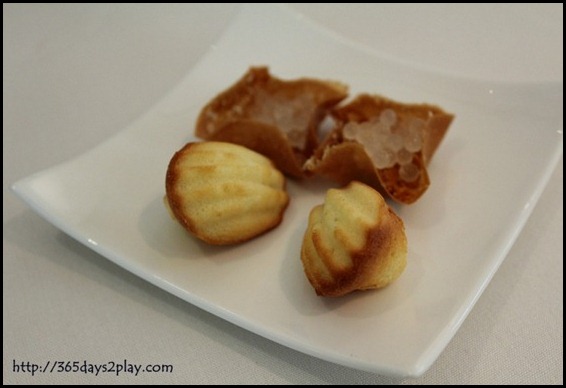 Extra desserts!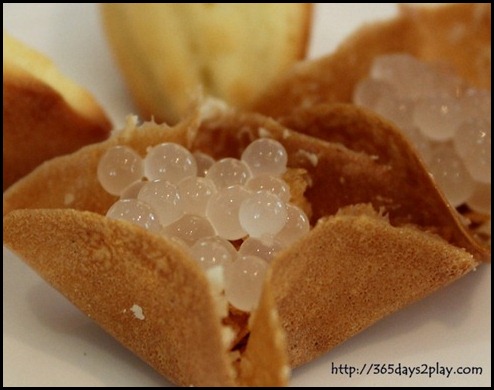 The wafer was ultra light and ultra crumbly! It was so crumbly a few colleagues accidentally smashed theirs when picking it up. I managed to eat mine intact. Interesting flavour, it felt like eating a biscuit with tapioca pearls.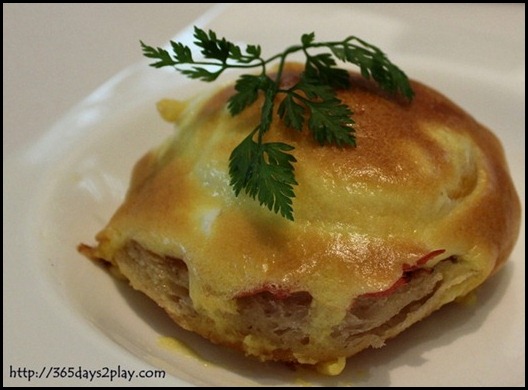 Eggs benedict that some of my colleagues tried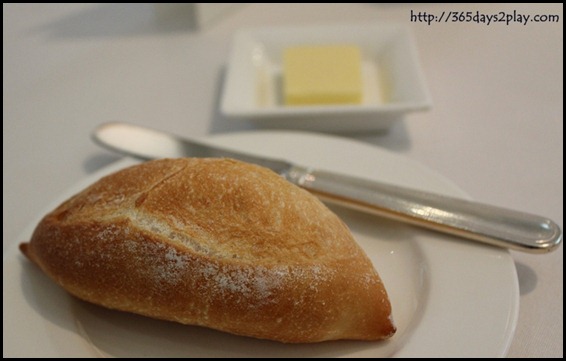 Complimentary bread roll with butter — I always look forward to this. Nothing like a nice hot buttery roll to start the meal off and put you in a good mood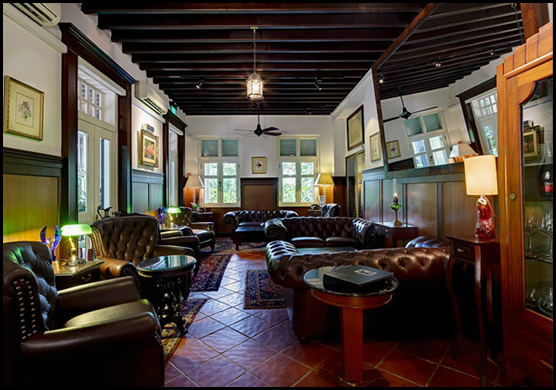 Photo courtesy of Au Jardin — I didn't know about this area. Looks like a lovely place to relax over a couple of drinks.
Au Jardin
EJH Corner House, Singapore Botanic Garden Visitors Centre
Cluny Road, Singapore 259569
Tel: 6466-8812
Luncheon: Tuesdays to Fridays only 12pm
Dinner : Tuesdays to Sundays 7pm
Sunday Brunch : Sundays only 11.30am
** Contrary to the info you may find in some other websites, Au Jardin is not located near the entrance next to Gleneagles Hospital. ít's near the "middle" entrance. Click on the directions link above and you will get a clearer picture.