*Media Invite*
Have any of you try out the 12 Sundaes of Christmas at Swensen's yet? Here's the second part to our lovely lunch hosted at Swensens's at ION Orchard. Swensen's has come up with 6 different Christmas main courses for 2011.  In fact, if you wish to host a Christmas party in your own home, without having the hassle of cooking and cleaning, Swensen's also has a Christmas catering menu and Christmas Log Cakes! Don't forget to invite me to your party!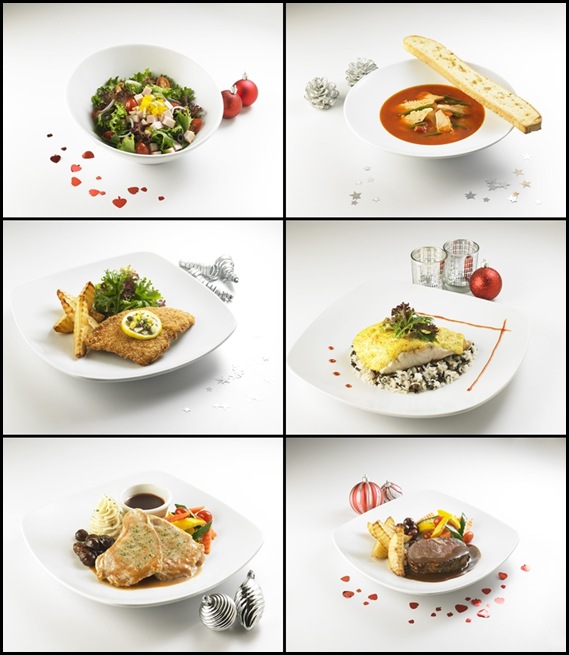 Us lucky bloggers had the opportunity to savour all 6 Christmas dishes!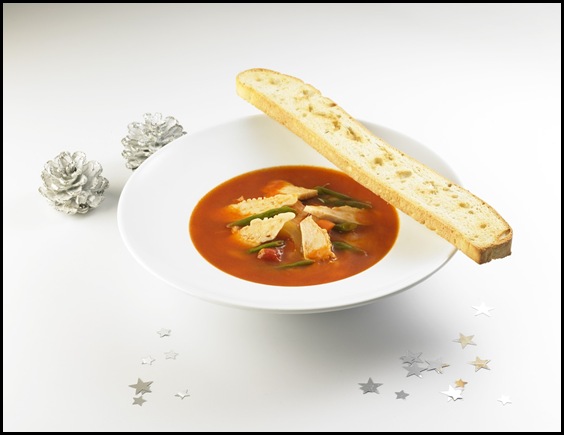 Hearty Soup ($8.90) — A hearty red vegetable broth with chicken chunks, toasted bread stick and topped with chopped parsley.
This soup is similar to a tomato soup. I loved the fresh tomato taste without the sour zing. It is a pretty big bowl so it is good for sharing.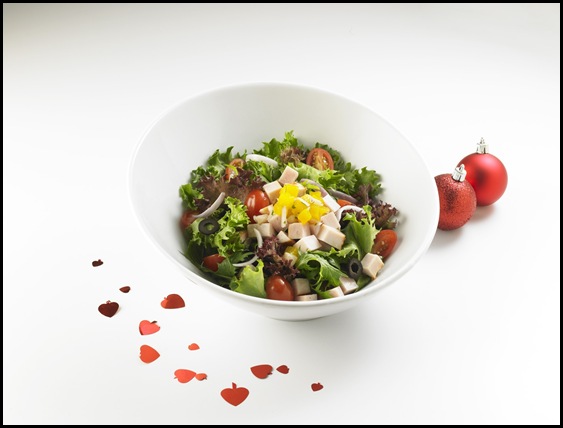 Turkey and Chicken Ham Salad ($12.90) — A sumptuous blend of mixed Lettuce, mesclun salad, cherry tomato, black olive, turkey breast, chicken ham, lychee salsa, cranberry vinaigrette.
A light and healthy meal. I loved the olives!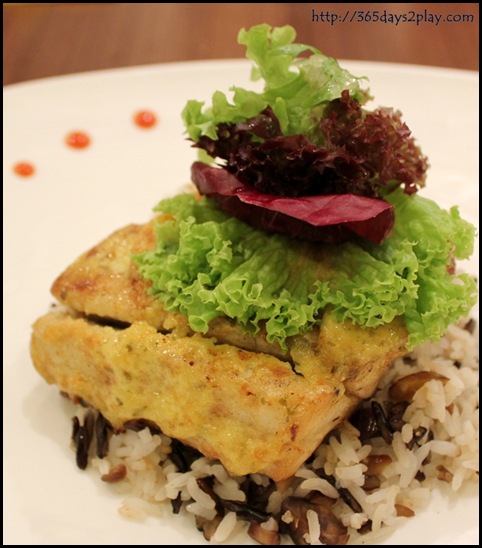 Baked Barramundi with Mustard Cream ($16.90) — Grilled Barramundi made with Mustard Cream, Parmesan Cheese, Chestnut Rice, and Mesclun salad.
Of the 6 Christmas dishes, I would highly recommend this Baked Barramundi as well as the Veal Cutlet. The fish was cooked to perfection. It was not tough or rubbery at all and had a melt in your mouth texture. Also loved the mustard cream, which adds a little Indian Spice flavour to the fish. Loved it! The Chestnut rice was also a creative take as compared to the usual plain rice or fried rice. It's strange that I liked this dish so much considering I have never been a fan of Barramundi!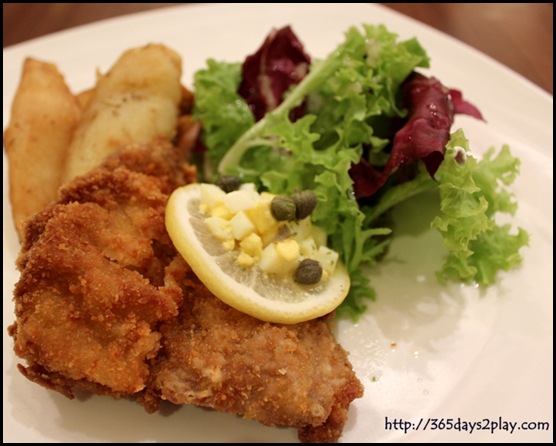 Fried Dutch Milk Fed Veal Cutlet ($18.90) — Breaded Veal served with roasted potato,
mesclun salad, lemon, and butter lemon sauce.
This is the other Christmas main course that you must order when you are at Swensen's. If you like the Fried Chicken Cutlet at Swensen's, you would definitely like this Veal Cutlet as well. The meat is juicy and since it was veal, it was pretty tender. I think it is pretty rare to find Veal at a family restaurant like Swensen's. Mostly you find it at the more atas restaurants, and at a much more atas pricing. Take this opportunity to try the veal while the Christmas menu is still on. Damn I'm really getting hungry as I write this!
Btw, in case you wanted to know, according to Wikipedia, Veal is the meat of young cattle (calves), as opposed to meat from older cattle. Formula-fed (or "milk-fed") veal, from calves that are raised on a milk formula supplement. The meat colour is ivory or creamy pink, with a firm, fine, and velvety appearance. They are usually slaughtered when they reach 18—20 weeks of age (450-500 lb). I hope you don't have a problem eating baby animals.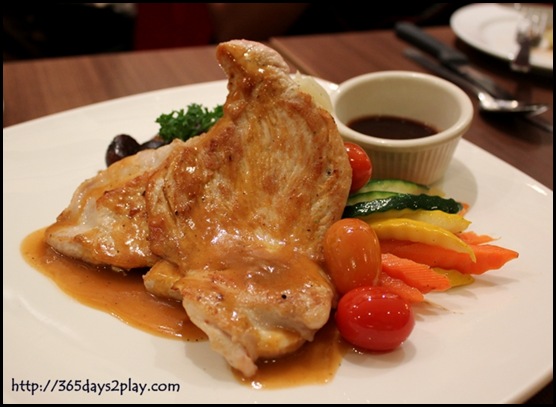 Grilled Turkey Breast ($16.90) — Turkey breast with sides of glazed chestnut, buttered
vegetables, mashed potato, cranberry sauce, and chicken gravy.
The turkey breast was a little tough. Would give this a miss especially since the Veal and the Barramundi are much better.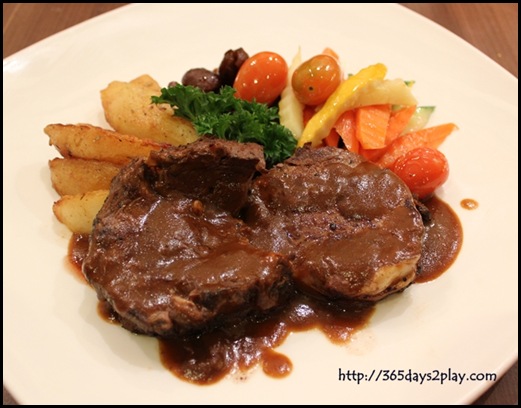 Roasted NZ Ribeye ($22.90) — Savoury Roasted Ribeye, buttered vegetables, glazed
chestnut and potato wedges, topped with brown gravy.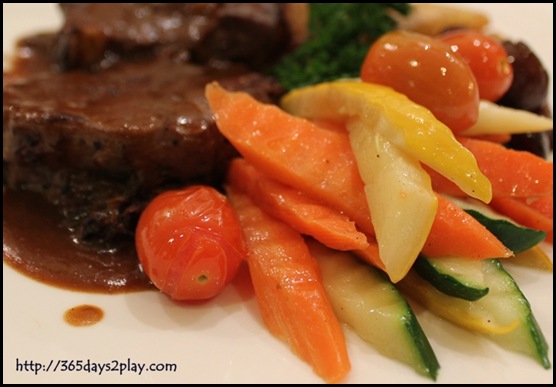 When eating steak, I am not used to having so much gravy slathered over my meat. Luckily, the brown gravy was rich and tasty. The ribeye itself was very tender, melt in the mouth kind and flaked off easily without me having to cut it much. Love the vegetable accompaniments on the side. They are still firm and give a good bite, without actually being raw. Never did like soggy vegetables, except in soups maybe. Also another dish worth trying if you don't like Barramundi or Veal.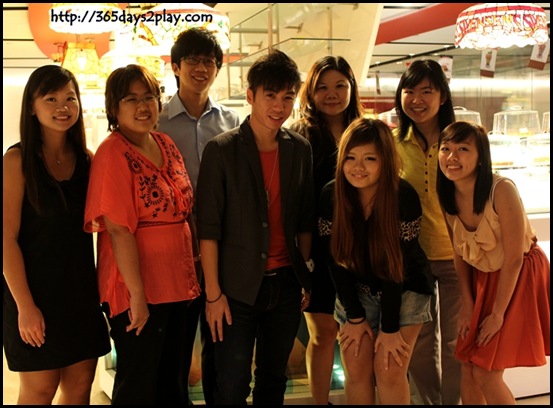 ~~Check out my previous post on Swensen's 12 Ice Creams for Christmas! Affordable and tasty!
*Many thanks to Cecelia and Nicole of Publicist PR Communications for the kind invitation and for hosting the lunch.